Rude and nasty card games are all the rage. Cringe-inducing games like "Cards Against Humanity" and its ilk have pushed aside traditional games like "Risk" and "Sorry!" in modern adult gatherings.
They're wildly fun and popular. The problem is, as far as the actual game mechanics go, they kind of suck. That's the consensus of a group of friends and longtime game fans in Casper.
On a whim, Game Crossing store owner Chris Tolliver and friends Josh Kravik and Kyle Kuxhausen decided to create a modern gross out game of their own just for kicks. Two years and countless hours of work later, a full production version of "Oscar's Hot Night Out" is ready to disgust the world.
"It's a bunch of words on cards that somehow come together and make some kind of imagery in most people's head that is usually not safe for work," explains Tolliver.
"They're benign, safe words," says Kravik, but as players put cards together to create a thought things usually get weird. "A lot of times you can try and play straight and not go gutter, but human minds just go there," said Kravik.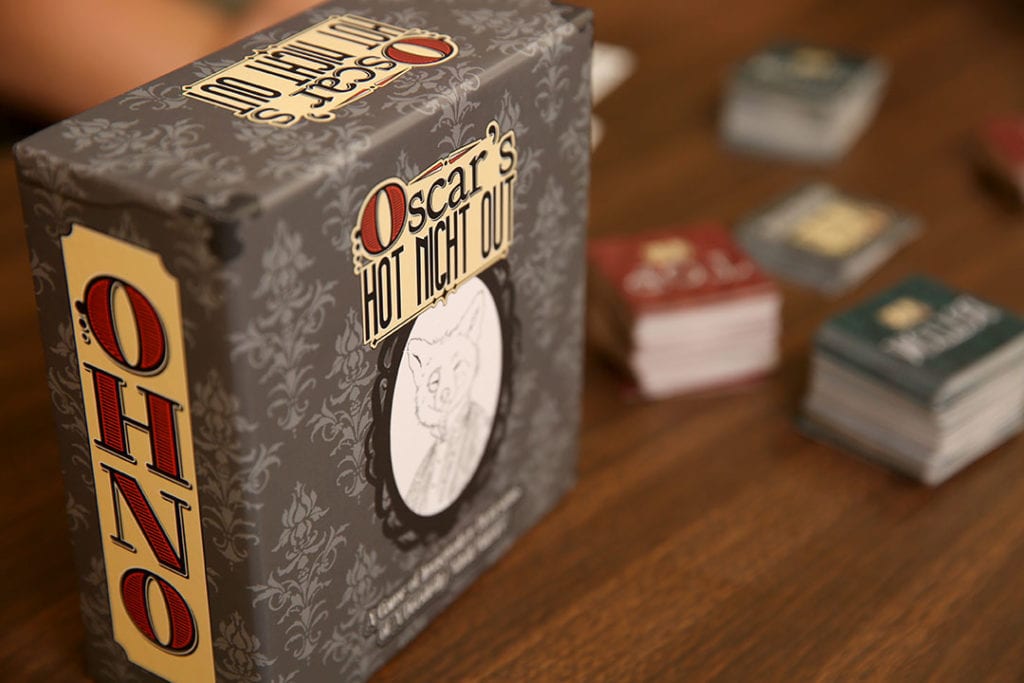 The basic premise of "Oscar's Hot Night Out" is a reconstruction of a date with Oscar after the fact. Players draw cards that add up to sentences, the grosser the innuendo the better. Best worst sentences get points, and the best gross date eventually wins.
Where many games in this genre fail is in the word structure, according to Kravik. "It's the luck of the draw where you feel like you've been cheated if you're playing this as a game rather than just an excuse to be gross," said Kravik. Tolliver's past experience studying languages and linguistics came into play helping construct the cards so that they all sound proper when they're put together, even if the meaning is ambiguous or just flat out dirty. "Designing this we made sure that it's not just a fun party experience, it's also a good game," said Kravik.
Another side effect of rude party games is the possibility things can turn personal. "We made it nearly impossible to weaponize our game," said Kravik. "We wanted to make sure no matter who was sitting around the table…regardless of your life experiences, no one should be able to make you uncomfortable with that game."
Bringing a game to a professionally produced end product was a labor of love for the partners, each of whom brought their background experience to the table. Tolliver, the writer, used his language skills. Illustrator Kravik has long dabbled in art and tattoo work. Finally, Kuxhausen's experience in industrial construction helped him negotiate the choppy waters of getting a game concept to prototype and finally mass production.
Response to the game has been positive from the start, even when they were in the early stages of hand writing words on card stock. The team lost count long ago how many times they play tested the game, either together or with groups. "Grueling, occasionally fun," is how Kravik described the process.
"Oscar's Hot Night Out" had its official pre-release at a party last week at Game Crossing, which went very well according to Tolliver. The game is now for sale at Game Crossing for $25, and will be available world wide on Amazon starting Aug. 1st.