CASPER, Wyo. – To their regular customers, Backwards Distilling Company's much anticipated downtown tasting room will feel strikingly similar and different all at once.
That's by design, according to co-owner Amber Pollock.
"A lot of people really liked that original vibe," said Amber, "so we tried to keep a lot of the same elements."
Article continues below...
Those elements include hip wallpaper, a wall filled with eclectic mirrors and and the vintage-but-tasteful circus themes.
The biggest difference is the building itself, a 20s-era historic brick building with big windows and an open floor plan.
"Having natural light and the tall ceilings are the two radical changes," said Amber. "I like that because it gives you two different vibes between night and day."
Patrons have the option of sitting near the big picture windows, scooting up to the bar or choosing one of many cozy nooks tucked in the corners.
Amber started the craft distillery with her brother Chad and their parents Kathy and Bill in 2014. Since then the upstart has become Casper's symbol of small business success and creativity.
Their original tasting room was designed as a dark, cozy escape inside the same nondescript industrial building in Mills where they distill and bottle their products.
While they enjoyed their "hidden secret" reputation to a point, it eventually became clear they could attract more foot traffic and expand their craft cocktail market by moving into the center of town.
As the Backwards brand grows, Amber says tourists visiting the tasting space has become more important, and moving to an attractive, central location will improve the experience.
Downtown itself has become a better fit for Backwards over the past five years as well, according to Amber.
"When we first opened, there were not as many things downtown in terms of food and beverage relating to our niche, so we didn't prioritize location at first," said Amber, adding that it also made sense to keep all aspects of the business in one place.
The move wasn't easy.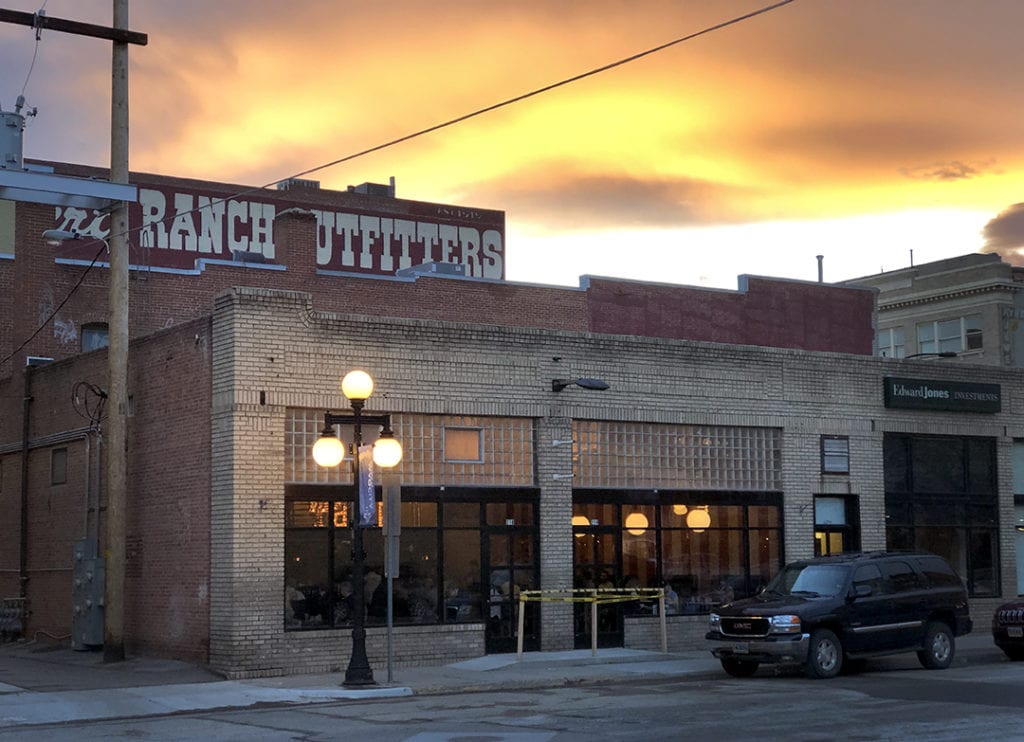 Work started last November when they secured a lease on the former Bamboo Spa space at 214 South Wolcott, followed by months of construction and permitting at city council to get everything in order.
With the move they had the chance to keep what works and tweak what didn't.
The bar is longer, adding more seating and more importantly allowing more room for staff making craft cocktails.
"It's laid out better for the types of drinks we do, which are multi-ingrident and multi-step cocktails," said Amber. "Last time we got some things right and some things wrong, so this setup is definitely better for the types of drinks we make."
The new space also features a loft area, which will be open for extra seating but can also be used for specific events such as cocktail classes or as a second bar.
Production will remain at the Mills location, and tours there will still be available.
Backwards Distilling's new tasting room officially opens on Wednesday, May 29, though they are doing some unannounced soft openings.
Operating days and hours are expanded to 7-days a week, 3 p.m. to 9 p.m. Monday through Thursday, 3 p.m. to 10 p.m. on Friday, noon to 10 p.m. on Saturday and noon to 5 p.m. on Sunday.
See Backwards Distilling Company's Facebook page for more information here.
(Dan Cepeda, Oil City)

(Dan Cepeda, Oil City)

(Dan Cepeda, Oil City)