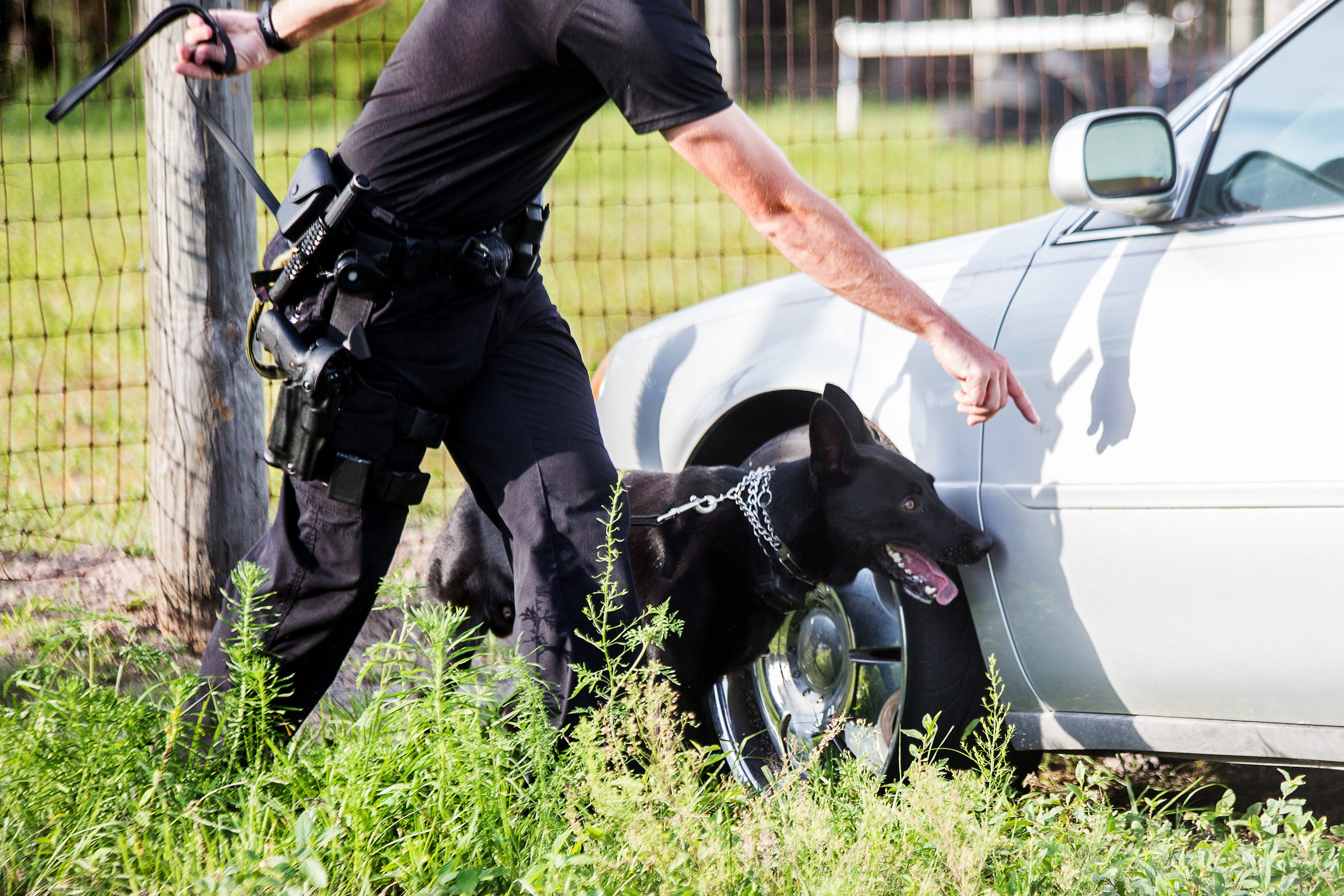 CASPER, Wyo. — When the Casper Police Department and other law enforcement agencies conducted a March 29-30 "drug interdiction operation" in the area, officers had "additional resources readily available" when interactions during traffic stops showed "potential evidence of illegal substance use or presence," the Casper PD said when they announced the results of the operation.
The Casper City Council asked Police Chief Keith McPheeters some questions about how the operation was conducted during a review of the operation during the council's Tuesday, June 22 work session.
The operation resulted in 23 total arrests, 13 of which were drug related, according to the Casper Police Department. The operation paid for officer overtime using about $10,000 of a $35,000 U.S. Drug Enforcement Administration "Domestic Cannabis Eradication/Suppression Program" grant provided to the department.
Article continues below...
McPheeters said that people should not focus too much on the fact that the phrase "cannabis eradication/suppression" is in the name of the grant, arguing that the police department used the grant funding in a similar way they use other state and federal grants: to conduct high-visibility traffic operations.
However, the operation was distinct in some regards. The two-day undertaking resulted in 381 traffic stops, the most traffic stops of any of five operations the Casper PD has reported occurred this spring.
In the slideshow McPheeters used during his presentation to the city council, a slide showing the results of four of those traffic operations highlighted drug-related arrests and drug seizures in only the DEA-funded operation:
McPheeters shared data about one further traffic operation which was conducted from May 17-31 this year. That operation resulted in 46 traffic stops. These stops led to four warrant arrests, one public intoxication arrest, one driving under suspension without interlock device arrest and two methamphetamine-related arrests, including one felony-level arrest.
Some council members asked McPheeters about how the March 29-30 traffic stops were conducted. Council member Shawn Johnson asked whether all 381 stops were based on traffic violations.
McPheeters had explained earlier in the meeting that the high-visibility traffic operations the police department conducts try to focus on areas which have both a high rate of traffic crashes and a high rate of crime compared to other areas of the community. This is done as the department works to implement a national program called "Data Driven Approaches to Crime and Traffic Safety" (DDACTS), which they began in 2019.
McPheeters said that all the traffic stops conducted during the March 29-30 operation were based on some type of alleged traffic violation witnessed by a law enforcement officer, and that none of the stops were random.
"How many searches were performed out of those?" Johnson asked McPheeters.
McPheeters said he didn't know. Nobody on the council asked whether the police department had such data and whether that could be made available to them.
Johnson asked whether any searches were consensual.
When asked about "searches" during the work session, McPheeters was careful to tread around the use of this term.
The Fourth Amendment protects people's right "to be secure in their persons, houses, papers, and effects, against unreasonable searches and seizures." This right "shall not be violated, and no Warrants shall issue, but upon probable cause, supported by Oath or affirmation, and particularly describing the place to be searched, and the persons or things to be seized."
McPheeters noted that a formal search is a legal term. Police are able to conduct vehicle searches either because they have obtained a warrant, because they have "probable cause" to search the vehicle without a warrant, or because the person in the vehicle consents to the search.
But what about the use of a drug sniffing dog during a traffic stop? Is that considered a "search"?
McPheeters said that is "not unusual" for a K-9 Unit to show up during a suspicious traffic stop in Casper, but that the dogs operate in the background and are "unobtrusive."
In Illinois vs. Caballes in 2005, the U.S. Supreme Court held that "a dog sniff conducted during a concededly lawful traffic stop that reveals no information other than the location of a substance that no individual has any right to possess does not violate the Fourth Amendment."
However, the Supreme Court also found that the use of drug sniffing dogs could become unlawful if a traffic stop for the purpose of issuing a traffic citation is "prolonged beyond the time reasonably required to complete that mission."
In 2013, the Supreme Court considered a case in which the defense challenged the reliability of drug sniffing dogs. In Florida vs. Harris, the Supreme Court held that a drug sniffing dog's alert of the possible presence of illicit substances in a vehicle during a traffic stop can be considered "probable cause" to give law enforcement the authority to conduct a search of the vehicle.
The court's opinion states that "evidence of a dog's satisfactory performance in a certification or training program can itself provide sufficient reason to trust his alert. If a bona fide organization has certified a dog after testing his reliability in a controlled setting, a court can presume (subject to any
conflicting evidence offered) that the dog's alert provides probable cause to search."
"The same is true, even in the absence of formal certification, if the dog has recently and successfully completed a training program that evaluated
his proficiency in locating drugs."
While the Supreme Court has held that the use of drug sniffing dogs is legal and can constitute "probable cause" to search a vehicle, some studies and data suggest that drug sniffing dogs frequently give false alerts in the field.
Reason reported in May 2021 that public records show that a drug detection dog named "Karma" alerted law enforcement to the presence of drugs "100 percent of the time during roadside sniffs outside vehicles" during the dog's time assisting agencies in Republic, Washington from 2018-2020.
Police found drugs in only 29% of the vehicles Karma had flagged during that span: "Other vehicles contained paraphernalia, bringing Karma's combined score to 64 percent."
"Similar patterns abound nationwide, suggesting that Karma's career was not unusual," Reason reported in the article titled 'The Police Dog Who Cried Drugs at Every Traffic Stop."
"Lex, a drug detection dog in Illinois, alerted for narcotics 93 percent of the time during roadside sniffs, but was wrong in more than 40 percent of cases," the article continues. "Sella, a drug detection dog in Florida, gave false alerts 53 percent of the time. Bono, a drug detection dog in Virginia, incorrectly indicated the presence of drugs 74 percent of the time."
A review conducted in New South Wales, Australia from 2002-2004 showed that in 74% of cases in which a drug sniffing dog indicated the presence of drugs on a person "no drugs were subsequently found," the Australian Broadcasting Corporation reports.
National Public Radio reported in 2011 that the Chicago Tribune had analyzed three years' worth of data on cases in suburban Chicago: "According to the analysis, officers found drugs or paraphernalia in only 44 percent of cases in which the dogs had alerted them. When the driver was Latino, the dogs were right just 27 percent of the time."
On the other hand, studies conducted in training environments suggest that drug sniffing dogs are able to accurately detect illicit substances a majority of the time. A 2014 study based on training and testing environments used by police in Poland found that dogs were accurate in detecting drugs 87.7% of the time out of 1,219 experimental searching tests. Dogs falsely alerted the presence of illicit substances in only 5.3% of the tests and were unable to find the drug sample in 7% of the tests.
Why is there this discrepancy between real world drug sniffing dogs exhibiting a frequent rate of false alerts compared with their high accuracy rates in training environments?
Forbes contributor Chris Roberts wrote in May 2021 that "[i]f the police dog's handler wants the dog to alert—consciously or otherwise—there's a good chance the dog will alert."
He pointed to a study from the University of California, Davis which evaluated how handlers' beliefs and expectations influence how detection dogs perform.
That study found evidence that dogs' behavior is influenced by cognitive factors which the study's lead author Lisa Lit said "might be as important — or even more important — than the sensitivity of a dog's nose."
UC Davis said the study suggested drug sniffing dogs may exhibit what is know as the "Clever Hans" effect, named after a horse whose owner claimed could conduct mathematical operations like division and multiplication and even read and spell.
"After a formal investigation in 1907, psychologist Oskar Pfungst demonstrated that the horse was not actually performing these mental tasks, but was watching the reactions of his trainer," the Wikipedia article explaining the effect explains. "He discovered this artifact in the research methodology, wherein the horse was responding directly to involuntary cues in the body language of the human trainer, who was entirely unaware that he was providing such cues.[1]"
In the Forbes article, Roberts notes that some courts have expressed concerns about the reliability of drug sniffing dogs in some cases, pointing to a federal court in Utah's decision in 2020 to dismiss a defendant's indictment over concerns about the reliability of the drug sniffing dog's training."
"The court questioned the reliability of every drug dog in the state—where cannabis is not legal beyond medical applications," Roberts wrote. "This is an enormous boon to defense attorneys handling cases where a dog alert was the probable cause. If Utah thinks that drug dogs aren't reliable indicators of the presence of drugs, what about other jurisdictions?"
There is not a uniform standard for training of drug sniffing dogs around the country and with marijuana laws changing, that also means changes for K-9 Unit training. The Associated Press reported in May 2021 that drug sniffing dogs in Virginia are being retired with recreational marijuana possession set to become legal in the state on July 1.
"Virginia state police are retiring 13 K-9s, while many smaller police departments and sheriff's offices are retiring one or two dogs," the AP reported. "Most are in the process of purchasing and training new dogs to detect only illicit drugs, including cocaine, heroin and methamphetamines. Some departments are unable to afford up to $15,000 to buy and train a new dog, so they are disbanding their K-9 units."
The possibility that marijuana could be decriminalized in Wyoming if a ballot initiative goes before voters in 2022 also came up during the Casper City Council's discussion on Tuesday. Council member Lisa Engebretsen asked whether the police department would continue to receive "cannabis suppression"-related grants from the DEA if the legal status of marijuana in Wyoming changes.
McPheeters said he suspects that if marijuana were to be legalized in Wyoming, Casper PD could still see grant funding support from the DEA but that these might not specifically be under the "Domestic Cannabis Eradication/Suppression Program." He said the department's relationship with the DEA is expanding.
Vice Mayor Ray Pacheco asked McPheeters further about how the traffic stops were conducted. He asked whether people were allowed to leave after being pulled over for a traffic violation if officers asked for permission to conduct a consensual search of the vehicle but the person in the vehicle declined to give this permission.
McPheeters said he would rather not get into too many details about police officers' methodology. He said, however, that "people are free from searches without warrant" and that the police department does not search when there is no legal reason to search and does not detain someone when there is no legal reason to detain.
"We don't trick people," he said. "We work within the confines of the law and the Constitution to achieve safety goals."
When it comes to consensual searches, the Cornell Law School's Legal Information Institute explains that people can waive their Fourth Amendment rights and consent to a search by officers who have not complied with the Amendment.
Officers are not required to inform a person about their right to refuse to give consent to a search. In Wyoming there is also an "implied consent" law under which anyone operating a vehicle "is deemed to have given consent" to blood, breath or urine tests for the purpose of determining the alcohol concentration or controlled substance content of his blood."
These tests can only be administered if the officer has probable cause to reason that the person was operating the vehicle under the influence of alcohol or a controlled substance. A driver is only required to submit to such testing if they are legally arrested for driving under the influence.
McPheeters on Tuesday gave an example of the type of interaction that might lead an officer to seek consent to search a vehicle without first obtaining a warrant.
He said that if there are two people in a car and an officer asks where they are headed to or where they are coming from and the individuals give different responses, that might lead officers to ask for permission to search the vehicle.
The city council's discussion did not include any formal actions, but was rather a review of the police department's use of the DEA grant. Some of that grant funding remains and can be used to support future operations by the police department.
Council member Kyle Gamroth said during the meeting that he would like to see a greater emphasis on looking at crime prevention through the lens of mental health.
He said that he wishes Wyoming and culture as a whole could move toward "a more public health approach to treating personal use and possession of drugs."
Gamroth said that over half the people incarcerated in Wyoming are in prison because of the revocation of probation or parole, "the vast majority of which simply failed" a urine analysis.
He said that incarceration rates in Wyoming and across the country have seen dramatic increases in recent decades. In the meantime, Gamroth said that methamphetamine-related crime has tripled since 2010.
Wyoming's incarceration rate in 2018 was 842 per 100,000 people, above the national rate of 698 per 100,000 people, according to the Prison Policy Initiative.
"Each year, at least 8,000 different people are booked into local jails in Wyoming," the Prison Policy Initiative states.
Wyoming's incarceration rate has increased significantly in recent decades. In the year 2000, there were less than 200 people incarcerated per 100,000 in Wyoming.
The Wyoming Legislative Service Office said in 2019 that the cost of housing one inmate at the Wyoming State Penitentiary in 2018 was about $128.63 per day or about $46,950 annually. The approximate cost at the Wyoming Women's Center was about $39,862 annually.
While incarceration rates are up, a 2020 report funded by an Office of National Drug Control Policy grant found that methamphetamine prevalence in Wyoming has simultaneously been on the rise:
Gamroth suggested that if incarcerations are on the rise but meth-related crimes are also rising, it may be time to rethink whether law enforcement strategies are actually effective: "The metrics don't seem to indicate success."
Gamroth said that his previous experience working at the Central Wyoming Counseling Center helped him learn that most people who have a substance abuse disorder "have an underlying mental health illness, or have childhood trauma [or] adverse childhood experiences."
He added that the state has cut funding to the Wyoming Department of Health for mental health services. While Gamroth said he appreciates the work and dedication of Casper police officers, he added that he hopes the community "could be a little more proactive and preventative" in how crime-related issues are addressed.
McPheeters backed up what Gamorth said in terms of adverse childhood experiences making it more likely for someone to commit crimes as they get older. He said that the police department's goal is to try to help people avoid those kinds of experiences as children, which can have payoff in the community decades down the line.
Council member Amber Pollock said during the meeting that she is interested in finding ways to measure whether police operations are actually moving toward the goal of improving public safety.
Pollock said that getting the 67 grams of methamphetamine off the streets which were seized during the March 29-30 "drug interdiction operation" is likely an example of the operation improving public safety.
On the other hand, she questioned whether the number of overall arrests are an indication that the operation helped improve public safety, expressing skepticism that locking people up is an effective long-term strategy to ensuring a safer community.