CASPER, Wyo. — "What metrics make most sense to you for how we measure if we are truly safer and healthier as a community?" Casper City Council member Amber Pollock asked on June 22.
During the city council's work session where this question arose, Casper Police Chief Keith McPheeters said that the police department's goal is to ensure a safer community and that when problems arise, the goal is to change people's behavior.
Council members and other city leaders may all share a desire to create a safer community, but how? What methodologies does the Casper Police Department use? Are those methods effective?
"The most valuable knowledge is always discovered last: but the most valuable knowledge consists of methods," wrote 19th century philosopher Friederich Nietzche.
McPheeters said during the June 22 work session that the Casper Police Department has a "growing and expanding partnership" with the U.S. Drug Enforcement Administration. Is that relationship going to make Casper safer? Does it come with any methods that citizens should be concerned about?
The police chief's comments came as he was briefing the city council on how the police department is using a $35,000 DEA "Cannabis Eradication/Suppression Program" grant.
McPheeters tried to de-emphasize the significance of the notion of "cannabis suppression" in the name of the grant, arguing that the police department uses the grant in mostly the same way as they utilize other state or federal grants. But is this true?
In 2020, the Casper Police Department's drug dog unit conducted 151 vehicle sniffs. That can be compared with the March 29-30 "drug interdiction operation" that was carried out by Casper PD and other law enforcement agencies and was supported by about $10,000 of the $35,000 DEA "Cannabis Eradication/Suppression Program" grant.
During that two-day operation, drug dogs were deployed 49 times out of 381 total traffic stops, according to Casper PD Public Information Officer Rebekah Ladd. (While studies suggest drug sniffing dogs are highly reliable in training environments, they may frequently give false alerts in the field, as explained in this article).
In 2020, the Casper Police Department seized a total of 1,341.99 grams of marijuana, 288 grams of methamphetamine, 18.5 grams of cocaine and $7,819, under what the department lists as "evidence recovery" in their 2020 annual report.
During the March 29-30 "drug interdiction operation," law enforcement seized 520.82 grams of marijuana (including one vehicle carrying a pound of marijuana), 600 mg of THC edibles, one gram of THC wax, 66.7 grams of methamphetamine, and one gram of cocaine.
23 arrests were made during the operation, 13 of which were drug-related.
The Casper PD's growing relationship with the DEA gives them more than just the $35,000 in grant funding, which is being used to pay for officer overtime during targeted, high visibility traffic operations. It gives them access to other resources and equipment, as well as a potential means to sidestep Wyoming's asset forfeiture laws — which have yet to receive any public scrutiny from city council members — using something known as "equitable sharing."
"The federal equitable sharing program enables law enforcement agencies to circumvent their own state's forfeiture laws in favor of forfeiting property under federal forfeiture laws," Dan Alban, co-director of the Institute for Justice's National Initiative to End Forfeiture Abuse, said in an email to Oil City News last week. "Typically, the feds keep 20% and return 80% of the forfeited funds to state and local agencies."
McPheeters said during the June 22 work session that high visibility traffic operations like the one supported by the DEA funding target areas which have both high instances of crashes and crimes, referring to these as "good fishing routes."
When law enforcement is out metaphorically "fishing the Miracle Mile" during the traffic operations, they may seize drugs or other assets such as cash or vehicles suspected of being purchased with drug money. Working with the DEA can allow the Casper PD to have asset forfeitures handled in U.S. District Court and under federal asset seizure law rather than under Wyoming's more restrictive asset seizure law.
McPheeters said that without their relationship with the DEA, large cash or drug seizures would be investigated by the Wyoming Department of Criminal Investigations. Additionally, he said that working with the DEA could allow the Casper PD to receive a bigger share of the return from seized assets than they would by working with the Wyoming DCI.
"[W]hen we work with the DEA and these partnerships, it is an 80% return on that," McPheeters said. "The 20% that is left over doesn't even go into their stuff, it helps to pay for the processing costs and things like that."
"So those opportunities for this to be financially viable for us [are] there, especially with [these] recently changed drug trafficking routes," McPheeters said. "The access to the intelligence and the data and the equipment resources is way beyond our ability."
Alban said in his email that "Wyoming agencies have received $2 million from the federal equitable sharing program from 2000 to 2019."
Why would local law enforcement agencies in Wyoming potentially want to sidestep state law and instead lean on federal forfeiture law?
Wyoming's asset seizure law changed in 2018, following a case in which the Wyoming DCI seized $91,800 from Wisconsin musician Phil Parhamovich during a traffic stop on Interstate 80 near Cheyenne in March 2017.
Alban and fellow Institute for Justice Attorney Anya Bidwell helped represent Parhamovich in that case, as did Cheyenne-based attorney Tom Jubin, according to the Institute for Justice.
"On March 13, 2017, Phil was driving through Wyoming on his way to Salt Lake City when he was pulled over on I-80 by a Wyoming Highway Patrol trooper, allegedly for not wearing a seatbelt and not staying in his lane," the Institute for Justice says in an article detailing what happened in the case. "After a short conversation, the trooper asked Phil to get into his patrol car and then asked a series of probing questions that had nothing to do with Phil's seatbelt or driving."
"The trooper also asked Phil a compound question, along the lines of: 'Is there anything in your vehicle I should know about, such as guns, drugs, large amounts of cash, methamphetamines, heroin, cocaine, marijuana, PCP, LSD, etc.?' Bewildered that drugs and guns were mentioned along with cash, Phil answered 'No.' Such questions are designed to be confusing because they group perfectly legal activities — like carrying large amounts of cash — with obviously illegal ones — like trafficking in illegal drugs. Questions like these are also designed to mislead by suggesting that carrying large amounts of cash is illegal."
A drug sniffing dog was used during the traffic stop, according to the IJ.
"At first, the dog seemed to find nothing interesting about the vehicle," the IJ says. "Then, the trooper gestured with what appeared to be a hidden tennis ball, and the dog responded. Law enforcement officers at the scene used this response as an excuse to take apart the interior of Phil's minivan, searching for evidence of criminal activity."
"They found no drugs, weapons or contraband, but they did discover Phil's life savings inside one of his speaker cabinets, where he had hidden it for safe keeping while on the road."
A Wyoming DCI agent who arrived at the scene of the traffic stop then "pressured Phil to sign a waiver form releasing his ownership of the money and waiving any right to formal forfeiture proceedings" under Wyoming's statutes at the time.
The IJ says that waiver read as follows: "I . . . the owner of the property or currency described below, desire to give this property or currency, along with any and all interests and ownership that I may have in it, to the State of Wyoming, Division of Criminal Investigation, to be used for narcotics law enforcement purposes."
Parhamovich signed the waiver and was released from the scene of the traffic stop.
"After the officers got Phil to sign the waiver, they wrote him a $25 ticket for not wearing a seatbelt and sent him on his way," the IJ says. "Other than the traffic citation, Phil was never charged with any crime, let alone convicted of one."
"A few days later, once he processed what had happened, Phil began sending letters to the state of Wyoming revoking and disputing the waiver, claiming the money, and asking for notice of any court proceedings regarding the money. At the request of the Wyoming Attorney General's office, he sent them a large package of financial documents showing that the money was his, that he had earned it lawfully, and that he planned to use the money to make a down payment on a recording studio in Madison."
But the AG's Office filed a petition with a state judge to determine whether the money should be forfeited to the Wyoming DCI and claimed that they had been unsuccessful in efforts to reach Parhamovich.
"Instead of returning Phil's money, Wyoming filed a petition effectively claiming that the property was abandoned and asking a judge to forfeit the cash in its favor," the IJ said. "What is worse, the Wyoming DCI did not tell Phil about the proceeding, despite knowing exactly how to reach him and knowing that Phil claimed the money and had asked for notice of any court proceedings."
"At a hearing in Cheyenne on December 1, 2017, Phil testified about the traffic stop and how he had earned the money that was seized. A Wyoming state court judge found Phil's testimony credible, ruled that Phil was the lawful owner of the cash seized from his car, and ordered all of his money to be returned."
The IJ says that some Wyoming legislators attended the Dec. 2017 hearing. The legislature in 2018 passed legislation banning the use of roadside waivers to pressure motorists into abandoning their seized property.
The Institute for Justice notes that Wyoming also adopted some changes to asset seizure law in 2016 which raised the standard of proof, created new notice requirements and established probable cause hearings following a seizure.
"After Wyoming's 2016 reforms, federal forfeiture laws are now weaker than Wyoming's forfeiture laws, so it is easier to forfeit property through the federal equitable sharing program than under Wyoming law," Alban said in his email last week. "But Wyoming law enforcement shouldn't be able to sidestep Wyoming law by sending forfeitures to the feds for processing."
The median value of currency forfeitures in Wyoming was $2,527 from 2015 – 2018, according to the Institute for Justice. About 75% of the Wyoming's forfeitures from 2014 – 2018 were of currency.
With smaller asset seizures, it can prove too costly for people to hire an attorney to fight against the seizure. In Wyoming, public defenders are not assigned to represent indigent defendants in civil seizure procedures.
"With civil forfeiture, property is on trial — not a person — meaning the government need only demonstrate property's link to a crime, not its owner's personal culpability in that crime," the Institute for Justice said in their Dec. 2020 "Policing for Profit" report. "This is in contrast to criminal forfeiture, which requires prosecutors to prove both the owner's guilt beyond a reasonable doubt — a far more difficult proposition — and the property's connection to the crime."
"And at the federal level and in more than a dozen states, there is a third option: administrative forfeiture. A form of civil forfeiture, administrative forfeiture allows an agency to forfeit property almost automatically without meaningful judicial involvement."
The Institute for Justice grades states and the federal government on their civil forfeiture laws. In 2020, Wyoming received a D-.
"Wyoming received a D- in our report because of the strong financial incentive to police for profit," Alban said. "In Wyoming, up to 100% of forfeiture proceeds go to law enforcement."
The IJ scored the state's civil asset laws on various criteria:
Tracking Seized Property: C
Accounting for Forfeiture Fund Spending: A
Statewide Forfeiture Reports: B
Accessibility of Forfeiture Records: D
Penalties for Failure to File a Report: F
Financial Audits of Forfeiture Accounts: F
The IJ recommends that Wyoming and the federal government end civil forfeiture entirely. Other recommendations include:
Directing all forfeiture proceeds to a non-law enforcement fund.
Strengthening protections for innocent third-party owners.
Closing the equitable sharing loophole.
Strengthening transparency and accountability requirements.
Alban also pointed to a 2019 empirical study the IJ conducted along with Seattle University Associate Professor of Economics Dr. Brian Kelly, which indicated that forfeiture is used to boost police revenues and that higher forfeiture proceeds "do not translate into more crimes solved, despite claims forfeiture giving law enforcement more resources to fight crime."
"More forfeiture proceeds also do not mean less drug use, even though forfeiture supposedly rids the streets of drugs by crippling drug dealers and cartels financially," the IJ said of the study's findings. "When local economies suffer, forfeiture activity increases, suggesting police make greater use of forfeiture when local budgets are tight. A 1 percentage point increase in local unemployment — a standard proxy for fiscal stress — is associated with a statistically significant 9 percentage point increase in seizures of property for forfeiture."
The U.S. Department of Justice and the Department of the Treasury saw a combined total of at least $45.7 billion in forfeiture revenue from 2000 – 2019, according to the IJ.
"Since the Institute for Justice began its End Forfeiture initiative in 2010, 32 states and the District of Columbia have enacted forfeiture reforms," the IJ says. "Seven states and the district have largely opted out of equitable sharing, limiting law enforcement's ability to receive funding through the program and making it harder for law enforcement to circumvent state civil forfeiture laws."
"And in 2015, New Mexico abolished civil forfeiture, replacing it with criminal forfeiture and requiring that all forfeiture proceeds be deposited in the state's general fund. In February, IJ secured a landmark victory in Timbs v. Indiana, where the U.S. Supreme Court unanimously ruled that state civil forfeiture cases are bound by the Eighth Amendment's ban on 'excessive fines.'"
McPheeters told the Casper City Council that grants like the DEA's "Cannabis Suppression/Eradication Program" grant help fund operations without asking the council for funding. He said that Casper PD has been seeing increased success securing such funding.
Some council members accepted McPheeters' argument that the name of the DEA grant is inconsequential.
"Just because of a name, we can't turn the money down," Council member Steve Cathey said. Mayor Steve Freel made a similar point during the June 22 meeting.
Council member Shawn Johnson, however, was more hesitant to ignore the name, stating that cannabis suppression/eradication is an "oddly specific thing to name this grant."
While McPheeters has highlighted that such operations can result in seizures of other drugs besides marijuana, people in Casper have been much more likely to be arrested on marijuana-related charges than for other illegal substances. The Casper PD's 2020 annual report shows that 53.8% of adult and juvenile drug arrests were marijuana-related: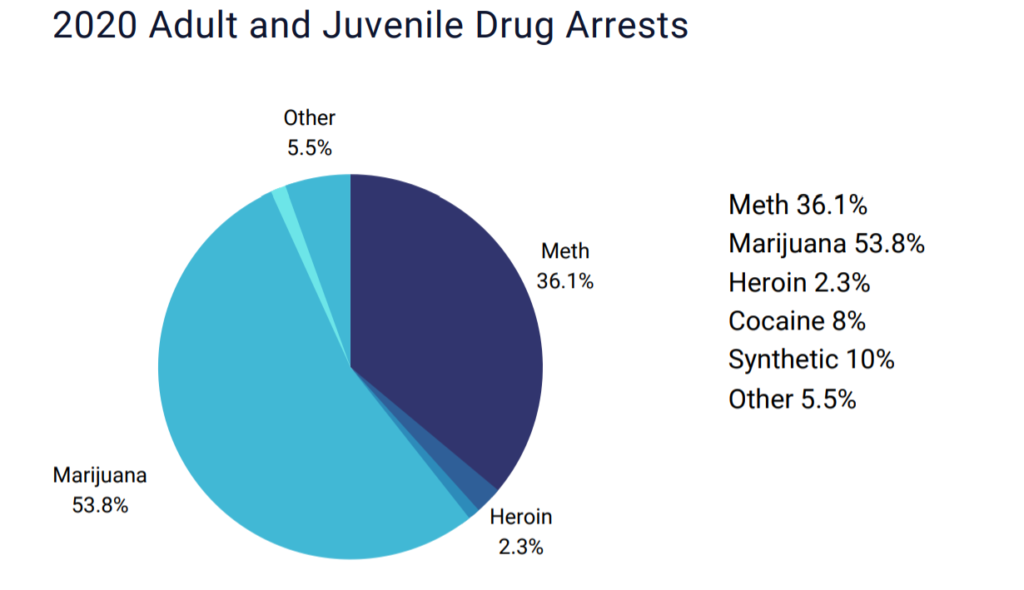 One way that the DEA grant has some concrete differences from other state and federal grants are the reporting requirements for the Casper PD surrounding the use of the funding.
"When CPD accepts a grant, we are typically required to submit some sort of report following the grant operation," Ladd said in an email to Oil City News on Tuesday. "Depending on what type of grant it is, or the purpose it is intended to serve, the data points reported back to the respective organization changes."
"For example, in the presentation provided to City Council last week, illegal drug seizures were not reported in the traffic enforcement grant results. This is because that grant does not require that data point. Illegal drug seizures were reported in the DEA Grant results, because the DEA required that we provide that data point as part of the results."
Ladd said that officers document all police calls, but that the department doesn't necessarily compile all data from a specific operations into a report.
"[A]ny information regarding drug seizures that took place during a grant operation, that did not require a report on total drug seizures, would be found in the narrative report or affidavit," she said. "To retrieve the exact data you are asking concerning the operations – that would require reviewing every narrative written for every traffic stop during the time frame in which the operation was being conducted and compiling that data, as well as identifying what traffic stops were part of an operation and which ones were not that occurred at the same time."
Another way the grant is different is that the Casper PD is working to add special drug recognition expert (DRE) training into the department in 2021 to "bolster active DRE numbers. This initiative coincides with the receipt of the Drug Enforcement Administration (DEA) grant funds and should aid in drug enforcement activities," the Casper PD said in their 2020 annual report.
Pollock tried to steer the June 22 city council discussion toward a conversation about what kind of data and metrics the community should be relying on to gauge whether a particular police strategy is effective in improving safety.
"I have a hard time reckoning with the idea that putting more people in jail necessarily results in a safer community and a healthier community," she said. "I also understand that taking 67 grams of meth off the street likely does."
Council member Kyle Gamroth said that he would like to see "a more public health approach to treating personal use and possession of drugs."
Gamroth said that over half of the people incarcerated in Wyoming are in prison because of the revocation of probation or parole, "the vast majority of which simply failed" a urine analysis. He said that incarceration rates in Wyoming and across the country have seen dramatic increases in recent decades. In the meantime, Gamroth said that methamphetamine-related crime has tripled since 2010.
Wyoming's incarceration rate in 2018 was 842 per 100,000 people, above the national rate of 698 per 100,000 people, according to the Prison Policy Initiative.
"Each year, at least 8,000 different people are booked into local jails in Wyoming," the Prison Policy Initiative states.
Wyoming's incarceration rate has increased significantly in recent decades. In the year 2000, there were less than 200 people incarcerated per 100,000 in Wyoming.
The Wyoming Legislative Service Office said in 2019 that the cost of housing one inmate at the Wyoming State Penitentiary in 2018 was about $128.63 per day or about $46,950 annually. The approximate cost at the Wyoming Women's Center was about $39,862 annually.
While incarceration rates are up, a 2020 report funded by an Office of National Drug Control Policy grant found that methamphetamine prevalence in Wyoming has simultaneously been on the rise:
Gamroth suggested that if incarcerations are on the rise but meth-related crimes are also rising, it may be time to rethink whether law enforcement strategies are actually effective: "The metrics don't seem to indicate success."