CASPER, Wyo. — The Casper City Council on Tuesday, November 16 authorized the city to accept a $246,290.50 grant that will be used to help fund the so-called "First Street Gateway Project."
That project aims to create a riverfront park near First Street along the North Platte River. The plans for the park include a pathway, a boat ramp, an attached parking lot, lighting, park benches, picnic tables, landscaping and a welcome sign, according to city staff.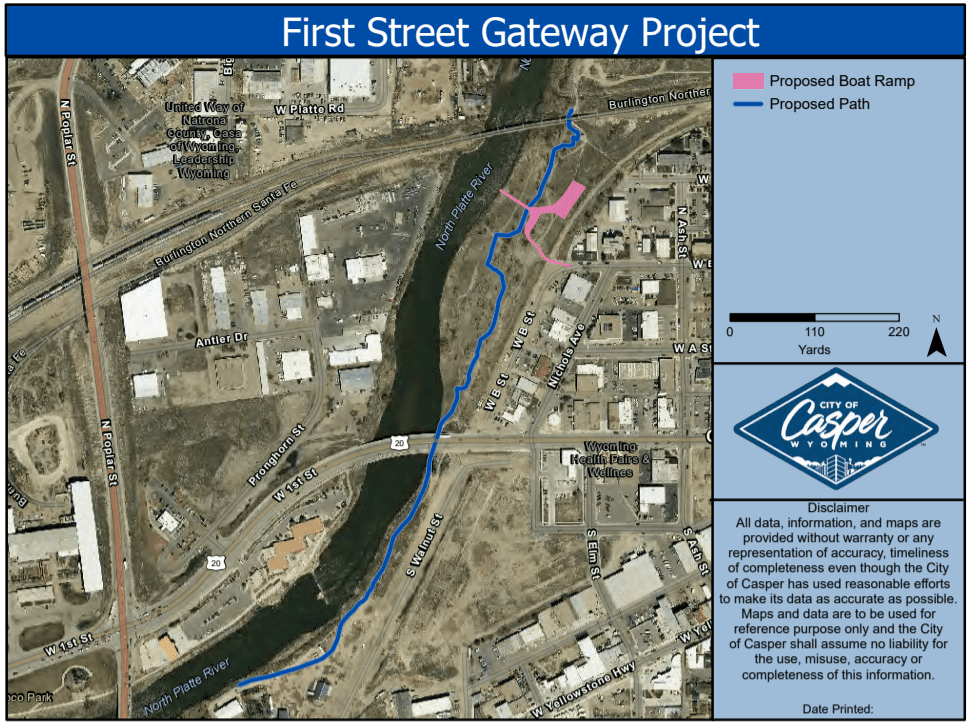 The project aims to improve the area as a visual gateway into the downtown area and also aims to complement river restoration work that has been done in the area. The first phase of the project will involve replacing pathway, installing the boat ramp and attached parking lot, finishing B Street into a driveway into the boat ramp area, and landscaping. 
The first phase of the project is budgeted at $486,581. The grant the city council accepted on Tuesday comes from the Wyoming Department of State Parks and Cultural Resources. City staff state that in addition to that funding, the project is also being supported by $60,000 from a Natrona County Joint Powers Recreation Board grant. The city is planning to use $41,849.50 in one cent sales tax ("fifth cent") dollars allocated to the River Fund to support the project. An additional $144,441 of in-kind services from City of Casper staff will also support the project along with volunteer services from Platte River Revival volunteers.
The council voted 8-0 on Tuesday to accept the grant to help fund the project. Mayor Steve Freel was not present.