CASPER, Wyo. — The City of Casper has been working to find a solution to the Casper Police Department's lack of space and outdated infrastructure problems that were identified in a 2019 study conducted by Police Facility Design Group.
The study found that only about 20% of the police department's existing space "is of adequate quality to support efficient operations." That amounts to less than 10,000 square feet of the 46,260 square feet of existing space the police department utilizes at the Hall of Justice and other facilities across the community.
Casper Police Chief Keith McPheeters gave a tour around the police department's space in the Hall of Justice and the nearby Marathon building on Tuesday, February 15, highlighting a host of inadequacies and explaining why the police department wants to have these problems addressed.
"Public safety in all of Natrona County is being adversely impacted by the outdated Hall of Justice," McPheeters said, adding that the Natrona County Sheriff's Office is also hampered by the crowded situation in the Hall of Justice. "We are not meeting the technological needs. We're not able to do things that we need to do quickly because we don't have the room to do it."
Inadequate space for evidence holdings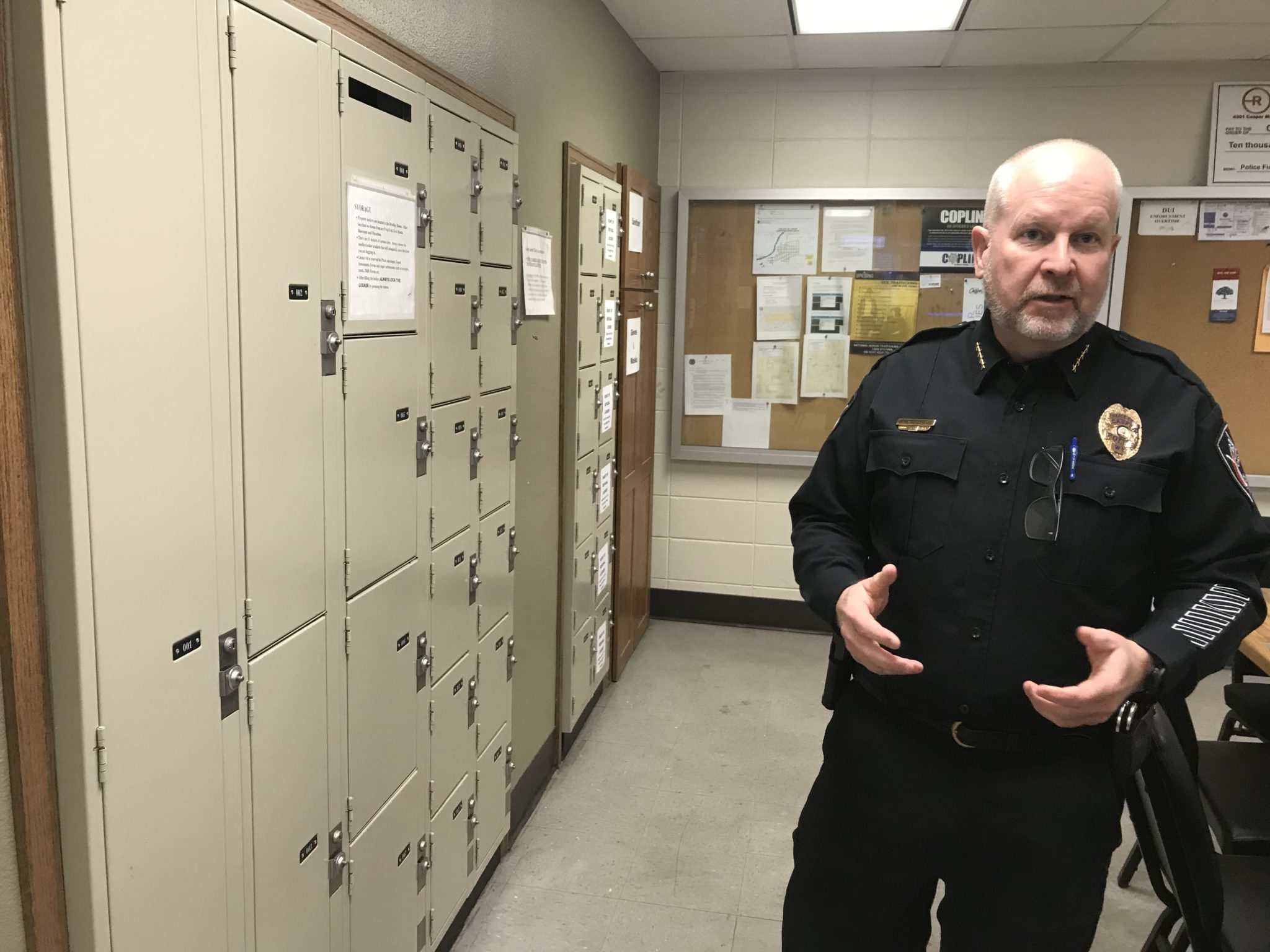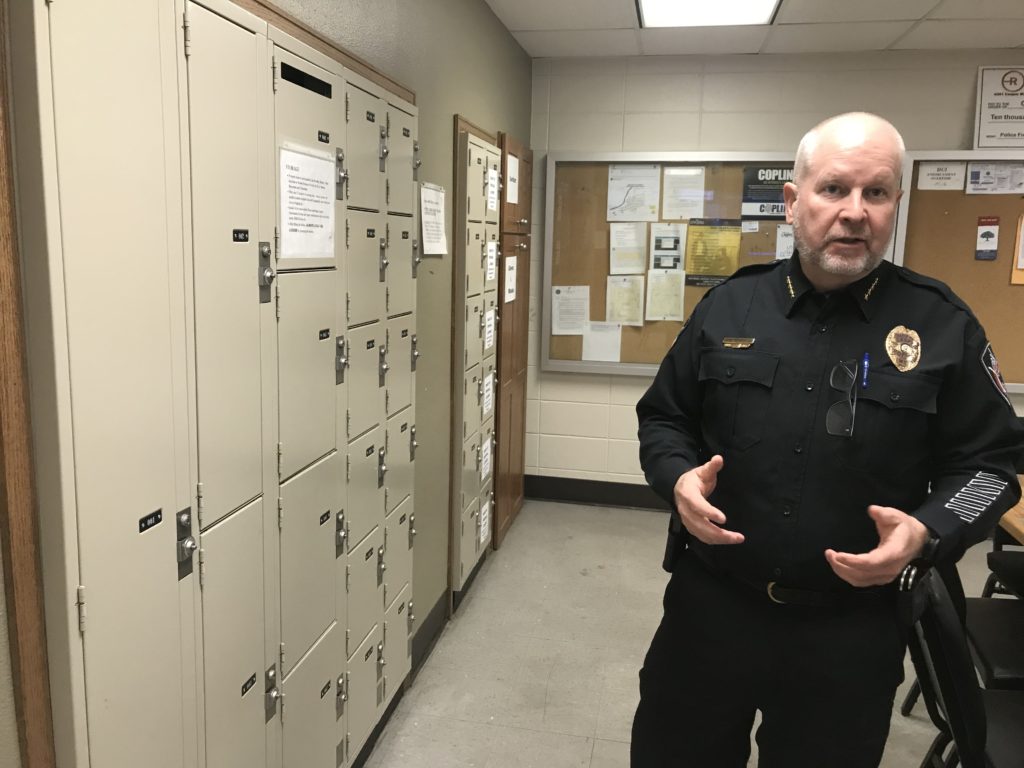 The 2019 study found that given the police department's staff size at the time, 52,114 square feet of overall space was needed and that space needs are expected to grow to 61,633 square feet by 2039. Space is not only needed for personnel but is also needed for the department to adequately store evidence.
The study found that the police department had 1,187 square feet of space available for "secure and proper handling and storage of evidence, only 35% of what was needed in 2019 and and 31% of what will be needed by 2039."
"Four years ago, our evidence holdings were were pretty massive," McPheeters said outside the door of the police department's main evidence storage room in the Hall of Justice. "The State of Wyoming requires us to permanently retain for all time and eternity some records and as the years go by you can imagine that as those critical incidents happen, we just keep adding to that stockpile of evidence."
Lack of available evidence space is only part of the problem, according to McPheeters.
"The very small evidence holdings in here, for example, I felt were manifestly unsafe for my employees," McPheeters said, noting that the materials stored in evidence can include large quantities of drugs. "We didn't have adequate air movement. We had so much evidence in the evidence room that it was actually stacked up on the moving shelves."
At the time, McPheeters said the stacking of evidence presented a falling hazard. The department has made efforts to better organize evidence in a safer manner, including moving some evidence to the nearby city-owned Marathon building. However, storing evidence there comes with security issues and also hazards for police department staff as evidence has to be moved down a narrow staircase into the basement of the old warehouse.
Due to the department's general lack of space at the Hall of Justice, the evidence room is also being used to store unused prescription drugs people drop off at a drug take back box in the lobby. McPheeters said that the four drug take back boxes being stored in the evidence room are filled about once every month.
"It takes about a month to fill up those four containers with literally three, four hundred pounds of drugs that our citizens do a great job of dropping off," McPheeters said. "That puts us in custody of controlled substances and hazardous substance that we don't want people flushing down the toilet."
While the police department has made progress on better organizing what used to be "absolutely overflowing" long-term evidence storage space in the basement of the Marathon building, McPheeters said the quality and security of that space is inadequate, pointing to the example of the possibility for flooding in the basement of the old building.
"We'd have to form a chain of officers and and take that evidence out of here to protect it," the police chief said. "We do the absolute best we can with the space that we've got. However, the space we've got is not adequate."
Outdated forensic laboratory
Outside of the evidence storage room the the Hall of Justice the police department has a small forensic laboratory that McPheeters describes as "wholly 100% unacceptable."
The space lacks the proper ventilation needed to deal with chemicals used in fingerprinting processes and the technology itself in the lab dates to the 1970s, according to the police chief, though the department has made some renovations to improve ventilation when it comes space used to test controlled substances.
"You can't breathe those chemicals and so our our laboratory efforts are just not doable," McPheeters said of fingerprint testing in the small forensic lab.
Inadequacies in the lab sometimes force it to send materials to outside forensic laboratories. That can cause delays for the Casper Police Department as items sent for analysis may have to await more priority orders outside labs are handling, particularly if the material to be analyzed is not related to a suspected violent crime.
"If your home got broken into today and they stole your your Xbox or your TV, you would hope that we would be able to process those fingerprints in a meaningful way but you would be disappointed because we would be on this
long waiting list of 'well, that's not a violent crime,'" McPheeters said.
Janitorial closet converted into a field evidence tech room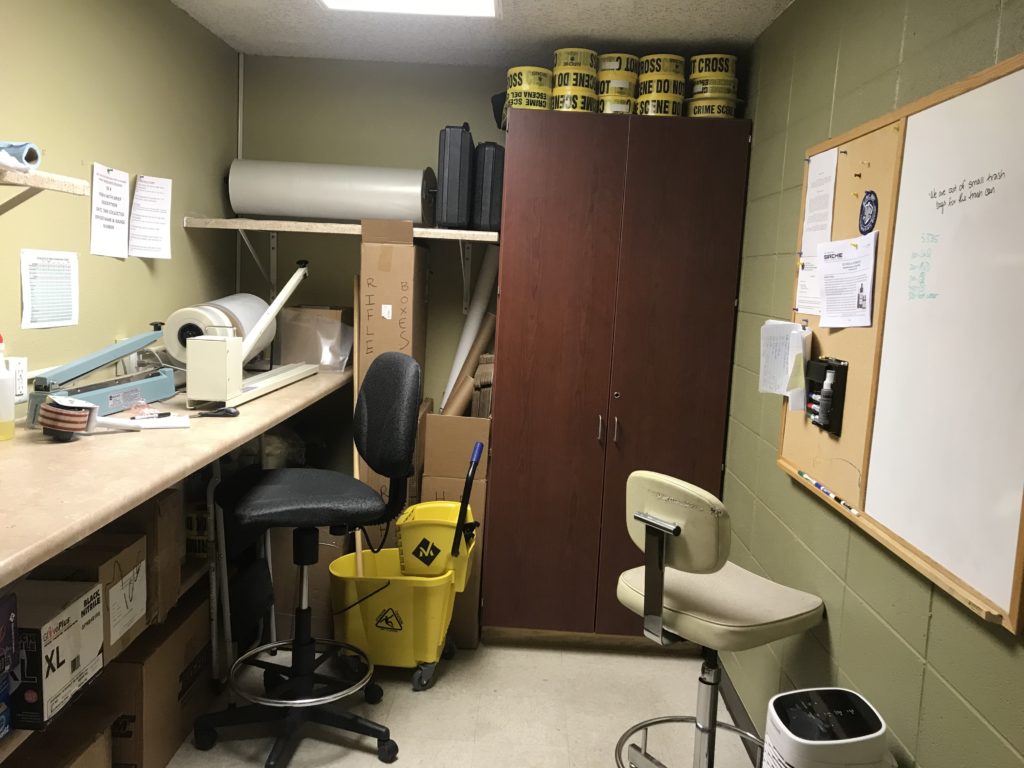 The police department's field evidence tech room in the Hall of Justice exists in what used to be a janitorial closet. The space is used when officers gather evidence in serious crimes such as kidnapping and aggravated assaults.
"They show up and they gather up all that evidence," McPheeters said. "Think of the bloody blankets and all that they gather up. This little storage room is the only room that we have for them to process it, get it packaged up to get it submitted into evidence so that we can use it at trial or ship it to to other laboratories for confirmatory testing."
When the department gathers evidence in a serious crime like a domestic homicide, there can be "hundreds of pounds of evidence" that need processing and McPheeters said that this will be stacked up in the hallway outside of the field evidence tech room in the converted janitorial closet. That can clog up traffic and disrupt flow within the Hall of Justice.
The former janitorial closet is just one example of converted space in the Hall of Justice. The department has also converted what used to be a hallway into an office and is utilizing other hallway space for storage needs.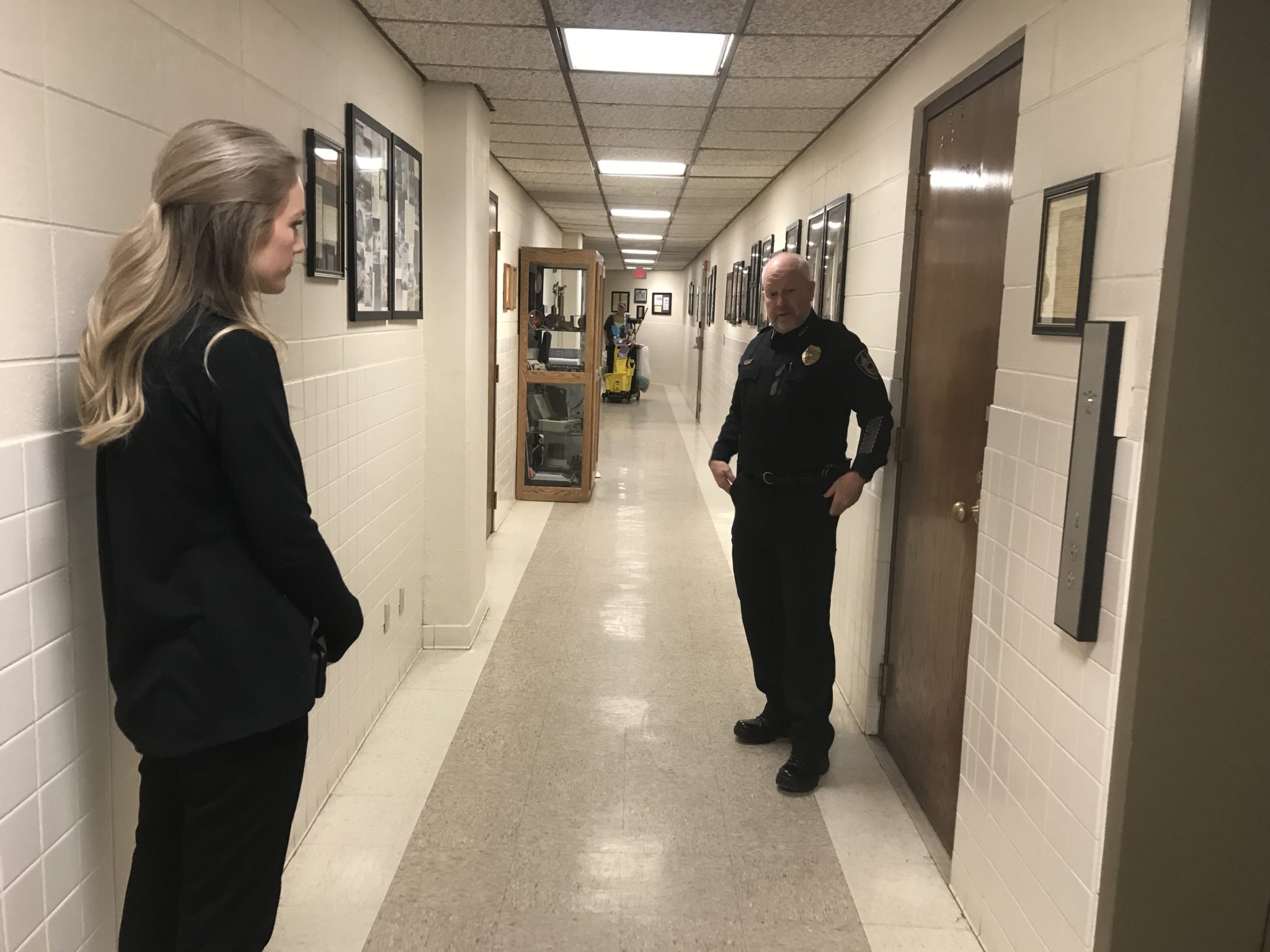 Hall of Justice's outdated ability to meet growing technology needs of a modern police department
McPheeters showed the police department's main computer server room that had to be modified to provided enough cooling to keep servers running.
"It's barely hanging on because this building was not designed for this type of electronic equipment and the cooling needs that it has," McPheeters said. "We've had to retrofit it with Halon fire suppression and things of that nature."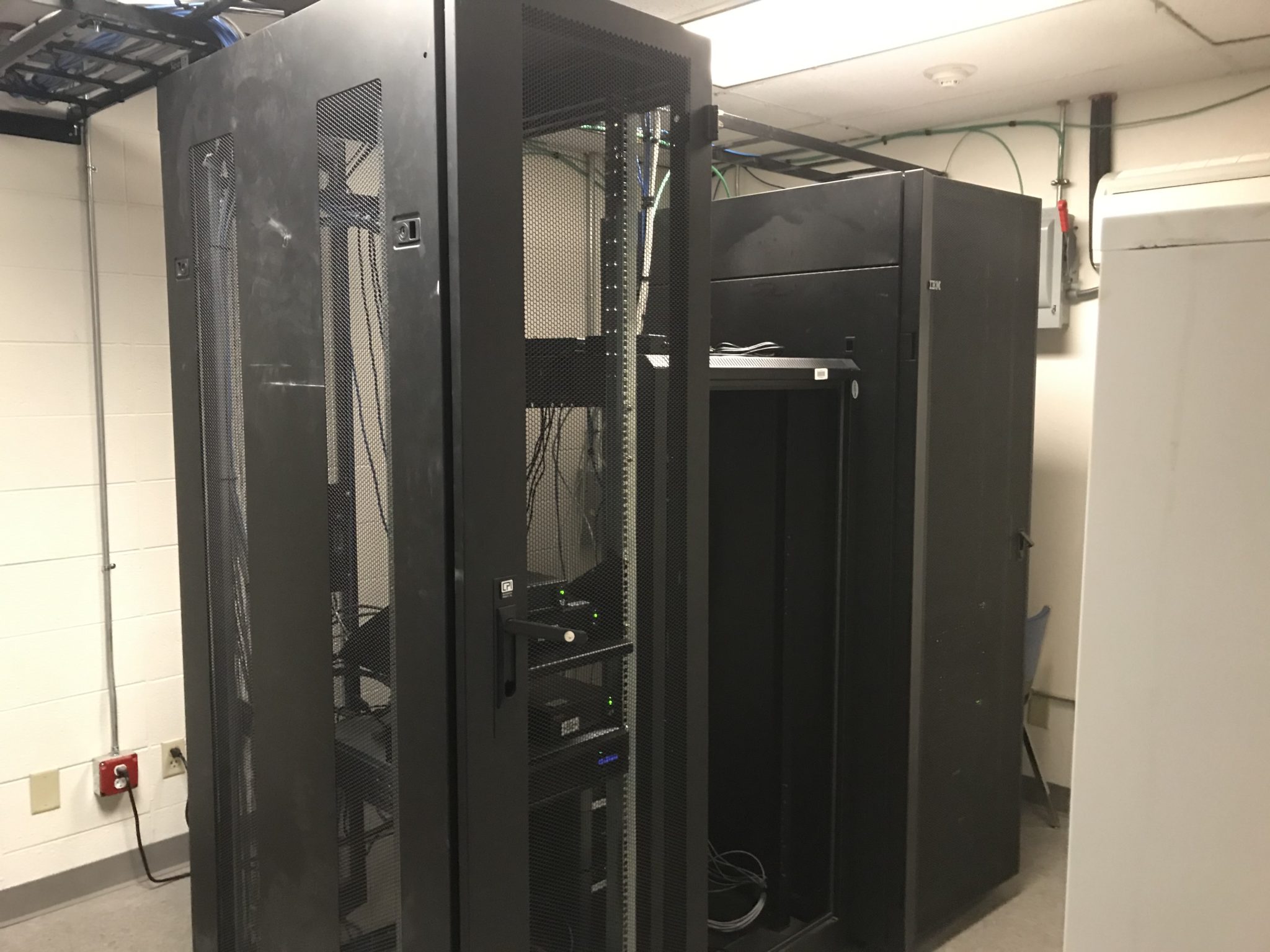 McPheeters said he expects the police department will see a growing demand when it comes to digital storage.
"The technology has changed, obviously, when you think of the massive amounts of information law enforcement has access to and acquires in the course of our investigations," he said. "Think of the body cameras. We're recording every citizen contact when we are doing police work. We record that at 1080p. All of that data has got to go somewhere. And we keep evidentiary data."
"We can never have enough [digital storage] and and five years from now we'll probably need quadruple what we have today."
McPheeters added that dispatch is housed across town and that it is not ideal to have that housed away from police headquarters. The room that now houses the servers in the Hall of Justice previously housed dispatch, but the space is inadequate for personnel reasons.
"We just no longer could support them here," the police chief said. "Now we pay another landlord even more annual rent to put our dispatch somewhere else in a facility that's [also] not designed for that. … Their servers are at great risk of not adequately cooling and if 911 services go down, that's something that our citizens are not very appreciative of."
McPheeters pointed to other inadequacies in the Hall of Justice from a technology standpoint, such as ceilings in the hallways bowing from the weight of wiring that has been added as new technology has been added. The small office housing the department's digital crime detective also lacks quality ventilation.
"The technology capacity of this building was far exceeded 20 years ago," he said.
Lack of space to meet privately with citizens
The police department's need to convert various space in the Hall of Justice has led to the elimination of space dedicated to hosting private meetings when citizens come to the department requesting assistance, according to McPheeters. Space that used to be dedicated to this purpose has been converted to the department's sole conference room in the building.
"When a citizen came to us and said 'I want to report this thing has happened at my house,' this is where we would take them, but unfortunately to just accommodate the workspaces of our people, we've had to eliminate any of those opportunities," McPheeters said. "So right now, there's no place for our citizens to sit down with us and actually communicate with us and let us help them work through their problems."
"We have our front lobby. Nobody wants to discuss intimate personal details out in the lobby."
McPheeters also pointed out that parking for visitors seeking any of the services at the Hall of Justice is lacking, with only four spots on the street adjacent to the building. Nearby lots are occupied by law enforcement and fire staff vehicles.
Lack of office space for command staff, detectives
Multiple command staff in the Hall of Justice are sharing limited office space and McPheeters said this is prolematic when it comes to their ability to provide guidance and mentoring to officers they command.
"This is my patrol sergeant's room," McPheeters said in the basement of the Hall of Justice. "I would tell you if you were the sergeant of a 10-man patrol team and you need to give recommendations on how to complete that criminal investigation to your employee, you've got to do that in in this room while other people are listening."
"It's just not an efficient way when it comes to developing our employees. This is not the way to do it."
Two lieutenants in the Patrol Division also share an office, which McPheeters said causes similar problems.
Detectives are also sharing office space and McPheeters said this leads to inefficiencies.
"Office spaces that were meant for one person now contain three," McPheeters said. "He's interviewing a victim on the phone. And this one's interviewing a suspect over here. And and this one's trying to do work. It just breeds all
of this inefficiency in there so that they can't do their work because they can't say the things that need to be said while somebody else is in the room listening that's unrelated to their case. … I'm completely out of workspaces."
Yes, traffic officers spend a lot of time in police cars, but they still need space at headquarters
McPheeters is aware that some people balk at the notion officers need more space since they spend a lot of their time in vehicles on the streets. He said it is true that officers spend a lot of time in vehicles and that they have computers in their cars.
"I hear it all the time: 'Well, the officer's true workspace is the car,'" he said. "I want them to come sit in my car and write a 14-page report twisted sideways in their car and then wonder why police officers have back issues."
While there is space for officers to type reports in the basement of the Hall of Justice, McPheeters said more is needed. The Patrol Division briefing area is also in the basement, as are evidence drop boxes that would more ideally be located near the evidence room on the main floor, where space is not sufficient to house the drop boxes.
Lack of toilets, showers and problems with leaks from above
The police department has three single-seat bathrooms on the main floor that McPheeters said are insufficient to meet the needs of staff working on that level.
"Over here is the the one restroom that my female employees have access to," he said. "It is room for one female employee to go to the bathroom on this entire floor."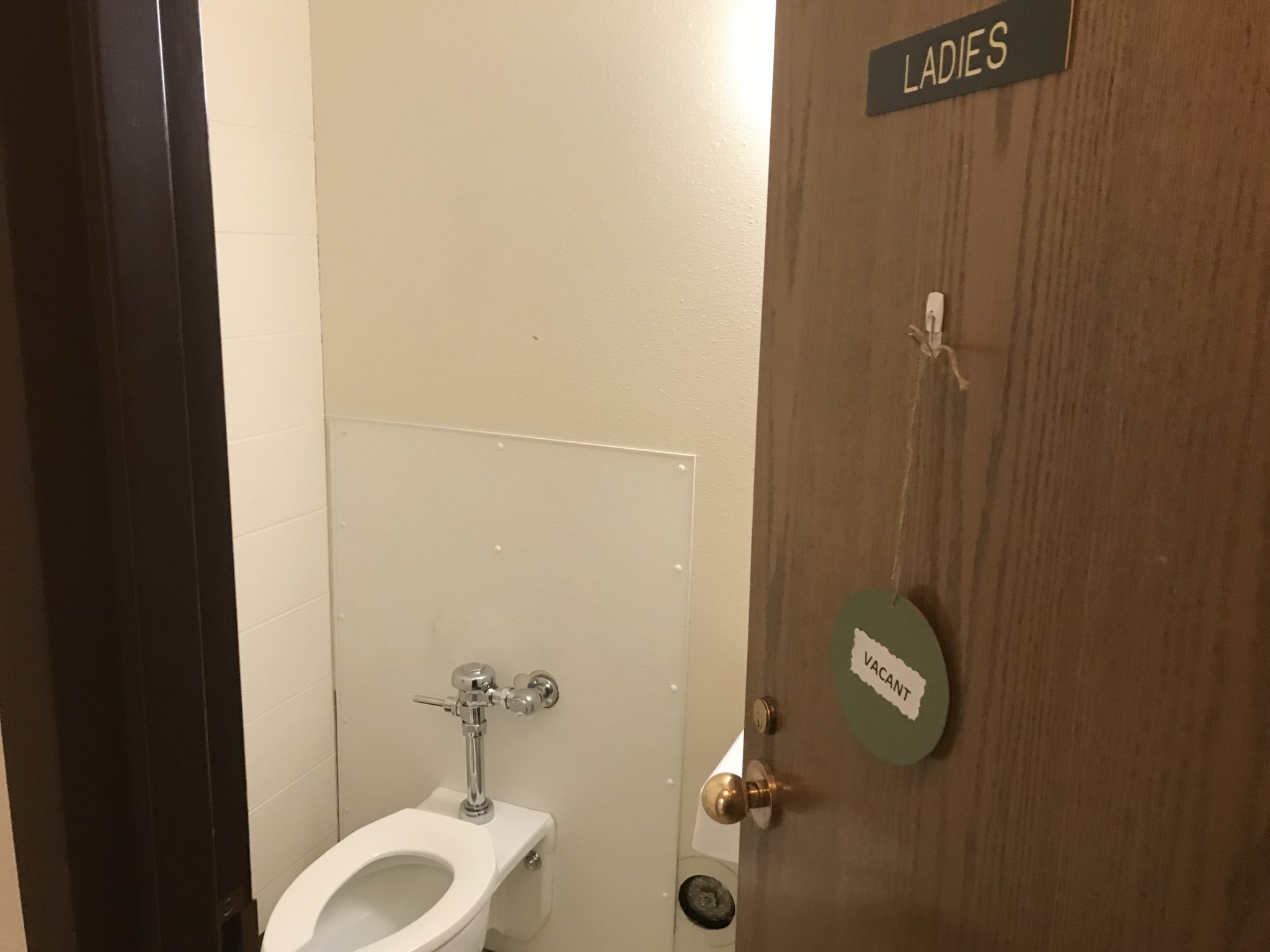 There are a couple of toilets in the women's locker room on the basement level. However, the room offers no privacy for female officers and contains one mirror. The department also also lacks a lactation room where mothers can nurse and McPheeters said that in general, the amenities available to female officers are manifestly lacking.
Urinals in the men's locker room have to be flushed multiple times and there are not enough seated toilets or showers, according to the police chief.
"I have two showers and anybody that thinks that that's adequate needs to put on one of these vests and they need to go stand and direct traffic in July in Casper out in the sun, because that radiant heat heats up the vest and it doesn't go away till the next day," McPheeters said.
The department also deals with occasional leaking from the NCSO facilities located above in the Hall of Justice.
"The Sheriff's Department is upstairs and their locker room floods periodically," McPheeters said. "Their toilets flood. So when you walk in here and stuff is dripping from the ceiling, it's not good."
Lack of parking and fleet management space
The Hall of Justice area lacks sufficient parking to meet the combined needs of the police department, the NCSO, Natrona County government offices, the county courtroom and the public, according to McPheeters. The police department and NCSO share underground garage space and McPheeters said there is not enough room to offer secure parking and meet maintenance needs such as cleaning or putting snow chains on tires.
"We're just don't really have an efficient operation down here anymore," McPheeters said.
Asking staff to park in outdoor lots that are used 24/7 and therefore rarely get plowed in the winter can lead to icy conditions and hazards. McPheeters said there have been multiple occasions in which officers have been injured due to slipping on ice in the parking lot outside.
What is happening to solve the problems?
McPheeters pointed to a variety of other inadequacies the police department is facing with its existing space and the 2019 report prepared for the city offers further analysis of the problems.
Casper formed a committee of city council members and city staff in spring 2021 to work toward finding a solution for the police department. That came after the city released results of a survey in spring 2020, which found that about 61% of voters would support using "sixth cent" funding for a new facility that would cost about $42.5 million.
The cost to build a new facility has likely grown since that survey was conducted, as was discussed during a meeting the city held with Wyoming legislators from Natrona County two weeks prior to the start of the 2022 budget session that began this week. City staff and members of council asked legislators to keep in mind Casper's need for a police headquarters and other infrastructure needs when making decisions about use of state and federal dollars that may be available.
A tenant of Casper Business Center located downtown attended the city council meeting on Tuesday, Feb. 16 and communicated to the council that a rumor is circulating that the city may have an interest in the building — perhaps several floors and the parking garage. The city manager's office communicated to Oil City News on Wednesday that City Manager Carter Napier was not able to offer comment on whether or not the city has an interest in that building.