CASPER, Wyo. — On a typical afternoon during a slight lull between the lunch and dinner rushes, Patricia White is on the floor at Johnny J's, efficiently bussing a table before greeting a regular customer at the door.
The routine seems almost effortless to her after 35 years in the restaurant business. One thing is significantly different, though: Instead of working at any restaurant, she's working at her restaurant.
In January, White took ownership of Casper's popular diner, a place where she started as a server 12 years ago and quickly worked up to service manager.
Festooned in chrome and neon on the outside and decorated with bright midcentury-style furnishings and pop culture cues inside, Johnny J's can feel like walking onto the set of a 1950s sitcom. The menu offers American comfort food ranging from burgers and sandwiches to milkshakes and pie. It's the restaurant that launched Casper restauranteur John Johnson's business some 30 years ago, first as Granny's before a rebrand and move to its current location, 1705 E. Second St., in 2000.
Johnson's business grew into the Johnson Restaurant Group (JRG), and it now operates restaurants with both original and chain concepts in multiple states.
But as the business portfolio grew, keeping the shiny diner started to make less sense. There's no executive chef, and no chain concept with its built-in items and costs. "This restaurant needed the most hands-on [work] of all the others," Patricia said. "It's a mom-and-pop restaurant, and it always will be."
"About this time last year, our GM came to me to let me know that John Johnson had decided to sell Johnny J's," she added, "and immediately I said, 'Oh my gosh, I want to buy it.'"
Patricia said the owner was immediately on board and never listed the property.
"I did a business plan and got financing, and John was wonderful the whole way," she said. "We closed on the 20th of January of this year."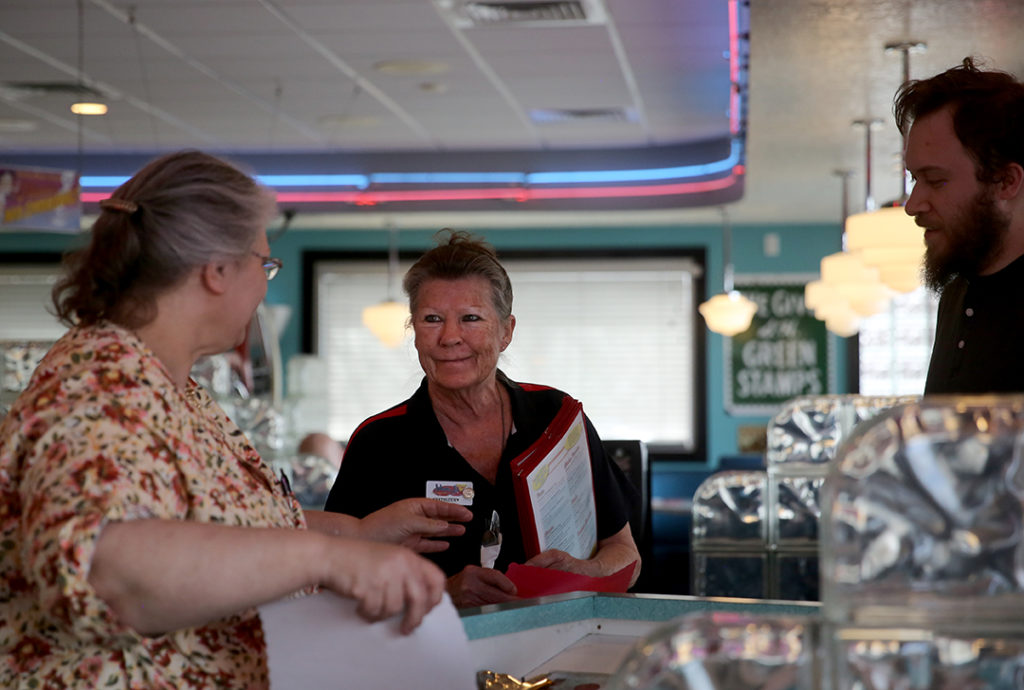 A life in restaurants
Wisconsin-born Patricia has worked in restaurants much of her adult life, first staring at a Wendy's. She moved to Arizona, where she met her husband and started a family. Her husband, a Casper native, decided it would be best to raise their four kids in his hometown, so they relocated here in 1990. Her first serving job in Wyoming was at JB's on F Street, she said.
"I've only worked at a few restaurants because I believe in working in one place for a long time," she said. That philosophy extends to much of the staff of 45 working at Johnny J's. In a business notorious for staff turnaround, she has multiple employees with more than 10 years at the restaurant.
"Somebody would have to die right now for me to have to hire another server," she joked. "I'm truly blessed."
With her years of experience on the floor, she believes in giving her staff the support they need to succeed in a tough job where she and others can put up to 60 hours on the clock in a busy week.
"I tell them that when things are good, I stand behind them; when things get rough, I stand in front of them," she said.
Supportive staff
Server Brooklynn Gabhardt, 17, has worked at Johnny J's for more than a year, and said she welcomed the news.
"I found out from Ms. P," she said. "She gathered us in a room and said, 'Hey, I need everybody to know that I'm buying this place from John Johnson,' and we were all super excited for her."
"She's lovely, she knows exactly what she's doing," Brooklynn added.
Line cook Ian Randel said he feels the restaurant was less of a priority while in the JRG portfolio.
"Now we have Ms. Pat, who's bought the place, and we're just — I think we're in better standing now," he said. "This is her livelihood. She loves this place."
Keeping the aesthetic
Patricia intends to keep Johnny J's running like it always has. There was a cosmetic refresh last month with new paint and furnishings, but otherwise it should be business as usual. The diner is catnip to classic car enthusiasts, she said, as well as summer tourists who drive out of their way to stop for a bite and look around.
"With the Americana, we actually get people from overseas because they want to see what America was like in the 1950s," she said.
Patricia said carrying on the legacy and concept of Johnson's first successful restaurant is important to her. "I have been truly blessed," she said.
Could there be a rebranding in the future, perhaps to "Ms. P's"?
"No, no, no," she said. "I paid a lot of money for that name."