CASPER, Wyo. — Almost every Casper resident knows the white-knuckled feel of a winter drive along Interstate 25. Now imagine also having your new business that you've put all of your savings into along for the ride.
"It was challenging," said Bailey Gardner. "The weather and the roads were kind of rough, and it was obviously an oversized load so getting all the permits was an obstacle."
Bailey found the coffee kiosk for sale in Loveland, Colorado, after its original owner closed during the COVID pandemic. Now safely on a new foundation at her parents' gun and ammo business at 2310 CY Ave., the coffee kiosk has been rechristened "How You Bean Coffee" and is the fulfillment of Bailey's love of coffee, conversation, and bad jokes.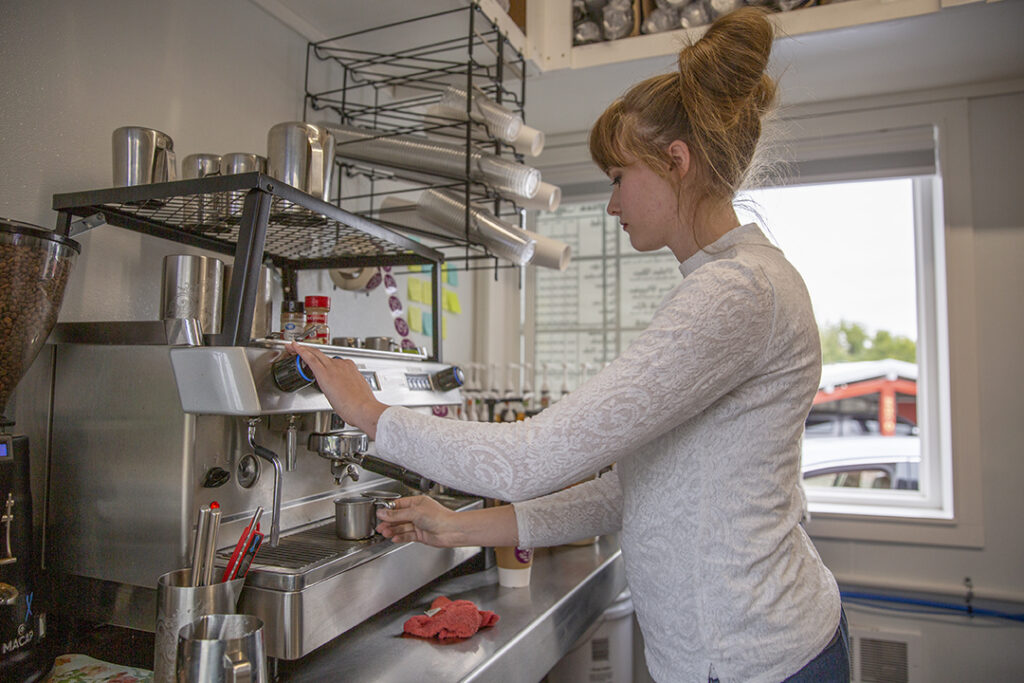 "In my freshman year of high school, I knew I wanted to open a coffee shop," said Bailey, now age 22. She's a Casper-born NCHS grad who decided a while ago that college wasn't for her, and started planning her own business.
"I want to do things that make people happy, that make them smile," she said, "and coffee is the thing that people look forward to in the morning and maybe the first thing they look forward to in their entire day."
She learned on the job, getting hired in local coffee shops to pick up the tricks of the trade. After years of saving and planning, the kiosk in Colorado became available. It was almost turnkey, with most of the necessary equipment and support. There was no need for plumbing since it has a built-in water system and refillable tank, and location wasn't a concern since she could use the parking lot at her parents' business, Powder River Armory.
The conversation part of the business is something Bailey holds dear.
"I don't want to just give people their coffee and let them go about their day," she said. "I want to be able to know about where they're going and what their job is like, and who they're married to, and what their mom is doing."
The shop's punny name was a result of Bailey's affinity for "dad jokes."
"Naming the drinks is one of my favorite parts," she said. "I wanted to have fun with it and be original."
She fell into an unintentional music theme with several of the names. "We have Stacy's Mom, Jessie's Girl, Barbie Girl, Thunderstruck, and we have a drink called the Twisted Sister," she said. The shop's Facebook page is often sprinkled with delightful groaners.
"They make me happy, and they make people happy," she said. "Maybe they make people roll their eyes, but they make me happy."
---
The How You Bean Coffee kiosk is located at 2310 CY Ave. Its Facebook page is here.