What should you wear during a once-in-a-lifetime event?
If recent local sales trends are any indication, it'll likely be a t-shirt with hip designs around an eclipse logo. Accessorizing is important, so why not add an eclipse hat, coffee mug, beer cozy koozie, and key chain as well.
"It's going full blast now," said Wayne Wilson recently. The store Wilson manages, Wyo Shirt & Gifts, is one of a number in the area stocked up on eclipse souvenirs and clothing in anticipation for the upcoming event. "We've sold thousands of viewing glasses," adds Wilson, who says that out of the 32 keys on his register, "eclipse" is easily the most pushed.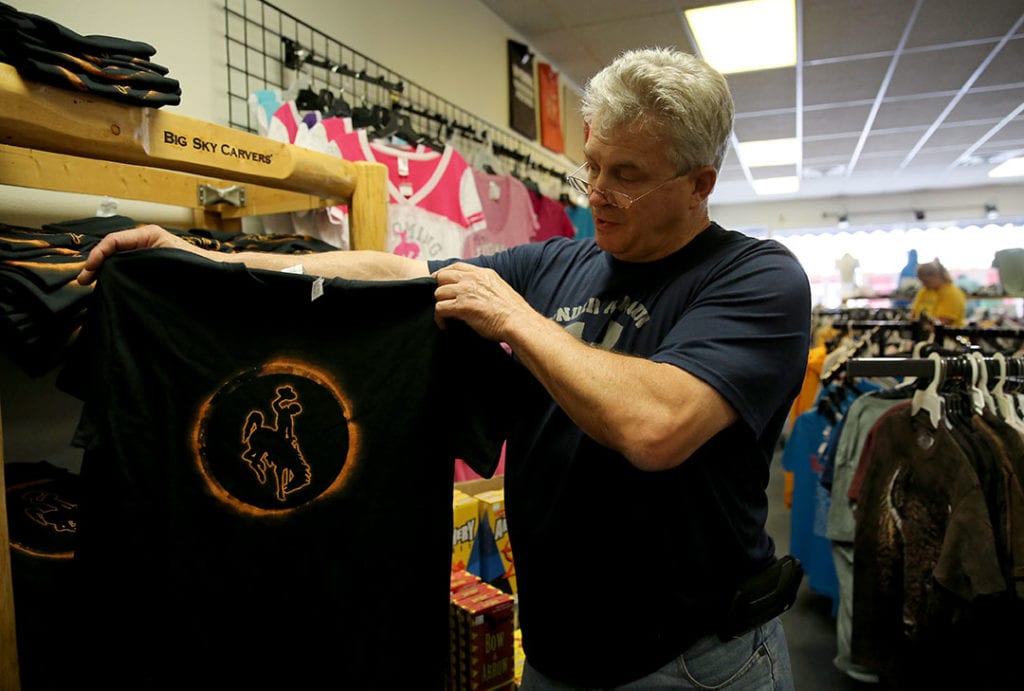 Customer Mo Bila spent part of her Monday afternoon perusing Wilson's downtown store in search of a t-shirt for her 8 year old niece. She's excited to host her niece and other relatives at her home during the eclipse. "We have the perfect view from our backyard," said Bila. Her niece, visiting from Denver, will miss her first day of school for the event.
At 1890 Craft Apparel a few blocks away, employees have been working to stay on top of orders. The order are "easily in the thousands," said printer Josh Hodges. "Especially as the event gets closer." The shop will be devoting all of its manufacturing efforts exclusively to eclipse merchandise the week before the eclipse, said Hodges.
Orders are coming in from all over the world, according to lead sales assistant Jessica Quick, who is taking orders from all over the world. "I get calls from London every week," said Quick.
Like 1890, Oil City's own eclipse festival merchandise, which features a painting by local artist Zachary Pullen, is available mainly online and has also seen increased interest. Large retailers like Target are also locally getting into the eclipse merch game. New downtown business Pokes Deli & Outlet will have their own custom eclipse merchandise in the coming days, according to co-owner Pete Owen. "We're hoping for a big run on eclipse merchandise," said Owen.
Wyo Shirt & Gift's Wayne Wilson says he's surprised how steadily and rapidly sales have increased in recent days. Since he has no other real comparable, he's uncertain how much eclipse merchandise he'll ultimately sell. "This is unprecedented," said Wilson, who like many downtown retailers are planning extra hours during eclipse weekend. "We'll stay open as long as our bodies hold out."