CASPER, Wyo. — Wyoming K–12 schools have a total of 91,640 students enrolled for the fall 2022 semester, a decline of 352 students compared with the 2021–22 school year, the Wyoming Department of Education announced Tuesday.
Across the state, 28 school districts saw a decline in enrollment, 19 saw an increase, and one had no change, the WDE said. Total K–12 enrollment counts for Wyoming dating back to 1991–1992 can be seen in the following graph from the WDE: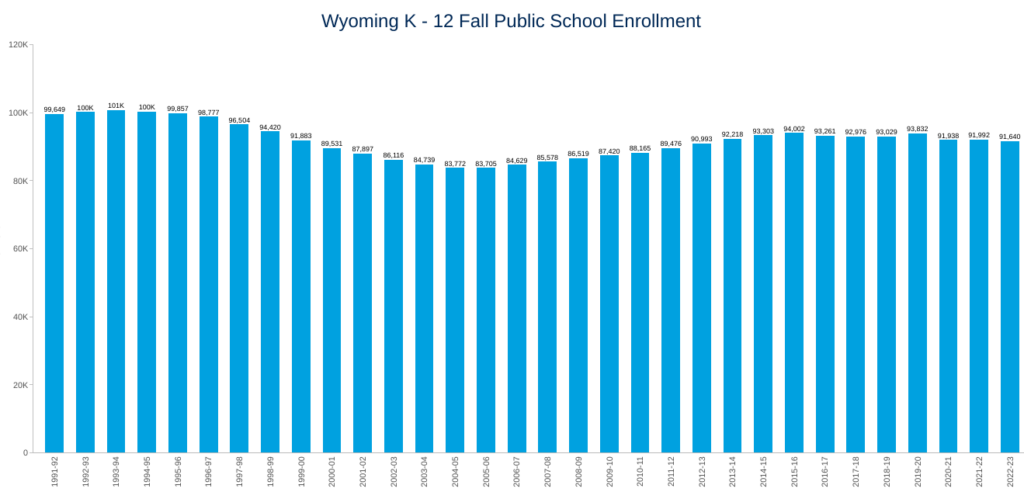 The Natrona County School District's fall 2022 total enrollment count is 12,833, down 54 students from the previous school year. NCSD enrollment numbers by grade over the past 10 school years are shown in the following table from the WDE:
Three of five statewide virtual education programs that are available in Wyoming saw decreased enrollment this school year, the WDE said: Big Horn #1, Niobrara #1 and Sweetwater #1. The WDE said those declines are likely due to students returning to brick-and-mortar schools in the wake of the COVID-19 pandemic.
"Sheridan #1 saw an increase of 31 students or a three percent change, while Weston #7 increased by 54%, going from 471 students to 725 due to their virtual program," the WDE added.
Further enrollment data from the WDE is available at the following links:
"This data was gathered from all school districts throughout the state in a snapshot performed on October 1, 2022," the WDE said. "The agency does not collect numbers of students enrolled in home or private school environments."