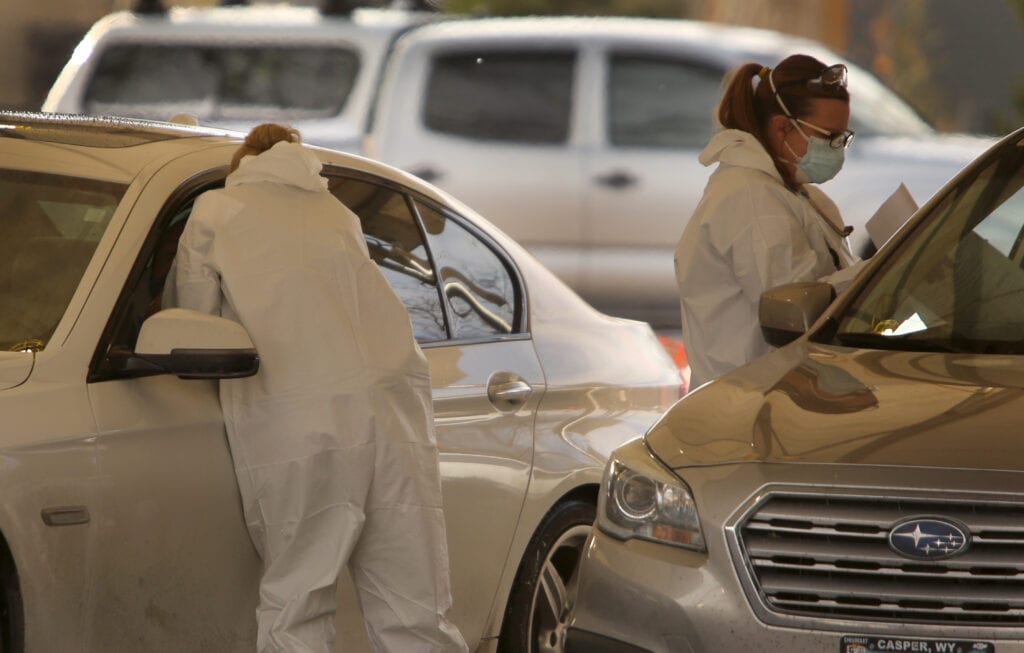 CASPER, Wyo. — The Wyoming Department of Health (WDH) reported 167 new laboratory confirmed cases of COVID-19 during their 3 pm Wednesday, Jan. 13 update.
That brought the total to 41,283 confirmed COVID cases in Wyoming since the pandemic began. Over 500 new cases were reported in Wyoming on both Monday and Tuesday.
Wyoming has been adding an average of 279.4 new confirmed cases per day over the last seven days.
Article continues below...
Statewide Wednesday, 10 additional probable cases were also reported, bringing the total to 7,006.
No additional COVID related deaths were reported Wednesday. The WDH announced 33 additional COVID-19 related deaths among Wyoming residents on Tuesday. There have been 522 total COVID-19 related deaths since the pandemic began. In Natrona County, 103 COVID related deaths have been reported.
COVID-19 hospitalizations dropped to 82 on Wednesday, the first time Wyoming hospitals have had less than 90 COVID patients since October, according to the WDH. Wyoming saw a peak of 247 COVID-19 patients hospitalized with COVID across the state on Nov. 30.
While hospitalizations have been on the decline, Wyoming's effective reproduction rate of the virus climbed to 1.15 as of Wednesday morning, according to Rt.live. That's the third highest rate of any state in the country. This number reflects the average number of new cases each case is expected to create. Any time the effective reproduction rate is above 1.0, COVID-19 is expected to spread quickly.
637 new recoveries from lab confirmed cases were reported Wednesday, bringing the total to 39,358. 44 additional probable case recoveries were also reported for a total of 6,546.
42 new confirmed cases were reported in Natrona County on Wednesday bringing the total to 5,294 since the start of the pandemic. Four additional probable cases brought the total to 1,645.
5,081 total recoveries from a lab confirmed case and 1,528 probable case recoveries have been reported in Natrona County.
"A lab confirmed or probable case is defined as recovered when there is resolution of fever without the use of fever-reducing medications and there is improvement in respiratory symptoms (e.g. cough, shortness of breath) for 24 hours AND at least 10 days have passed since symptoms first appeared," the WDH says. "Cases with laboratory-confirmed COVID-19 who have not had any symptoms are considered recovered when at least 10 days have passed since the date of their first positive test and have had no subsequent illness provided they remain asymptomatic."
WDH Public Information Officer Kim Deti explained that the department marks people as recovered once their isolation order date has expired. People who test positive are asked to remain in isolation until 10 days since their first symptoms or 10 days after their test was taken, or longer if they are still showing symptoms.
If people need to be isolated longer than their initial isolation period, they can contact the WDH who can extend their isolation order. Deti said that in some cases, contact tracing informs whether a case is considered recovered while in others, the department counts someone as covered after their isolation period concludes.
County-specific COVID-19 information is available from the Wyoming Department of Health. Lab confirmed cases in each county are as follows (probable cases in parentheses):
Albany: 3,300 (337)
Big Horn: 745 (147)
Campbell: 3,987 (420)
Carbon: 1,006 (77)
Converse: 517 (356)
Crook: 366 (31)
Fremont: 3,636 (577)
Goshen: 976 (89)
Hot Springs: 227 (65)
Johnson: 350 (220)
Laramie: 6,462 (1,142)
Lincoln: 904 (143)
Natrona: 5,294 (1,645)
Niobrara: 62 (81)
Park: 2,205 (141)
Platte: 329 (171)
Sheridan: 2,206 (515)
Sublette: 525 (106)
Sweetwater: 3,098 (124)
Teton: 2,435 (67)
Uinta: 1,480 (294)
Washakie: 657 (173)
Weston: 516 (85)
---
The Latest Statistics from the Wyoming Department of Health:
---
What to do if you are feeling sick: In the wake of the COVID-19 outbreak, the Casper-Natrona County Health Department says that people who are feeling sick or exhibiting symptoms should contact their primary physician.
If you do not have a primary care provider, and live in Natrona County, please contact the COVID-19 hotline, operated by the Casper-Natrona County Department of Health. The line is open Monday – Friday 8:00 am – 5:00 pm 577-9892. Hotline services are intended for Natrona County residents and may not be able to provide specific information to persons calling from out of county.
Officials ask that you please do not self-report to the Emergency Room. Persons experiencing problems breathing should call 9-11.
For general inquiries and non-symptom related questions about COVID-19, please contact the Casper-Natrona County Health Department via email: covid@cnchd.org
---
Practice Social Distancing by putting distance between yourself and other people. This is especially important for people who are at higher risk of getting very sick.
Wash your hands often with soap and water for at least 20 seconds especially after you have been in a public place, or after blowing your nose, coughing, or sneezing. If soap and water are not readily available, use a hand sanitizer that contains at least 60% alcohol.
Avoid close contact with people who are sick
Stay home if you're sick
Cover coughs and sneezes. Cover your mouth and nose with a tissue when you cough or sneeze or use the inside of your elbow.
Clean AND disinfect frequently touched surfaces daily. This includes tables, doorknobs, light switches, countertops, handles, desks, phones, keyboards, toilets, faucets, and sinks.
A list of area closures attributed to COVID-19 are available here.