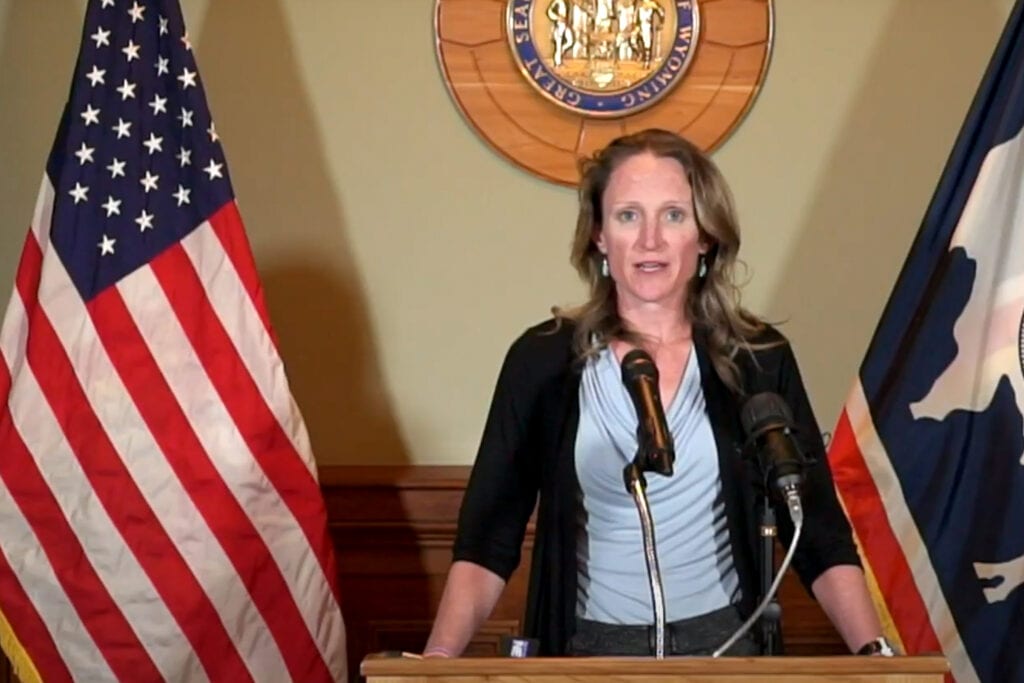 CASPER, Wyo. — The Wyoming Department of Health says data gathered from Wyoming residents who have tested positive with COVID-19 prove the effectiveness and safety of vaccines.
According to the WDH's data, a review of more than 2,400 lab-confirmed and probable cases in Wyoming residents age 16 and older between May 1 and June 15 shows that around 95 percent of them were not fully vaccinated against the coronavirus.
Additionally, in that same period, of the nearly 150 people hospitalized for COVID-19, more than 93 percent of them reported to having not been fully vaccinated.
Article continues below...
The WDH says to date that there has been one COVID-19-related death of a Wyoming person who was reportedly fully vaccinated. Details of that person's age and other health issues were not given in the release.
Dr. Alexia Harrist, health officer and state epidemiologist with the WDH, said in the release that Wyoming's data appears to be consistent with results across the country.
"We are seeing excellent results among those who have been vaccinated. The vast majority of recent, new cases have involved people who were not yet fully vaccinated," she said in the release.
"It's clear vaccines are the key to seeing fewer COVID-19 illnesses and there is no question we'd like to see higher vaccine coverage rates in our state."
While Wyoming's average statewide daily case numbers are stable, they aren't dropping as quickly as in states with high vaccination rates.
Wyoming ranks among the lowest of U.S. states for vaccine compliance, with around 39 percent having received at least one dose.
Another concern is the growing presence of the "Delta variant" in southeastern Wyoming.
"The data is showing this variant is more easily transmitted than other strains, meaning it spreads more easily between people and spreads to more people," Harrist said in the release. "Early information is also showing this variant may be associated with higher likelihood of severe illness than other variants."
Research indicates that current vaccines are still effective against the newer variants, said the release.
---
The Latest Statistics from the Wyoming Department of Health:
---
What to do if you are feeling sick: In the wake of the COVID-19 outbreak, the Casper-Natrona County Health Department says that people who are feeling sick or exhibiting symptoms should contact their primary physician.
If you do not have a primary care provider, and live in Natrona County, please contact the COVID-19 hotline, operated by the Casper-Natrona County Department of Health. The line is open Monday – Friday 8:00 am – 5:00 pm 577-9892. Hotline services are intended for Natrona County residents and may not be able to provide specific information to persons calling from out of county.
Officials ask that you please do not self-report to the Emergency Room. Persons experiencing problems breathing should call 9-11.
For general inquiries and non-symptom related questions about COVID-19, please contact the Casper-Natrona County Health Department via email: covid@cnchd.org
---
Practice Social Distancing by putting distance between yourself and other people. This is especially important for people who are at higher risk of getting very sick.
Wash your hands often with soap and water for at least 20 seconds especially after you have been in a public place, or after blowing your nose, coughing, or sneezing. If soap and water are not readily available, use a hand sanitizer that contains at least 60% alcohol.
Avoid close contact with people who are sick
Stay home if you're sick
Cover coughs and sneezes. Cover your mouth and nose with a tissue when you cough or sneeze or use the inside of your elbow.
Clean AND disinfect frequently touched surfaces daily. This includes tables, doorknobs, light switches, countertops, handles, desks, phones, keyboards, toilets, faucets, and sinks.
A list of area closures attributed to COVID-19 are available here.