CASPER, Wyo. — Everyone from teachers to police to fast food employees to oil and gas workers could soon be required to either get vaccinated against COVID-19 or submit to weekly testing.
Thousands of Wyomingites will be impacted by a new mandate announced by President Joe Biden on Thursday. The Associated Press reported that Biden's new mandate requires all employers with at least 100 employees require workers to either get vaccinated or submit to weekly testing.
The University of Wyoming alone has 2,844 benefited employees. Police, firefighters and other staff of cities like Casper could be impacted by the mandate, as could the Natrona County School District, which employs about 3,000 people.
The rules would apply to oil and gas companies like Halliburton or to miners at places like the Bell Ayr Mine in Gillette. Those are among at least 50 companies in the state that have at least 350 employees, according to the U.S. Department of Labor's CareerOneStop: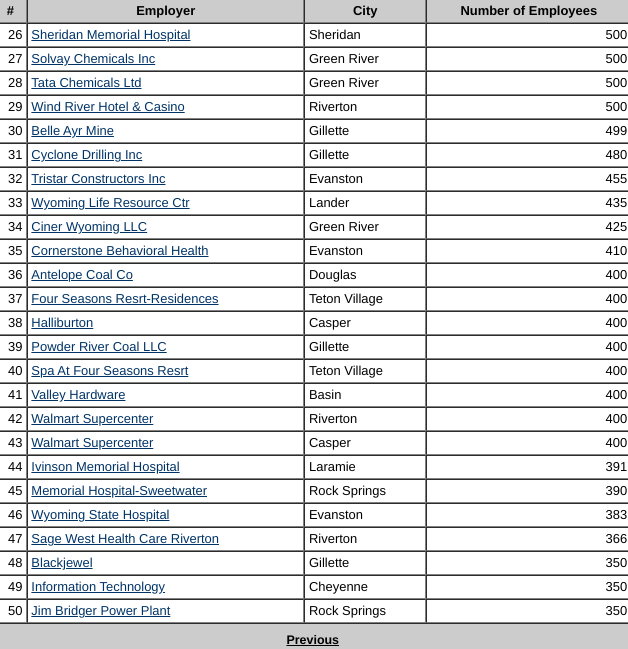 The new vaccine mandates would be enforced through a rule that will be issued by the Occupational Safety and Health Administration (OSHA), according to the AP. Employers who don't adhere to the mandate could face penalties of $1,400 per violation.
The AP added that the White House has not yet said when the rule will take effect. The new rule will require companies to provide paid time off for employees to get vaccinated.
Wyoming Governor Mark Gordon said on Thursday he thinks the new vaccine mandates are "an egregious example of big government overreach."
Biden announced the new requirements in a Thursday afternoon address from the White House as part of a new "action plan" to address the latest rise in coronavirus cases and the stagnating pace of COVID-19 shots that has raised doubts among the public over his handling of the pandemic, said the AP.
The actions come as the Delta variant of COVID-19 spreads, specifically through states such as Wyoming with persistently low vaccination rates. Idaho hospitals are so full of COVID patients that health care is now being rationed.
Wyoming hospitals are also nearing capacity, health experts are warning.
Wyoming is now fewer than 15 COVID-19 patients away from reaching a new all-time high during the pandemic, according to numbers from the Wyoming Department of Health. There have been at least 189 COVID-19 patients in Wyoming hospitals every day so far in September. In September 2020, there were never more than 25.
Just under 36 percent of Wyoming's population is fully vaccinated, according to the Wyoming Department of Health.
---
The Wyoming Department of Health provides COVID-19 case, variant, death, testing, hospital and vaccine data online. The department also shares information about how the data can be interpreted. COVID-19 safety recommendations are available from the CDC.