CASPER, Wyo. — The percent of people fully vaccinated against COVID-19 increased to 36.49% as of Monday, September 13, according to the Wyoming Department of Health.
That is up from 35.91% as of September 7, with an additional 3,374 people becoming fully vaccinated in the last week. Since the FDA gave full approval to the Pfizer COVID-19 vaccines on August 23, 9,289 Wyoming residents have become fully vaccinated.
The climbing vaccination rate in Wyoming could get a boost once the U.S. Department of Labor's Occupational Safety and Health Administration (OSHA) finalizes a rule pursuant to President Joe Biden's new vaccine mandate.
Biden announced a new COVID-19 Action Plan last week that includes a rule that will mandate employers with 100 or more employees require that their employees either get vaccinated or get tested for COVID-19 on a weekly basis.
The new rule would likely affect thousands of Wyoming workers. That is likely to include Wyoming teachers and other school staff, according to the Wyoming Department of Education.
The new vaccine mandate could change the dynamics of COVID-19 vaccination rates in Wyoming in terms of age. Seniors age 65 and up (people born in or earlier than 1956) are currently the most likely to have been fully vaccinated in Wyoming. 68.5% of seniors were fully vaccinated as of Monday, an increase of 0.3% in the past week, according to the WDH.
However, the vaccination rate among adolescents age 12-17 (people born between 2009 and 2014) saw the biggest jump in the last week. 36.5% of people age 12-17 in Wyoming were fully vaccinated as of Monday, up 1.5% in the last week.
45.2% of Wyoming adults age 18 and up have been fully vaccinated, an increase of 0.6% in the last week.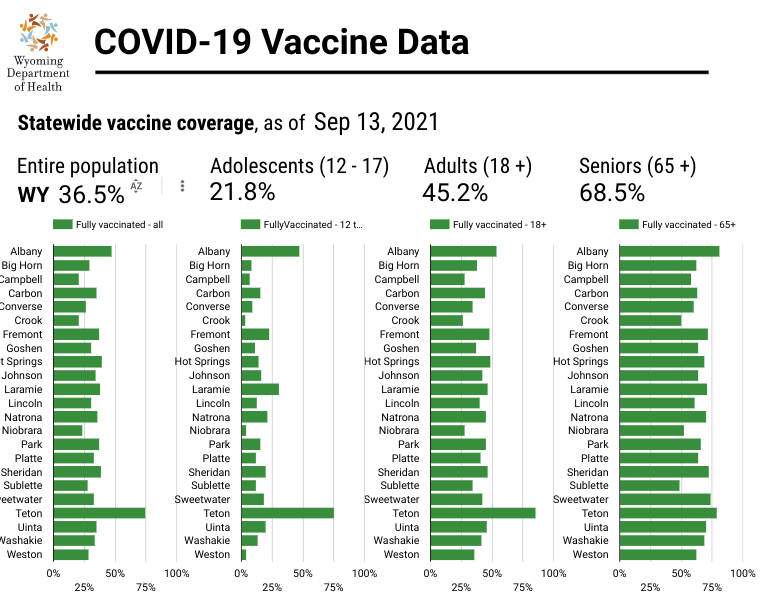 Teton County is leading the state in terms of the overall vaccination rate and is pushing closer to having three out of every four people fully vaccinated. As of Monday, 74.57% of people in Teton County were fully vaccinated, up from 73.94% on September 7.
Vaccination rates continue to climb in Natrona County, where 36.23% of the population is fully vaccinated. That is up from 35.54% on September 7.
Wyoming is still seeing COVID-19 hospitalizations at levels not previously seen since fall 2020, but hospitalizations have dropped since the most recent peak of 233 seen on September 8. The number of patients with COVID-19 in Wyoming hospitals dropped to 212 on Tuesday, down from 217 on Monday, according to the WDH.
Peak hospitalizations during the pandemic overall in Wyoming occurred on Nov. 30, 2020, when there were 247 COVID-19 patients in hospitals across the state.
The Wyoming Department of Health reiterated last week that getting fully vaccinated against COVID-19 reduces the risk of hospitalization.
"Data from the U.S. Centers for Disease Control and Prevention (CDC) shows that those who are fully-vaccinated have a dramatically reduced risk of requiring hospitalization for a coronavirus infection," the WDH said. "To find a vaccine location near you, visit vaccines.gov or call the National COVID-19 Vaccination Assistance Hotline at 1-800-232-0233."
With hospitals dealing with high numbers of COVID-19 patients, the WDH announced last Wednesday that Governor Mark Gordon had allocated $30 million in federal funding to help address staffing challenges at Wyoming hospitals and healthcare facilities as COVID-19 continues to surge.
The funding will be available to help provide staffing relief, support existing healthcare staff and secure traveling medical staff.
Gordon has said that he will not be issuing any statewide mask or vaccine mandates as he would prefer to leave it up to local school districts and health officials to determine what the best course of action suited to that locality is.
Both Gordon and First Lady Jennie Gordon are fully vaccinated. While he said in August that getting vaccinated is an "intensely personal choice," Gordon also encouraged people to consider getting vaccinated.
"Get vaccinated if you are willing," he said.
In response to Biden's recently announced policies, Gordon said on Thursday he thinks the new vaccine mandates are "an egregious example of big government overreach."
---
The Wyoming Department of Health provides COVID-19 case, variant, death, testing, hospital and vaccine data online. The department also shares information about how the data can be interpreted. COVID-19 safety recommendations are available from the CDC.