CHEYENNE, Wyo. — As the biggest race of her young, 24-year-old life approaches, Brianna Bocox remembers the figures and recollections that got her there in the first place. She also remembers the memories she missed out on.
Bocox is a long track speedskater for Team USA, and a really good one at that. Her initials, B.B., hold significant weight in the sport: Bonnie Blair won five gold medals over three Winter Olympics for the U.S. in the 1980s and 90s, while American teammate Brittany Bowe is currently one of the finest all-around skaters in the world, holding the current world record in the 1,000 meters and former best in the 1,500.
But Wyoming isn't a hotbed for Olympians, much less for speedskating of all sports. For Bocox — a Cheyenne-born Burns High School alum — it's a peculiar career path to choose, but one that has (and still could) take her very, very far.
And if she qualifies in at least one of her three events (500, 1,000 and 1,500 meters) this week in the U.S. Olympic Team Trials at the Pettit National Ice Center in Milwaukee, Wisconsin, she'll earn a distinction that few can claim and that makes the days-long drives, international flights and countless missed moments with family worthwhile: Olympian.
But oh, do the missed moments with family hurt.
"I just really want to accomplish that dream," Bocox said on making the Olympics, "so I know the sacrifices that all my family has made and the sacrifices I've made will be worth it."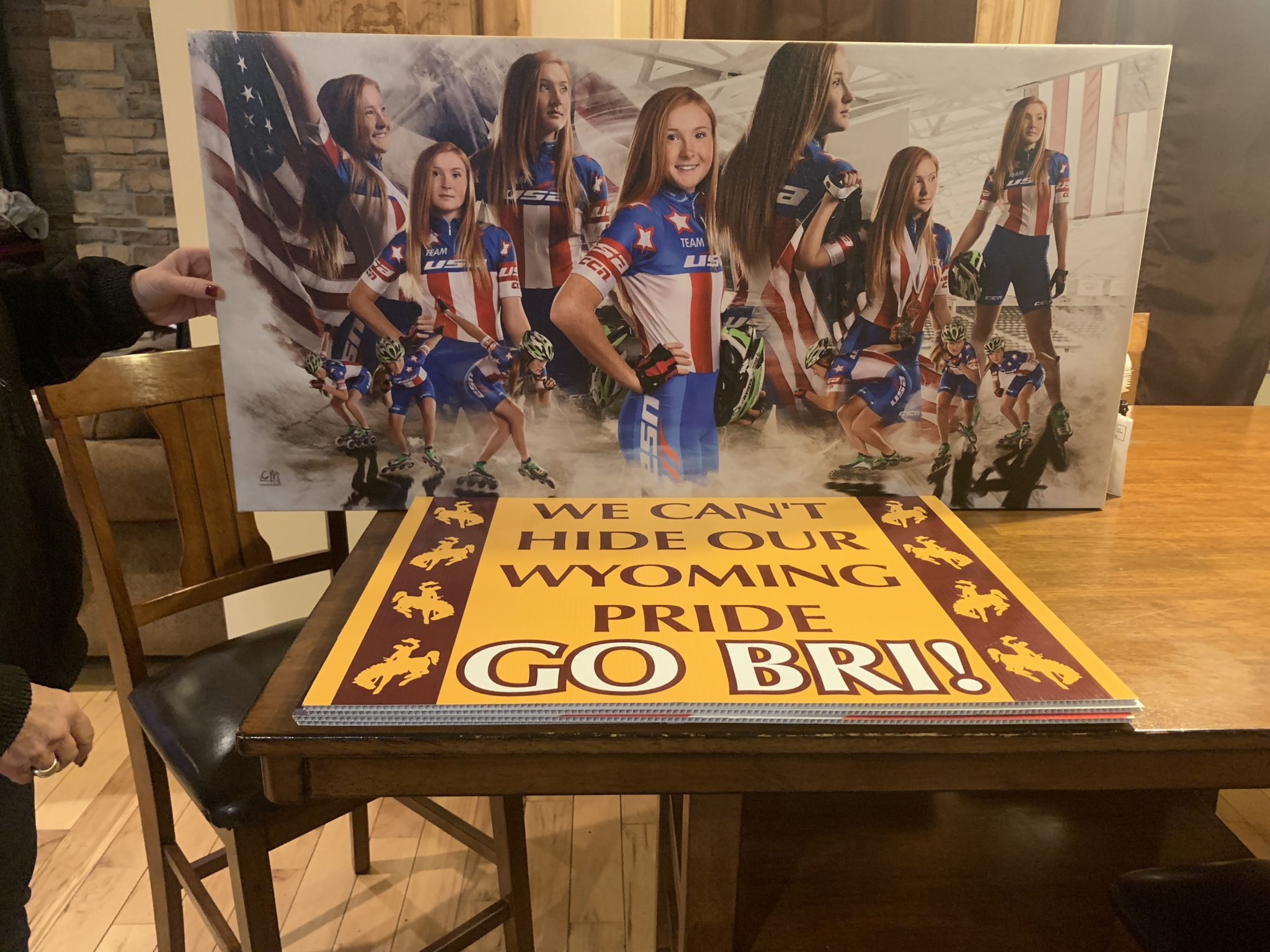 "I've missed my brother's high school graduation because of training. … My sister is still in high school and I would love to take her out on a weekend [where] we go get our nails done and do that stuff. But here I am, grind-in and -out and training, and she knows that. But it's definitely hard."
The rest of Bocox's family knows and has felt the strain, too. Bocox's mother, Sheri Olson, lives about a half-hour outside of Cheyenne with husband Mike and their two children, Braxton and Katherine. Bocox's father, Ken Segal, works for Union Pacific Railroad and often travels out of town for it.
But for how much effort Bocox has put into this profession — currently training full-time at US Speedskating headquarters in Salt Lake City, racing on multiple continents, etc. — the humble beginnings of Bocox's skating career in Wyoming are fascinating.
Born in February 1997 in Cheyenne, Bocox was in elementary school through PTO-sponsored skate nights at Roller City skating rink in Cheyenne when she found a love of going fast on skates, just at the inline level at first. As one of the many grand aspirations Bocox had as a child (past dreams of being a gymnast and riding horses came up in conversations with the family), Bocox said her parents thought speedskating was going to be another "faux pas" she'd get tired of eventually.
Through the rink's traveling club inline speedskating team, Rocky Mountain Racing, Bocox hopped on the roster to practice and compete in races, albeit in what Olson admitted was subpar equipment. At a meet in Loveland, Colorado, a man introduced himself to Olson and remarked that he was impressed with her daughter's talent but wondered why she didn't have nicer equipment. 
That man was Jondon Trevena, a former Olympian for Team USA in long track speedskating who also owned a rink in nearby Fort Collins. He wanted to see what Bocox could do in elite gear.
"I was like, 'OK, whatever, sounds pretty legit,'" Olson said once she saw Trevena's accomplishments. "So we started going and when we started showing up there, Jondon bought Brianna her first pair of skates, good skates. Now, she couldn't take them home, but he invested in her and bought her the skates so when they would go to a meet, she could wear those skates when she'd come down and practice down there."
The investment paid off. Bocox won numerous national awards in inline skating and was extremely accomplished in the sport throughout her youth. However, inline skating is not an Olympic sport, meaning that prospects beyond the youth level were slim.
Therefore, the transition to ice skating came in early 2017, and when the success continued — like when she competed in the U.S. Olympic Trials as a 20-year-old in 2018 — the belief grew. So did the competition.
"There's a chance going into this Olympic trials, obviously more so than the last one," Bocox said. "You age well in this sport and it's going to be very cutthroat in trials just because our girls' sprinter team is very close as far as speed goes, and it's just who can show up that day."
Margins are extremely thin in speedskating, making everything from Olympic qualification to watching next month's Winter Olympics in Beijing at home realistic outcomes for Bocox. It's also harder to make the field this year than Olympics past as the top 20 in International Skating Union (ISU) rankings (compared to the top 30 four years ago) plus the next eight-fastest times make the Olympic field slimmer. Single-country rulings, which may give nations who aren't high enough in the rankings that Olympic slots for representation, could also complicate things.
Of Bocox's three events she'll race in at the trials, the 1,000 meters is where she's in the best position to qualify as she currently sits 31st in the ISU rankings. She's the third-ranked American in the distance behind world No. 1 Bowe and No. 9 Kimi Goetz. Currently, the United States can send two skaters in each distance to China, though that number could increase later in the month.
"The level of competition is just seconds faster," Bocox said. "I mean, world records were broken two seasons ago before COVID, and it's just crazy to think about. You have to be on your A-game and you have to constantly be improving. There's no mediocracy."
Every member of Bocox's immediate family spoken to has seemed to come to terms with their loved one's busy schedule. But a member of her Wyoming backbone that won't be there for potential history is her grandmother.
Bocox's grandmother (and Segal's mother) Linda DuTeau died three years ago from cancer between Olympic cycles. With DuTeau a large source of love and financial assistance for Bocox's blossoming career, the burden struck Bocox deeply. But even with death, the grind of speedskating's training and travel schedules made Brianna "waver back and forth" between coming home to grieve, per her mother.
The bond between Bocox and her grandmother was nearly unbreakable as one of her strongest connections back to Cheyenne from the wide world of speedskating. When that connection was shattered, repercussions were felt across the family, but especially with Brianna.
"I always consider myself her number-one fan, but even I had to give that up to my Mom," Segal said. "Her grandma was her number-one fan. And we tried to talk about and we have talked about it … but I know when her grandma passed away, I know that was a big hurt on all of us, but especially her.
"I just told her, 'You know, sometimes adversity is hard to deal with, but you have to understand that you know dreams don't come easy for some people.' Some people are gifted, [for] some people it seems like everything happens great for them. But for Brianna, she's always had to work for what she wanted."
In another blow for Bocox and the rest of the Team USA athletes in Wisconsin this week, US Speedskating announced a few days prior to the trials that no fans would be permitted inside the Pettit National Ice Center due to concerns over rising COVID-19 cases.
The family Bocox confides in for support and which she has sacrificed countless hours without to pursue her passion won't be there in person to potentially see her become one of the few Wyoming-born Olympians in history. 
Except, that is, for at least one person: her mother.
"All the family has canceled tickets and gotten vouchers," Olson said. "I'm the only one leaving, because I don't want her to be alone. … I'll be in the parking lot."
If the strain Bocox is under to perform seems insurmountable, it doesn't seem that way when talking to her. Olson herself said she "would crumble" under the pressure, but there's a mental fortitude to Bocox that's arguably just as impressive as her athletic achievements. There's clear confidence in what she's doing, helped by her belief that her grandma is looking down on her in support as she surges around the track.
Her mantra is best summarized by her favorite quote, emblazoned on her Team USA bio for the world to see: "Control what you can control. God will control the rest."
"I just tell myself, 'Go to the line, perform like I know I can, and the results will show,'" Bocox said. "I've put in the time, I've put in the hard work. You've got to stay grounded, you've got to think about the race profile in your head, and I'm going to skate the best that I can. And if I do that, I can walk away with my head held high."
When to watch Brianna Bocox*:

Women's 1,000 meters: 5-6:30 p.m. Thursday, USA Network

Women's 500 meters: 4-5:30 p.m. Friday, USA Network

Women's 1,500 meters: 2-4 p.m. Saturday, USA Network

*Note: US Speedskating has not currently announced specific times of Bocox's races.