CASPER, Wyo. — Friday is likely to be the last "nice" day through the next week across Wyoming, said the National Weather Service (NWS) in Riverton. The NWS said the "wind machine" will be cranking through the weekend, with snow showers developing in the northwestern mountains and chances of snow throughout next week in Casper, beginning Sunday.
Winds will increase before sunrise Saturday morning over the Absarokas and Cody Foothills, the NWS said. By Saturday afternoon, high wind advisories will be in effect throughout central and southeast Wyoming, bringing major impacts to the Interstate 80 and I-25 corridors.
Winds will be ramping up in Casper Saturday afternoon, with 60-mph gusts forecast between 3 p.m. Saturday to 6:00 a.m. Sunday. Isolated higher gusts up to 70 mph will be possible along Outer Drive/Wyoming Boulevard on the south side of Casper.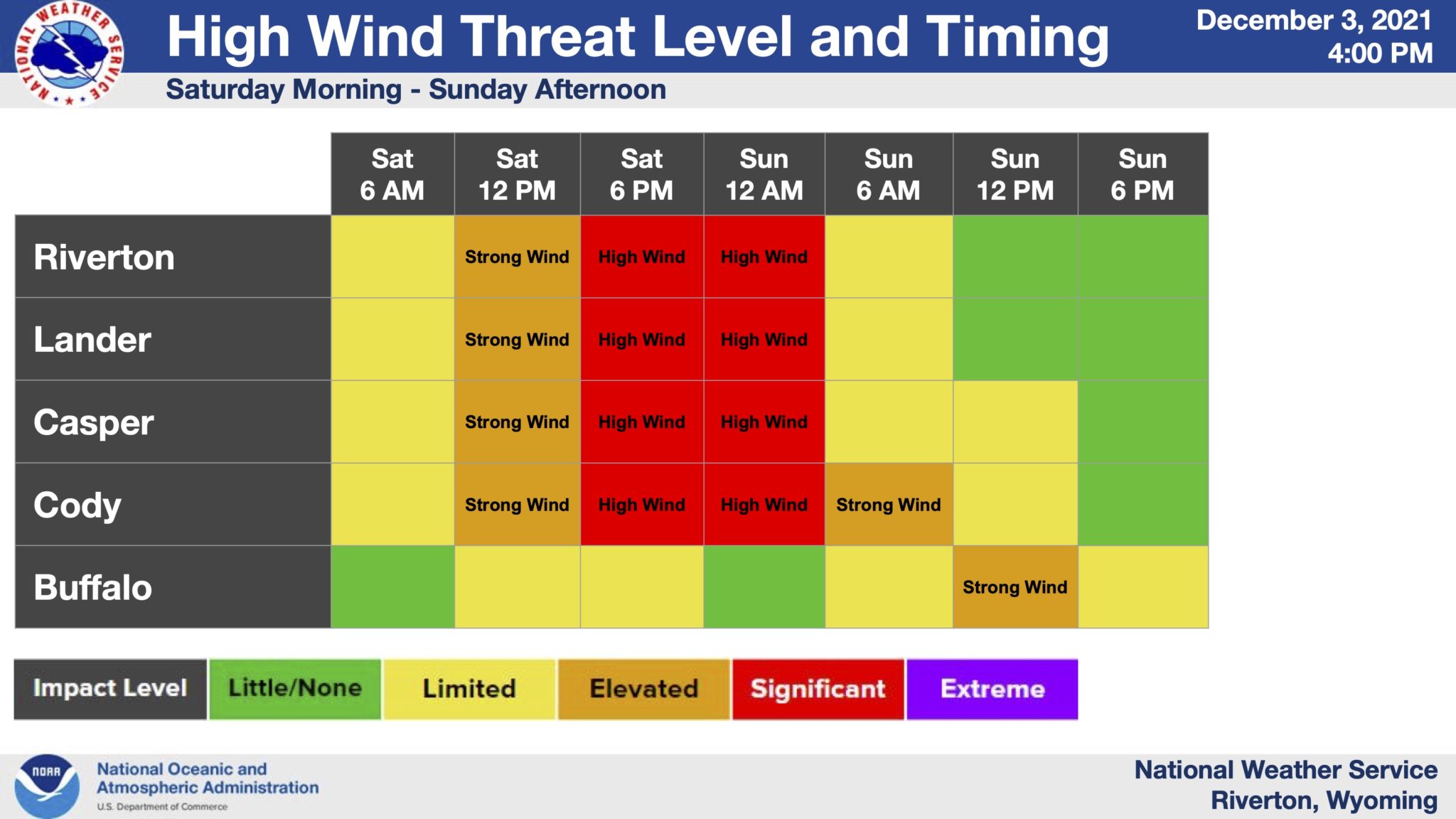 Wind gusts at 65 to 80 mph will be "likely to possible" in southeast Wyoming Saturday morning through Sunday morning, especially along the I-80 corridor between Arlington and Elk Mountain. The peak windy period is expected between 5:00 p.m. Saturday to 9:00 a.m. Sunday morning, the NWS said.
"Strong crosswinds will be hazardous to lightweight and high-profile vehicles, including campers and tractor trailers," the NWS said.
Laramie and Cheyenne are expected to see sustained winds of 35 to 45 mph with gusts up to 70 mph from 8:00 p.m. Saturday through 11:00 a.m. Sunday.
"If possible, remain in the lower levels of your home during the windstorm, and avoid windows," the NWS added. People should also avoid being outside in forested areas and around trees and branches.
Snow showers will develop over the western mountains Saturday night with 1 to 2 inches possible of accumulation possible. Additional snowfall is possible on Sunday across the western mountains and along the Interstate 25 corridor.
"Not much accumulation is expected with this quick-moving system, with 1 to 3 inches (locally higher amounts up to 4 inches) in the mountains," the NWS said.
Casper sees a 40% chance of snow Sunday, which would bring accumulations of less than half an inch. The high temperature will be around 40 with gusts as high as 25 mph during the day.
Monday will bring colder temperatures and a "brief lull" in wind activity, with mostly cloudy skies, a high of 35, and gusts up to 29 mph expected in Casper.
The colder air means that another system moving into the region Monday night into Tuesday could bring more snow to Casper, with a 40% chance of snow after 11:00 p.m. Monday.
Snow would end Tuesday by 11:00 a.m., bringing another blustery day with partly sunny skies and high around 31.
Finally, blustery winds and a "chance of snow" are expected in Casper Wednesday night through Friday.