CASPER, Wyo. — Snow and strong winds are expected to return to areas of Wyoming on Thursday night.
"After quiet weather for the past several days, things will become more active late tonight and Friday," the National Weather Service (NWS) in Riverton said via Twitter on Thursday morning. "We are fairly certain of some strong winds and snow showers, but placement of the snow showers and snow bands is still uncertain. Stay tuned."
Snow is likely across much of western and central Wyoming, including in Natrona County. Casper Mountain has a 70% chance of snow on Thursday night and on Friday, according to the NWS in Riverton. Casper has a 40% chance on Thursday night, increasing to a 50% chance on Friday.
Casper Mountain is expected to see 1-3 inches of snow. If Casper receives snow, it is expected to be less than half an inch on Thursday night and less than an inch on Friday.
Strong to high winds are possible in Natrona and northern Johnson County on Thursday night and snow is likely in Natrona and Johnson County on Friday, according to the NWS in Riverton. Big Horn and northern Johnson County are likely to see strong to high winds on Friday.
The southeast part of the state could see periods of light snow on Friday morning after some strong winds on Thursday night, according to the NWS in Cheyenne. 50 mph gusts are possible in the southeast on Thursday night. Snow on Friday could total 1-2 inches in most areas which could lead to slick and icy conditions on Interstate 25. The NWS in Cheyenne adds that 3-6 inches of snow is possible in southeast and south central mountains.
The NWS in Riverton shared via Twitter the following graphic regarding the forecasted snow and wind coming to Wyoming: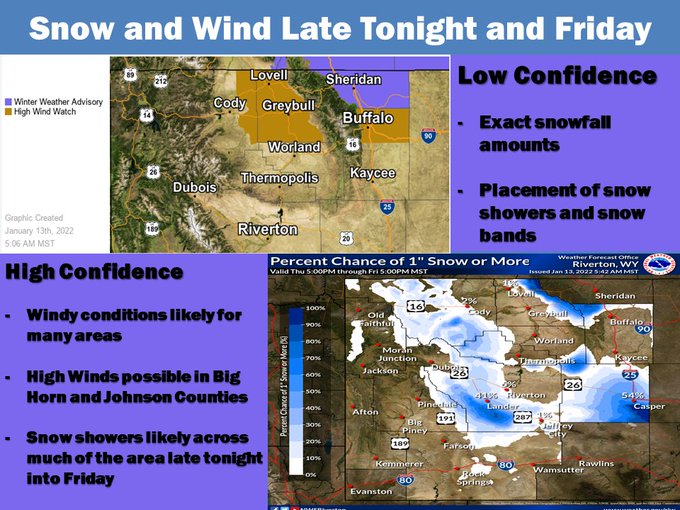 ---