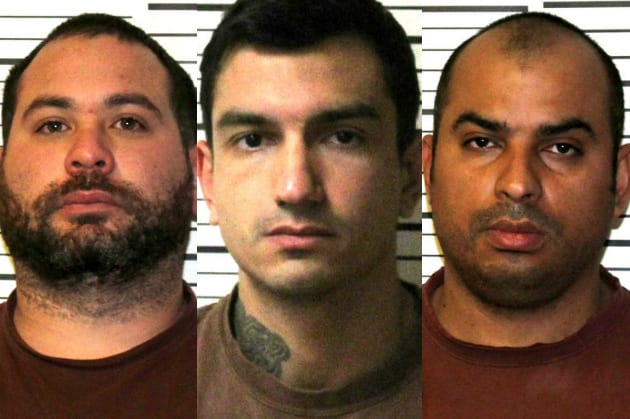 Three men are facing charges, including Banker Robbery, in Federal Court.
On November 20th, 2017, 36-year-old Elio Moreno Gonzalez, 30-year-old Jose Alejandro Osorio Echegaray, 29-year-old Isaac Rafael Jorge Romero were placed into the Natrona County Detention Center on an contract hold, pending their initial appearance in United States District Court in Casper.
Reports from Teton County Law Enforcement say that four individuals were arrested during the early morning hours, after their van failed to traverse Teton Pass. Teton County Sheriffs saying that they contacted the vehicle just after 2:00 am, and were able to detect the odor of burnt marijuana during the contact.
Article continues below...
Police further report that during a subsequent search of the van, they discovered misdemeanor amounts of raw marijuana and THC edible gummy candies, and several backpacks full of cash.
Law enforcement arrested the men on possession charges, however just before the men were released from jail, and after pleading guilty to the drug charges, the FBI notified the sheriff's department about an ongoing investigation where the men were suspected to be stealing money from ATMs.
A fourth suspect, identified as Aslhy Javier Galeano Basurto, was arrested at the time in Teton County, however he was not listed among those who were booked into NCDC, on Monday.
Romeo and Echegaray face one charge each of Fraud and Related Activity in Connection With Computers and Bank Robbery and Incidental Crimes. The two mens charges stem from the theft of money from a Credit Union ATM in Parker, Colorado.
In court paperwork, Federal agents say that on October 10th, 2017 it was believed that two men accessed the computer workings and computer processor areas of the credit union's Automated Teller Machine. It is further alleged that the men installed malicious software on the ATM, causing the machine to dispense cash without permission or authorization.
It is noted in the case that approximately $24,000 was missing from the ATM.
Eli Moreno Gonzalez faces charges of Bank Robbery, stemming from a November 12th incident reported in St. George, Utah. In that case court paperwork describes the complaint against Gonzalez being similar to that of Echegaray and Romero.
In the Utah incident, it is believed that an individual accessed the ATM and was able to install malicious software in the machine. After that surveillance video is reported to have captured several individuals with drawing money from the ATM without authorization. An audit of the machine would later show over $69,000 missing.
Agents credit the surveillance video with providing tools that were used to help track down and identify Gonzalez, Romero, and Echegaray. It's also reported that two other individuals wanted in the Utah case, were arrested while attempting to return a rental car in San Diego, California.
Romero and Echegaray appeared before U.S. Magistrate Michael Shickich; who, through use of a Spanish-to-English translator, confirmed their identities to the Federal Court, and agreed to be sent to Colorado to face their charges.
In a separate exchange, Gozalez also confirmed his identity to the court and agreed to face charges in Utah.