CASPER, Wyo. – Nine minutes can seem like an eternity.
That's about how long a roughly 1,000-strong crowd stood in silence on a lot on David Street Station on Friday afternoon.
It was 8 minutes and 46 seconds, to be exact, which is how long Minneapolis Police officers kneeled on George Floyd and caused his death by asphyxiation, according to autopsies.
The excruciating smartphone video that captured the incident has touched off a movement against police brutality on minorities around the country, and even other parts of the world.
Friday's Casper vigil, which was organized by the Pikes Peak Southern Christian Leadership Conference, was the second gathering in Casper this week.
Wednesday's protest was mainly organized by Casper Youth for Change. An unaffiliated group then marched through Casper, sometimes blocking traffic as protesters and counter-protesters exchanged heated words.
On Friday, the message was peace and order.
"We need to create a community where we can be patient with each other and learn what we need to learn to change," said Rev. Dee Lundberg, addressing the crowd.
Lifelong Casper resident Rose Wallace held a sign saying "Our Lives Matter." She reflected on her experience as a black person while attending the vigil.
"I can remember when Martin Luther King got shot," she said. "My grandmother cried out 'they didn't just kill that man.'"
"This is very much needed, and it's a shame it had to come after two Afro-Americans got killed right in your face," she said. "It's woken up the world."
She sympathizes with the work officers have to do, she said, but believes changes are needed in attitude and training.
"I'm for everybody, everybody's equal to me," she said.
After the silence, the group marched quietly and orderly from David Street and Collins to the Hall of Justice. Along the way, groups of armed citizens watched on corners. Some handed out water, a few marched in the group. Others assembled in various numbers down side streets.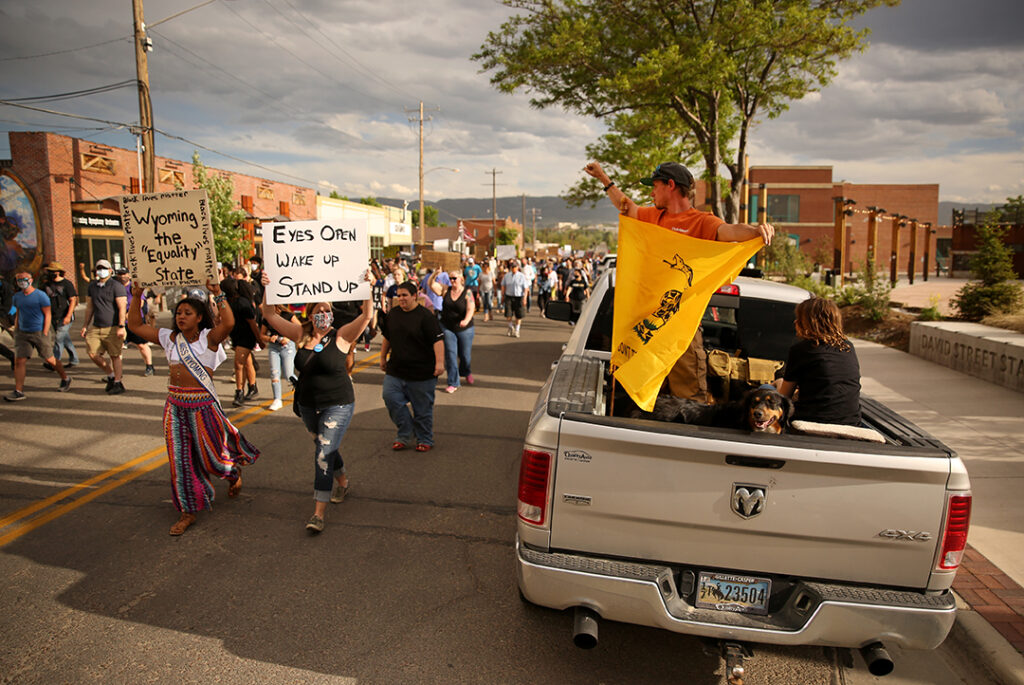 At the Hall of Justice, speakers talked about need for change in policing practices and in society.
"When George Floyd cried out for his mother, every mother's heart became one and broke," said Keisha Simmons, who was a primary organizer of the event. "We all wanted to save him. What if that was my boys? What if that was your son? Our youth needs this universal, unconditional motherly love."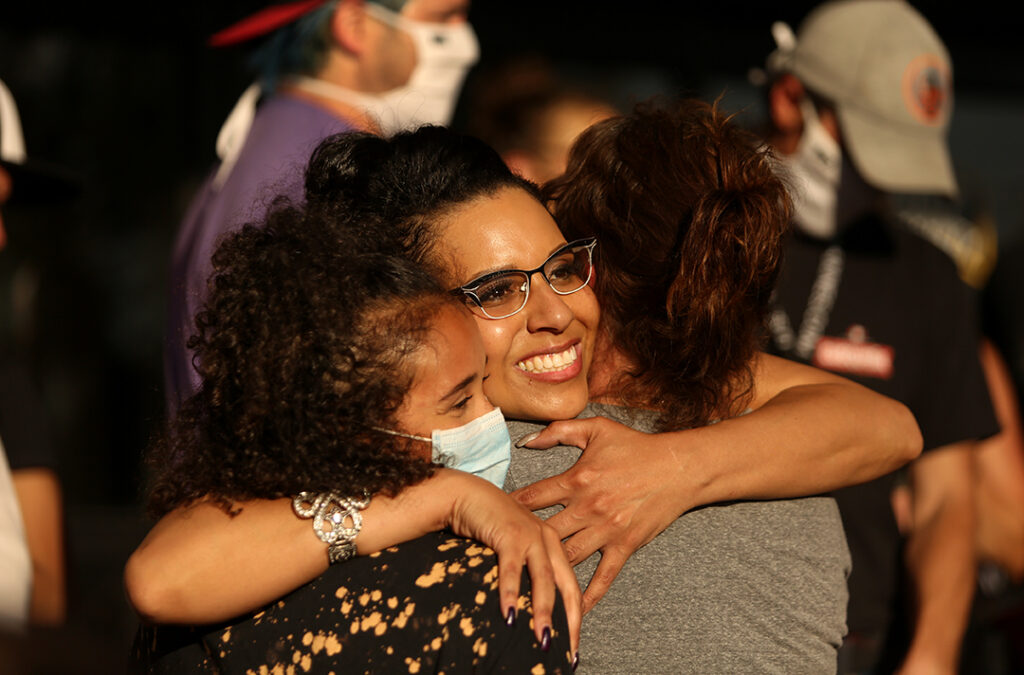 "We do have good police officers here in the world but to flip the script, we're not going to let the bad ones get off the hook," said Shawn Wiggins, a local business owner and KW track coach.
Meeshla Bovee, 15, told the crowd, "Today I can say that I can breathe. That's more than George Floyd can say right now."
After the speeches, the crowd was asked to disperse, to go home and "reflect" on the day's events. The vast majority did.
As evening fell, dozens of armed civilians remained in Casper's downtown core, far outnumbering the usual Casper Friday night regulars. Volunteers handed out water and sodas. One man gave out watermelon wedges. Some of the men had radios to stay in contact with each other.
Police visibility was also high, as officers patrolled on foot and in vehicles into the night.
Michelle Webb owns Pink Lion Design Company in the Atrium Plaza. She was inside her business as her father and husband kept watch outside.
"I'm glad for how it's turning out tonight," she said.
Webb said Wednesday's atmosphere was "very tense."
"There was a lot of yelling," she said. "Today's been no big deal, it's been normal."
"I'm glad people are keeping their heads cool on both sides."