If you or someone you know is struggling with thoughts of suicide please call the National Suicide Hotline at 1-800-273 TALK (1-800-273-8255)
CASPER, Wyo. — Scott Cogdill, along with seven other close friends of Lieutenant Daniel Dundas, stood together in solidarity on a stage facing hundreds of people on Monday afternoon.
Cogdill admitted to a "near-petrifying fear of public speaking," and attributed it to one final joke from a man who was known for making people laugh.
"I'm sure that wherever he is, he's laughing his butt off at our discomfort," said Cogdill, who knew Dundas since childhood.
The group, some community friends and other work friends talked emotionally about a person whose engaging, jovial and bright personality hid a deep sadness no one seemed to pick up on.
"Danny, I'm absolutely destroyed inside," said Casper Police Sgt. Seth Wheeler, addressing his friend from the podium.
"I knew you always carried the weight of the world on your shoulders. … I wish I could've shared those burdens with you."
"I'm sorry I missed the signs that you were hurting; the world got a lot smaller without you in it," he said. "As long as I live, your memories will be as big as the mountains around us."
While a service for a person like Dundas would be impossible without big laughs, his struggles with depression and eventual death by suicide one week prior was openly discussed as his closest friends and family, as well as the Casper community, continue to grapple with the loss.
Lt. Dundas was well known and loved in Casper, living here most of his life except while earning his degree at the University of Wyoming. As a member of the Casper Police Department since 2008, he had interactions with perhaps thousands of people in the community over the years, many of which were positive. With his strong community outreach and humorous videos on social media, Dundas soon became a major face of the department.
Before Monday's service at the Ford Wyoming Center, a procession with family and dozens of police vehicles drove through Casper, stopping at the Casper Police Department's headquarters to allow his family to read some of the hundreds of letters left on Dundas's patrol vehicle that was parked as a memorial last week.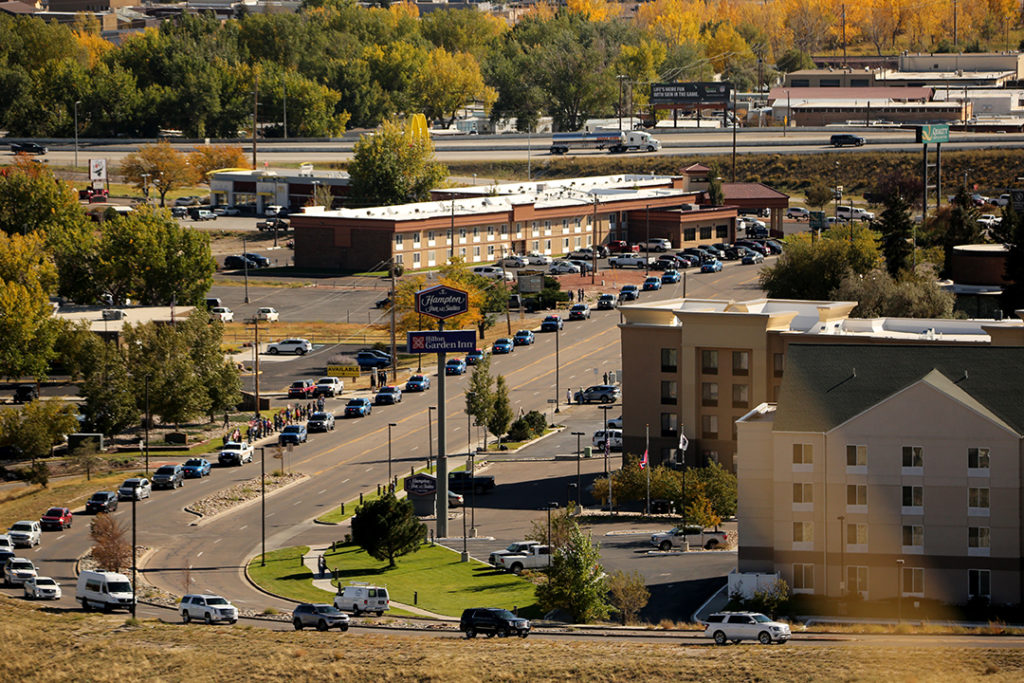 Close family and friends sat in the front rows, with police and other emergency personnel filling out the remaining floor seats. Public attendees flanked the stadium and were encouraged to sign a banner for Dundas's young son Maddux before leaving.
Casper Police Chief Keith McPheeters spoke toward the end of the service, and wasn't the first person to bring up Dundas's habit of surprising unsuspecting coworkers with an airhorn blast now and then.
When asked to stop using airhorns, McPheeters said Dundas claimed to be preparing his coworkers for surprises while on the street, and that "his only reason for scaring the crap out of his team" was in their best interests.
"Not even Danny could keep a straight face while he attempted this explanation," he said.
McPheeters paused while emotionally addressing Dundas's family.
"I extend my gratitude for allowing us to borrow Danny from you for so many years," he said.
"I also ask for your forgiveness," he continued. "Despite sincere and specific efforts to do so, I have failed to return Danny back to you. The rips of the fabric of Danny's internal armor were larger than I had realized."
After a gun salute, Dundas was called by Casper Police dispatch for his end-of-watch honor.
"William 1-9-9. William 1-9-9. … William 1-9-9, may you rest in eternal peace. 10-42, we have the watch from here."
The families and friends hugged and mingled on the stadium's floor before eventually shuffling out the large doors. Near the entrance on the opposite side of the building, lines of people gathered, hoping to leave one last message on a banner for Dundas's son Maddux.