CASPER, Wyo. — Clotilde McFarland almost didn't make it to her 100th birthday.
"God about took me the other night," she said on Monday during a small gathering on her 100th birthday.
In what could have been a tragic irony, Clotilde says she had a close call during a diabetic incident after an early birthday party on Saturday at The Hangar in Bar Nunn.
Having too much fun dancing with her grandkids and great-grandkids, and failing to eat or monitor her blood sugar, she "bottomed out" later that night at home. Luckily, family members stayed with her that night, and one of her great-granddaughters held her tightly before an ambulance arrived to administer medical help.
"We thought we were gonna lose her; it was really frightening," said her middle daughter Sandy Robb, 74.
The close call was just one of the countless stories about her life that Clotilde says "could make a movie." Probably more than just one movie, at that.
Born in Howard, South Dakota to German immigrants, Clotilde spent her childhood hard at work on the family farm.
"My oldest sister was born behind the cook stove on the floor," she said. "I don't know where I was born; I do know it was on the farm somewhere."
During down time, her dad would teach her a dance move or two, which blossomed into her favorite pastime.
Howard was too small of a town for her, and with much reluctance from her father, she eventually boarded a train bound for Chicago to live with relatives.
She "went dancing every night" to live big band music, while working days as a stenographer.
To boost troop morale during World War II, women were encouraged to write letters to servicemen serving overseas. Clotilde says she wrote to several regularly, but one Marine named Floyd McFlarland came out to visit her during leave. He eventually asked her to marry him, which she agreed to after he converted to Catholicism.
They were married in 1944 and were together until his death in 1991, raising three daughters. "He was a good father and a good husband," she said.
The couple moved to Denver after the war, then came to Casper around 1947. Clotilde says they hauled a primitive camper trailer they lived in along the way, stopping to wash diapers in the creek when necessary. On their first day in Casper, she experienced one of the area's infamous wind storms for the first time while Floyd looked for work. He was hired that day and worked a full shift.
"That's how we never got outta Casper," she said.
On Monday, those memories and many more were told as Clotilde and her daughter Sandy sat at the Wyoming Medical Center's Cole Creek Primary Care clinic for a small birthday celebration held by her longtime doctor, Dr. Mary Francis Burke, who made an angel food cake and brought lemonade.
Dr. Thomas Burke first started seeing Clotilde as a patient in the early 1980s. Mary Frances became her primary doctor around 1995.
"I've learned so much by the way she lives her life," said Mary Frances. "She just loves living life."
"She's the youngest 100-year-old I've ever had in my practice," she continued. "She's 100 going on 65."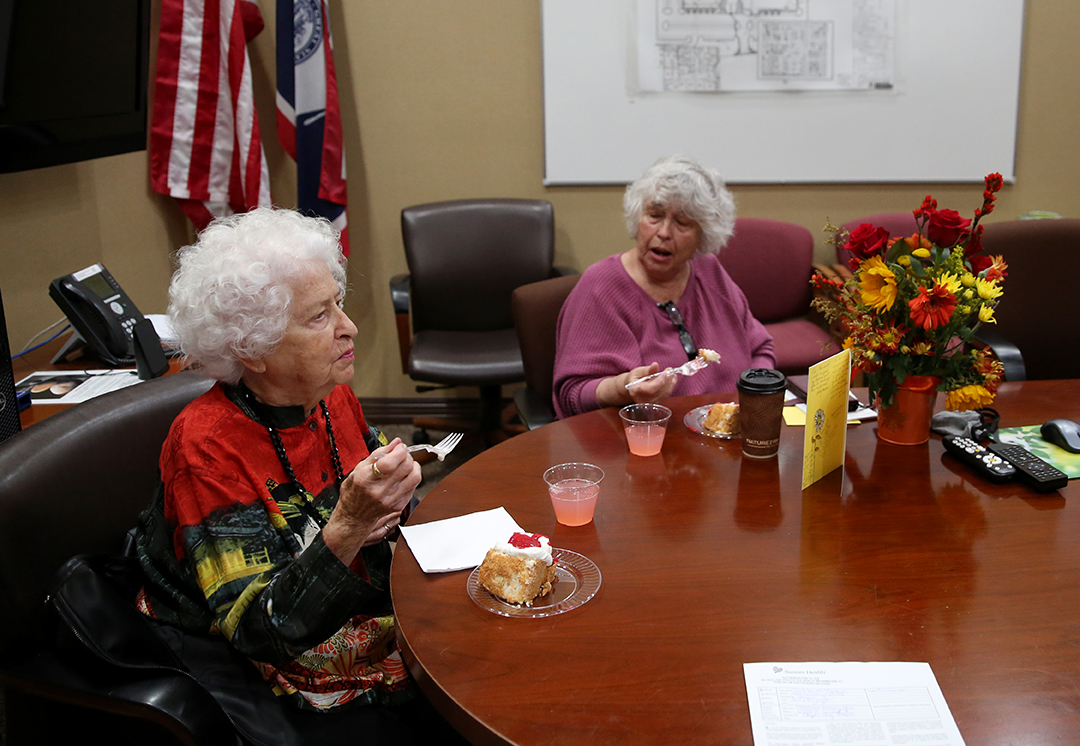 Dr. Burke also treated Clotilde's sister, Marcy, who died a couple of years ago at age 100.
About five years ago, Clotilde's sister asked to move here with her. Clotilde drove out herself and moved her sister to Casper for the last few years of her life.
The sisters slept in the same bed as children, and during Marcy's last few days they once again slept in the same bed.
"When she was passing away that night I said, 'I'm holding your hand and helping you on your way,'" said Clotilde. The next morning her sister died, and the church bells starting ringing at exactly 8:30.
"It was so very easy," said Clotilde. "God was good, as usual."
The family is planning a reunion and big birthday celebration in June. It's a good bet Clotilde will once again be on the dance floor.