CASPER, Wyo. — On a crisp early morning, dozens of CY Middle School students slowly walked in small groups through Rotary Park, clutching paperwork and pencils with glove-covered hands.
The students in CY's Gifted and Talented program weren't simply enjoying the fall morning away from the classroom. They are part of a grant-funded program that will study the effects wildfires have on native and invasive species.
"We have a Youth for Natural Resources grant that we were awarded to specifically look at the burned area of the Bridle Trail," said Colleen Burridge, the Science Zone's education specialist.
"It's a perfect study area: it's accessible for the kids — they all know about the burn, they heard about it in their lifetime — so it's something they can connect to" she said. It also helps that they know the area and have likely visited the areas in the past, giving them a sense of ownership.
The study area compares unburned areas to the section that burned last September between Garden Creek Road and the Bridle Trail.
"It's the perfect classroom to see what returns after the burn: if we have more native species or more invasive species," she said.
The data will be collected by students over three years. The program will help students understand the threat of environmental disruption and invasive species, as well as how to collect and keep data, she said.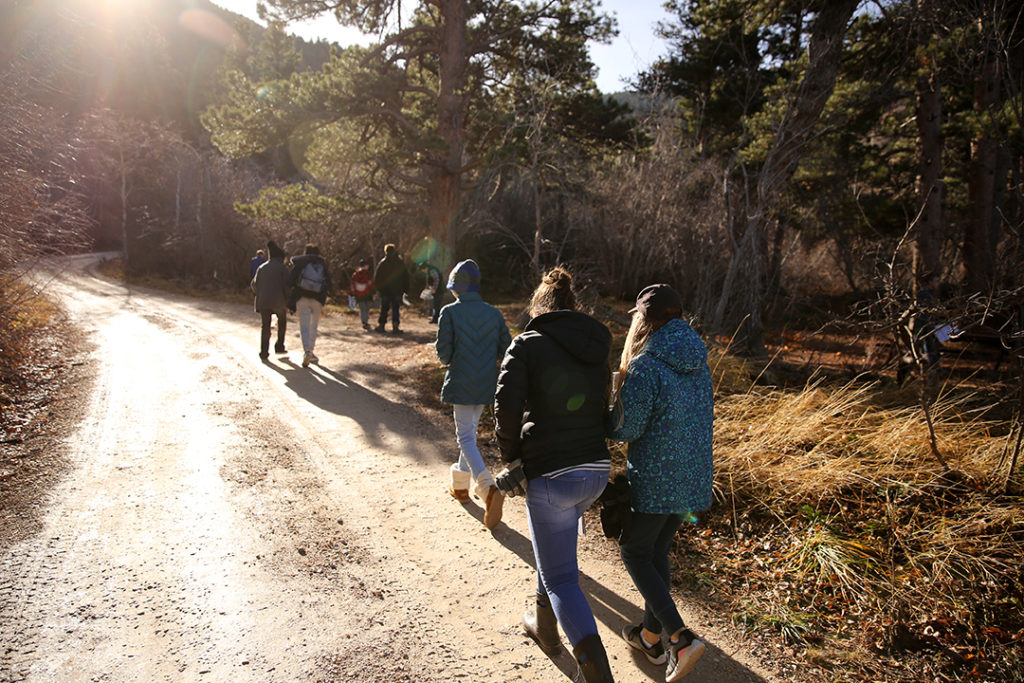 Eighth-graders Ryleigh Sisco and Payton Cann walked together while collecting data on Tuesday morning.
"This is just the beginning of our unit," explained Ryleigh. "We have another project called Future Cities and our main focus is trash, pollution and waste. It's a huge problem and we've been learning a lot about that."
They're also learning about fire mitigation and the natural benefits of fire, along with ways people can help stop the spread of invasive species.
"The fire here could've been way worse if it got into the trees rather than just the grass and brush," she said. "It would've been a completely different story."
Whitney Wilking, CY's gifted and talented teacher, says she was approached by Colleen about having her students participate in the study.
"[Gifted and Talented] is for kids who just need a bit more of a challenge or sometimes different pacing with their education," she said. "We really try to incorporate as much enrichment as possible, so this is a place-based experience for everybody to do some research."
"I think everyone's excited to get out of the classroom and do a field trip," she said.