CASPER, Wyo. — Fremont Canyon is home to some world class rock climbing.
"For a Wyoming climber, it's a pretty special place," climbing guide Zachary Lentsch, a Worland native says. "There's a genealogy of really talented Wyoming climbers who started climbing in Fremont, honing their skills. All the way up until the present generation."
Lentsch mentioned Pat Parmenter, Arno Ilgner and Steve Petro as among some of Fremont's climbing pathfinders.
On Sunday, Lentsch was at Fremont teaching some adults tricks of the climbing trade. He's a guide with the newly formed "Wyoming Mountain Guides," who have also been giving clinics for kids.
"I've been guiding for a few years, but for this company, Wyoming Mountain Guides, this is our first year of operation," he said. "I would say our biggest focus our first year has been on our youth programs. We've run eight youth programs this summer, so pretty much every week."
But on Sunday, Lentsch was out with a group of adults who are all mostly new to climbing.
"I've talked about climbing before but I just haven't done it," Kolby McConnell said. "This is pretty much for all intents and purposes, day one."
"Zach has been great. I think he kind of gauges where you're at and allows you to do as you're confident."
One of the things Lentsch pointed out on Sunday morning, as the temperature started to rise at the base of the canyon below Pathfinder Dam, was that climbing is all about technique.
"Finding rests on climbs is going to allow you to climb harder," he told the group.
That was a valuable lesson for the new climbers.
"When we first started and me, I think everybody else did the same, there was a lot of upper body and a lot of fear probably," McConnell said. "You're just clenched on and staying in an intense mode where it will wear yourself out, whereas 70% of climbing should be in your legs."
"So once you learn to trust your feet, stick to little bitty nooks, you put pressure right on them, then you can actually rest in the midst of a climb. Which, yesterday, I did not do."
Terry Lane is a Casper native and has been to Fremont frequently, but never to climb. He's climbed on rock walls twice in his life.
"I mean you look at some of these walls and it is almost straight up," Lane said. "So you look at that and say, there's no way an amateur can climb that, and then you roll up your sleeves and kind of just go in."
"Zach has done a great job teaching some of the handholds, how to trust your feet, some of the body movements and they've done a great job with safety so you have that in the back of your mind knowing that you did it in a safe environment."
McConnell agrees.
"It's fun," he said. "The physical strength is probably less [important] than I expected. I didn't think we'd traverse these cliffs, honestly, if I went and looked at them. A lot of that is in the technique that he's taught us. So it is easier and harder than I anticipated."
James Newlon, who goes by Jamie, says he's only climbed a few times in the gym, though he's planning to start training more at the 5150′ Rock Gym in Casper.
"The difficulty is being a 40 year old brand new climber," he said. "I am sore. Trying to push your body in an unnatural position over the edge of a sheer wall is kind of crazy the first couple times and then after that it gets way easier."
"Pretty much the only thing I don't enjoy about it is I am sore, sore sore. This type of rock that we're on right now is really hard on the finger tips. So if you don't have a whole lot of callouses on your finger tips, this stuff is pretty sharp."
Much of the rock at Fremont is granite.
"Some of this rock is later formations of pre-Cambrian [granite] but some of it is that original bedrock from the Wyoming Craton," Lentsch explained.
"This layer of granite is just awesome because it is older than North America. This formation was here for so long. You're literally climbing through geological time here from 3.5 billion years up until really recent, hundreds of millions of years old."
On top of that, at Fremont, people get to climb with the Platte River rushing below.
"You get to see nature's power at work with erosion," Lentsch said. "You get these nice clean cut walls to climb on."
Lane's son Josh participated in one of the youth programs put on by Wyoming Mountain guides.
"My son and I climb a lot of mountains and we just wanted to learn a few more skills, learn some safety," he said.
One of Lane's hobbies is outdoor photography, which his son is also learning more about. Lentsch showed him a few techniques that might come in handy.
"What we're doing right now with this static line, the ways to safely be hands free so that you can shoot a climber or whatever it may be that you're trying to take pictures of," Lane said as Lentsch worked with the others.
"Some of the knots, the equipment, the standards of how to do it safely. So that if you're out with a different group of guys, you know that you're safe."
In addition to climbing skills, Lentsch also emphasized the importance of sustainability.
"Climbing is growing really quickly in popularity across the country," he said. "That is a good thing in many ways because it is making the sport more accessible to a more diverse and more urban population."
"But at the same time it raises some challenges. One, because there isn't this sort of mentorship and teaching of safety practices in climbing. Whenever anything is unsafe it is less sustainable because it means more accidents, less access. Our first part of sustainability is safety."
Another purpose is to ensure that locals connect to the natural spaces around them.
"If there is a disconnect between the traveling climbing community and people who are actually living here then climbing is not going to last," he said.
"Wyoming climbers have the benefit of climbing in a ton of pristine areas. But as more and more people get into it we want to make sure those places stay pristine."
With both the adult and youth clinics, Lentsch said that "Leave no Trace" principles are a big part of the course.
"Right here on this ledge in particular, we really emphasize Leave no Trace priniciple number two, which is staying on durable surface," he said. "There is a lot of cryptobiotic soil, lichens and fragile plant species."
"As more people start climbing here, which we think is kind of an inevitability given the demographic explosion of the urban climbing community in the mountain west, we don't want the same sort of damage that has taken place on the Colorado Plateau outside of Moab to happen here."
Paying attention to wildlife habitats is another focus.
"There are a lot of birds of prey that we're encountering here and we're being really mindful of where those nests are and keeping our distance," Lentsch said. "We see a lot of wildlife."
His students say this is more than just talk.
"Every little piece of trash, he picks up as he goes," McConnell said. "He tells us be good stewards and housekeepers and he's living it too. We talked about respecting different land ownerships and getting permits for, you know, Pathfinder, for climbing."
Fremont is a great place to teach climbing techniques, Lentsch said. Because most of the climbing routes don't allow people to start from the bottom, rope and anchor systems have to be set up from the top.
"It allows us to focus on top-managed top-rope systems," he said. "So we can encourage people as they're learning to climb to top-rope rather than lead and potentially get themselves hurt."
"But in setting up those top managed top-rope systems, the systems are a little bit more complex. There's more things we feel we can teach, systems-wise."
The youth programs have been a success as well.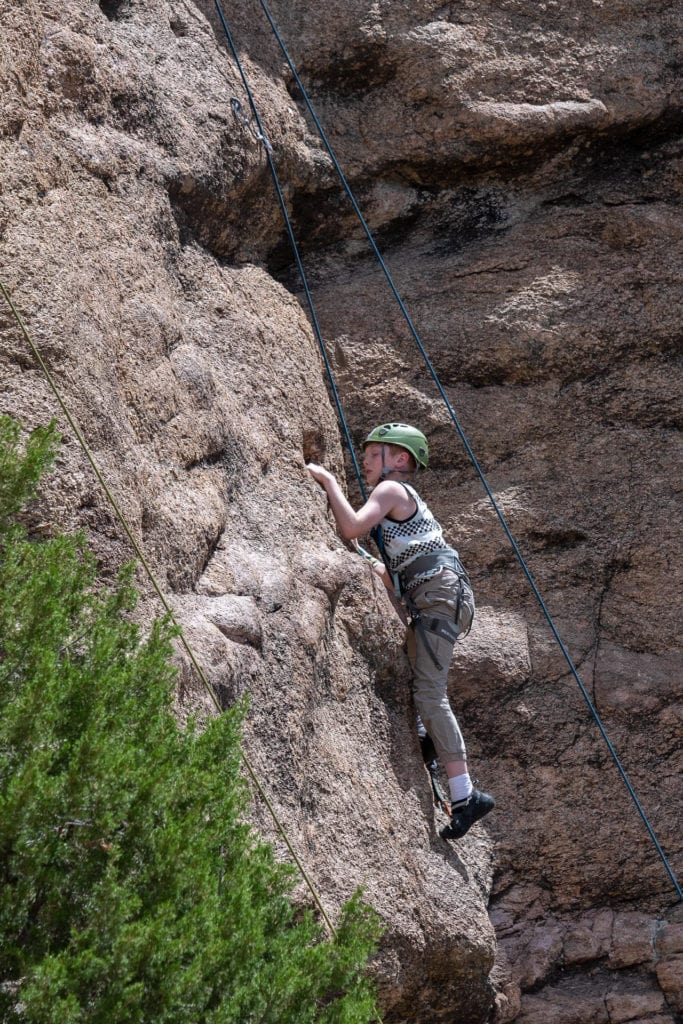 "For kids' camps we want them to be really safe, competent top-rope climbers and belayers and know how to repel safely," said Lentsch. "You know, for a ten year old that's a pretty big achievement over four days."
"Upwards of 95% of our youth camp program, that has been the outcome. They've all progressed so much in their climbing. It is really cool to see."
Teaching kids to trust and care for one another is also important. But the adults learned a similar lesson.
"I think we've made life long friendships too," Newlon said. "This guy right here saved my life probably. Not dynamically, but if something were to happen, they were right there. We're each others back ups."
McConnel chimed in: "Yeah because we're belaying each other. If you screw up you could fall and die."
They like Lentsch's style of teaching.
"I think he asks you questions and then wants you to process instead of just telling you A, B or C," McConnell said.
Lentsch said that climbers can be good role models as stewards of natural spaces.
"Because of the nature of climbing on vertical terrain, you're very visible, you're very audible," he said. "So everyone is looking at you, everyone is listening to you, so if we can have climbers take the lead on taking care of the place, that's a good model."
All three of the new climbers said they'll do it again.
"It's been a lot of fun though," McConnell said. "I intend to come back. My boy has been out climbing so we'll probably go to the gym and start training in there."
"It's thoroughly enjoyable. I'd recommend it to anybody. Sometimes Casper's a tough place to live, you know, especially if you're not out enjoying some of God's creations."