CASPER, Wyo. — More pollution than expected has been found on a section of the North Platte River by those working to restore it.
"The river was used and abused for years," said Randy Walsh with Stantec who conducted designs for the restoration project. "We're going to make it an amenity."
Walsh and others involved in the project gathered in the parking lot of Jonah Bank on Thursday, Nov. 14 to talk about the restoration efforts. 27 partner agencies are involved, according to City of Casper Assistant Manager Jolene Martinez.
While some may argue that the river should be left alone, Natrona County Weed and Pest Supervisor Brian Connely disagrees.
"It was never left alone," Connely said. "We haven't done one thing to help this river for a long time."
Debris from what was likely an old petroleum coking facility was uncovered on the bank of the river near Jonah Bank as crews dug in. That, along with hydrocarbon releases have upped the project cost by $526,559 beyond the budget with further cost overages expected.
"My understanding is there were coke stills everywhere," Connely said.
T.C. Dinkins is Stantec's design engineer who put together their plan for the in-river and bank improvements. He said that some pollution was expected on this stretch of river between the Poplar Street Bridge and the Burlington Northern-Santa Fe Bridge.
"The big unknown was how much contamination and where," Dinkins said. "River-left was assumed to be less contaminated."
Nevertheless the project design called for isolating the area of the river next to Jonah Bank being worked on to ensure that any contaminants wouldn't be allowed to flow downstream.
The flow of the river in that section does appear to have tended to erode into the left bank which was nearly vertical before the restoration efforts got underway.
Over time, Walsh says that could have naturally led to hydrocarbons being released into the river and revealing the bricks and other contaminants from the coking facility.
In any case, Dinkins says that multiple "booms" set up downstream are capturing any released hydrocarbons. The one "good" thing about hydrocarbons in the river is that they float on top, making it feasible to utilize the booms to absorb that pollution.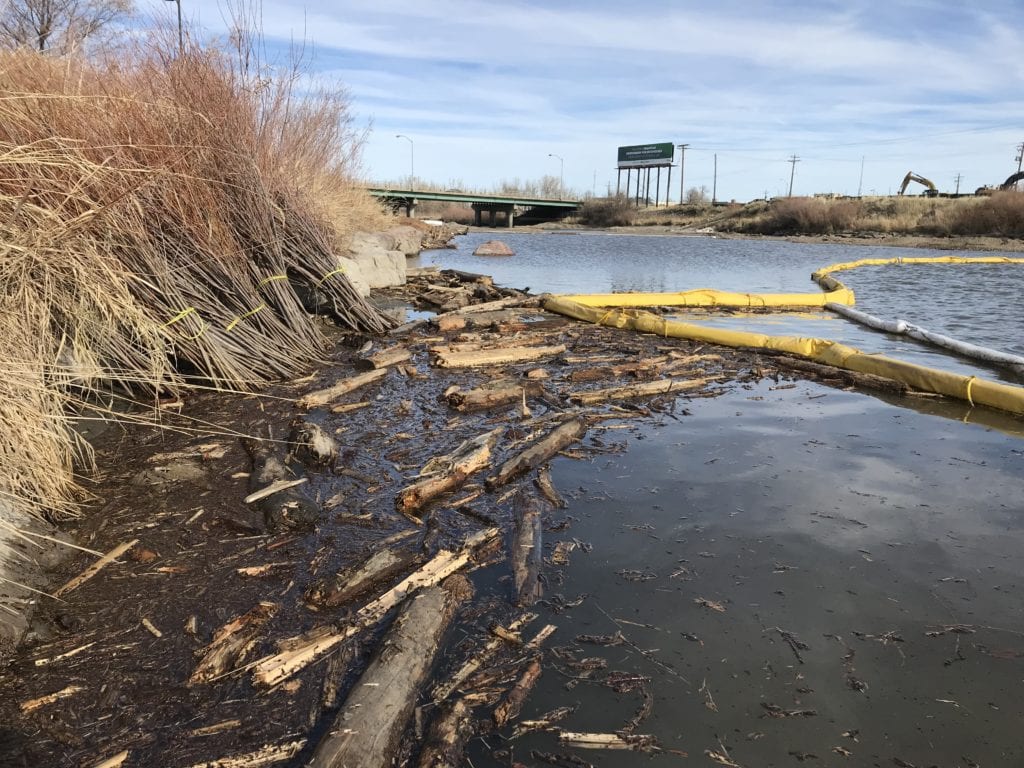 Martinez says that there are so many facets to restoring the river that it is hard to explain it all in a simple narrative. That's why she asked people like Matt Pollock with the Wyoming Game & Fish Department and Zack Hutchinson with Audobon Rockies to join the press conference on Thursday.
Pollock says that the North Platte, particularly in areas upstream of Casper, provides excellent trout habitat. Based on the number of fish and pounds of fish per mile, he says it is in the top five nationwide.
While trout aren't native to the North Platte, Pollock says Game & Fish manage the river for trout "because it is a highly regulated stream."
The dams up-river may be part of why the river is so good for trout since those "created cold trail waters."
Some of the work being done is intended to provide better fish habitat within the Casper sections of the river. While there are fish in the city area, Pollock says they don't tend to reside in those areas and the work could increase those numbers.
Dinkins says that part of the design work for the project included scanning the bed of the river with remote sensing technology to determine how the river was flowing.
Walsh explained that the goal of the designs are to create more "bed-form heterogeneity."
"This section of the river was fairly homogeneous," he added.
Creating a more complex river bed is part of what attracts fish. Walsh says that is done in two ways. Physically, a more complex river bed provides cover for fish.
Since wood from the Casper Mountain Nordic ski trails is being submerged to create the more complex bed, there's also a biological benefit.
Walsh explained that wood doesn't tend to rot so long as it stays wet. It also provides good habitat for insects and other small organisms which fish consume.
While more fish may entice anglers to the area, providing an economic benefit to Casper in the long run, it is not just the fish themselves or the people who stand to benefit.
Hutchinson explains that some of those same insects that support fish populations also support bird populations.
Furthermore, he says that the North Platte is "one of our bigger migratory pathways."
"Creating riparian habitat creates nesting habitat," he added.
In Hutchinson's view, the work is critical because he says that the bird population across the country has dropped 30%.
"This will be a buffer," Hutchinson says.
In addition to adding wood to the river bed, the project also involves improving river banks in several ways.
In this section, the left bank was worked on to make it less vertical. Additional soil was added and willows were planted in the hopes that their roots will help stabilize it over time.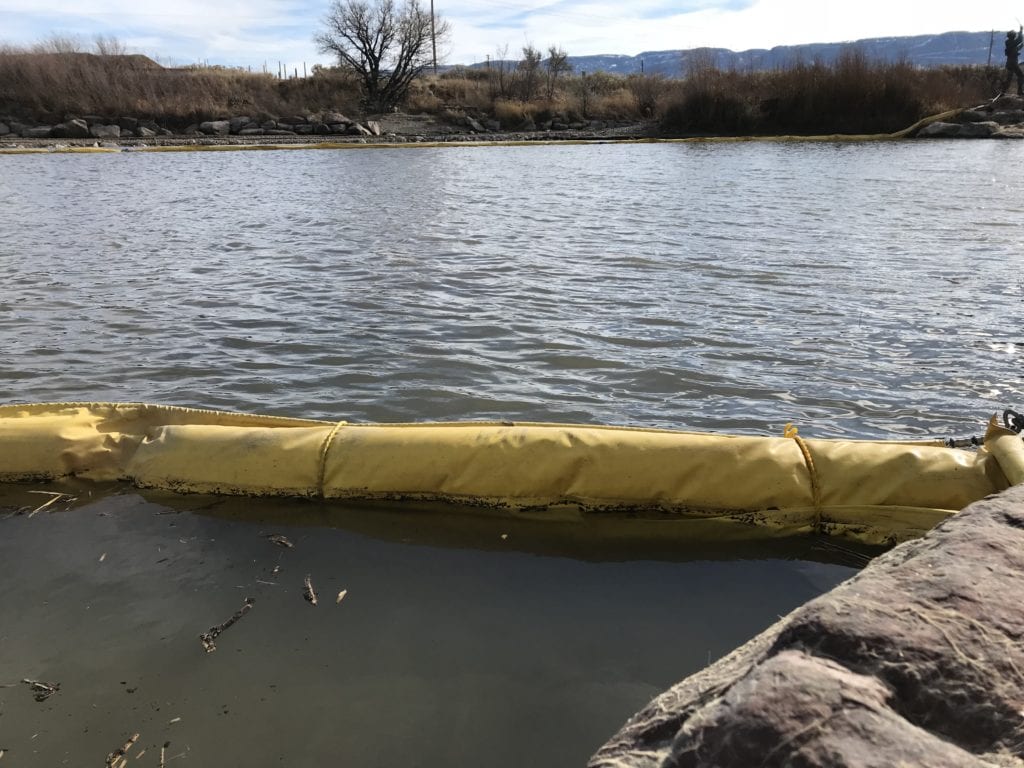 Walsh adds that it was covered in a seed canvas to grow additional native vegetation. Martinez says that next year, additional trees and plants will be added, though they'll rely on nature to do the heavy work over time.
They cautioned people that the vegetation could take a few years to really make the area aesthetically pleasing but that it is worth the wait.
"It sleeps, it creeps, it leaps," Pollock chimed in adding that within 3-5 years the bank will likely be covered in vegetation.
Martinez adds that removing Russian olives has been a critical part of the restoration in this and other sections of the river.
But what about people who don't see the importance of providing good habitat for fish, birds or the variety of amphibians that Hutchinson says are also critical players in a healthy Wyoming ecosystem?
"Maybe you don't care about fish or birds but you probably want to drink clean water," Walsh said.
In addition to mitigating the hydrocarbon pollution, capturing debris and stabilizing banks so that there is less soil erosion, restoration efforts also include mitigating storm water run-off.
Nine acres of additional wetlands have been added up-river, according to Martinez, who explained that creating wetland habitats at places where storm water is discharged is one way to mitigate pollution from that.
In the Jonah Bank section, such wetlands won't be added but gutter bins able to filter storm water before it hits the sewer will be added to the Jonah Bank parking lot.
Dinkins adds that wetlands are part of the plan for sections downriver. In some instances the storm water is discharged in places that are submerged, so he says that "stormceptors" are designed for those spots where a more natural mitigation approach isn't feasible.
A boulder path has also been added to the bank near Jonah Bank to allow people better access to the river. Martinez said that people should avoid walking on the bank to allow vegetation a chance to grow and to prevent erosion that walking may cause.
Dinkins says that the construction window is limited both by flows and the winter. They have to wait until the river is at about its lowest point and are forced to finish as the river freezes.
So the work may be slow and come with unanticipated costs. But everyone on Thursday agreed that it is worth the struggle.
"This is a legacy project," Martinez said. "The true benefits are 10, 20, 30 years down the road."
Connely pointed out that some of the work being done may not make obvious sense to the public.
"Damage to the land is often invisible to the layman," he said citing environmentalist Aldo Leopold.
He added that the grandchildren and great-grandchildren of people living today deserve to see this work get done.
"This project has brought a sense of belonging to place for our community like no other project maybe ever will," Connely said.