CASPER, Wyo. — The Casper City Council heard a report on the condition of streets in the city during their Tuesday, Feb. 25 work session.
That report was prepared by Infrastructure Management Services for the city. IMS West Region Client Services Manager Jim Tourek presented the report to the council.
The report includes three major categories to measure the health of Casper's roadways:
Pavement Condition Index: "The PCI score is a ranking assessment on the overall health of a pavement segment on a scale of 0 to 100"
Percent of Excellent Roads: "Roads with a condition category of Excellent are those that score between a PCI of 85 to 100.
Backlog: "The Very Poor and Poor roads (between a PCI of 0 and 40) that represent a portion of the network in need of extensive rehabilitation such as full and partial reconstruction."
"Casper met zero out of three of the metrics for evaluating the quality of its roadway network," the report reads.
Tourek explained that Casper's overall "Pavement Condition Index" is 59 out of the possible 100, which is considered fair. He said that most communities across the country have a score of 60-65 on this measure.
Only 4% of roads are considered in "excellent." The report recommends that a municipality try to ensure that 15% of roads are excellent.
13.5% of Casper roads are "backlogged," meaning they are poor or very poor. The report says that the community is above the national average of 12% and that "a very healthy network will have a backlog of 10% or less."
This chart shows the percentage breakdown of Casper street conditions from poor to excellent:
Tourek said that the data could be useful to help guide spending on street maintenance in the city. The report outlines that Casper's current annual budget dedicated to street maintenance is about $3.7 million.
If the city were to maintain this budget, the report says that the percantage of poor or very poor streets would increase to 25% and the overall PCI would drop to a score of 54 over a five year period.
In order to maintain the current scores, Casper would need to spend about $6.6 million annually on street maintenance.
Tourek said that when the budget is limited, focusing on streets with a PCI of 70-73 can be the most cost effective. He said that such streets require asphalt overlays but not total reconstruction which comes with added costs.
"That first grab is the thick overlays," he said. "On a limited budget we can only do so much."
Councilman Mike Huber asked if Casper's freeze-thaw cycle led to greater street deterioration than in other communities.
Tourek said that freeze-thaw cycles can lead to greater street deterioration. However, he said the report did not specifically look at the frequency of freeze-thaw cycles in Casper.
This map shows the quality of Casper streets, with red indicating poor conditions and green indicating healthy street conditions: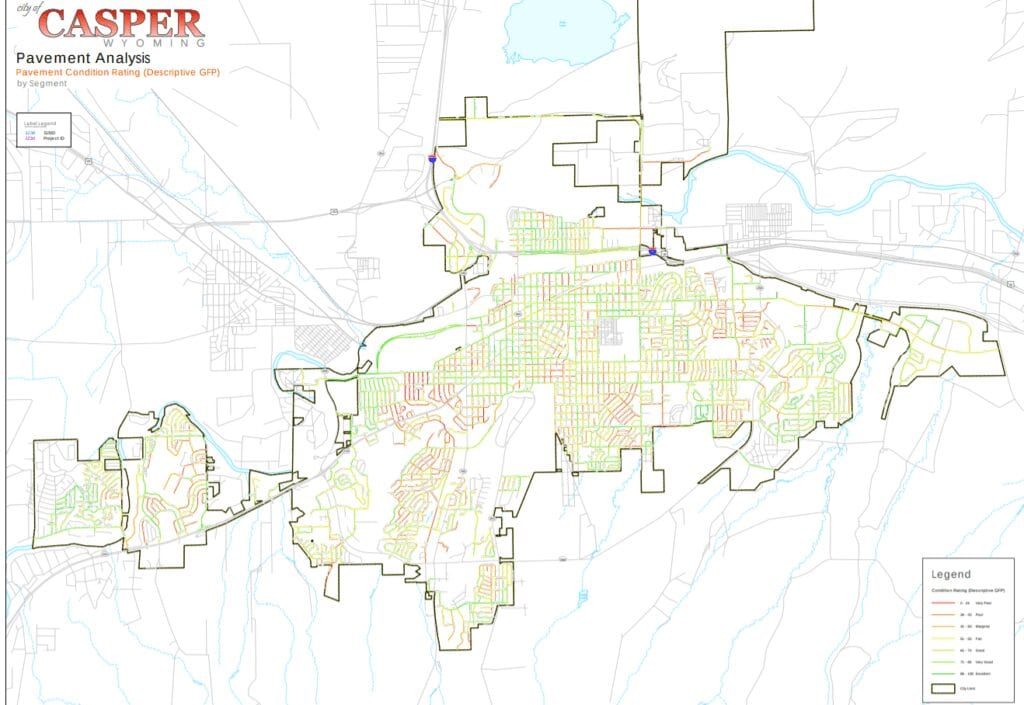 The report recommends that Casper do the following:
1. Casper should adopt a policy statement to maintain PCI at or above a75 while keeping backlog below 10%. An annual budget of $3.7M (dedicated to pavement rehabilitation) will achieve a network average PCI of 54 and backlog of 25%.

2. The full suite of proposed rehabilitation strategies and unit rates should be reviewed annually as these can have considerable effects on the final program.

3. No allowance has been made for network growth. As the City expands or increases the amount of paved roads, increased budgets will be required.

4. No allowance has been made for routine maintenance activities such as asphalt crack sealing, pothole filling, sweeping, striping or patching within the budget runs and analysis. These costs are assumed to be outside the pavement management costs.

5. The City should resurvey their streets every few years to update the condition data and rehabilitation program.

Infrastructure Management Services