CASPER, Wyo. — Yaks are the talk of the town with all the fuss about a certain new yak farm. But why yaks? What is so special about them, and are they really new to the Casper scene? Here at Oil City, we heard the call and went looking for the answers. We went and talked to Casper Creek Yaks, a local farm, and got the scoop on the yaks.
First, what even is a yak? A yak is a long-haired species of cattle that is native to the Himalayan region of the Indian subcontinents. These beautiful, domesticated cattle have the ability to withstand the biting cold winters as well as the hot summers, making them the perfect fit for Wyoming's arid and dynamic climate. Although they're a type of cattle, there is suggestion that they may be more closely related to bison than to other cattle. They can live to be 25-30 years old, and they start breeding at just 2-3 years old.
Yaks have many benefits that are causing them to become an increasingly popular pick for ranchers. Yaks cause less damage to the environment than cattle. Yaks have nimble hooves that make them light on their feet, keeping them from tearing up the grasslands as much. The do not need more than one or two acres of land. They eat less than cattle and require less work. These beasts of burden can be useful for everything. They supply a luxurious yarn from their long hair and produce milk. They are a greener, healthier kind of meat as their meat is 97% naturally lean. They also make great pack animals. However, the best part about them for the owners of Casper Creek Yaks is being able to show them off and love on them.
Casper Creek Yaks is a premier show breeding business. They attend the Central Wyoming Fair and Rodeo, state fair, FFA showings, and stock shows. They pride themselves on having all of their yaks halter trained by the time they leave their ranch.
Casper Creek Yaks is run by Carlice, Sonja, and Mac Cutright. Carlice is the shower and manages everything. She is 20 years old and has been doing FFA and showing since she was little. They have been raising and showing yaks since 2015. Prairie Wind Yaks is the only other yak farm to predate them, starting the previous year.
Casper Creek Yaks started with just 3 yaks, and now they have 8 yaks with two on the way. They got into yaks because the cattle market was high, and the original idea was to self-sustain. Yaks are often sought after because they do not require the owner to be involved in their process. However, Carlice had a very different approach.
The upkeep of the animals can be as minimal as letting them roam the field and providing food and water. For the Cutrights, though, it is a full-time commitment. In the winter they only tend to the yaks for an hour in the morning and evening, but in the summer they will spend hours brushing them out, getting them ready for shows, feeding them, and training them.
The main thing that makes their yaks so special is that people can touch them! Carlice says that "Whenever we go to shows, we are the talk of the show." Sonja continues this statement by saying it is because "we can have them out and people can love on them. A lot of people do not train them like we do."
The Cutright family has halter trained and imprinted with all the yaks. This process that can start when they are just a week old. First, they want the yaks to be comfortable with humans touching them. Then they can start putting a halter on them and having them wear a halter for an hour a day and over time increasing the duration to several hours. The idea is to have the animal associate humans with good things. Creating this relationship with the yak allows owners to properly care for them and love on them as well. However, training does not have to start at a young age. Even after they get older, you can train them to be halter trained. According to yak expert Carlice, she was able to train her steer, who was already a year old, in just a month. At Casper Creek, the training is the most important part. It allows them to care for them and control them.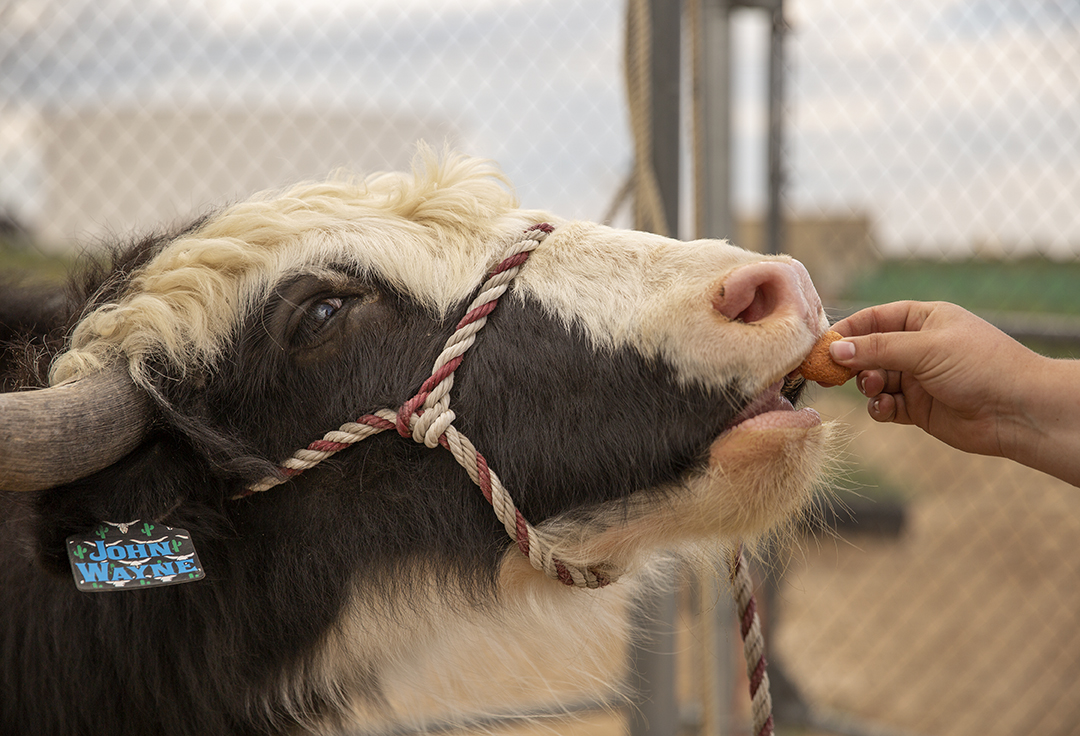 One of their yaks, named John Deere, is a two-time grand supreme at the National Western Stock Show. However, they have also won many other ribbons and awards for their other yaks, including in livestock shows and FFA. There are all different kinds of shows they can do including pin shows, fiber shows, and halter shows.
Casper Creek Yaks just had a baby yak born on July 11. Miss Renly is just over a week old and already to prancing around on her own. She will stay with her mom until she is weaned off her at six to eight months.
The Cutrights can sell their yaks for $4/lb or as much as $10/lb, with the yaks ranging anywhere from 500lbs to 1800lbs. In all, this makes for a pretty good price. They are not as big as cattle, but this is made up for with the lower required levels of food and maintenance.
According to Sonja, even though they just break even, they are worth every penny — especially when they have calves. They do it more because they love the yaks rather than to make money. Sonja says that the most rewarding thing is having "animals with a tame side that you can educate people with."
For Carlice, working with yaks has given her the chance to be recognized. "I have won a lot and have a lot of accomplishments, but those don't matter to me. I love all my yaks the same, and just having them go places and having them be able to be touched and educate people is my greatest achievement."
It turns out that all the buzz about yaks is well deserved. These loveable and beautiful beasts have a definite place in our town and in our hearts.