CASPER, Wyo. — "Check 1, 2. Can you hear me?" This is the first thing Dallas Chopping said to me when I got in his two-person experimental Kitfox Airplane. We were both wearing a headset and strapped in to start flying around Casper.
The small airplane was built from a manufacturing kit and only weighs 1,550 pounds. In comparison, the average car weighs twice that at around 3,000 pounds. This lightweight plane flies at about 115 miles per hour and can take off in just a few seconds. The Kitfox runs on normal gasoline, making it a cheap airplane to fly.
Before takeoff, Chopping went through a thorough maintenance check., explaining, "When you drive a car you run it till it breaks; well, with an airplane you want to try to catch things before you're up in the air."
The plane seats two people side by side. There are glass windows on either side so that you can look out and see the ground thousands of feet below. The flight lasted roughly 30 to 40 minutes and was the most exhilarating experience. We flew over every iconic landmark in Casper — including the west-side Walmart, downtown, Casper College, and the Eastridge Mall — as well as out to Bar Nunn.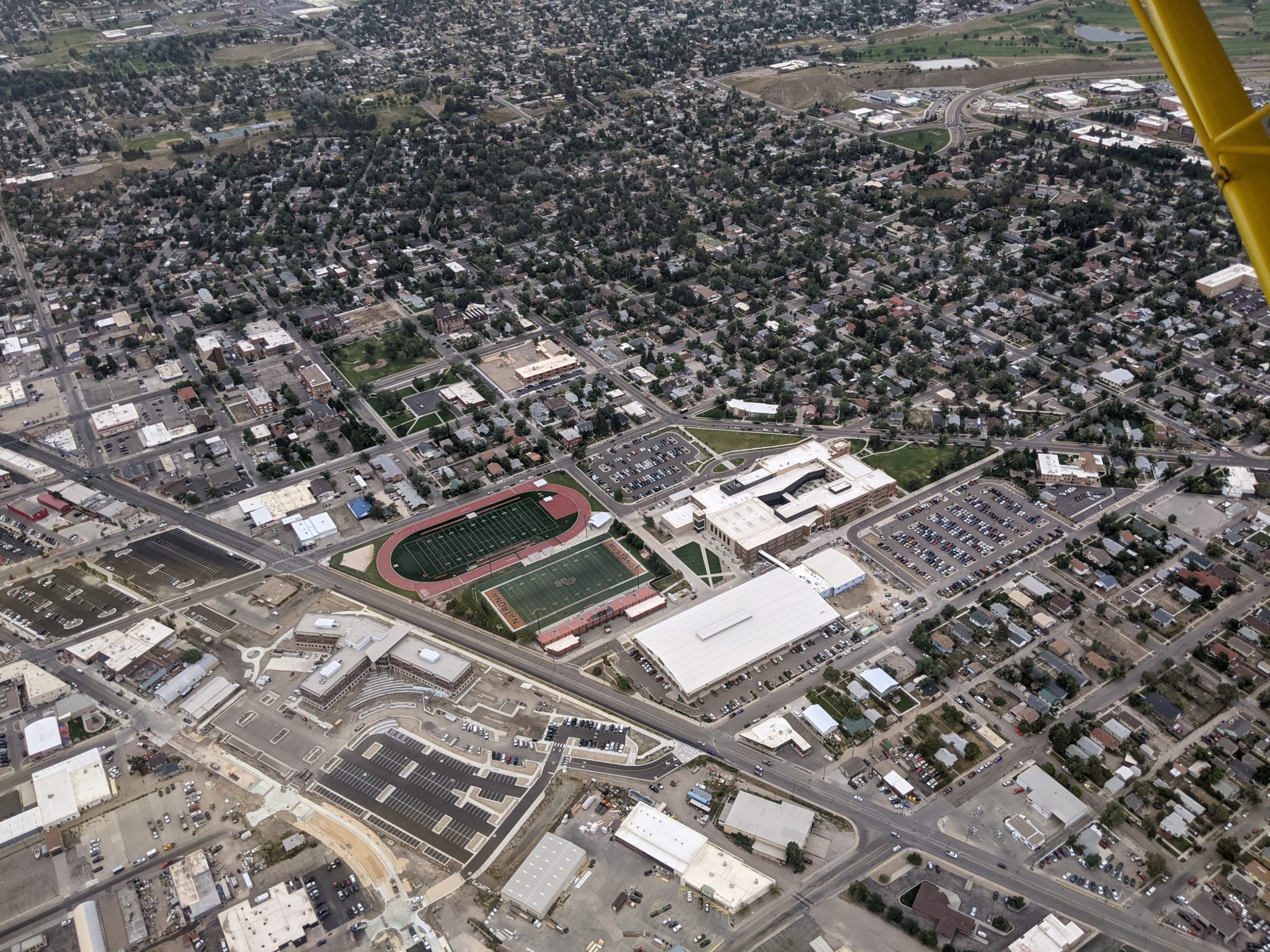 That morning, the wind was rolling off the mountains, making for some heavy and distinctly invisible turbulence. While my insides were turning over, so was the wind, but the experimental plane seemed to handle it with no problems. It probably helped to have such an experienced flier in the cockpit.
The pilot was none other than Dallas Chopping, a gentleman who has been flying his whole life. Prior to flying under his wing, Chopping was able to give me his life story.
His piloting years began when he was just 3 years old.
His father, uncle, and grandfather all flew planes. You could say that it was in their blood. Chopping started flying in planes sitting on his father's lap and has kept in the air ever since. When he became a teenager, he started flying on his own.
He loved it so much that when he was in high school, instead of buying a car, he bought an airplane. He has since made a living flying and being high above the ground.
As a young man, Chopping was getting a degree in mechanical engineering. He had his commercial, instrument, instructor, and engine ratings licenses, so part-time he was working as a flying instructor.
Then, the local power company needed a full-time pilot for 30 days. This is when they were building the Jim Bridger Power Plant down in Rock Springs, and his job was to fly executives back and forth. During this time there was a lot of waiting, so he had plenty of time to continue to work on his homework. Chopping says, "well, that 30 days quickly turned into 6 months, and after I finished school they made me an offer I couldn't refuse and I jumped into corporate flying." He spent about 25 years flying for them.
After that, a company in Sweden needed someone to fly jets over there. Chopping then flew in Europe for four months, flying executives from place to place. He says that "A typical mission would look like picking up some executives from Paris and flying them to Germany, waiting on them for three or four days, and then flying them back." Wherever he stopped, he would get to go out and "be a tourist for three or four days. … The first thing I would do when I landed was take a bus tour to figure out what I wanted to see."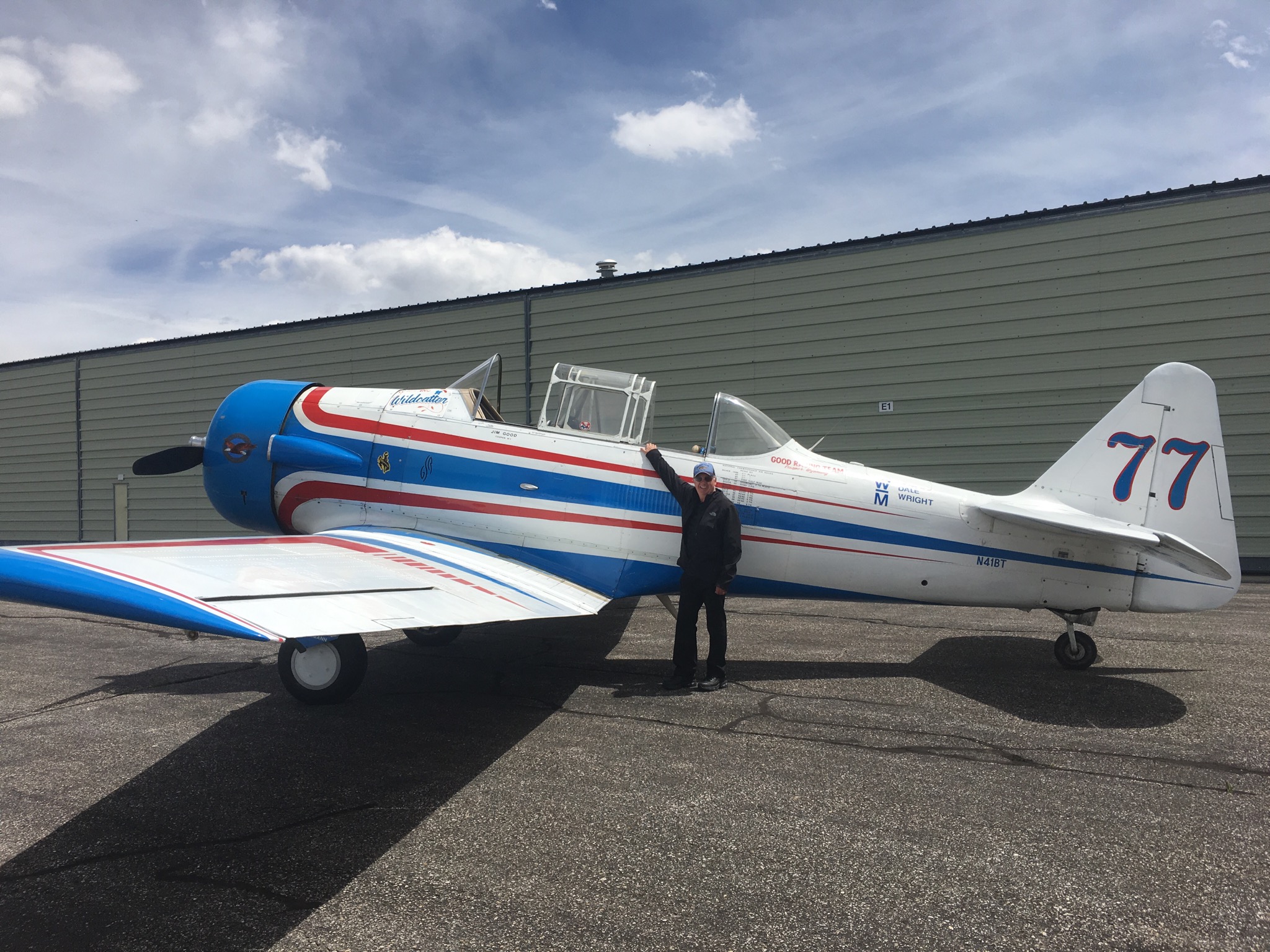 Upon coming back to Casper, he flew for Jerry Stone and Neil McMurry. He was considered their "chauffeur in the sky." The last jobs he held were flying for Virgil Tatman and Automation Electronics.
Now, he is a part-time flight instructor. He has his own personal airplane, which he volunteers for the Natrona Country Search and Rescue to help look for missing people, and an organization called Cowboy State Volunteers.
Over the course of his life, he has flown over 21,000 hours, which equates to three years of flying without stopping.
Flying planes can be a very rewarding experience.
Chopping shared a story of when he was guided through the sky with what felt like an "invisible hand." In October of 1987, there was a young boy who needed a liver transplant. The family had been on the waiting list for months and this was going to be the only chance to get a liver.
When a liver became available, it required Chopping to make a flight from Casper, Wyoming to the Pittsburg Children's Hospital in Pennsylvania — a flight that under good conditions would take 8 hours. However, the weather was not looking good all the way there. They were facing winds, thunderstorms, and snowstorms.
Despite this, they knew they had no time to waste. It was now or never, because without the liver the little boy would surely be on his death bed, so they started the flight anyway, not sure if they would even be able to make it. The headwinds were pushing them back so much that they were barely moving, and Chopping believed that all hope was lost.
Suddenly, the winds changed, and they had a tailwind. They started traveling faster than anything he had ever seen. The storms disappeared, and they made it there without even having to refuel.
Through flying, he was able to save the young boy's life. This, alongside the other volunteer work and flying lessons that Chopping does, is what he says he enjoys the most. He says, "The Lord has blessed me, and my greatest joy is blessing others."