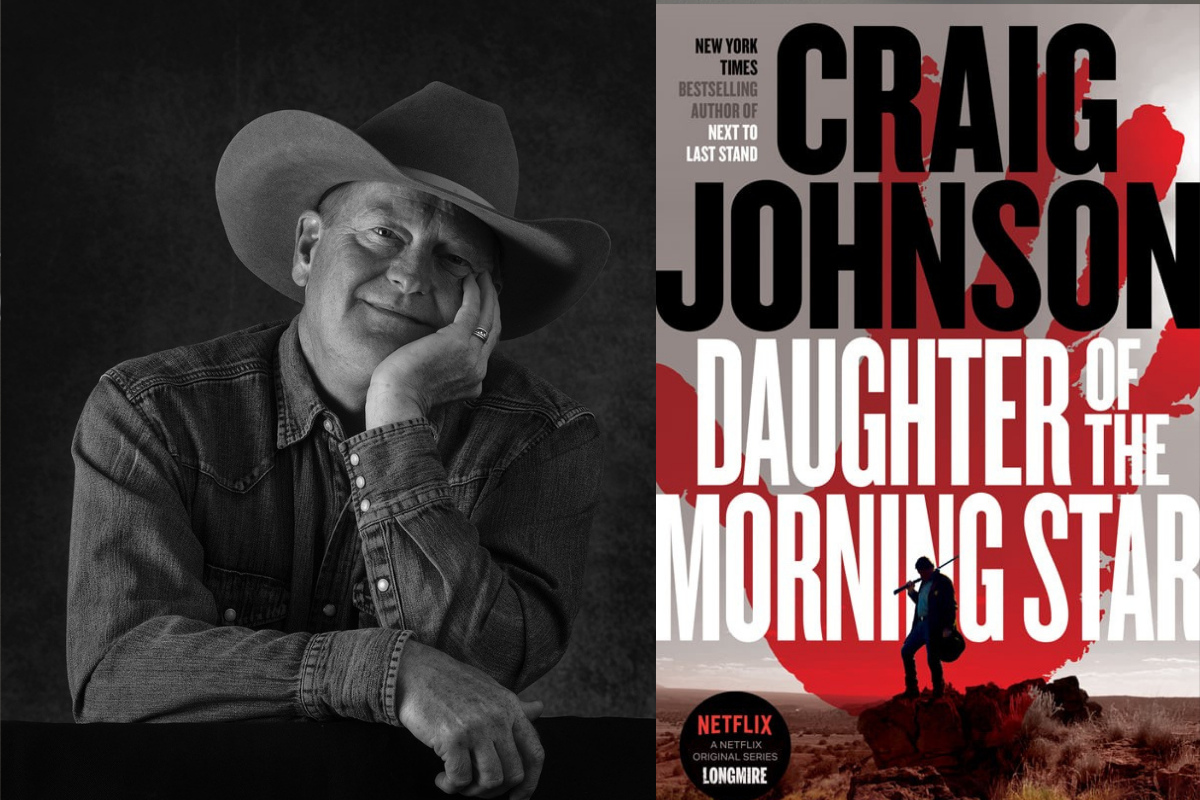 CASPER, Wyo. –—Are you a fan of the famous author Craig Johnson? This Wyoming-based writer created the Longmire series, which is also a hit show on Netflix.
Johnson writes from his ranch in Ucross, population of 25. His books are a treat for the people in Wyoming because his characters interact with the landscape and towns in ways that only Wyomingites understand. His new book Daughter of The Morning Star was just released September 21, 2021. In celebration of his series, he will be coming to Casper for a book signing October 2.
His book is a poignant topic with the story of Gabby Petito, and the push to talk about the missing and murdered indigenous women.
Article continues below...
Craig Johnson delves into some heavy topics in his new book. Get your chance to meet him and get a book signed this Saturday, October 2 at 7:00 p.m. at the Natrona Country Library.
The National Indigenous Women's Resource Center, which "deals with the plague of horrible situations that have been happening with native women," plays a big part in Johnson's newest book.
Johnson says, "This book is a little different than all the others, like it deals with missing and murdered indigenous women. That became an issue for me, simply because I was up in Hardin, Montana doing a library event, and there was a missing persons (a home-made missing persons) poster. It was a young woman that was missing and it was heartrending for me because there was information, a reward, and a picture of her face. And where the sun came through the door of the library, where the sun hit it, it had faded out about half of it, so only half of the young woman's face was there. … It looked like it had been hanging there for years, and I started to think that was one of the worst things that could happen to a loved one."
This inspired him and he decided to write about it in his newest book. Viewing it as a social issue, he had to find a way to place Walt Longmire in the situation and be able to talk about in a way that had not been done before. In the book, Longmire encounters a young woman who is being threatened and whose sister had disappeared a year earlier. This is something that Longmire has never experienced, and he has to find a way to help her. Johnson says that this aspect gave him access to the social issue and a character that has an entertaining background.
One of the biggest things that he hopes readers will take away from his new book is an awareness of the situation with missing indigenous people. According to the FBI, more than 5,600 Native American women went missing last year. He says that the Native American population is rather small, and sadly the number of missing people is vastly disproportional to this.
Johnson continues by saying, "There are a lot of responsibilities that go along with being a writer. You have a job to entertain, and to provide a good read, but you also have responsibilities like anybody else in a culture." He also says that he had a responsibility to know how it would affect Walt Longmire and the other characters in his books.
He is going on a signing tour to some of the bigger metropolitan areas, but he will also be making the trek to Casper. You can get your own signed copy of The Daughter of the Morning Star and meet Craig Johnson yourself on October 2 at 7 p.m. at the Natrona Country Library.
Johnson says that doing signings in Wyoming will always be near and dear to his heart. He says, "People have different responses to the books. … Certainly, people from our area in Wyoming are going to get a lot more out of the books than people from other places. They are going to get a little bit more out of the books, simply because of context. They know Wyoming, and so they get all inside jokes, and all of the inside information."
When asked why he chose Wyoming of all the places to live and write from, the famous author replied with a laugh and taunted, "Why do you have a sense of incredulity in your voice when you ask that question?" He continued by saying, "It's beautiful. … The mountains are so accessible, and there is a sublime beauty in the Powder River Country. I fell in love with it."