CASPER, Wyo. — As the basketball season is starting, the NCHS Basketball Team is spreading Christmas cheer. Prompted by NCHS Assistant Basketball Coach Josh Propp, the team has been out and about in the community helping with different projects.
Josh Propp says that the staff has made it a goal to make not only great basketball players, but also great people. In order to do this, they have pushed to be involved in different community volunteer events around town.
Over this last weekend, they had the opportunity to be a part of The Fleece Blanket Project put on by the First Christian Church. It is a project where people get together to cut and tie fleece blankets which are given to those in need of comfort and warmth. They donate blankets to Headstart, the Child Development Center, the Youth Crisis Center, Rocky Mountain Oncology, Central Wyoming Hospice and Transitions, the Self Help Center, Mimi's House, Interfaith of Natrona County, Community Action Partnership, and several other organizations.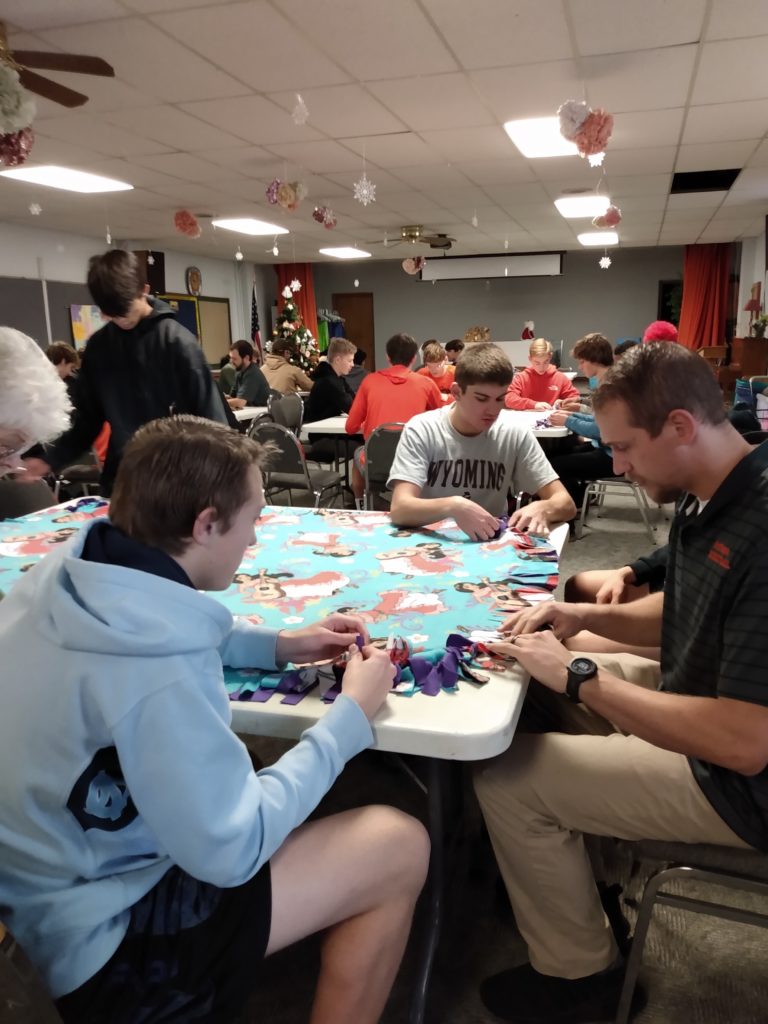 The project is funded entirely by donations and volunteer work. They use two yards of a solid color of fleece and two yards of a print fleece, making blankets once a month during a tie party.
Propp had reached out to Debbie Mestas, the head of the Fleece Blanket Project, looking for ways to serve in the community. On December 4, they had ten blankets ready to be tied, and the boys finished those in record time. But they didn't stop there: the team then helped trim and cut ten more blankets before tying them.
The team, which is comprised of 40 students, had 26 show up and it made a huge impact on the community. They were at the church for just an hour and half and were able to make 20 blankets. Afterward, they went back to practice.
According to Mestas and their coaches, the team enjoyed working with their teammates on a project to give back to their community.
They were also a part of Love in Action, where they helped prepare food and gifts though Casper Youth For Christ. Propp says that if there are any other community projects, they would be happy to volunteer.
---
If you are interested in helping making fleece blankets, feel free to reach out to Debbie Mestas at debmestas@gmail.com.