CASPER, Wyo. — The relationship between historic researchers and psychic mediums could be described as one of synergy — the medium picks up on energy at a historic site and the researcher draws on their knowledge of the past to fill in historic details.
Sarah Lemos, a psychic medium familiar to viewers of the Travel Channel, and Johanna Wickman, vice president of the Fort Caspar Museum Association, have developed such a relationship.
Lemos is in Casper to help guide people on ghost hunts at Fort Caspar to help raise money for the museum's expansion project. Members of the Fort Caspar Museum Association, the nonprofit that helps raise money for the museum, took her to visit historic places around the area on Thursday.
"We took her to where the Battle of Red Buttes was, to where the Battle of Platte Bridge was [and] we took her to a post of Platte Bridge in Evansville," Wickman said Thursday. "We've taken her around some different historic sites so she could see they are all connected."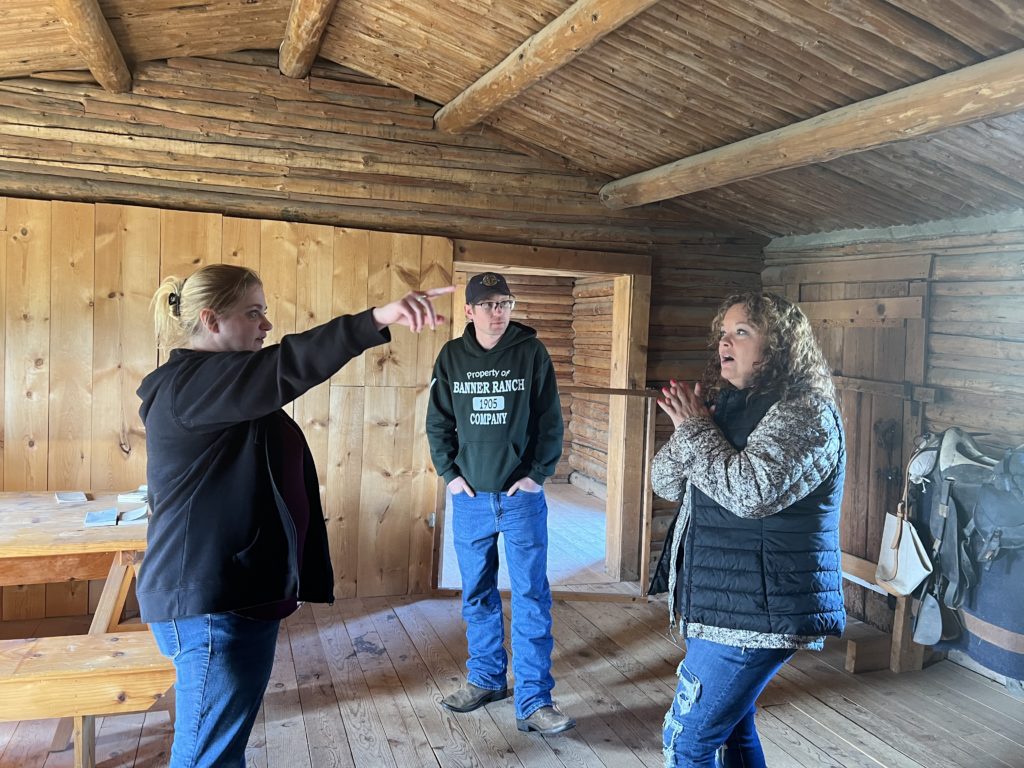 A spirit started talking with her at the first location the group visited, according to Lemos.
"We were out at the first place and we were chatting back and forth and [Wickman] goes, 'Do you know who you're talking to?'" Lemos said. "I said, 'No, but this is what he's giving me.'"
Lemos was able to tell the spirit was a soldier, but when Wickman asked what rank he was, Lemos couldn't say because she doesn't have much knowledge of history and asks not to be informed about the history of a place before visiting it. However, she was able to describe the uniform.
"She's seeing yellow, which would indicate Cavalry," Wickman said. "She's seeing a sergeant's chevron."
That kind of information allowed Wickman to identify the spirit as Commissary Sgt. Amos Custard of the 11th Kansas Cavalry, who was killed July 26, 1865 at the Battle of Platte Bridge Station.
"He was the only sergeant there, so now we know who it has to be," Wickman said. "He was enlisted in the 11th Kansas Cavalry — well, originally it was the 11th Kansas Infantry — in the fall of 1862 and he fought a number of battles
with the regiment in Missouri and in Arkansas, the Battle of Prairie Grove, fought Sterling Price."
"And then in the spring of 1865, the regiment was sent out here. By then they had been converted to Cavalry." (More details on Sgt. Custard are available in this WyoHistory.org article.)
Connecting such historic information to the spirits Lemos contacts is part of what will happen at ghost tours at Fort Caspar on Friday and Saturday. Walking around the fort on Thursday afternoon, Wickman said the tours will be a little different than ghost tours put on at the fort in years past.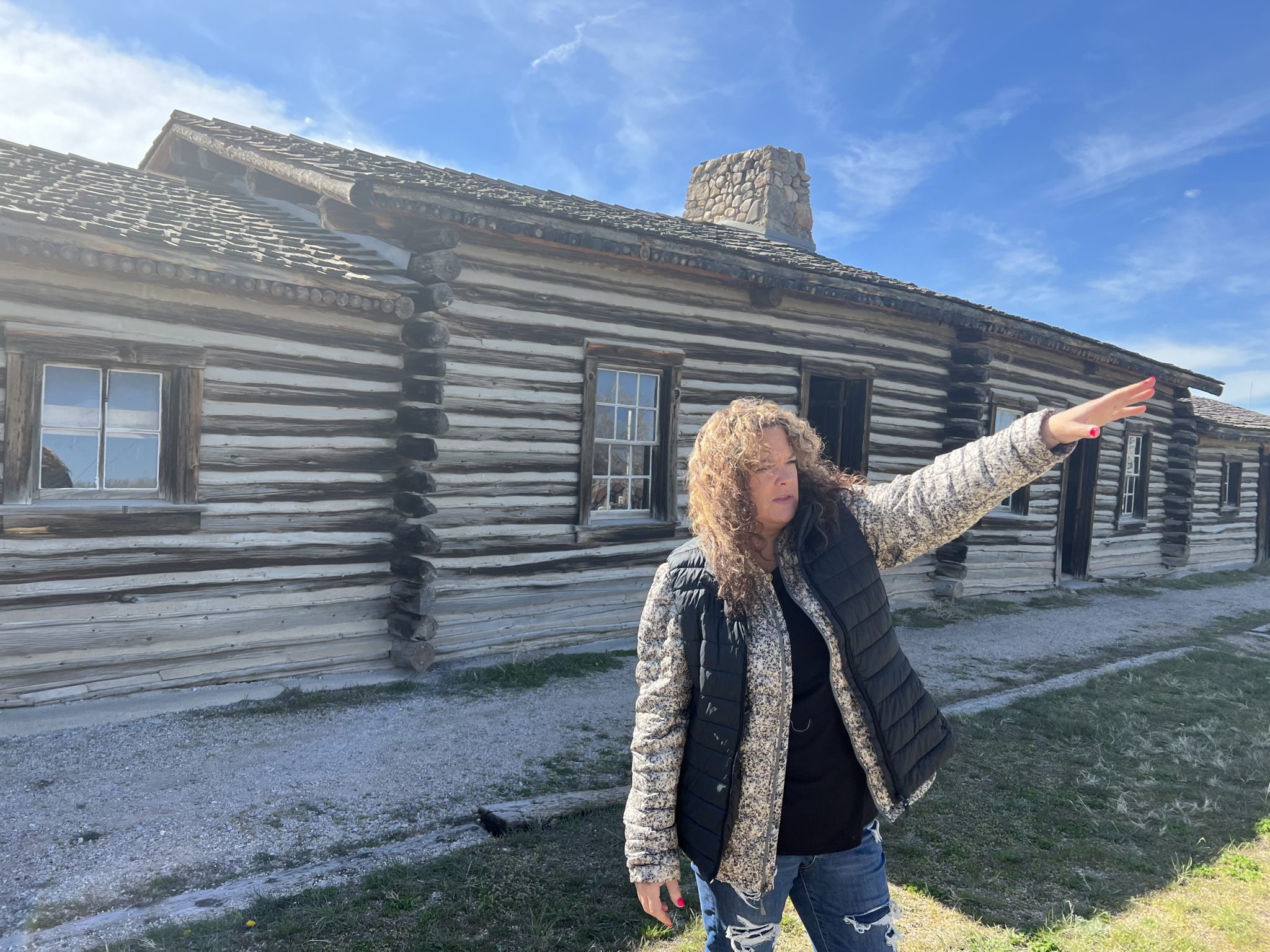 "We're taking folks through some new locations that they haven't normally been able to investigate," she said. "Normally, we just did the buildings, but we're actually going to open up the grounds this time so people will be able
to walk around to the cemetery over there [for example]."
"Obviously, the buildings will be a part of it too, but we wanted to open up some other options."
The new approach will allow the tours to be guided by Lemos and whatever energies or spirits she picks up on around the fort. Sensing paranormal energy is like picking up on a scent when a person is hungry, according to Lemos.
"You know when you're really hungry? It's kind of like that," she said. "I can feel it. I can sense it and for me, I work for the other side, I work for the dead. I don't really work for the living. Their stories are very, very important and I want to share their stories."
"I smell it. Okay, I feel it. [It's a] we're-going-that-direction kind of thing. That's the only way I can explain it. It's like a sensation like when your mouth starts to water because you're really, really hungry."
Walking past the door to one of the fort's buildings, Lemos said she caught a glimpse of a spirit.
"I just saw, I swear on my life, there's a round, fat man," she said. "Why is he in here?"
Con Trumbull, president of the Fort Caspar Museum Association, explained that the the building was the Cavalry barracks.
"He has suspenders on and a white shirt and the pants and he's, yeah, he's well fed," Lemos said.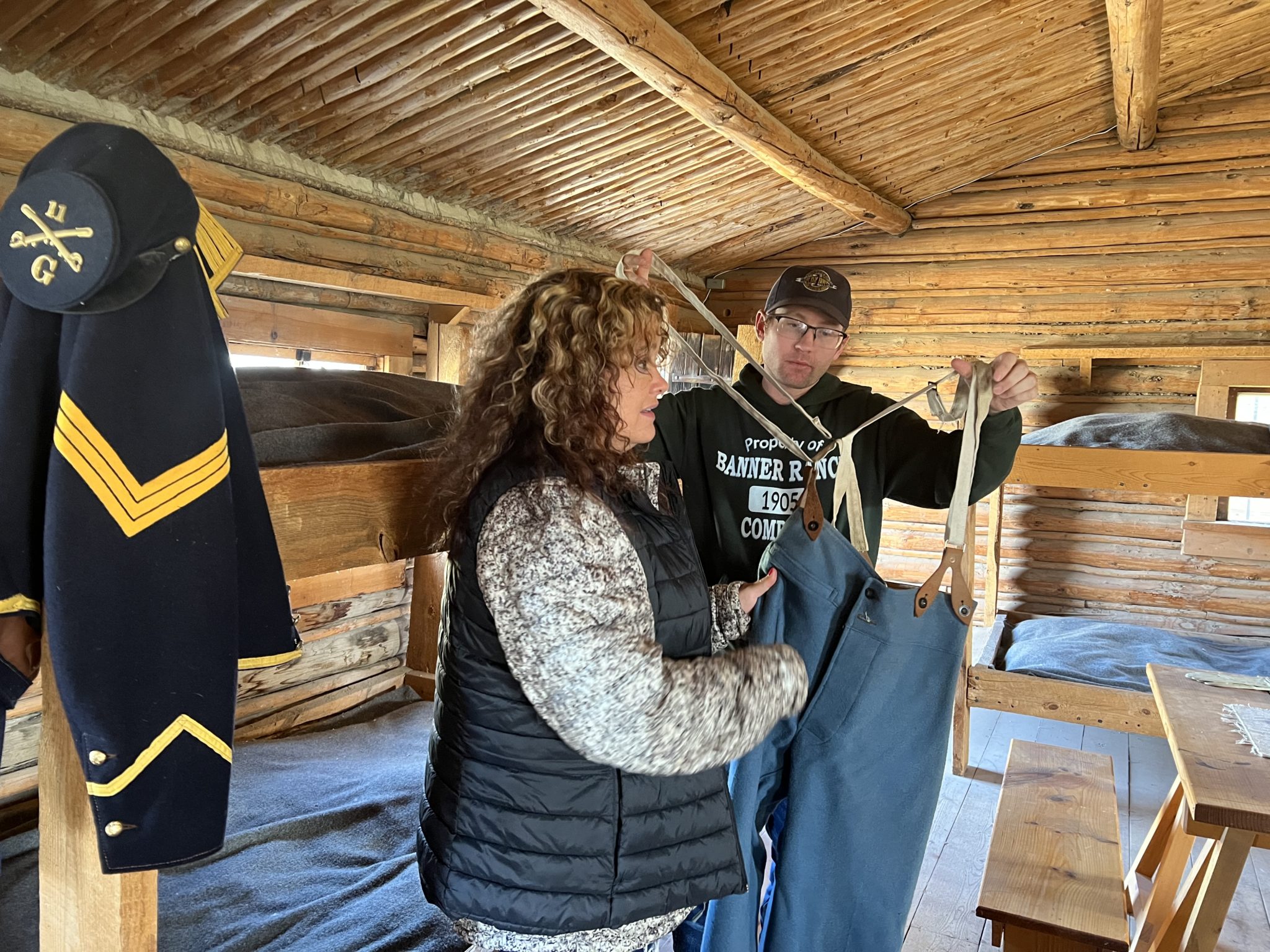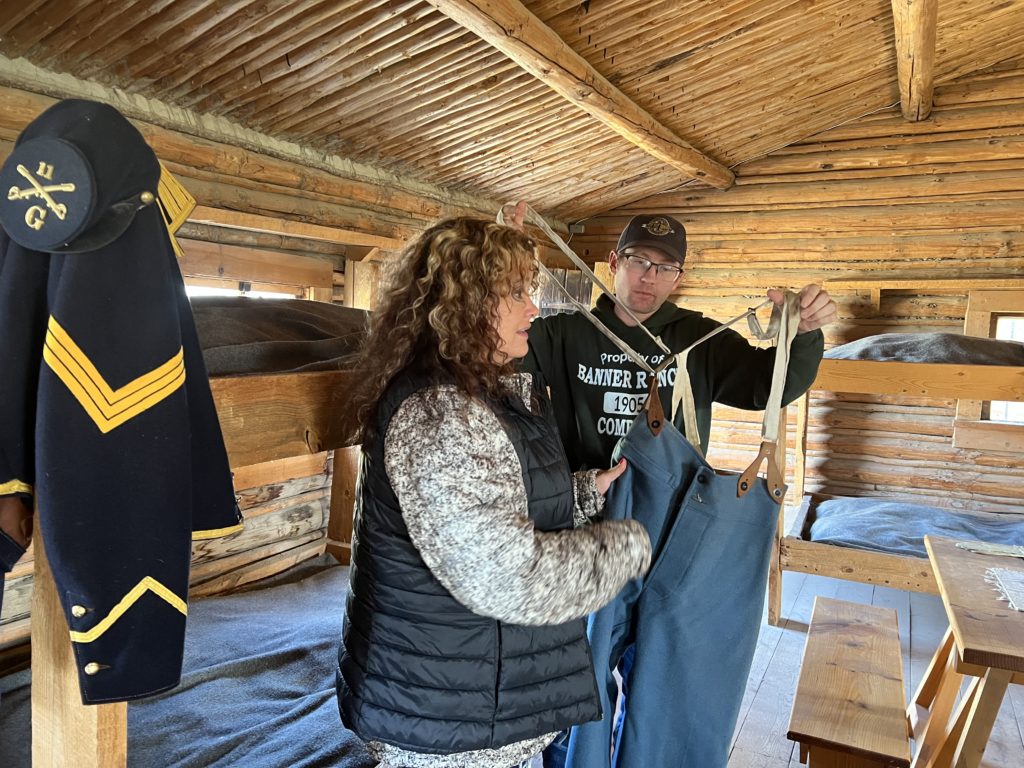 Inside of the barracks, Trumbull showed Lemos a place where he said a ghost likes to play checkers.
"We play all summer long," Trumbull said. "I'll come in and I'll make a move. Later, I'll come back in and
one of the black pieces will be moved. All summer long. We'll just go back and forth."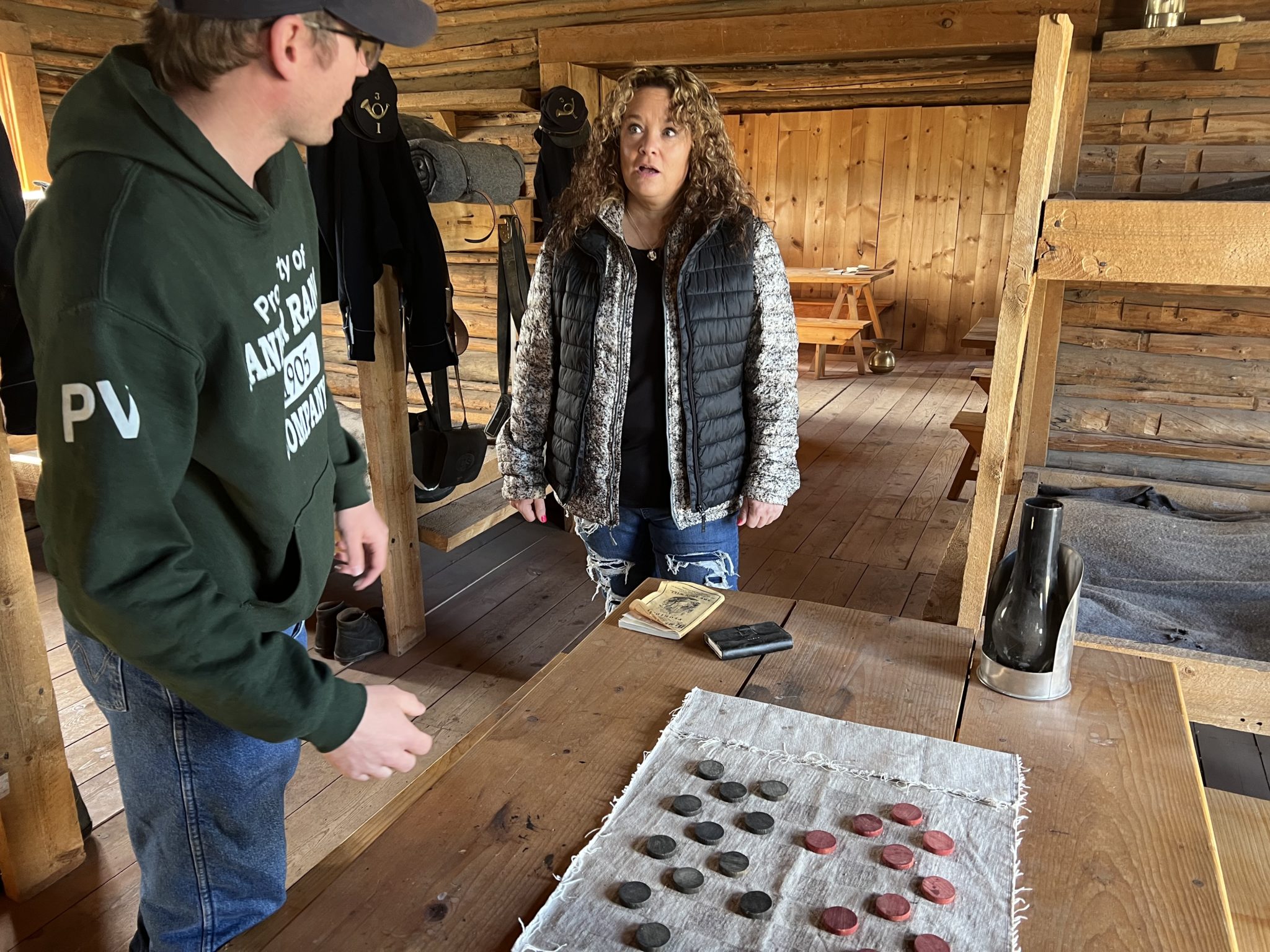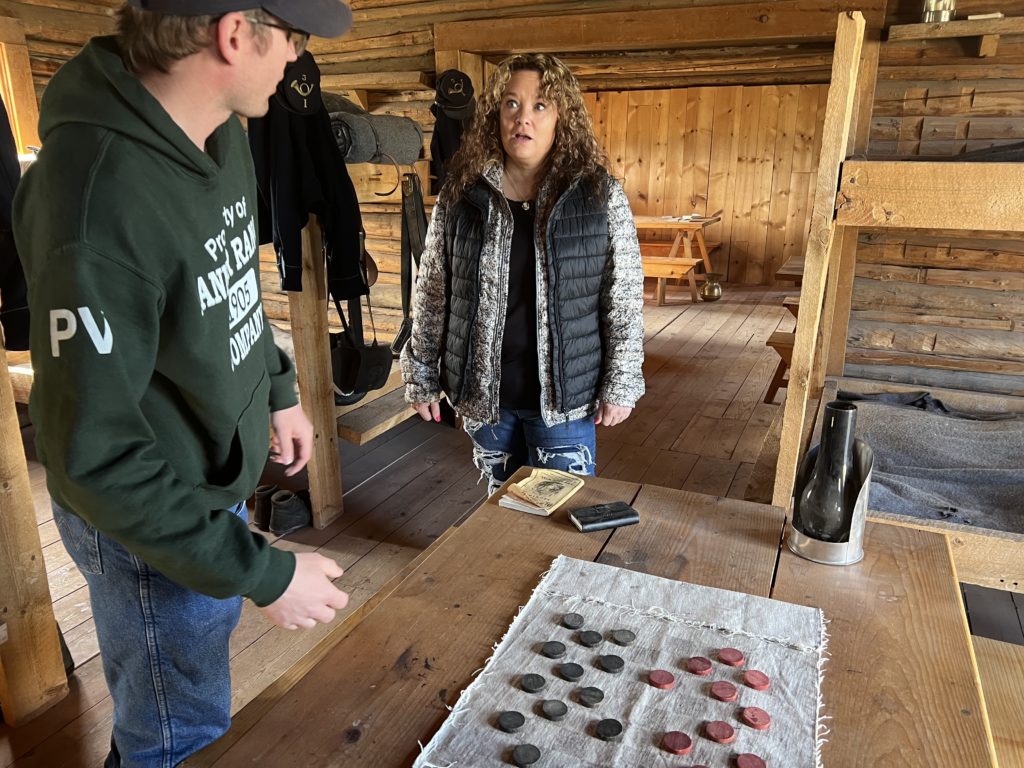 Lemos said the Cavalry barracks is full of energy.
"This is a very active space, like immediately, I want to start talking different and my jaw is starting to hurt," she said. "There's a lot here."
Moving into a lower-ranked sergeant's quarters, Trumbull talked about a strange thing that happened when a re-enactor was staying there during the fort's 150th anniversary celebrations.
"He felt somebody else in here and he is somebody that does not believe in the paranormal," Trumbull said. "He was leaned over the bed and somebody came behind him and bumped into him and he fell into the bed and he turned around — there's nobody there. So he goes to bed and he wakes up the next morning and he's playing the telegraph. On the desk is a letter written in ink and there's that ink spill."
"The letter was talking about the battle and it used very period-specific terms and phrases. We had the letter and we read the letter and now it's gone. It disappeared on us. That stain is the only piece of evidence."
Lemos said she thinks her ability to communicate with the dead relates to her emotional capacities.
"I do think that the reason I am the way I am is because of my ability to understand emotions and feelings and sense them in other people," she said.
While she sometimes experiences stomachaches or headaches when communicating with spirits, Lemos said she accepts that pain.
"I'm okay with it because I can bring someone peace and love they've needed from their grandmother on the other side [for instance]," she said.
Lemos said she sees her ability to communicate with the dead as a skill in integrating the past and the present. Whether there are future spirits that could be communicated with is something she doesn't personally like to focus on and cautions others to be careful with.
"We are already dealing with so much of our past and it must be hard to even think about the future," she said.
Wickman said she thinks it is important for people to be respectful during ghost tours at the fort.
"When we do investigations here we always encourage people to please be very respectful," she said. "From my perspective, not only are you dealing with other people, but you're dealing with veterans, so you need to have a level of respect for them."
The remaining events scheduled for Lemos at the museum include Friday's "Ghost Hunt of Fort Caspar and a Talk with Sarah" and Saturday's "Sarah's Mediumship Experiences" and a sold-out "VIP Ghost Hunt with Sarah."
All of the events require tickets, which can be ordered here. Tickets for events range from $25 to $75.