Gary Clifton Edwards, age 70, of Casper, passed away June 19, 2017 at Shepherd of the Valley Care Center. Gary was born September 1, 1946 in Casper to Virgil C. (Lum) Edwards and Mary Doris Edwards. He attended Jefferson grade school, Dean Morgan Junior High, Natrona County High School, Casper College, and University of Wyoming. He was enlisted in the United States Navy for 4 years. On April 19, 1970, Gary married the love of his life, Sue Clouse, at First Presbyterian Church in Casper. He was a member of the Oil Capital Oil Club. He had a passion for car shows and car races, baking cakes and dog shows. He was employed with Game and Fish, General Electric, and Natrona County School District. Gary was very creative and a perfectionist at every thing he did. He hung Christmas trees upside down in school entrances, floated Christmas tree in the Kelly Walsh pool, and won awards for decorating his house. Gary was a hard worker and was always willing to lend a helping hand.
In addition to his parents, Gary was also preceded in death by his mother-in-law, Ruth Clouse and father-in-law,Virgil Clouse. He is survived by his loving wife of 47 years, Susan Jane Edwards, Son, Troy James Edwards and his wife, Treeva, and three grandchildren of Ellensburg, Washington; brother, Lynn Edwards of Billings, Montana; and two nieces and their families, and many friends.
A memorial service will be held at 1:00pm, July 31st, 2017 at Oregon Trail State Veterans Cemetery. A reception will follow services at Z Classics Cars on East Yellowstone Street.
Memorial contributions may be made to Central Wyoming Hospice or Shepherd of the Valley Nursing Home in Gary's memory.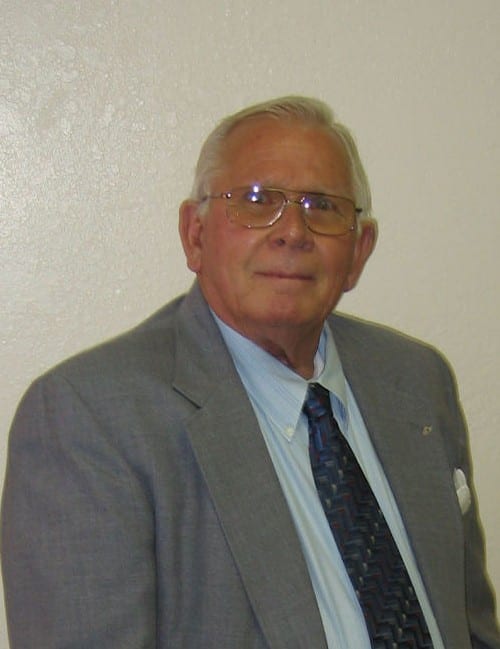 James Marshall McDonald of Glenrock passed away July 8, 2017 with his family by his side. He was born in McPherson, Kansas on Oct. 6, 1933 to Ernest McDonald and Armour Brooks.
Jim graduated from Great Bend High School in Kansas and attended college at Hays State in Hays, Kansas and Kansas State
College in Manhattan, Kansas. He served in the Army during the Korean War.
Jim married Marie Asay, November 24, 1956 in Cody, Wyoming and recently celebrated 60 years of marriage. To this union three children were born, Rhonda, Russell and Robin.
Jim worked for Mountain Bell phone company and retired from Glenrock Coal. After retirement, he and Marie, enjoyed river cruises on the major rivers in the United States and abroad. He enjoyed visiting his grandchildren and always enjoyed watching football no matter who was playing. He collected glass on weekends.
Jim loved the beauty of Wyoming; golfing, hunting, fishing and camping with his family. He enjoyed Campbell (Camel) Creek and their place at Alcova Lake.
Jim was a Shriner and a Master Mason of 60 continuous years.
Jim is survived by his wife, Marie; his 3 children, Rhonda (Larry)
Redding of Alpine, Utah; Russ (Debbie) McDonald of Las Vegas, Nevada; Robin (Mike) Davis of Bloomfield, New Mexico; nine grandchildren and 16 great grandchildren.
Jim was preceded in death by his parents; sister, Janis McDonald Walters Hill and brother, William McDonald.
Visitation will be on Tuesday, July 11, 2017 from 6 to 8 P.M. at Bustard's Funeral Home in Casper. A graveside service will be held at 10:00 A.M. on Wednesday, July 12, 2017 at the Glenrock Cemetery with military honors accorded by the Wyoming Army National Guard and the American Legion. Funeral services will follow at 11:00 A.M. at The Church of Jesus Christ of Latter-day Saints in Glenrock. Memorial donations may be made in his name to the Glenrock Sr. Center or a Charity of your choice.
Josef "Joe" Beer, 87, passed away in Casper, Wyoming on July 8, 2017. No services are planned at this time.
Graveside services will be held for Charlotte G. Scholtz, age 100, 2:00 PM Thursday, July 6, 2017 in Highland Cemetery. She passed away June 28, 2017 in Casper. She was born January 24, 1917 in Lead, South Dakota. She came to Casper in November 1917 with her parents Charles and Ethel Campbell.
Charlotte received her education in Casper and graduated from NCHS in 1935.
She married Edward Scholtz in 1937. They had two children- Clayton Scholtz and Joann Scholtz Hendricks.
A lifelong member of First United Methodist Church, enjoying many years with the Mary Martha Group and friendship with many members. Also in earlier years she participated in Modern Mothers group of the Garden Club.
After the death of her husband, she worked in bookkeeping and secretarial work.
Her interests were in the love of her family, visiting friends, working in the yard, and playing with and walking her dogs.
She is preceded in death by her husband in 1956, her parents in 1955 and 1957, and her daughter Joann Hendricks in 2006, and Clayton E. Scholtz in 2014.
She is survived three grandchildren, James Kent Hendricks, Kellie Cameron, and Debra Rose.
Memorials may be made to the Casper Humane Society, 849 East E Street, Casper WY 82601 or First United Methodist Church, 302 East 2nd Street, Casper, WY 82601.
Donna Rae Tullos, 83, passed away on July 9, 2017 in Casper, Wyoming. A celebration of life is planned for Friday, July 14, 2017 at 2:00 PM at the Glenrock Cemetery in Glenrock, Wyoming.