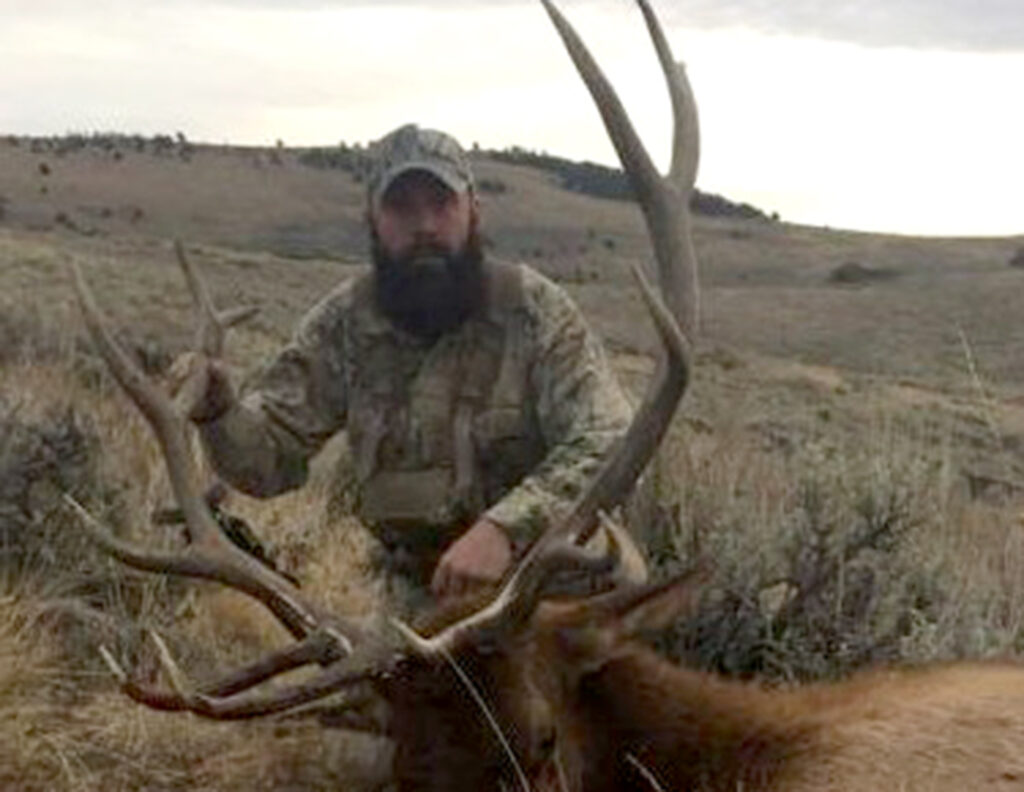 CASPER, Wyo. –
Darren Todd Rowe, age 35, of Casper, Wyoming left us suddenly on February 15th 2020.
Darren was born on September 11, 1984 in Laramie, Wyoming to Robin Rowe and Tony Lyn Rowe.
Article continues below...
Darren spent his entire life here in the state of Wyoming. He graduated from Natrona County High School in 2003. Immediately following his graduation, he served in the US Navy from 2003 through 2007. His service was on the USS Lincoln and the USS Nimitz.
After his military service, he married Deidra Rowe on July 31st 2010. They enjoyed the outdoors together around Wyoming, ATV riding, camping, and other activities. Darren was a great friend, an avid outdoorsman and a loyal family member. Darren worked hard to create lifelong bonds with friends and family. He was very dedicated, hardworking, and strong-willed.  Darren will be greatly missed by all of us.
Darren is preceded in death by his mother, Robin Rowe. He is survived by his father Tony Rowe, and brother Eric Rowe, grandparents Ed and Freida Freisberg, Jim and Darlene Rowe, and Bob and Theresa Moorehead. Darren has many aunts and uncles, cousins, nieces and nephews.
A memorial service will be held at 3:00 PM on Saturday, February 22, 2020 at Bustard & Jacoby Funeral Home in Casper.
Services are entrusted to the care of Bustard & Jacoby, Funerals, Cremations, Monuments and Receptions, 600 CY Avenue, Casper, WY 82601.
---
Lillian Kay Spethman "Lilly" passed away on January 18, 2020 in Riverton, WY.
Lilly was born on October 31, 1957 to Milo and Margie Holmes of Casper, WY. Lilly had a bold personality and a smile that could light up a room.
A deep love for elephants, but their trunks had to point up or they were considered "bad luck." Lilly attended schools and worked various jobs around Casper before meeting the love of her life, Steve Spethman. Steve and Lilly married on July 4, 1988 and loved to spend their time camping and fishing and raising 5 kids, and making sure to enjoy country music and dancing.
Lilly worked road construction for several years and knew how to put in a hard days work. Lilly enjoyed cooking holiday meals and spending time with family. Lilly loved all of her family and had many wonderful friends she loved as well.  
Lilly was proceeded in death by her Parents Milo and Margie Holmes, her Husband Steve Spethman, her mother in law Joanne Booth, and granddaughter Laila Spethman.
Lilly is survived by her 2 older sisters, Lois George Cheyenne, WY and Dee Williams (Dan) Casper, WY; 5 Children, Helen Witt (Chad) Riverton, WY, Bruce Gothard (Crista) Casper, WY, Milo Spethman (Ashley) Arab, Alabama, Steve Spethman II (Jenny) Casper, WY, and Julie Spethman (Greg) Phoenix, AZ; 16 Grandchildren, Joseph, Madison, Mary Margaret, Xander, Zackary, Madeline, Trapper, Isaac, Zaven, Allee, Hadley, Milo Jr., Baillee, Jerzie, Aleesia, and Emzlee, as well as several nieces, nephew, aunts, uncles and cousins.  
Lilly's services will be held at the Newcomer Funeral Home on February 22, 2020 at 2:00 with a reception to follow at the Yellowstone Garage, which will be catered. Any condolences can be sent to the Newcomer Funeral Home located at 710 East 2nd St. Casper, WY.
---
Deejanae S. Kelly's life was full and bright! She was born on April 22,1989, in Casper, Wyoming, and was given the gift of passing in her hometown surrounded by immense love from her family and friends on February 8,2020.
Her family describes her as an adventurous person, from taking road trips to working on rooftops. Deejanae was very family oriented and would do anything for them. Her favorite pastime was spending time and making unforgettable memories with her children,family, and friends. She loved to make those memories while camping,
four-wheeling, and at family gatherings, there was never a dull moment. Even though her life was limited to 30 years, within those years she blessed this world with three incredible children; Chantel Peña (16), Joseph Humphreys (11), and Zarah Stewart (2).
Beyond her children, Deejanae is survived by her maternal grandmother, Vicky Kelly; maternal great-grandfather, George Roseburr; her paternal grandmother, Linda Valenzuela; Damarian Kelly (brother); Keanna Kelly (sister); Montrese Kelly (brother); Azai Kelly (Nephew); Dena O'Connell (aunt); Tonya Kelly (aunt); Larry Wilson (uncle); Donielle Beard (aunt); and Chad Stewart (fiancé).
Greeting her in eternity is her mother, Lashawn Kelly and aunt, Myra Jean Roseburr.
A memorial service was held on February 15 at 2 p.m at the Hope Church at 520 South Walnut Street Casper, Wyoming.
---
Edwin Ronald Murray was born February 24, 1945, the son of Betty and Bill Murray. Ed and his sister, Rhonda, were the Murray children when Bill and Betty married. Then two more, William (Bill) and James (Jim) came along to complete the family of 4 siblings. 
Rhonda fondly remembers Ed as being a rascally older brother and yet he was her protector. They spent most of their childhood summers at their grandparent's ranch in Newcastle, Wyoming. They attended early grade school at the Prairie school with grades one through eight altogether in one room at Four Corners near Newcastle. The family later moved to Casper where Ed spent much of the rest of his life.
As a young man, Ed worked in Douglas, Wyoming, ranching on the Valentine ranch. Here he learned to do many cowboy chores and began learning his life-long craft of welding.
During his high school years, Ed learned his art of drawing and painting and by 1980 metal work had become his passion for art. Ed's love of creating with metal and fire grew into his business, Windy City Welding. Ed's genius and ingenuity created massive machinery and oil field equipment. And as he worked he expressed and forged metal into pieces of beautiful artwork. His work had an immense visual impact on all who had the pleasure to experience his creations. He truly left his mark on the earth. A few years ago, Ed was featured as an incredible local gem artist by KTWO news.
Ed spent many joyful hours preparing and sharing camping, fishing, and hunting trips with his family. Each camp featured his elaborate outdoor kitchens, cozy tent rooms, and his signature chili and
Hawaiian chicken. He loved setting up camp and having all the family come and share time in his beloved mountains.
Ed Murray passed away following a short illness on February 11, 2020, while traveling on his snowbird adventures with Debbie in Mesquite, Nevada.
Ed is survived by his life partner of the past 15 years, Debbie Melin of Casper.
He is also survived by his four children:
Bryan Smith (Amber) of Ranchester, Wyoming,
Veronica Murray of Casper, Wyoming
Holly Murray (Brian) of Casper, Wyoming
Jason Murray (Maria) of Pembroke Pines, Florida.
Ed is survived by grandchildren Britney Miles, Chase Murray, Desiree Murray, Holly Ann Davidson, Zachary Davidson, and Kaitlin Lengrand. There are seven surviving great-grandchildren.
Ed is also survived by his five step-children:
Carrie (Mark) Radenberg of Claflin, Kansas
Jennie (Shane) Bennett of Casper, Wyoming
Sammie (Mal) Redding of Casper, Wyoming
Billy Dan (Shannon) Oneyear of Medicine Bow, Wyoming
David (Alisha) Oneyear of Sheridan Wyoming
There are 13 step-grandchildren and 5 step- great-grandchildren also surviving.
Those who have gone on to heaven before Ed are his parents Bill and Betty Murray, his wife Bonnie, and great-granddaughter Laniee.
Friends and family are invited to attend the Celebration of Life to honor Ed Murray to be held at the Elks Lodge, 108 E. 7th Street in Casper on Saturday, February 22, 2020, at 1 o'clock pm. Ed's relationship with his Lord took place in the cathedrals of the mountains. At a later date, there will be a memorial gathering to spread his ashes in the Big Horn Mountains he loved so much.