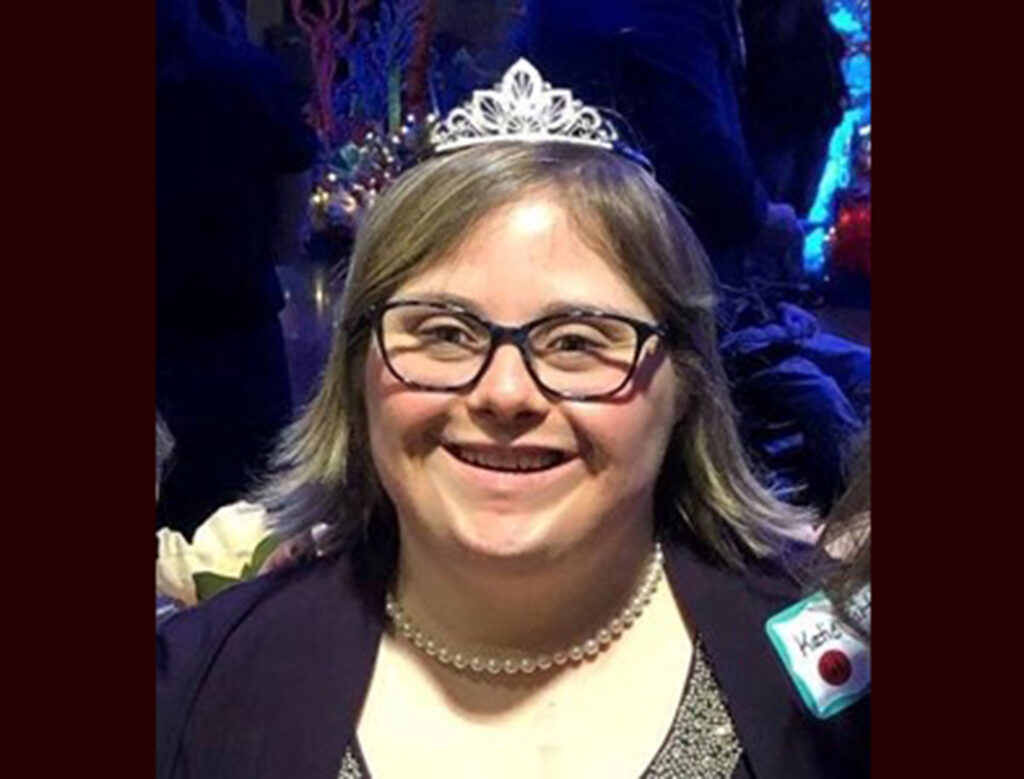 CASPER, Wyo. –
Katlin Ann "Katie" Parton: 1990 – 2020
Katlin Ann Parton (Katie) was born in Casper, Wyoming on November 6, 1990 to Ron and Pat Parton.
Article continues below...
She went to heaven at the age of 29 in the early hours of June 27, 2020, at Wyoming Medical Center.
Katie graduated from Kelly Walsh High School in 2009, followed by classes at Casper College. As a beautiful young woman with Down Syndrome, she opened the hearts of everyone she met. Katie confidently lived in the moment with a contagious smile and laugh.
She loved life. Some of her favorite things included traveling, restaurants, baseball and football, and helping mom with genealogy.
One of Katie's biggest enjoyments was singing and dancing. This girl loved to dance! One of her proudest accomplishments was being the dance team manager when she was at Kelly Walsh High School. She was also very effective at exciting the fans as a varsity cheer leader her sophomore year.
Some of Katie's favorite travels included family vacations to numerous baseball stadiums around the country, eating Gelato in Italy, biking in Alaska, and zip lining in Mexico.
When in elementary school, Katie went to Washington DC as a disability awareness representative through the Silver Ribbon Campaign, where she visited the West Wing and met the Vice President to promote school and community inclusion.
Katie was a confidant self-advocate. She and dad were rivals in their fantasy football and baseball teams, of which she loved to playfully tease her opponents.
Nothing was more important to Katie than friendships. She never declined an offer to go for coffee or a girl's night out. She loved dancing with the cowboys at the Beacon and being silly with her friends. Katie intermittently participated in Special Olympics swimming, equestrian, and soccer. Katie loved her job at Taco John's, where she was treasured for 13 years.
She never knew life without an adoring puppy, young and old, (Chamois, Nibbles, Sienna, Lizzie), and doted on them through walks and play.
Katie leaves behind a community of friends and family whom she loved and who loved her beyond measure. Katie always knew she was loved.
Besides her parents, Katie's extended family includes the Junge Family- Bill, Cheryl, Becky, Katie, Joey, and Bryan (Taylor). She also leaves her aunts, uncles, and cousins, who live in numerous places around the country. Her Labrador, Lizzie, who was always by her side, also misses her greatly.
A celebration of Katie's beautiful life, "Katie's Happy Hour," will be held at Mike Lansing Field, Saturday, July 18, at 7:00pm. We invite all who knew Katie in her many walks of life.
In lieu of flowers, the family would appreciate donations to Hilltop Bank, Casper, WY, to the Katie Parton Memorial Dance Scholarship.
---
Linda Kay Whalen, age 71, of Casper, passed away June 27, 2020 at Wyoming Medical Center. Linda was born March 16, 1949 in Casper to Everett and Wilma (Swallow) Allan. She worked for Wyoming Machinery for over 25 years before retiring in 2016.
Linda was preceded in death by her parents. She is survived by her husband of 23 years, Richard Whalen, son, Jerald (Rebeccah) Brown, 2 grandsons, Owen and Elliot Brown, and brother, Thomas Allan.
A celebration for family and friends will be held at a later date.
---
Whitney Allen Bradley
Whitney Allen Bradley (Brad) passed away peacefully in his home, with his daughter by his side, on June, 23, 2020.
He was born in Grinnell, Iowa on June 27, 1925. Whit was one of four children, two boys and two girls. His family moved to Littleton, Colorado when he was young. His father was a jack-of-all-trades from a chef to the Superintendent of Littleton schools, and everything in between.
 
At the age of 18 he was drafted into the military and got a position in the military police. He was stationed in Ohio and Bend, Oregon The highlight of that experience was leading a parade for Dwight Eisenhower. Whit went to CU on the GI Bill, getting his Master's in geology in 1950. While at CU he worked in the women's dorms as a hasher. It was there that he met his wife, Ruth Ann Bradley(Pat). They married in 1949. When asked about the time he cherished most in life, he talked about his time as a park ranger in Dinosaur National Park/Monument with his wife, a botanist and artist.

His work took them to Casper, Wyoming in the 50s. He worked as a geologist for Marathon Oil, The BLM and the USGS. He was the president of the Wyoming Geological Association. 

Whit was an avid tennis player, talented vocalist, potter, sculptor and jewelry maker. He loved the outdoors, especially backpacking. In 1988 he retired and his wife tragically died of cancer. After that he traveled extensively to destinations including Machu Picchu, Norway, Italy, Peru, Africa, Churchill and Australia, and Costa Rica, just to name a few. 

In 2010 he suffered a massive stroke and survived. Two years later, in 2012 he moved to the Academy in Boulder, Colorado, near his daughter's family. The last eight years of his life he enjoyed fine food, travel, art, music, family and friends. His mind was strong until his last breath. Peace.

Whit is survived by 3 children; Jim Bradley (Lori)of Casper, Wyoming, Ann Weckwerth(Scott) of Casper, Wyoming and Becky Swanstrom(Rod) of Boulder, CO. He has 6 grandchildren, 8 great grandchildren and one great, great grandchild.

Memorial donations can be made to TRU Community Care Hospice under "donations" on their website. Thank you.
---
On Saturday, May 23,2020, William Keith Finch, loving husband and father passed away at the age of 62.
Bill was born on September 4th 1957 to Lee and Bonnie (Berger) Finch in Grand Rapids Michigan. He was the middle of five siblings, who all agreed that he was usually the brains behind the mischief.
While in the Army stationed at Fort Bragg he met his first wife with whom he was married from 1978 -83'. They had three children, Shannon, Michelle and David.
On May 6, 1989 he married Carin Brownell, to whom he was married at the time of his death. They had just celebrated 31 years of marriage. They raised three daughters, Samantha, Kathryn and Sabrina. 
Bill received a business degree from the University of Southern Colorado and worked in the electrical wholesale business for 30+ years.
From childhood Bill possessed a great love of the outdoors. He was passionate about hunting, fly-fishing, trap-shooting and sharing these passions with his children. Combining his love of nature with amazing artistic abilities he created extraordinary taxidermy mounts and drawings, with a special talent for birds.
Bill was proud to serve in the Army from 1975-79' and spent much of his time traveling to compete in matches for the rifle team.
He was an amazing cook and loud and proud Broncos fan. Bill loved nothing more than Bronco games surrounded by family and delicious food.  He will be remembered as someone who loved to make people laugh, his quick wit and dry sense of humor will be dearly missed.
Bill was preceded in death by his maternal and paternal grandparents. He is survived by his parents, wife, children, and siblings; LeeAnn (Jim) Euler, Michael (Joyce) Finch, Christine (Joe) Coffee and Mary (Doug) Gold, as well as numerous extended family.
Services have been postponed and will be announced at a later date due to covid-19 and travel restrictions. 
---
Burton Romain Warne, 79, died suddenly May 29, 2020, at home in Casper, Wyoming.
He was born March 27, 1941, in Britton, South Dakota to Robert Warne and Bertha Skagen. He graduated Casper's Natrona County High School in 1959. He married Judith Stocking on September 6, 1963. He had 2 boys Chance Warne and Trey Warne.
Most of his career was sales, a perfect career for a man that everybody loved upon meeting. People often refer to his sense of humor. His family was more important to him than anything and he loved spending time with them.
His interests included family, Music, history, metal detecting, making knives, and spending time at his home on the Platte River. He was a talented song writer, singer and guitar player. Being a full-blooded Norwegian, he was a modern-day Viking.
Mr. Warne is survived by his Wife; Judith Stocking and, 2 sons; Trey Warne and Chance Warne; 2 granddaughters, Kayla Warne and Kristina Warne; and several great grandchildren.