CASPER, Wyo. –
Martha M. Hassler: 1958 – 2021
Martha May (Juarez) Hassler, 63, passed away peacefully with her family by her side on Tuesday, May 25, 2021. Those fortunate enough to know her saw the light that she brought when she entered a room and the laughter that was never-ending; they felt the love that she shared with others, listened to some great stories, and they probably ate some of her delicious homemade food!
Article continues below...
Martha was born to the late Barney and Mary Juarez, on May 12, 1958, in Wheatland, Wyoming. She was raised in Wheatland, where she married her best friend, Gary Dean Hassler, in 1974. They had two amazing and beautiful daughters, Brandy Lea and Michelle Santana. Martha eventually moved to Laramie, making friends everywhere she turned. She lived a simple, yet very satisfying life; she absolutely loved to travel, spend time with family and friends (old and new), she loved being "Grama Bone and GG" to her grandchildren and her great-grandchildren, and especially enjoyed the time spent with her niece Sally Loseke. She moved to Casper in March to be closer to her sister Lucy Lietz and niece, Kathy (Ray) Woodruff. The last few months were spent on lots of joy rides, trips to DQ, hanging out and laughing. She enjoyed her visits with her great nieces Anna, Aralynn, Karli, and Ellie, and her great-great niece, Addy. She appreciated everything that her sister Lucy and brother-in-law, Gary Liebelt, did to make her little home in Casper.
Martha was a hard worker; her jobs always involved others… she spent countless hours making drinks, cleaning houses, cooking, and making friends everywhere she went. She had a few jobs with the University of Wyoming that she loved… one of them involved top secret monkeys and the other involved making delicious meals for the young ladies of numerous sororities. The monkeys and the young ladies thought she was pretty awesome!!
Martha is survived by her husband, Gary; daughters, Brandy (Harvey) Cain of Wheatland, Michelle (Daniel) Porterfield of Sheridan; her grandchildren, Patrick and Brayden of Wheatland, Jaxon, Wyatt, and Owen of Sheridan; her great-grandchildren, Madisyn and Kraven, her brothers Arthur and Benny; her sisters Bonnie (Stan), Rita (Jeff), and Lucy (Gary), numerous nieces, nephews, and cousins.
She was preceded in death by her father, her mother, her brothers Johnny and Carlos, her sister Phyllis, her very special granddaughter Mikayla, and numerous nieces and nephews.
A Celebration of Life will be held at 1:00 p.m., Sunday, May 30, 2021, in Wheatland, at the First State Bank Conference Center (1405 16th St).
In lieu of flowers, memorials can be made in Martha's name to: Parents for Window Blind Safety, PO Box 205, Barnhart MO 63012 https://pfwbs.org/
"What we once enjoyed and deeply loved we can never lose, for all that we love deeply becomes a part of us." Helen Keller
---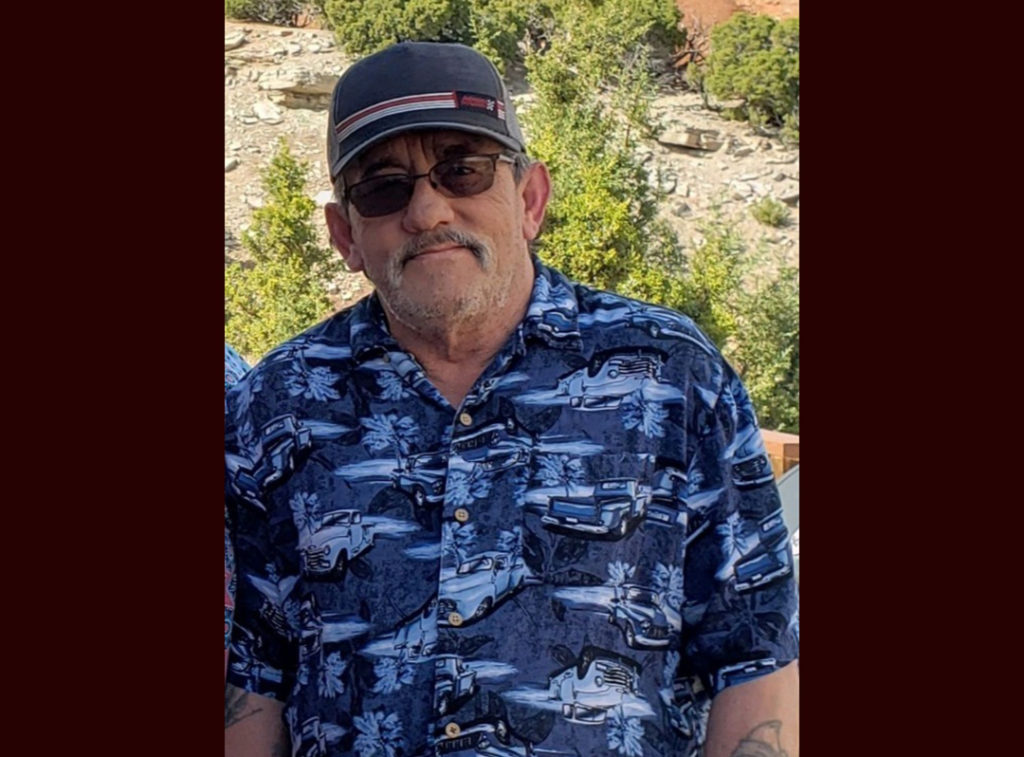 John Crabb: 1958 – 2021
John was born in Carlsbad, New Mexico on May 17th, 1958 to Jim and Betty Crabb. He grew up in Arizona, Arkansas, California, New Mexico and Wyoming. He passed away at the young age of 63 from complications of an aggressive form of ALS on May 24th in the comfort of his home.
John was a hardworking man who took great pride in everything he did. He was the best darn hydrotech in the state of Wyoming and he loved his job. He was in love with taking care of his dear wife, Clara Mae, and providing the absolute best for her. He loved to garden and could make anything grow. John was genuinely a good person, he had a heart of gold and would not hesitate to give you the shirt off his back. He loved his family with everything they had, but he loved his Clara Mae the most of all. He always said the good Lord above saved the best for last and that she saved his life, but really they saved each other.
John and Clara met in Casper, Wyoming in 1996 and wed four years later on the 25th of February, 2000. John quickly became the greatest dad and best friend to Michael B and Robert. They enjoyed fishing, working on motors and doing yard work together. John and Clara had the greatest adventures in their 21 years together. He was Clara's best friend, husband, lover, the air she breathed and her heart will forever be broken.
He was greeted in Heaven with open arms by his father, Jim, his brother, Jody, and nephew Jack. We find comfort in knowing they are all together again at the good fishin' hole.
He is survived by his wife, Clara. His two sons Michael (Jennifer) Marsh and Robert (Cherie) Marsh. Nephew Chance (Jenifer) Crabb, nieces Jodie (James) Sipes, Jessica Crabb, and Angie Crabb. Five grandsons, 1 granddaughter, 3 great nephews, and 2 great nieces.
Services will take place at Newcomers Funeral Home on Sunday, May 30th, 2021 at 2:00 p.m. Please wear blue jean attire.
---
Ramona T. Bowdish: December 5, 1937 ~ May 18, 2021 (age 83)
Ramona Tamayo (King) Bowdish, 83, passed away May 18, 2021in her home surrounded by her children and grandchildren in Casper, Wyoming.
Ramona was born on December 5, 1937 in Granite Canyon, Wyoming to Joseph and Angela (Landeros) Tamayo. Her parents came to the United States from Mexico in pursuit of a better life.
She was the second oldest of 14 children. Her childhood was one with humble beginnings as the family would call a 66 year old retired boxcar, purchased for $85 in 1953, placed on a patch of land on the outside of Cheyenne their home. Full of love and family, Boxcar 57 would take on a life of its own being the location of endless family gatherings. It is now being restored to its original history filled condition, but will always be a reminder of family roots planted.
Ramona had one of the biggest hearts and often found herself giving a helping hand, lending an ear to listen or providing a table to eat at to anyone in need; something that undoubtedly was learned by her mother Angela's example.
Ramona was the loving mother to Carolyn King (Lyle), Carla King, Charlet King, Christina Collingwood, Connie and Jack Tescher, Chandra and Sam Daniels, Michael Hansen, and Alfredo Santistevan, III (Samantha). Ramona was loved unconditionally by her children, as well as her 28 grandchildren, 40 great-grandchildren, and five great-great-grandchildren.
Ramona was married to Edward Bowdish for more than 30 years. They enjoyed a life of outdoor adventures and travel. They spent most of their married life living in Rock Springs, Wyoming where they both worked. After they retired they moved back to Casper to be closer to family.
Ramona's personal journey with her faith led her to try various churches. The search ended when she found her home in The Church of Jesus Christ of Latter-day Saints. The Church and the lifelong friendships that came with it were often the support system that she could rely on while she was a single mother living far away from her family. She made sure it came full circle by providing home cooked meals to the traveling missionaries and visiting teachers as well as during her time spent in the Relief Society.
Over the years Ramona wore many hats when it came to providing for her family. From being a homemaker taking in ironing and laundry side jobs and selling her famous Mexican food, to being a bi-lingual customer service rep at Gibson's, K Mart, Casper Cake and Donut, as well as a translator for US citizenship applicants, or working night security at Amoco Refinery. Her last job that she spent more than 20 years before eventually retiring was at the Youth Crisis Center in Rock Springs, Wyoming. Where she would use her life experiences to help teens and families rebuild relationships.
Ramona was also part of the musical duo "Ramona and Tom". She was in the band for more than ten years playing the guitar, tambourine, maracas, keyboard, and sharing lead vocals. Music was a big part of her life and was one of her favorite things to share with her loved ones.
Ramona was preceded in death by her husband, Edward; father, Joseph; mother, Angela; her twin sister, Maria De La Luz; brothers, Guadalupe, Bruce, and Steve; her uncle, Fidencio Landeros; and her grandchildren, Brandy and Isaiah.
Ramona is survived by her eight children, 26 grandchildren, 40 great-grandchildren, five great-great-grandchildren, sisters, Helen, Delores, Mary, Carmen, Teresa, and Josephine; brothers, Antonio, John, and Tommy; and countless nieces and nephews. All of whom will miss visiting, singing, dancing, and holding hands with her, but ultimately take comfort in knowing she has been reunited with loved ones.
Services, conducted by Bishop Devin Cassity, will be held Thursday, May 27th at The Church of Jesus Christ of Latter-day Saints located at 2627 E. 7th St., in Casper. A viewing will be in the Relief Society Room at 11:00 a.m. Service starts at 12:00 p.m. followed by interment held at 1:00 p.m. located at the 12th street entrance at Highland Cemetery in Casper, WY.