Cauline Marie Peden: 1974 – 2021
Cauline Marie Peden, 46, of Casper, WY passed from this life on August 14, 2021. She was the beloved wife of Lonnie Peden.  
She was born in Oregon on December 2, 1974, the daughter of Victor Abbs and Sharan Berry. Cauline and Lonnie met in Wisconsin and were married December 31, 1999 in Austin, Texas. Together they raised three beautiful children: Jordan, Jacie, and Rylan.
Article continues below...
Cauline was known for her love for motorcycles. She loved attending Sturgis every year. She attended Motorcycle Mechanics Institute in Phoenix, Arizona and she enjoyed working on motorcycles.  
She also loved painting, gardening and carpenter work, especially most recently restoring hardwood floors with her son Rylan.
She worked many years as a bartender, obtaining several certifications and awards for her work. However, her most recent passion was her three grandchildren. She was known for purchasing numerous toys for them, whether they needed them or not.
Cauline will be greatly missed by her family. She is survived by her husband Lonnie Peden; daughters Jordan Bonnar of Marshfield, WI and Jacie Peden of Casper, WY; son Rylan Peden of Casper, WY; grandchildren Bailey Chamberlain, Aurora Gerber and Caelan Olson; and siblings Sheila Trudell, Joel Bonnar, Scott Bonnar, Diane Newton, Jill Boothe, Melanie Bonnar, Karrie Rubin and Terry Craven.
She was preceded in death by her brother Vincent Bonnar.
A Celebration of Life service for Cauline was held Friday, August 27, 2021 at 10 a.m. at Enon Cemetery in Omaha, Arkansas. Services are by Smith Family Funeral Home in Green Forest, AR.
---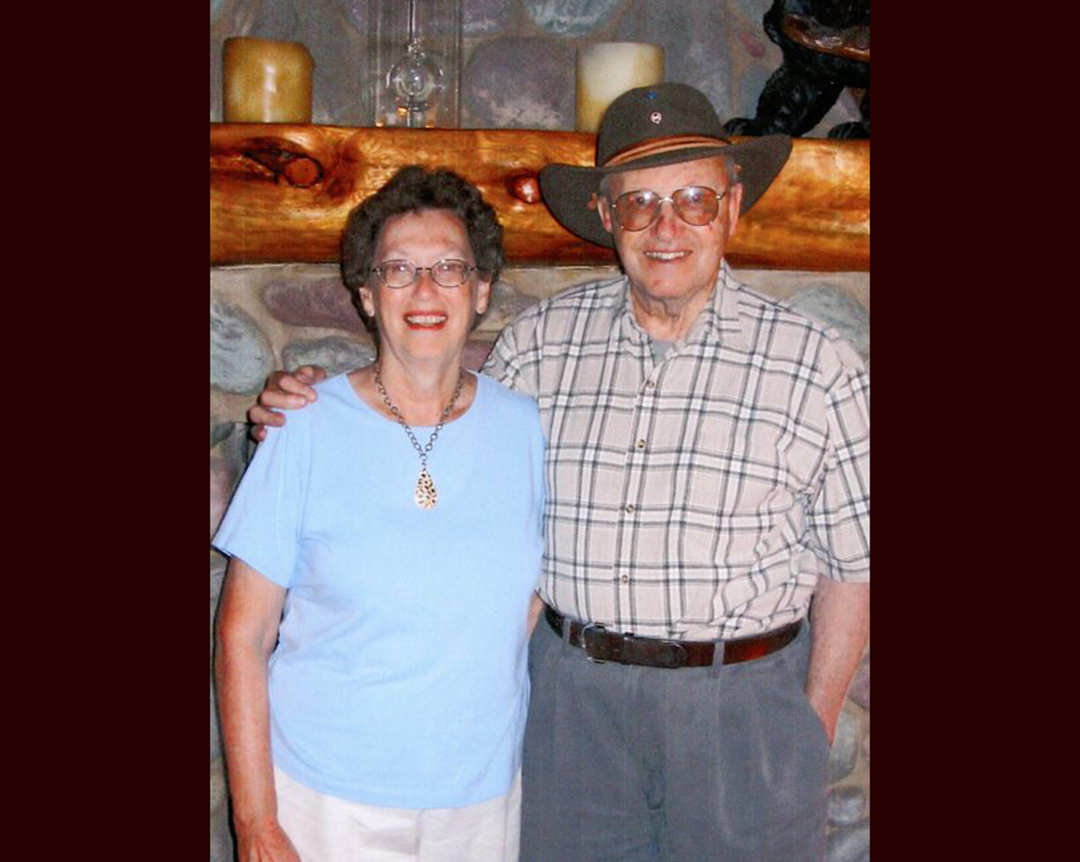 Marion L. Myers: 1933 – 2021
Marion L (Hope) Myers passed away in Casper, Wyoming on August 29, 2021 with her family by her side after a short illness. A private family memorial will be held at a later date. 
Marion was born October 28, 1933 in Lacadena Sask, Canada and was the youngest child of G. Munro and Mabel (Anderson) Hope.
She was raised on the family farm near Whitebear Sask, along with her two brothers Munro and Bob as well as her sister Joyce. She had many fond memories of life on the farm.  
In 1948, her parents retired from farming and moved to Saskatoon Sask, where Marion attended high school and then Teachers College.  
Marion met her future husband, Norman Myers, in Saskatoon, where he was enlisted in the Royal Canadian Air force. They married on August 19, 1954.
Marion taught for one year before marriage and two years after in small country schools. One year was 1st through 9th grade (quite a challenge).
In 1956, Marion and Norman moved to Libby, Montana, where their daughter Dianne was born, and then on to Kalispell, Montana, where their son David was born.  
Kalispell was their home for the next 60 years.
Marion attended Fathead Valley Community College in Kalispell in 1968 to pursue an interest in computer programming and was then hired by the college first as a Programmer and then as Department Manager. She then moved on to a private programming firm until retirement. It was a career she very much enjoyed.
Marion was a loving daughter, wife, mother, grandmother and friend. She traveled through the various stages of her life with a positive, sensible outlook, always able to provide sound advice. She had her share of health issues over the years and always prevailed with a positive "it'll be okay, this too shall pass" attitude.
She was a compassionate caregiver to Norman for 10 years after he had suffered a stroke.
In 2016, Marion moved to Casper, Wyoming and lived in the Primrose Retirement Community to be near her daughter and son. She very much enjoyed her Primrose home, the residents and caring staff. 
Marion leaves behind her children Dianne (John) Stearns and David (Janet) Myers; grandchildren Justin and Christopher Stearns; and numerous nieces and nephews.  
She was predeceased by her parents Munro and Mabel Hope; brothers Munro and Bob Hope; and sister Joyce King.  
She will be lovingly remembered and deeply missed! Heaven has gained a great soul!
Donations in Marion's name can be made to Wyoming Dementia Care located at 2546 E. 2nd St. #600, Casper, WY 82609 or a charity of your choice.
---
Patrick A. Barnish: 1953 – 2021
Patrick A. Barnish, 67, of Casper, Wyoming passed away Saturday, Dec. 12, 2020.  
A Memorial Service will be held on Wednesday, Sept. 15, 2021 at 7:00 p.m. at the Isaac Walton Clubhouse located at 4205 Fort Casper Road, Casper, Wyoming.
---
William K. "Billy" Unangst: 1961 – 2021
Billy Unangst, 59, died on Monday, August 30 in Casper. He was born December 7, 1961 to William and Jo Unangst.
Billy traveled the rodeo circuit after school and loved riding bulls and broncs. He was a cowboy through and through. He later moved to Las Vegas with his wife Tina and their four children. He worked for his grandfather in the construction business, even helping build a wing of the MGM Grand Hotel and Casino. He realized that he needed a job with more pay and benefits for his growing family.
Billy tried out for the Las Vegas Metro Police Force and worked as a Corrections Officer until his retirement in 2012. He loved the job and the people he worked with. Everyone always enjoyed his stories of that time.
After his wife Tina passed in 2008 and after his retirement, he decided to travel full time in his RV. He met his wife Doreen at a rodeo in Casper in 2015 and they fell in love immediately. They married just two short months later. Doreen retired early and they enjoyed four years of traveling the country visiting friends, family and exploring new sights. They wintered in the south as they hated cold Wyoming winters.
Grandchildren were tops on his list. He probably loved being a grandpa more than anything else. He thrived on chaos with them and would gladly have had them all together on the road with him. There were many road trips in the RV with some of the older ones and he loved taking them fishing. Family was so important to him.
Billy was friends with everyone he ever met. He would do anything for everyone and never ask for anything in return. He gave his all right up until the very end.
Billy was preceded in death by his wife Tina, daughter Tierney Lehman, dad Bill and numerous aunts who all held a special place in his heart.
Billy is survived by his wife Doreen; mother Jo Scott; brother Charlie Unangst; and his combined blending of his and Doreen's children: Lacye (Cliff) Anderson, Josh, Justyn and Blaine Obert, Zach Lehman, Jennifer (Joe) Garnier, Michelle (Paul) Givens, Keith (Jenni) Gabrielson, Marcus (Thao) Southwick and John (Kayla) Southwick. He also had several adoptive daughters who were mothers to his grandchildren; Kristina, Michelle, Isabella, Rachele and Jennifer. All of these people were his children; it didn't matter who their biological parents were. That is who he was.
He will be so greatly missed by his grandchildren: Hayden, Skyrah, Lorelei and Calliope Anderson; Brendin and Tarryn Lehman; Talon, Lilly, Addilyn and Kian Obert; Joey and Jake Garnier; Ethan Givens; Paige and Kendall Holmes; and Urijah and MacKinnon Southwick. His nieces Parys and Elaina and his nephews Jaryd and Evan will also miss him greatly.
Billy is also survived by all his brothers and sisters in blue. We salute you all.
In lieu of flowers, donations are being taken to establish a memorial through Suicide Awareness. Cards can be sent to Doreen Unangst, 3542 Partridge Lane, Casper, WY 82604. If you cannot be with us in person, please be with us in thought and prayer at this very difficult time in our lives. Thank you.