Vincent Worth Christie: 1942 – 2021
Vincent Worth Christie, 79, of Casper, Wyoming passed away peacefully on September 11, 2021, surrounded by loving family members. 
Worth was born in Creston, Iowa on May 6, 1942, and was adopted by Vin and Iola (Truman) Christie of Omaha, Nebraska. The family moved to Powell, Wyoming around 1950, where Vin served as vice-president of First National Bank until he retired.
Worth graduated from Powell High School in 1960. After graduation, he immediately joined the Army and was honorably discharged in 1963. After the Army, he briefly attended the University of Montana before embarking on a lifelong career in sales and entrepreneurship.
In the fall of 1967, he met Carolyn Berry Pickens of Sioux Falls, South Dakota, and after a whirlwind courtship he married her on November 24, becoming a stepfather to her two children. Two more children arrived in the next couple of years and the family lived primarily in Sioux Falls and Omaha before moving to Houston, Texas in 1973.
Wyoming called him back home in 1980, and he was instrumental in bringing the Wyoming Wildcatters CBA basketball franchise to Casper. Worth and Carolyn resided in Casper ever since then.
He was an avid baseball fan, and when his kids were young he often served as an umpire at Little League and high school baseball games. His bucket list included attending a World Series game, which he was able to do not just once, but twice in the span of a couple of years!
Worth was very active in the Casper community and served on the board of the Boys and Girls Club, initiating the "Roast and Toast" fundraiser. He was a past president of the American Legion baseball program. He was also a member of the Eagles, Elks, and the American Legion.
Later in life, he attended Casper College and was a member of the honor society Phi Theta Kappa.
In the mid-1970s, Worth met his biological mother Marjorie Overton and two of his siblings. He did not learn the name of his biological father until after he did a DNA test in the summer of 2016, and a very large new family was discovered. He was welcomed with very open arms, and he was able to meet several "new" sisters and many new cousins when they invited him to visit them in Marinette, Wisconsin that fall. They shared photos and stories of Worth's biological father James Lieburn, and he finally had answers to most of his questions.
Worth was predeceased by his parents Vin and Iola Christie, his brother Tom Christie, his biological parents Marjorie Overton and Jim Lieburn, and his great-granddaughter Tempe.
Left behind are his loving wife of almost 54 years Carolyn; children Cathie Christie, Michael Christie (wife Dena), Scot Pickens, Charlene Pickens Hall (husband Jesse) and Nia Maxwell (husband Larry Hill); grandchildren Chenoa, Joshua, Matt, Zach, Zane, Addison, Nick, Robert, Connor, Jon, Jordan and Jared; great-grandchildren Alana, Kira, Nathaniel, Jaiden, Matthew, Meagan, Owen, Willow, Jackson, Natalya, JJ, Zeke, Everest and Zamora, who was born the day before he died in a perfect example of the circle of life.
In the newest generation, Worth even had a great-great-grandson, Oliver. Additionally, he is survived by his nephew Cory, his biological brother Leonard, and biological sisters Jinny, Linda, Karen and Pearl. Several other biological siblings predeceased him.
Worth and Carolyn's beloved pups Bunny and Chunk are missing him dearly — especially Chunk, who did not leave Worth's side during his final days and seemingly notified everyone whenever Worth was awake. 
Worth requested that there not be a funeral or a sad memorial service. He always had great stories to tell, so in his honor we will have a celebration of life on October 2 from 1 p.m. to 4 p.m. at the Eagles Lodge, 306 N. Durbin St., Casper, Wyoming.
Bring your best stories to remember Worth by. In lieu of flowers, please consider donating to the Adult and Teen Challenge of Wyoming 501(c)(3). PO Box 2804, Casper, WY 82604.
As Worth said, "There isn't a family in the country that has not been affected by drugs in some way."
Service:
Saturday, October 2, 2021 at 1:00 p.m.
Eagles Lodge, 306 N. Durbin St., Casper, Wyoming
---
Kendall Frederiksen: September 28, 1959 – September 26, 2021 (age 61)
Kendall Dean Frederiksen came into this world on September 28, 1959 in Deadwood, South Dakota to the proud parents Karl and Joan (Dudrey) Frederiksen. He was welcomed home by two brothers, Richard and Vernon Frederiksen. A few years later, he was blessed with a baby sister named Karla.
Throughout Kendall's childhood he lived in Sundance, Wyoming; Olive and Hathaway, Montana; and Casper, Wyoming, which he settled in in January 1968. A family friend from Montana came to attend Casper College. Keith Boschee is a true treasure and blessing to the entire family.
Kendall went to school at Pineview Elementary, East Junior High School, and Kelly Walsh High School, graduating in 1977. Kendall was a wrestler throughout his school years. He wrestled 98 pounds his senior year of high school — yes, you read that right: 98 pounds. He was a wiry and skinny but strong spit ball of fire. He spent many nights in a plastic jogging suit inside a sleeping bag, sweating to make weight. Kendall was also a Kelly Walsh Dancer, and it was very entertaining to watch him dance.
He married Tammy Stewart in 1982. To that union came two beautiful children, Brittni Noel and Cory Dean. Kendall was the best, most proud dad in the world. He was so proud of his kids and was not shy in telling people about them. He later married Lesli Sullivan Flack and welcomed her son Adam into his life. He was a wonderful provider for his family. Even with him gone, they are still benefiting from his years of hard work and integrity.
Kendall worked for Cameron, FMC in Dallas and Houston. He held positions as National Accounts Manager, Sales Representative, Vice President of Sales and Marketing, and other important positions for 40 years and 8 months while working for Texas Pipe and Supply Company. From August 2020 to present, he held the position of National Account Manager for Alloy Piping Products. Kendall was a very proud man and very proud of his accomplishments with Texas Pipe. He provided for his family very well. He met many lifelong friends while working in the oil and gas industry.  Kendall stayed in touch with his high school buddies, meeting up with them every time he came home to Wyoming to visit. He had many friends all over the country.
Kendall was caring, fun loving, witty, funny, and serious if need be, and he loved with his whole heart. He loved to play golf. He was also an excellent cook and loved to BBQ and entertain at his house poolside. 
Kendall was a son, grandson, brother, nephew, husband, best dad EVER, uncle, great uncle, cousin, stepdad, brother-in-law, and best friend anyone could ask for. His nieces and nephews were crazy about Kendall; they loved him so very much.
Kendall is survived by his awesome kids Brittni (Ryan) of California and Cory (Fiancé Agiee) of Colorado; parents Karl and Joan Frederiksen of Casper, WY; brother Richard (Becky) Frederiksen of Casper, WY; nephew Shawn Frederiksen (Jackie, great nephew and niece Isaac and Elyse) of South Dakota; nephew Justin Frederiksen (Lexi, great nephews Anden and Bennett of South Dakota; brother Vernon Frederiksen of Casper, WY; niece Christine Frederiksen of Colorado; nephew David Frederiksen (Kate) of Alaska; sister Karla Waters (Larry) of Casper, WY; nephew Eddy Lowndes III (Tami Vold Larsen) of Casper, WY; niece Lindy Mundorf (Jeremy, great niece Carly Jo and great nephew Tanner David) of Casper, WY; and bonus brother Keith Boschee, also of Casper, WY. Kendall is also survived by one aunt, Verna Cundy of Casper, and one uncle, Don Gose of Upton, WY. He is further survived by many cousins including Cundy cousin Pam and family; Hutchins cousins Ernadene and Ronda, along with their families; Canfield cousins Gary, David, Carolyn, Marilyn, Cindy, Sue and Judi, along with all of their families; Gose cousins Kevin and Pam and their families; Ewing cousins Linda and Billy, along with their families; Snell cousin Debbie and her family; and his uncle Kenneth's three girls Beth, Juli, and Brenda and their families. 
Kendall is preceded in death by grandparents Richard Dudrey, Cecil and Murel Mattox, and Julius and Martha Frederiksen; great-grandparents Vernie and Stella Taylor; aunts and uncles Kenneth and Dorthea Frederiksen, Wallace and Anna Canfield (cousin Leslie Sipe), Ellen and Dorman Ewing (cousin Sharon Anderson), Sam and Irene Snell (cousins Travis and Ivan), Eda Gose, Bob Cundy (cousin Craig), and Irma and Dean Hutchins; and cousin Billy.
We would like to extend our sincere gratitude to some very special people in Texas. We could not have gotten through this without Kendall's very dear friends Otto and Jackie Windholz, Shane and Brenda Tweedy, Scott and Brandee Rochard, and Bill Hooten.
WE LOVE YOU AND WILL MISS YOU DEARLY!!!
---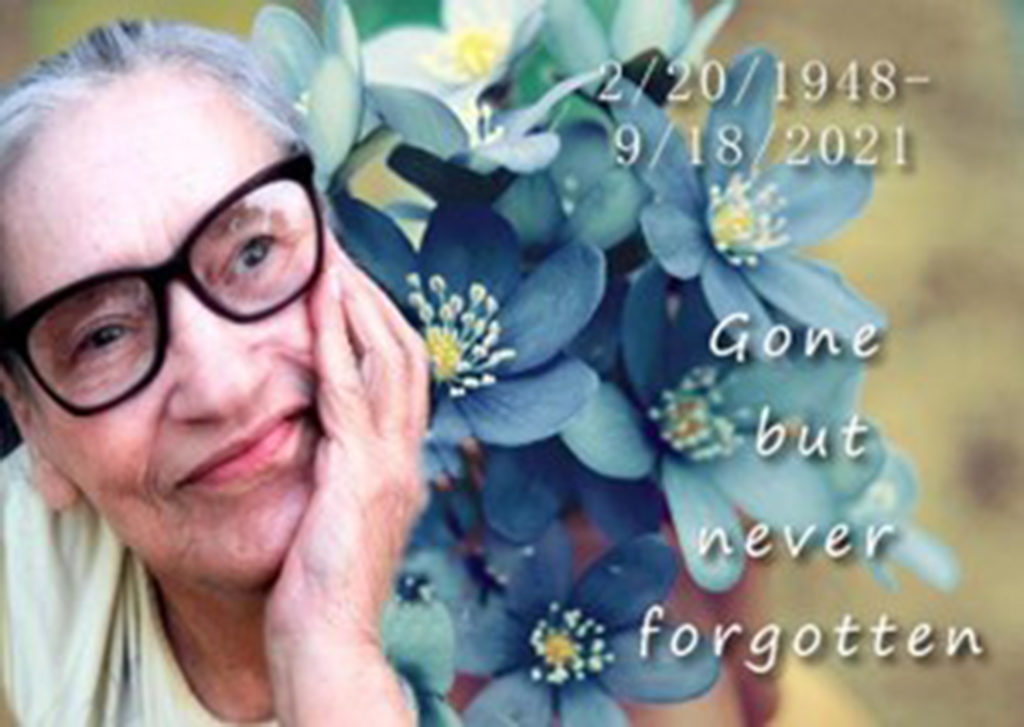 Donna Jane Struve: 1948 – 2021
Donna Jane Struve passed away of while surrounded by her loved ones at her home in Mills, Wyoming on September 18, 2021.
Donna was born to Lorenzo and Ellen Anzivino in Waukesha, Wisconsin on February 20, 1948.
Donna met Blayne Struve, Jr. and they were together 11 years before moving to Casper and being married on August 13, 1977.
She had a career in housekeeping from hotels to retirement homes. She enjoyed bowling, bingo, watching Medea (Tyler Perry), and listening to oldie-but-goodie music.
Donna is survived by her four children Shelly (Todd Cole) Struve of Casper, Virgie (Steve) Putnam of Casper, Lisa (Mark) McCarthy of North Dakota, and Mike (Cici) Struve of Evansville; nine grandchildren; and five great-grandchildren. She is preceded in death by her parents, two sisters, one brother, a daughter, and a grandchild.
A memorial service will be held, so please keep checking Donna's web page for more details when they become available.