George Lester Curtis, Jr.: May 2, 1955 – October 23, 2021 (age 66)
George Lester Curtis, Jr., 66, of Casper, Wyoming passed away with his two daughters by his side on October 23, 2021 at the Wyoming Medical Center. 
He was born May 2, 1955 to Lester and Neva (Smith) Curtis in Pascagoula, Mississippi. He was the oldest of three children to Lester and Neva. He grew up in Grand Bay, Alabama before his family relocated to Louisiana. He graduated from Baker High School in Baker, Louisiana in 1973. After graduation, George began his electrical maintenance career and went to work for Ingalls Shipbuilding. He met and married Jane Curtis in 1976. They lived in Grand Bay, Alabama until the family relocated to Casper, WY in 2002 when George accepted a job with Lost Cabin Gas Plant, where he "supplied America's energy needs," as he would say. 
His greatest enjoyments were golfing, fishing, and taking part in the Cowboy Single Action Shooting Society. The Wyoming frontier allowed him to showcase his love for the outdoors and he was more than willing to show off the new addition to his collection of firearms. He had hoped to move back to the coast after retirement to enjoy the beach life and endless rounds of golf, fishing, and scuba diving adventures. Many memories will be cherished from the time we spent with him, and all the seafood platters and sweet tea we enjoyed. 
George loved God and led his family by following His example. George modeled strength, integrity, and honest hard work to achieve his goals in life. He was a loving father who cared for his wife and family very well. He was a vital cog in the wheel that kept our family going. From helping with finances, taking care of the cars, and even helping inflate the toys for going to Edness K., he did it all. 
He is survived by his mother Neva Curtis; wife of 45 years Jane Curtis; son John (Christy) Curtis; daughters Amy Curtis and Leslie Curtis, grandchildren Ayelin Curtis, Zoey Curtis, and Owen Curtis; siblings Carl B. Curtis and Wanda (Steve) Craighead; niece Caitlin; and nephew Clayton. 
A funeral service will be held on November 3, 2021 at Holder-Wells Funeral Home with an interment to follow at Machpelah Cemetery. 
A Celebration of Life will be held at City Park Church in Casper, Wyoming at 11:00 a.m. on November 13, 2021. 
Arrangements are entrusted to the care of Bustard & Jacoby Funeral Home, 600 CY Ave., Casper, WY 82601 and Holder-Wells Funeral Home, 4007 Main St., Moss Point, MS 39563. 
---
Betty Bassett: April 2, 1941 – October 22, 2021 (age 80)
Elizabeth (Betty) Mae Bassett, 80, of Casper, WY went to be with the Lord on October 22, 2021, surrounded by family in her home.
A celebration of Betty's life will be held at 4 p.m. Saturday, October 30, 2021 at First Church of the Nazarene, 2020 S. Jefferson St., Casper, WY.
Elizabeth Peters was born April 2, 1941 in Rawlins, WY to Merl and Demarius Peters. She was the oldest of four siblings. They moved to Torrington, WY when Betty was 2. She graduated from Torrington High School in 1959.
On November 12, 1959, she married James Bassett, and they would be blessed with 6 children. They lived in Torrington until fall of 1960, at which time they moved to Casper.
Once settled in Casper, Betty began to get involved in a lot of things within her community. She was incredibly active in 4-H, being a leader for twenty years. She enjoyed gardening and baking so much that she worked in a greenhouse and made wedding cakes. She made beautiful wedding cakes for her children, grandchildren, neighbors, and friends. She also made the 75th anniversary cake for 4-H that traveled the state!
Betty enjoyed writing and wrote a lot of pieces, including several poems and a devotional. In September 1979, she joined the Nazarene church. Betty was very active in her church for many years. She was involved with the Missions Committee, the Manna Closet, teaching caravans, Women's Ministries, and choir. She was the Sunday School Secretary and Youth Group Leader.
She packed and prepared hundreds of Crisis Care Kits, helped keep the kitchen supplied, and prepared many meals as well as bought groceries for anyone she heard was in need.
Being such a good mother to her children, she was entrusted with babysitting for many families throughout the years. Betty was an amazing mother, grandmother, and friend. She always had a way of making people smile, even in her last days. She impacted so many people throughout her time on this earth.
She will be so dearly missed, but today is not goodbye; it is simply "See you later."
She is preceded in death by her parents and is survived by her husband James; her children Sonya (Tracy) Wolff of Casper, Perry (Sharon) Bassett of Colorado Springs, Mike Bassett of Casper, Kendall (Brigat) Bassett of Casper, Cary (Jodie) Bassett of Kansas City, MO, and Tiffany (Terry) Clabaugh of Casper; brother Tom (Joyce) Peters of Golden Valley, AZ; sisters Sheila McMurdo of Casper, and Jeanette (Jim) Schultz of Torrington; grandchildren Kalyn, Jamie, Elizabeth, Brandon, Breanne, Brad, Heather, Shelby, Jennifer, Jillian, and Riley; 18 great-grandchildren; and numerous nieces and nephews.
Arrangements are entrusted to Bustard & Jacoby Funeral Home, 600 CY Ave., Casper, WY 82601.
---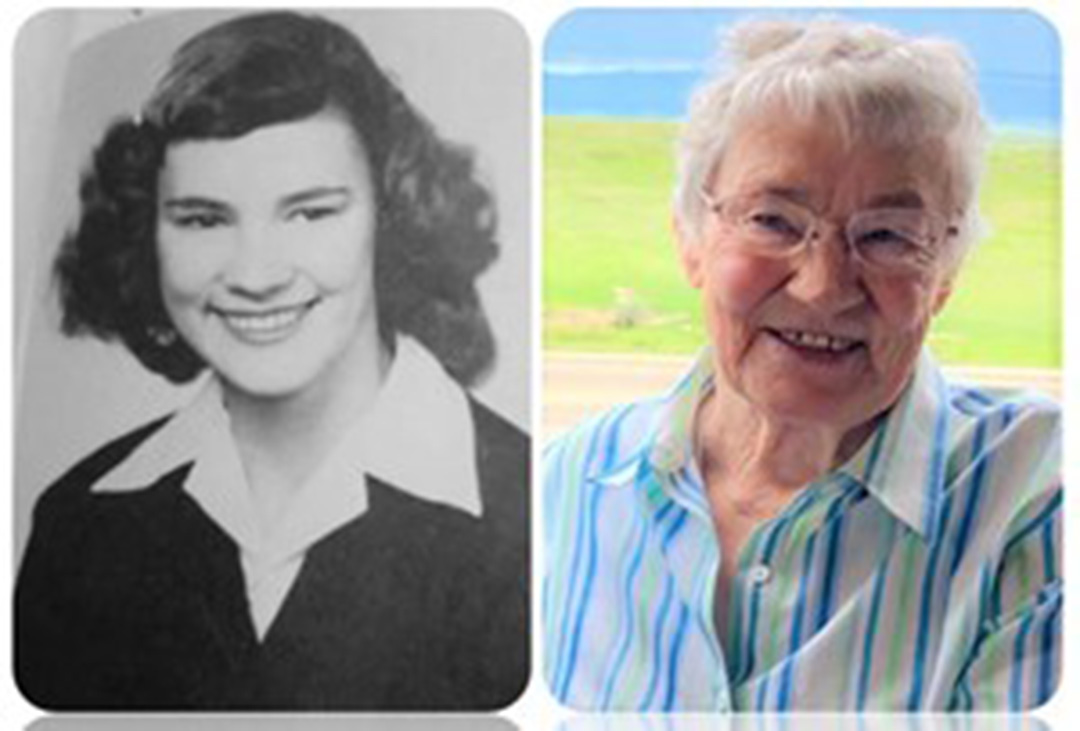 Darla "Jean" Daly: 1935 – 2021
Darla "Jean" Peterson was born on January 11, 1935 in Edgemont, South Dakota to Claude and Marguarite (Gregg) Peterson.
She met Daryl Ross Daly while they were both working on the Curly Wetzel Ranch in Big Horn. They continued dating while attending Big Horn High School and were married in 1952 in Hardin, Montana. Daryl and Jean were married for just shy of 63 years.
Jean received her GED and later went on to receive her Associates Degree from Sheridan College while raising a family.
She was a stay-at-home mom for many years and babysat other working moms' children in her home. She also cleaned homes for several Big Horn residents. After her sons were grown, she began working as a receptionist and later repaired watches. She then went to work for Game and Fish. Jean ended her career working for the Taylor Crosby family in Big Horn, taking care of their property. The Crosby family became lifelong friends.
Jean was a member of the Bighorn Audubon Society, Bighorn Native Plant Society, and the Big Horn City Historical Society.
She worked long and hard on her family genealogy, enjoying every minute. Jean and Daryl spent time with family and friends backpacking, camping, and snowmobiling in the Big Horn Mountains in their younger years. Jean enjoyed reading, birding, keying plants, and spending time in her flower and vegetable gardens and yard. She continued taking classes at Sheridan College throughout her life. At 84, she took an online Master Gardening class with her friend Lynn Reeves.
Jean suffered a stroke on New Year's Eve morning 2020. In January 2021, she moved to Casper to be near her daughter. She passed away October 22, 2021 at Central Wyoming Hospice in Casper.
She could not do the things she loved for the last ten months and this was difficult. There is relief in knowing she no longer suffers. Our loss is great, and we will miss her every day.
She is survived by her sons Ray Daly (Kathy) of Banner and Lynn Daly (Cindy) of Grapevine, TX; daughter Shawn (Daly) Killinger (Richard Self) of Casper; daughter-in-law Kay Daly of Gillette; grandchildren Terra (Daly) Price (Roland Jr.), Nancy (Daly) Kessler, Patrick Daly (Natalie), Jamie Steward-Madai (Eddie), Erin (Daly) Albers (Randy), and Jessica Steward; great-grandchildren Roland Price, III, Brandon and Aliceon Daly, Sadie Allee, McKinley Kessler, Emma and Ross Daly, Kaydence and Kannon Parke, Lane and Caleb Albers, Keaton Bertagnole, and Ethan Madai; and four great-great-granddaughters. She is also survived by brother Claude "Sonny" Peterson; half-sisters Cleo Haler (George), Marian Black (Leonard Couch), Loretta Herrington, Laura (Floyd) Bennett, and Pia Parish; half-brother Eric Peterson; sisters-in-law Marilyn (Daly) Holdiman (John) and Phebe (Daly) Macha; and many nieces and nephews.
She was preceded in death by her husband, son Wayne Daly, parents, brothers John and George Peterson, two sisters-in-law, three brothers-in-law, and two nieces and a nephew.
Our family would like to thank friends, caretakers, and Central Wyoming Hospice for their companionship, help and love taking care of our matriarch.
A memorial service will be held at 1 p.m. Friday, November 12, 2021 at the Big Horn Woman's Club in Big Horn, followed by a reception.
If you desire, memorial contributions may be made to the Central Wyoming Hospice, 319 S. Wilson St., Casper, WY 82601 (cwhp.org) or the Bighorn Audubon Society (bighornaudubon.com).
---
Joan Martha Williams: 1936 – 2021
Joan Martha "Granny" Williams passed away October 24, 2021 in Tucson, Arizona surrounded by her family.
Granny loved being surrounded by her family, even the four-legged ones — the more chaotic these gatherings were, the more she loved them.
She was born January 21, 1936 in Casper, WY to Edwin and Vesta (Merris) Boltz.
Granny grew up there, attending Casper schools and graduating from NCHS in 1954.
She loved attending her children's and her grandchildren's sporting events. Basketball, baseball and track were some of her favorites. 
Joan worked many years at the Wyoming Medical Center as a unit secretary and monitor tech in ICU.
She is survived by her six children Cheryl Peters of Casper, Lynne Knobel of Chandler, AZ, Valerie (Larry) White of Kingston, WA, Bruce (Jo) Williams of Casper, Suzie (Cody) Murdock of Buffalo, and Scott (Gina) Williams of Georgetown, TX; 18 grandchildren; and 30 great-grandchildren.
She was preceded in death by her parents, brothers Jerry and Chuck, and grandson Max Neely Jr. 
The family will hold a Celebration of Life at a later date.
---
Joan Schroeder: October 23, 1933 – October 18, 2021 (age 87)
Joan Schroeder peacefully passed away surrounded by family in Douglas, Wyoming on October 18, 2021.
Joan was born in Walnut Grove, Minnesota to Anna and Charles Nemitz on October 23, 1933. She met the love of her life Elmer Schroeder in Vesta, Minnesota. Elmer and Joan married in 1950 and later moved to Casper, WY, where they raised their family. Joan and Elmer loved to vacation in their RV throughout many years of their life together. Joan loved to crochet and craft. She will be remembered by her warm disposition, hospitality, and love for her family. Her and Elmer's house always had an open door, coffee brewing, and family and friends visiting around the kitchen table.
Joan is survived by her children Susan Schroeder (Ron Benda), David Schroeder (Anita Schroeder), Pamela Fitzsimmons (Dale Fitzsimmons), Craig Schroeder (Elizabeth Schroeder), and Brian Schroeder (Kerri Schroeder); 16 grandchildren; 38 great-grandchildren; and one great-great grandchild; brothers Buddy and Fred Nemitz; and sister Carla Daub. 
She is preceded in death by her husband; mother and father; son "Baby Schroeder"; grandson Ryan Schroeder; great-grandson Benjamin Harmon; sisters Lois Skelton and Alice Nemitz; and brothers Dennis and Leslie Nemitz.
Services will be held on Friday, October 29, 2021 at 10:30 a.m. at Faith Bible Chapel with interment to follow at Highland Memorial Cemetery. Please join the family for a reception and lunch at Faith Bible Chapel immediately following interment.
Arrangements are entrusted to the care of Bustard & Jacoby Funeral Home, 600 CY Ave., Casper, WY 82601.