Justin Milford Jacob: July 12, 1977 – October 28, 2021 (age 44)
Justin Milford Jacob, 44, of Casper, Wyoming passed away on October 28, 2021.
Justin was born in Cozad, Nebraska to Raymond and Carol Jacob on July 12, 1977. He graduated from Cozad High School in 1996, and earned an associates degree from the Nebraska College of Technical Agriculture in 1998. In 1999, Justin married Torie Dyer. Their union was blessed with three children. In 2020, Justin married Rachel (Butcher) Walters.
Justin worked as a welder for 18 years in Casper. In addition to his work, he faithfully volunteered to rise early on snowy days to help remove snow from Mount Hope Church and School. Justin's family was important to him, and he enjoyed hunting and fishing with his kids. Justin could strike up a conversation with a stranger and was known for his funny sense of humor and his smile.
He is survived by his wife Rachel, daughter Jessica, sons Tristin and Liam, parents Raymond and Carol Jacob, sister Sarah (Sonny) Scott and nephew Jace.
Funeral services will be held at Mount Hope Church in Casper, Wyoming on November 5, 2021 at 10:00 a.m. A private burial will take place at the Cozad Cemetery in Cozad, Nebraska at a later date. In lieu of flowers, memorials are suggested to Mount Hope Church, and will be designated for the children's education.
Arrangements are entrusted to the care of Bustard & Jacoby Funeral Home, 600 CY Ave., Casper, WY 82601.
---
Stanley Wagner: April 28, 1952 – October 20, 2021 (age 69)
Stanley Edward Wagner was born in Amityville, New York on April 28, 1952. He passed away in Casper, Wyoming on October 20, 2021. He spent most of his childhood in Long Island between Babylon and Patchogue. Stan and his dad spent time fixing up old VW bugs and racing old cars at Islip Speedway. In the winter of 1968, he met the lovely Terry Grauer at the pet store. They dated through high school and married on June 7, 1971 in Coram, New York. He worked at her family's carnival, and in another family endeavor he refurbished and delivered pool tables.
Stan worked as a mechanic for Goodyear in New York as well as Colorado Springs. He also worked for Big O in Colorado Springs; Scottsbluff, Nebraska; and Cheyenne. He was known for his expertise in his field. After Stan retired, he and Terry made their home in Casper with family.
During their time in Colorado Springs and Nebraska, Stan and Terry were active members of their church. Stan served as sound technician, leader of men's ministry and winner of the church chili cookoff three years in a row! He and Terry also did home visits for new church members.
His hobbies included spending time outdoors, hunting, and fishing. He enjoyed concerts, and most recently he was able to attend the Foreigner show with Brian. He loved to watch a good movie with the surround sound up high. He loved to cook for any and every reason. He got a kick out of making up nicknames for those closest to him like Kiddo, Salamander and Shorty. Stan and Terry's favorite way to have some "date time" was to go thrifting.
Some of the special memories held by the family are his stories and sayings. He loved to tell the story about how "they lived on milk crates." When ordering food he would say, "If ya don't get it right, Guido will come break your legs!" And for encouragement, "It could have been worse." Lastly, ANYTHING with a New York accent!
He was preceded in death by his parents Stanley Edward and Margaret Myra Wagner, his sister Peggy, and his granddaughter Anica. He is survived by his brother Dennis; his wife Theresa (Grauer) Wagner; and his four children Brian Wagner (Danielle), Cindy Simpson (Micheal), Keith Wagner (Susan), and Russell Wagner (Maycee). He is also survived by his grandchildren Amanda and Haley (Brian); Jon (Cindy); Brody, Blaze and Xavier (Keith); and Unique, Lucy, Zoey, Mitchell and Ivy (Russell).
Arrangements are entrusted to the care of Bustard & Jacoby Funeral Home, 600 CY Ave., Casper, WY 82601. 
---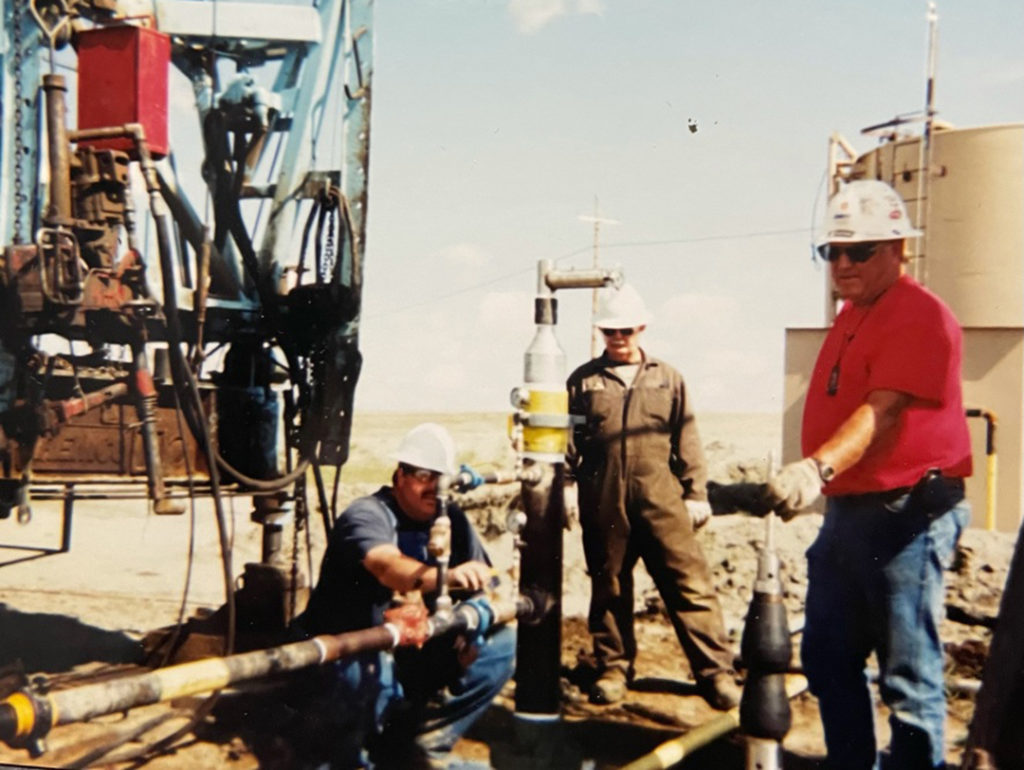 Claude Dickey: August 28, 1941 – October 19, 2021 (age 80)
Claude Dickey was born at the home of his parents, C.S. and Hertha Dickey, on August 28, 1941 in Aspermont, Texas.
He died at his home in Midwest, Wyoming on October 19, 2021 at the age of 80.
Claude's family moved from Texas to Wyoming in the early 1950s. He grew up in the small towns of Kaycee, Edgerton and Midwest. He loved being a wild child with plenty of things to do like hunting, fishing and tending to stray animals.
He went to work on the oil rigs at 15 years old. He quickly moved up in the ranks from being a floor hand to running his own consultant business and he was known as one of the most knowledgeable men in the Salt Creek oilfield. The oilfield was his passion.
Claude worked hard and he played hard. His many interests included golfing, fishing, treasure hunting at old homesteads and playing the guitar, just to name a few.
He loved his grandkids and was like a big kid when he was around them. Claude loved to read to gain insight and adventure.
He left school with an eighth-grade education, but then graduated from college at the age of 61.
Claude leaves behind a large family, consisting of his brothers John (Sharon) and Jerry (Joyce) Dickey; sisters Koleta VanNorman, Carol Hudson and Merry Dickey; children Cathy Greene, Shelly (Milo) Mondle, and Connie (Brook) Meyers; son Matthew (Hylise) Dickey; grandchildren Amber (Patricio) Garcia, Daniel (Nancy) and Zach (Elisa) Smith, April DArezzo, Kyle (J Parson) Greene, Emily (Spencer) Allyn, Trisha (Jeff) Blunsom, and Shawn (Sheena) Dickey; and great-grandchildren Brady, Hayley and Kyler Smith, Jasmine, Joseph and Willow DArezzo, Cruz Garcia, Herbert Dickey, Finn Woodchild, Zachary and Atleigh Smith, Quinton Blunsom, Sevyn, Syla and Saylem Dickey, and Trevor Guthmiller.
Claud was preceded in death by his parents, sister Etta Henderson, brother Tad Dickey, son Claude (Bo) Dickey II and granddaughter Kaylene Enloe.
Service will be in the summer up on the Big Horn Mountain and is to be announced at a closer date.
Arrangements are entrusted to Bustard & Jacoby Funeral Home, 600 CY Ave. Casper, WY 82601.
---
Robert Lawrence Moorehead: October 28, 1936 – October 28, 2021 (age 85)
On Thursday, October 28, 2021, Robert L. Moorehead died at the age of 85. He resided at Mountain Lodge in Douglas, Wyoming, where he had many friends and enjoyed visiting with everyone there. He was born in Hiawatha, Kansas to Lawrence Doyle Moorehead and Mildred Winona Knox Moorehead.
Robert served 3 years in the United States Army, from 1955-1958 as a
paratrooper in the 101st Airborne as a medic.
After his service, he attended and graduated from Kansas University in Lawrence, Kansas with a Geological Engineering degree. He worked in the oilfield industry his entire career. Upon retirement, he resided in Pratt, Kansas.
He enjoyed hunting, shooting, golfing, and walking his dog.
Robert is preceded in death by his parents Lawrence Doyle Moorehead and Mildred Moorehead, daughter Robin Rowe, and grandson Darren Rowe.
He is survived by daughter Jan Stokes, granddaughters Amy Willcox and Jennifer Schumacher, grandson Eric Rowe and three great-grandchildren of Casper.
Arrangements are entrusted to the care of Bustard & Jacoby Funeral Home, 600 CY Ave., Casper, WY 82601.