Denise Doreen Gall: 1995 – 2022
Denise Doreen Gall, born October 17, 1995, passed away at the age of 26 on January 1, 2022 in Casper, Wyoming.
Denise was born to Harold and RaeLynn Gall in Thermopolis, Wyoming and lived there until 2001. She was then raised by her uncle and aunt, John and Kathy Gall.
Denise enjoyed people and was very outgoing. During her school years, she loved playing volleyball and joined the cheerleading team for Kelly Walsh High School, graduating in 2014.
After graduation, she worked in the restaurant business and made many friends during that time.
Denise had two children, Karter (5 years old) and Kolson (4 years old). She loved her children very much.
Denise is survived by her two children Karter and Kolson; Steven Smith; Matthew Metzger; Harold Gall; RaeLynn Gall; John and Kathy Gall; and many aunts and uncles, cousins, and grandparents.
She was preceded in death by grandparents Geneva Matheson, LeRoy Gall, and Blair Parnizari.
A Celebration of Life will be held at 3:00 PM, on Sunday, January 16, 2022 at Rib and Chop House located at 256 South Center Street, Casper, Wyoming.
---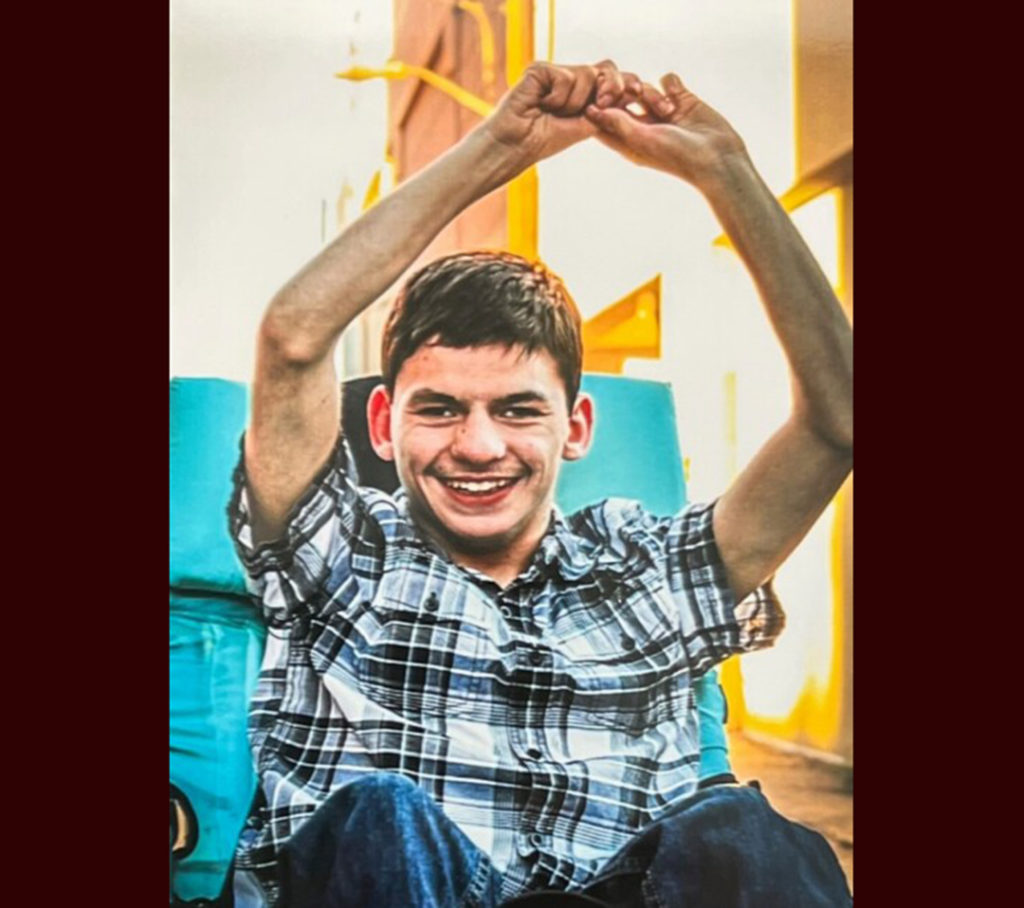 Dayton Allen Carabajal: December 6, 1999 – January 1, 2022 (age 22)
Dayton Allen Carabajal, 22, of Casper, WY passed away peacefully on Saturday, January 1, 2022 at Wyoming Medical Center, surrounded by his loving family.
Dayton was born on December 6, 1999 in Denver, Colorado. Dayton went to Manor Heights and Frontier Middle School and graduated from Roosevelt High School in 2021.
Dayton loved bowling, swimming and game shows, his most favorite being Family Feud with Steve Harvey. Dayton also loved his music, with his favorite artist being Bruno Mars. He also loved being with his family and friends as well as going to Independent Opportunities, where he made a lot of great friends and loved all his staff that cared for him. He loved school, bus rides and he loved what he wanted to do and nothing else. He would make known if he did not like something.
Dayton had such a great life; he always had a smile on his face, even with his disabilities. Dayton would light up a room everywhere he went. Anyone that met Dayton fell in love with him; he was such an inspiration to everyone.
Dayton is survived by his parents Kay & Chad, twin brother Collen, brother Christopher, sisters Kylie (Kyle) Heath and Kaitlyn Stransky (Josh Walkup); grandparents Jackie & Debbie Carabajal, Greg & Deb Griffin and Steve & Janeen Griswold, great-grandmas Elvena Griffin and Linda Walter; extended family Kara, Kent, Morgan, Maddie, Kendall, Mary, Greg, Melissa, Rachelle and Joey; numerous aunts, uncles, cousins and nieces; and one nephew.
Dayton was preceded in death by his great-grandparents John & Angie Carabajal, Mary & Eddie Rodrick and great-grandpa Tommy Griffin; his grandma Amy Griffin; and his aunt Kim Carabajal, along with numerous aunts and uncles.
Visitation will be Friday, January 7, 2022 from 4-6 p.m. and services will be Saturday, January 8, 2022 at 2 p.m. at Bustard & Jacoby Funeral Home.
Arrangements are entrusted to the care of Bustard & Jacoby Funeral Home, 600 CY Ave., Casper, WY 82601.
---
Johnny R. Lujan: 1951 – 2021
Johnny Richard Leonard Lujan passed away peacefully in his home with his wife and family by his side on December 29, 2021. He lived a very full life and was a long-time resident of Casper, Wyoming. Johnny was born Dec. 19, 1951 in Monte Vista, Colorado as the third of 12 siblings. From childhood he excelled in everything he tried including rodeo, surfing, cooking, landscaping and most of all entertaining. He loved music and could pick up any instrument and learn to play — not that he needed an instrument: his voice was enough to entertain any crowd. He loved singing Elvis songs among others and he rocked the harmonica; he knew how to get the crowd going. He had a very large audience and he loved every minute of it.
Johnny was a magnet: his energy radiated and would draw people in anywhere he went. He was the life of the party, and with his singing or jokes (sometimes corny) he would brighten anyone's day.
He was a father to everyone, always quick to help, feed, talk to or shelter anyone in need. Johnny left a legacy of love and family that will ensure that his memory will live on through the countless people who knew, loved and respected him. He was one of a kind; his presence and his bigger-than-life personality will be sorely missed by all.
Johnny is survived by his loving wife Susan of 43 years; sons Jacsen (Jennifer), Jerret (Alicia), Nathaniel (Tilina) and Marcus (Desi); only daughter Andrea (Michael); 16 grandchildren and five great-grandchildren; brothers Danny (Marcella) and Kenny; sisters Gloria (Rick), Elizabeth (Gilbert) and Donna (Dave); and brother-in-law John. He is also survived by the Lara Family and numerous friends too many to mention; they were his family too.
Johnny was preceded in death by his father Joseph; mother Mabel; brothers Benny, Louie, Jerry and Frankie; sisters MaryJane and Ruth; son Michael; great-grandson Malik; and numerous aunts, uncles and cousins.
Johnny had requested no services, but the family will be having a celebration of life at a later date.
---
Sandra Kay Bielss: 1940 – 2021
Sandra ("Sandy") was born in Grand Island, Nebraska to Lubert Danfield. Sandy was raised by her grandparents Robert (papa) and Louise (mama) after the death of her mother during childbirth while bringing her only sibling Barb into the world. Sandy was a loving wife, mother, grandmother, great-grandmother, sister, and friend. Sandy went to heaven on December 28, 2021 to be with the Lord, her beloved husband Robert, and her children Theresa, Melinda, and Norman.
Sandy was a collector of owls, Native American artifacts, and elephants. She worshiped the Lord in the Catholic faith. She was a caregiver to all who knew her and cooked like a true Iron Chef. She was world famous to her family for her chicken and noodles, cheesy potatoes, porcupine balls, and, for Mike and Kenny, her tuna casserole. You could often come over in the afternoon while she was cleaning and hear country music blaring on the radio. Bob and Sandy were known to try their luck at Troopers Bingo and in Wendover, Nevada.
Sandy is survived by her sons Robert "Bobby" Skiles (Christy), Mike Skiles (Darlene), Darcy Skiles (Norman's widow), and Kenny Skiles (Kristal); her grandchildren Brian Skiles (Kelsey), Brice Skiles, Crystal Hylton (Jeff), Candi Snellgrove, Christina Corson (Jason), Nastasha Rodgers (Ryan), Teri Skiles, Teala Skiles, Drake Williams, Haleigh Skiles, and Jayden Skiles; her numerous great-grandchildren and her extended family. Sandy also leaves behind her believed dog Suzy and her best friend Robbie Kuhn.
Sandy was preceded in death by her Mother Lubert Danfield, her grandparents Robert and Louise Danfield, her sister Barb Nickel, her husband Robert "Popeye" Bielss, her daughters Theresa Johnson and Melinda Skiles and her son "Stormin" Norman Skiles.
Per Sandy's request, we will not have a service. We will have a celebration of life for her and Pops at a later date due to weather and numerous family and friends who will need to travel.
---
Allen L. Sigmon: 1945 – 2021
Allen Leroy Sigmon, 76, of Casper, Wyoming died in the early morning of Sunday, December 26, 2021 in Casper, Wyoming.
Allen was born in Cody, Wyoming on June 10, 1945. He graduated from Platte Valley High School in Kersey, Colorado in May 1964 and then joined the United States Air Force in 1965. After his time served, he moved to Aurora, Colorado and worked for Wright & Magill for several years.
In 1988, he moved to Tennessee, where he met his beloved Judy, and they married in 1991. Judy passed away in 2011 and shortly after, in 2015, Allen moved to Casper, where he lived out the rest of his days with his friend Carol Cole.
He was preceded in death by his father Cecil W. Sigmon, his mother Gertrude M. Sigmon, and his brother Gene E. Sigmon.
Survivors include his brothers Wayne C. Sigmon of Carthege, Missouri; Keith J. Sigmon of Kersey, Colorado; and Gary R. Sigmon of Aurora, Colorado.
Interment will be at Fort Logan National Cemetery.