Burl Freeman Johnson: April 29, 1978 – April 22, 2022 (age 43)
Burl Freeman Johnson, 43, of Ogallala, Nebraska passed away on Friday, April 22, 2022 in Casper, Wyoming surrounded by family.
He leaves a big hole in the hearts of his family and friends, who were always entertained by his stories and hilarious sense of humor. He was a person who is always ready to help others, as well as a good son, loving big brother and great friend.
Burl was born April 29, 1978 to Donna and Burl Johnson in Iowa City, Iowa. He graduated from North Scott High School in Eldridge, Iowa.
He was a talented tattoo artist and was incredible at drawing, enjoyed working on cars and was a diehard Slayer fan.
Burl is now joining his stepfather Mike Real, grandmother Martha Swarts, and cousins Julie Swarts and Bobby Johnson.
He is survived by his mother Donna Real, father Burl D. Johnson, brother Brian Johnson, sister Wanda Real (Mitch), grandfather Boyd Swarts, and many uncles, aunts, cousins, nieces and nephews.
Arrangements are entrusted to Bustard & Jacoby Funeral Home, 600 CY Ave., Casper, WY 82601
---
Eloise McKee: December 27, 1930 – April 25, 2022 (age 91)
Eloise J McKee passed away peacefully in Casper, Wyoming on April 25, 2022.
She was born in Cleveland to Eleanor Boynton and Ralph Kiddle. After graduating high school, she attended Bowling Green State University, where she met and married Richard Wagner in 1952. They had two children, Philip "Bert" Wagner and Nancy Wagner, and later divorced. She has lived in Casper since 1953.
She worked at WREA for many years and retired in 1993. While there, she met and married Bill McKee in 1979.
She was a member of Shepherd of the Hills Church, where she played in the Shepherd's Bells choir. She also appeared in many musicals at Casper College.
She loved to entertain and to travel abroad. She also loved logic problems, crosswords, and even her computer and iPhone.
She was preceded in death by her husband Bill, her daughter Nancy Wagner, her stepdaughter Sheleen Harris, and her granddaughter Jessi Wagner.
She is survived by her son Dr. Philip "Bert" Wagner (Lisa); her granddaughters Shannon Brown (John), Ashlee Wagner (Greg), Erin Wagner, Jordan Smith (Matt), and Zoe Olson (Taylor); and four great-grandchildren.
Instead of gifts or flowers, she asks that donations can be made to Casper Humane Society.
A memorial service is pending at this time and is tentatively being planned for the end of June.
Arrangements are entrusted to Bustard & Jacoby Funeral Home, 600 CY Ave., Casper, WY 82601.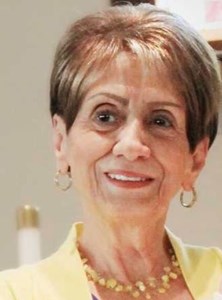 Marys Rosario "Tita" Garcia: 1947 – 2022
It is with heavy hearts that we say goodbye to Marys Rosario Garcia, better known as our beloved "Tita," who passed away April 18, 2022. Marys was born in Guatemala City, Guatemala on May 2, 1947. She was preceded in death by her parents Manolo Higueros and Alis Abdo Zibara, and her son Roberto Gordillo.
She is survived by her children Ana Rebeca Gordillo, Maria Isabel (Darrel Steele), and Terri Gordillo; five grandchildren Roberto Antonio, Diego, Jordan (Houston), Nicholas, and Emily; great-grandchildren Henry, Hapsen, and "Georgie," arriving soon. She is also survived by her siblings Manolo Higueros, Ana de Schmid, Maria del Carmen de Amado, and Jose Luarca.
Tita spent her whole life loving Jesus and loving everyone around her. She grew up and lived in Guatemala most of her life, surrounded by a large, close-knit family. Her sisters were her best friends, and they never went a day without talking. When her granddaughter, Jordan, was born, she moved to Casper, Wyoming to help take care of her. Her grandchildren were her whole world and she even followed them in moving to Great Falls, Montana to continue to care for them. When her own grandchildren went off to school, she filled her free time caring for other children at "Tita's Daycare," where she loved each child as if they were her own. After the birth of her first great-grandchild, Henry, she once again packed up her bags and moved to Douglas, Wyoming to help take care of him the way only she did best. She spent the remainder of her life loving and chasing her great-grandchildren around almost every day.
Anyone who knew Tita knew her love for Jesus. Her faith was everything to her and she lived to love her Lord and Savior. Tita touched so many lives in her time here with us, but we rejoice in knowing she is where she has always longed to be, with her Heavenly Father and reunited with her son. Heaven has welcomed home its sweetest angel.
A memorial service will be held at Christ Episcopal Church, 411 E. Center St., Douglas, WY 82633 on Monday, May 2 at 2:00 p.m.
To leave a special message for the family, please select the "Share Memories" option. Service date and time are pending.
---
Obituaries are a complimentary service of Oil City News. To order a free or custom obit, please follow the link at our obits page.