Elizabeth Charline Price: 1929 – 2022
Elizabeth Charline ("Char") Price passed away May 6, 2022. Char was born October 1, 1929, in her grandmother's home in Excelsior Springs, Missouri to Charles and Pauline Shoemaker. In 1934, she moved with her family to Memphis, Tennessee and in 1939, the family moved to Columbia, South Carolina.
After Char graduated from high school in 1947, the family moved to Kansas City, Missouri. She attended junior college in Kansas City and then completed her bachelor's in education at the University of Missouri in Columbia, Missouri. She began her teaching career in Kansas City, where she would also met her husband, Jack. They were married in December 1955 and were inseparable until he passed away in January 2013. They lived in Kansas City, then moved to Casper, Wyoming in 1965. She taught reading at Crest Hill, Fairdale, and Verda James Elementary Schools.
She was affectionately known as the gadget queen, loved going to the beach, could grow absolutely anything in her garden and enjoyed golfing, photography, fishing, sitting on the riverbank at Svoboda's home, and trips to Jackson Hole and Yellowstone. She and Jack traveled frequently to visit family in Nashville, Tennessee; Tulsa, Oklahoma; Prentiss, Mississippi; and Kansas City. The last four years, she was a resident of Primrose Retirement Community in Casper.
She is survived by her sons Jeff (Ann) Price of Casper, WY, Mike (Cynthia) Price of Brentwood, TN and Douglas (Laurie) Price of Tulsa, OK; her grandchildren Emily (Chris) Buckley of Prentiss, MS, Christopher (Janelle) Price of Casper, WY, Paul Babcock of Chicago, IL, William Babcock of Brentwood, TN, and Blair (Carley) Price of Pecan Gap, TX; great-grandchildren Kyler and Keiren Eaton and Sheldon, Jaden, and Ashlyn Buckley, of Prentiss, MS, Jackson and Kellan Price of Casper, WY, and Cohen Price of Pecan Gap, TX; nieces and nephews Denise Rendina of Lenexa, KS, Philip (Debbie) Rendina and Greg Rendina of Kansas City, MO, and Angie (Ted) Butler of Pearland, TX; and sister-in-law Angel Shoemaker of McLean, IL.
She was preceded in death by her parents, her husband Jack of Casper, WY, her sister Carol Rendina and her brother-in-law Jim Rendina of Kansas City, MO, and brother Charles Shoemaker, Jr. of McLean, IL.
Memorial services will be held at Bustard & Jacoby Funeral Home on June 11, 2022, at 10:00 a.m. with Pastor Jack Olsen officiating. Interment has been held.
Memorial donations may be made in her name to Central Wyoming Hospice. The family wishes to thank the staff of Primrose Retirement Community for their care and support for the past four years and to Central Wyoming Hospice for making her last days as comfortable as possible.
---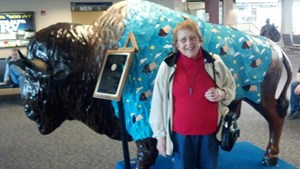 Patricia Ann Searle Ward: 1932 – 2022
Patricia Ann Searle Ward, 90, of Casper, passed away Friday, May 20, 2022 at Central Wyoming Hospice & Transitions of Casper.
Patricia was born on March 24, 1932 in Cincinnati, Ohio to the late Victor Searle and the late Anna Ruetepohler Searle. She graduated from Yokohama American high school in 1950 while her father was stationed overseas as part of U.S. occupation forces in Japan. She married William "Bill" Ward in 1952 while they were students at the University of Oklahoma. He supported her continued education and degrees. She earned her bachelor's degree from Southeastern Louisiana. She earned Master's and Education Specialist degrees from Fort Hays State University, Hays, Kansas. She and Bill had a daughter and son who knew their mom was always in school. They traveled various oil field towns until they settled in Russell, Kansas from 1963 to the mid-1980s, when Bill had his last transfer and retirement in Casper, Wyoming.
Patricia was an accomplished language arts middle school teacher at Ruppenthal Middle School in Russell, Kansas and had published books on learning packets and simulation games. In Casper, she volunteered for Habitat for Humanity, English as Second Language tutoring at Casper College, and VITA taxes for senior citizens, among other activities. She and her husband Bill traveled and fished extensively in Mexico and British Columbia, and visited New Zealand numerous times. She routinely caught the biggest fish of any family member. She proudly supported her children's adult projects and her grandchildren's activities careers.
She is survived by two children, Kathryn (Jeri Kinser) Ward of Carbondale & Cobden, IL, and William "Bill" Ward (Beth) of Denver, NC. She is also survived by her beloved twin sister Barbara Henthorn, and favorite niece Susan Henthorn Hurst. She's also survived by her two grandchildren William (Gwen) Ward and Rebecca (Vlad) Ward; special son John Cameron; special friends Linda Slone, Laura Burback, Cheryl VonRiesen, and Louise Russell; and numerous church friends, neighbors and volunteers. She was an other mother to many in Casper and beyond in her listening and charitable activities including Highland Church. Up until her time of death, she was an avid reader and drove around Casper.
She was preceded in death by her parents, her brother Victor Searle, Jr., her husband Bill (after nearly 60 years of marriage), and her special daughter Misty Hayes Cameron. Her service will be held on Wednesday, May 25, 2022 at 11 a.m. at Newcomer Cremations, Funerals & Receptions.
710 E. Second St., Casper, WY 82601
307-234-0234
Family requests no flowers. Instead donate to these Casper organizations: VITA tax c/o Natrona County WY United Way, or Central Wyoming Hospice & Transitions or Seton House.
---
Obituaries are a complimentary service of Oil City News. To order a free or custom obit, please follow the link at our obits page.