Frederick Darrell Dyer: April 29, 1945 – December 5, 2022
Frederick Dyer passed away on Dec. 5, 2022, at home, held in the arms of his loving wife, Deanna."
Frederick Darrell Whitson Dyer was born April 29, 1945, in Denver, Colorado, to Raymond and Ruby Whitson in a war-weary country. Walter and Louise Dyer adopted Fred and his brother, Billy, and took them home to Worland, Wyoming. Struggling in a small town, he left school at the age of 16 and went to work for Velte Painting of Worland.
At the age of 18, he joined the U.S. Navy, attending boot camp in San Diego, California, and 'A' School in Chicago, Illinois, ("the coldest winter I ever spent," he said). After 'A' school, he married Judy Estes and welcomed his daughter, Theresa Louise, who was born in 1964. Fred was assigned to the nuclear cruiser, USS LONG BEACH (CGN-9) and served as a Gunner's Mate (Missiles).
During his time with the Navy, Fred served in the Gulf of Tonkin, sailed around the world with the first nuclear warship taskforce, and earned his GED.
Fred and Judy were divorced in 1965.
He met his lifelong love Deanna Genevieve Durham in 1966 and, after separating from the Navy, they were married on Aug. 12, 1967. They started married life in Casper, Wyoming, while Fred attended Casper College, earning an associate degree. He transferred to California State College in Hayward, California, where he earned his bachelor's degree in psychology.
Fred and Deanna's first child, Michael, was born while attending school. Wyoming, however, called them home, and they moved to Riverton for a job with Job Service (Employment Security Commission). Their second child, Matthew, arrived in the meantime. After a year and a half in Riverton, Fred accepted an offer to become manager of the Lander Job Service office.
While in Lander, Fred was an active member of the Jaycees and First Baptist Church, often working with his good friends Terry Thayer and Wally West to improve the community. He also continued his service to his country in the Wyoming National Guard. Their third child, Mark, was born while in Lander.
In 1979, Fred accepted a new position of Labor Relations Manager with Pathfinder Mines in Shirley Basin, requiring a move to Casper, WY. Seeking to return the kindness of his parents, Fred and Deanna adopted their only daughter, Becky, in September 1980. After commuting from Casper to Shirley Basin for several years, Fred transferred to Pacific Power & Light as Labor Relations Manager for Wyoming. This new position allowed Fred to spend more time with his family.
He was active on the boards of Youth Crisis Center and Central Wyoming Rescue Mission. He also coached Little League baseball. Fred retired from Pacific Power in 2000, but he flunked retirement. In 2001, he was called to pastor Trinity Baptist Church, Douglas, Wyoming. He enjoyed 20 years in the pastorate and retired in April 2021. This time retirement stuck.
Fred had long wanted to find his birth family and in August 2021, after a post from Ancestry.com, he was able to locate Lou Batty, his older sister. He was blessed to meet her, her daughters and spouses, but, sadly, lost her in December 2021. This loss was all the more poignant because his brother, Billy, had just passed in November 2021. Despite the short time he had to share with Lou, Fred was overjoyed to have been able to find new family members and to know more about his past.
Fred enjoyed hunting, fishing, reading, doing word search puzzles, and traveling. In his Navy career he was privileged to do an around-the-world cruise, getting to see the beauty of the world and experiencing different cultures. Cruises continued into the civilian world and he and Deanna were blessed to be able to join other family members in seeing the world, the Caribbean, England, northern Europe, the Panama Canal and Central America, Japan and Ireland.
A missionary trip to Mexico in 2011 was a transformative learning experience that stayed with him for the rest of his life. His faith was extremely important to him and he loved being a pastor, working with people and sharing that faith. He faced health issues with stoicism and a realization it is simply a part of growing old. Fred was a father, a giver, a pastor, a friend, and most of all a husband who loved his wife for nearly 60 years. He probably misses her most of all.
He is survived by his wife Deanna, children Theresa Dyer, Michael (Amy), Rebecca (Brad Juhl), Matthew (Kristen) and Mark (Carey); grandchildren, Kristine (Ben Risch), Nicholas Dyer, Brandon Juhl, Kienen Dyer, Sullivan Dyer, Brooklyn (Dallas Wormley), Aidan Dyer, Lucas Dyer, Bobby Ray, and Tony, great-grandchildren, Oliver Risch, Willow Risch, and Liam Wormley, nieces Shelley (Chad) Hanna and Pam (Carlos) Meza and families.
Services have been scheduled for Feb. 18, 2023, at 1 p.m. at Paradise Valley Christian Church with Pastor Larry Berlin and American Baptist Churches of the Rocky Mountains Executive Minister, Steve Van Ostran officiating. He has been cremated and the family will meet together this coming summer to complete his requests.
The family would like to thank the sheriff's deputies, firemen, and EMT's who responded to the 911 call. Thanks also go to the friends, neighbors and church families for all the love and comforts expressed. Please donate to the Youth Crisis Center or Central Wyoming Rescue Mission in lieu of flowers.
Arrangements are under the direction of Newcomer Casper.
---
Dennis "Denny " Harper: March 4, 1940 – November 28, 2022
It is with great sadness the family of Dennis H. "Denny" Harper announces his passing on Nov. 28, 2022.
Denny was born March 4, 1940 in South Gate, California to Don and Lois Harper.
Denny was one of the co-founders of Excal Inc. in 1991. Denny served in various capacities at Excal Inc. for over 25 years and was proud to be an integral part of Excal Inc.
Survivors include Caron, wife of 60 years, daughter Stacy, grandson Bryan, granddaughter Kasey, and brother Don (lifelong best friend and business partner).
No services were held. The family requests donations in Denny's memory to be made to Hospice or Casper Humane Society.
---
Daniel L. "Danny" Edwards: April 14, 1947 – December 16, 2022
Daniel Lee Edwards and his twin Richard were born to Lloyd and Elizabeth Edwards on April 14, 1947, in Independence, Missouri. Richard only lived for a few weeks, but Dan was blessed with 75 years. Dan grew up with his older brother, Bob, in Independence with many friends and family and graduated from William Chrisman High School in 1965.
He then traveled the world with his parents and lived in Australia for a year before joining the Navy. He served in the Navy from 1967-1973. In 1969 he met Julie Williamson and they married in November 1969. To this union were born two children Jennifer in 1975 and Melissa 1980.
In 1975 Dan started working at Amoco in Sugar Creek, Missouri. A career he followed his grandfather and father in, that lasted nearly 30 years and three states. Amoco took the family to Casper, Wyoming, in 1982 where Dan and Julie raised their family and where Dan enjoyed the cowboy west and hunting until 1992 when Amoco briefly took them to Texas. They then moved to Evanston, Wyoming, where they lived from 1994-200.
In 2001 Dan and Julie moved back to Casper for "retirement." Dan worked at Rocky Mountain Sports to support his gun habit from 2002-2013. In 2000 Julie was diagnosed with MS and Dan faithfully and lovingly cared for her until her death in 2008.
In 2017 Dan married Susan Richardson Leuthold in Buffalo, Wyoming, and they had great fun and many adventures. They enjoyed trips to Cabo San Lucas, Yosemite, California, Missouri, Oklahoma, and having cocktails and spending time with close friends. They both loved spending time with the grandkids and playing games.
Dan passed away at Wyoming Medical Center on Dec. 16, 2022, after a brief illness surrounded by family and friends.
Dan was a jack of all trades, loved the outdoors, guns, fast cars, the cowboy ideal, telling stories and his family and friends. He made friends wherever he went and found things in common with anyone he could start a conversation with. If he was your friend, you were friends for life. Dan volunteered with March of Dimes, Meals on Wheels and was an avid supporter of the NRA, several veterans' groups and the Republican Party.
He is survived by his wife Susan; daughters Jennifer Madden (Brian), Melissa Anderson (Scott); and grandchildren Abigail, Ian, Sheridan and Payton. He was preceded in death by his parents, brother Bob, and wife Julie.
Services will be at Newcomers at 710 E. 2nd St. Casper, Wyoming, on Wednesday, Dec. 21, 2022, at 1 p.m. Afterwards friends are invited to a celebration of life at Gruner Brothers Brewing at 3 p.m.
In lieu of flowers the family asks that donations be made to St Jude's Children's Hospital or to a charity of your choosing. Dan's family would like to sincerely thank the doctors, nurses and staff in the ICU at Wyoming Medical Center for the care given to Dan in his final days.
Daniel's service will be livestreamed at the scheduled service time.
Arrangements are under the direction of Newcomer Casper.
---
Edward Joseph "Joe" McPherson: October 23, 1944 – December 16, 2022
Edward Joseph "Joe" McPherson, age 78, died Friday, Dec. 16, 2022, at his home after a long battle with Parkinson's disease. Services will be held at 1:00 pm on Tuesday, Dec. 20, at St. Anthony's Catholic Church in Casper.
Joe was born Oct. 23, 1944, in Casper, Wyoming. He graduated from Natrona County High School in 1962 and studied at Casper College and the University of Wyoming, where he was a member of the Sigma Alpha Epsilon fraternity. Joe is a veteran of the Vietnam War, where he was a helicopter pilot serving as a Chief Warrant Officer with the Mustang Gun Team of the 168th Assault Helicopter Company, part of the 101st Airborne. He was awarded the Distinguished Flying Cross for heroism and many Oak Leaf Clusters.
After he was discharged from the Army, Joe returned to Casper to be part of the family business, Industrial & Bearing Supply, which he ran with his mother and brother. They sold the business in 1981 and he and his brother, Clark McPherson, subsequently purchased the local NAPA Auto Parts stores. He and his brother successfully owned and operated the business until Clark retired in 2020. After Clark's retirement, the company remained a family business with Joe's daughter and son-in-law, Shannon and Mark Watson, taking the reins. Joe never fully retired and was involved in the business until he died.
He married the love of his life and best friend, Barbara, in 1973 and the couple recently celebrated their 49th wedding anniversary. Family was very important to Joe and he enjoyed spending time with Barbara and his four daughters. His daughters especially loved when their Dad would take them shopping because he had a great sense of style.
Joe was an avid outdoorsman, enjoying hunting, fishing, and spending time on his boat at Alcova Lake, one of his favorite places on earth. During his semi-retirement years, he and Barb became snowbirds spending the winters in Southern California. This allowed them to spend countless hours together on the golf course. He was a talented golfer, achieving two lifetime hole-in-ones, the most recent in October 2016.
He is survived by his wife, Barbara; daughters, Kellie (Hank) Marsh of Long Beach, California, Kim (Håkan) Olsson of Kirkland, Washington, Shannon (Mark) Watson of Casper, Joey (Peter) Castleberry of Arvada, Colorado; brother Clark (Rebecca Sedar) McPherson of Casper; sister, Beth McPherson of Long Beach, California; nine grandchildren and two great-grandchildren.
He was preceded in death by his parents, Ed and Bette; mother-in-law, Lizzie Crabb; and nephew, Edward McPherson.
In lieu of flowers, the family wishes memorial contributions be made to Meals on Wheels or Central Wyoming Hospice & Transitions.
Arrangements are under the direction of Newcomer Casper.
---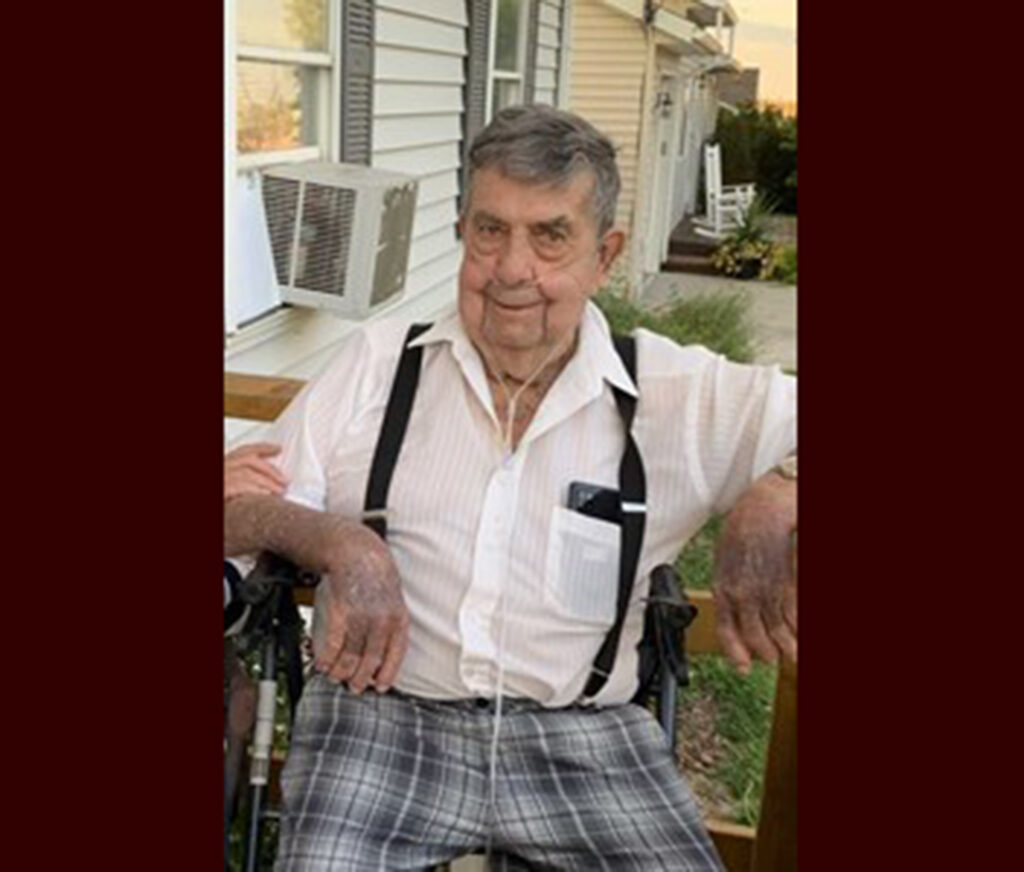 Roy "Dutch" Hoyer: 1936 – 2022
Roy (Dutch) Hoyer, 86, of Glenrock, passed peacefully in his sleep on December 11, 2022, at Banner Medical Center in Casper.
Dutch was born on January 31, 1936, in Sundance, WY, to George and Betty Hoyer. He attended Sundance Elementary and Sundance High School until the 8th grade before striking out to pursue an incredible life of self-learning and experiences. Having been blessed with a strong mind and body, Dutch quickly found his way into a career in oil exploration and production. Though conscious of the fact he lacked formal education, Dutch never allowed that concern to define him as his incredible work ethic and ability to overcome obstacles quickly made him stand out amongst his peers. After nearly 50 years in the oil industry, Dutch retired as a consultant and subject matter expert for the Apache Oil Company and, at 62, successfully attained his GED.
Although Dutch spent a career in the oil industry, his true passion was ranching and spending time with his friends and family. Having never known a stranger, Dutch always wore a welcoming smile and is most commonly known for his boisterous laugh that was contagious to all.
Dutch is survived by his sister Zelma Hoyer of Sundance, and his three children: Gloria Thoeny of Glasgow, MT, David Hoyer of Casper, and Kathy Lenz of Sundance, two stepchildren: Stephanie and Patrick. He leaves behind six grandchildren and 12 great-grandchildren.
Dutch was preceded in death by his wife, Brenda, his brother, sister, and his parents.
---
Kenneth Craig Brookhouse: 1934 – 2022
Kenneth Craig Brookhouse, age 88, died on December 8th, 2022 in Casper, Wyoming. He was born the third of four children to William (a charming Clark Gable look-a-like) and Dorothy (a loving no-nonsense homemaker) Brookhouse in Detroit, Michigan on July 29th, 1934. He spent his youth on the family farm in Romulus, Michigan with siblings William, Phyllis and Dorothy. He said they only had to buy groceries every few weeks or so since they grew their own produce and farm animals.
He graduated from Romulus High School in 1952 and shortly after, married Frances Dolce. They made their home (which he helped build) in Wyandotte, Michigan and had four children: Mike, Paul, Beth and Paula. He started as a milkman before becoming a motorcycle policeman for the Wyandotte Police Department. For a time, he was responsible for delivering a full milk route while working full time at the police department. Ken worked a lot and liked to keep busy. He often fixed cars on the weekends for friends and neighbors, which led to a job as an auto mechanic. He was very handy and could fix or build just about anything. During this time, he also enjoyed deer hunting, fishing and deep-sea diving. He actually broke the record for deepest dive through the ice in Torch Lake, Antrim County, Michigan.
After his divorce and moving from Michigan, he became a Supervisor at the security firm Wackenhut Corp which was based in San Francisco, California. This position also took him to Dallas, Texas; Raleigh, North Carolina; and Tampa, Florida. Instead of retiring in one place, he bought a van, camper and boat and traveled all over the country. He supplemented his income selling spices and condiments for some good friends, which allowed him to travel from place to place. He thoroughly enjoyed his nomad lifestyle: wintering in Baja, Mexico, where he loved to deep sea fish; and in Quartzite, AZ. He spent summers in California, Oregon, New Mexico, and Wyoming visiting family and friends. One of his favorite jobs was working for the Forest Service in the Sawtooth Mountains of Idaho as a campground host. He spent the last few years enjoying the weather in North Carolina before coming to Wyoming to be near family and friends who were able to help him live independently. He traveled extensively all over the US and made friends everywhere he went. Besides traveling, Ken was an avid photographer, taking pictures of flowers, birds and nature. He even became the designated photographer for any of the residents at St Anthony Manor who wanted to be on the "Know Your Neighbor" board. He loved to cook, fish, tinker, and do crossword puzzles. The man especially loved thrifting and a good garage sale. He was very proud of his full head of hair, his "youthful" appearance, and his independence. Determined to be on his own, he insisted on having his own set of "wheels". Although usually in good health, he was known to say frequently, "Getting old ain't for sissies".
Ken is survived by his little sister, Dorothy of Punta Gorda, Florida; his children: Mike Brookhouse of Fort Worth, TX; Paul Brookhouse of Evanston, WY, Beth Brookhouse of Idaho, Paula Roberts of California, Darla Storkamp of Casper, WY, and James Katona of Mexico; and six grandchildren: Kelli, Jessica, Matt, Tommy, Chance and Elizabeth. His son-in-law, Mike Storkamp, held a special place in his heart. He is also survived by some very close friends; Harry Morrow, Joni Carpenter, John and Diane Cannon, Sandra Cummins, and Bob and Linda Roberts.
There will not be a funeral service; only a small gathering for a celebration of life. His ashes will be scattered in some of his favorite places, as well as interred at the Oregon Trail Veterans Cemetery. Please consider a donation to Meals on Wheels in lieu of flowers
Arrangements are under the direction of Newcomer Casper.