CASPER, Wyo. — A couple sits side by side over their kitchen table, eyes fixed on the iPad in front of them, listening intently to their hospice nurse.
In the Kloefkorn Hospice Home, a nurse's aide has made it her daily mission to connect the patients there with their families, at a time when visitation is limited.
In a world that seems like it's on hold, technology is playing an increasingly important role in patient care both for the clinical aspects and for keeping families together at a critical time when being in the same room isn't always possible.
Article continues below...
At Central Wyoming Hospice and Transitions in Casper, Certified Nursing Assistant Denise Grams spends much of her day working to connect families through Facetime or other electronic platforms when visiting options have been impacted by COVID-19 concerns. She said those families always react with gratitude, and most find those efforts reassuring and comforting.
"They soon realize that we are devoted caregivers, not to their loved ones alone, but also to them. They are not alone. And, we care. Truly care," she said.
"I learned that 'connecting' families didn't come about only through phone calls and Facetime. One family member referred to me as surrogate daughter to her father. Although I would never be a replacement of her, I am a voice to whisper reminders of her love…and sometimes mine."
Grams said she feels privileged and honored to be invited on their journey. "I can only imagine the courage it takes for families to leave their loved ones in our care, knowing of the uncertainty of the time," she said, adding she makes every effort to give patients and families their privacy, but remains present to help clarify exchanges when needed.
"It amazes me how many times I have connected patients and family members through Facetime (or another provider) who have spoken, but not seen each other in years. Oh my…it was a moving experience for them all."
Central Wyoming Hospice and Transitions has also now rolled out Telehospice, which Executive Director Kilty Brown describes as a way to provide hospice's holistic, person-centered care through electronic means.

"I'd say it's more than telehealth. Telehealth usually means connecting to a doctor. This is about connecting with your nurse, your spiritual counselor, a counselor and volunteers in a way that's safe and efficient", she said. "I'm convinced that this will be changing the way we provide healthcare in the future past COVID. So we're investing in HIPAA compliant electronic platform—not just Facetime—so that we set this up right from the beginning."
Although hospice is not currently reimbursed for Telehospice visits, Brown said moving forward was the right thing to do for both patients and staff, and a grant from the Wyoming Community Foundation helped the organization to launch the program.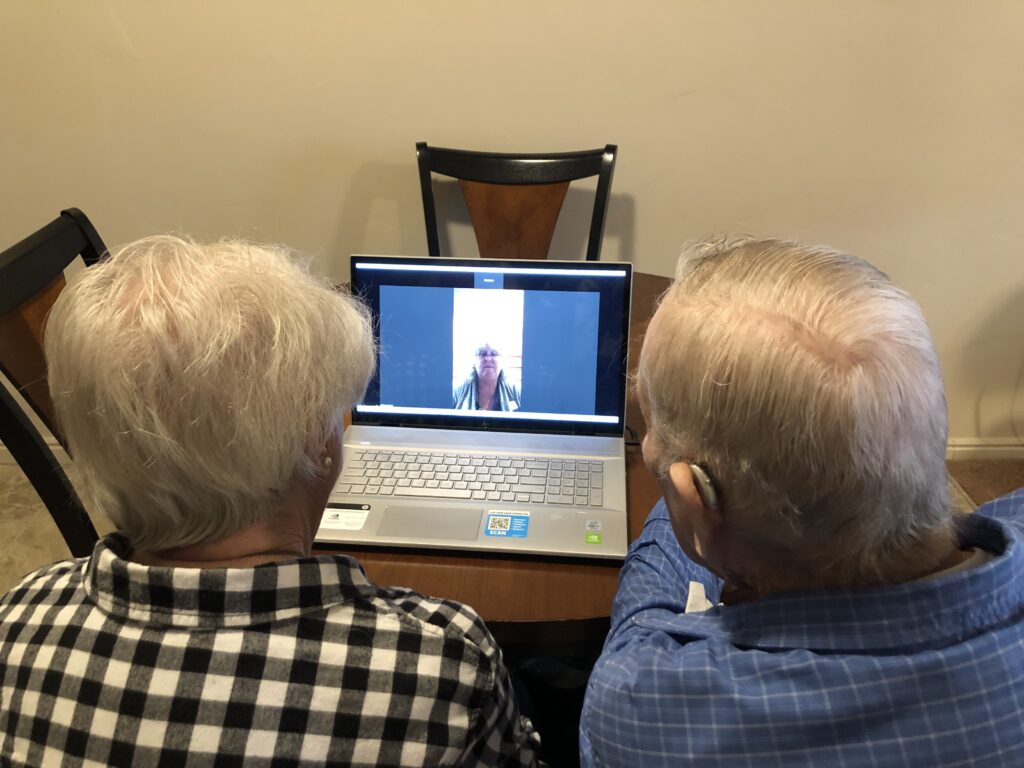 "We recognize that Telehospice will be a huge learning curve for some families. That's why we're investing in iPads with data plans and vital equipment to loan out to patients who may not have a computer or good connectivity. The iPads will be preloaded with software to provide ease of use."
Brown said she believes the benefits will be "incredible". "First, we'll be able to limit unneeded in-person visits—and unnecessary exposure. With this we can keep staff and families safer. I also foresee this lowering anxiety for family in the home, knowing a nurse is just a click away. Instead of waiting for a nurse to travel to the home in the middle of the night, they can get a virtual visit in minutes."
Brown said in the coming days, families will need more support than ever. "In terms of death and dying, the need for high quality hospice care did not take a break because of the pandemic. There are still patients with cancer, heart disease and COPD who need end-of-life care and Central Wyoming Hospice is still here to serve them."
As for Grams, she said the benefits of her efforts flow in both directions. "Families have entrusted me into their lives through their conversations. As they share with each other, they have shared their faith, their heartache, their memories of the 'good old days', their laughter, their songs, and their silence…and on occasion, I have shared mine. This is not a job. This is a relationship. And my heart is rich with blessings."
To learn more about Central Wyoming Hospice & Transitions, visit their website at https://cwhp.org/ or call 307-577-4832.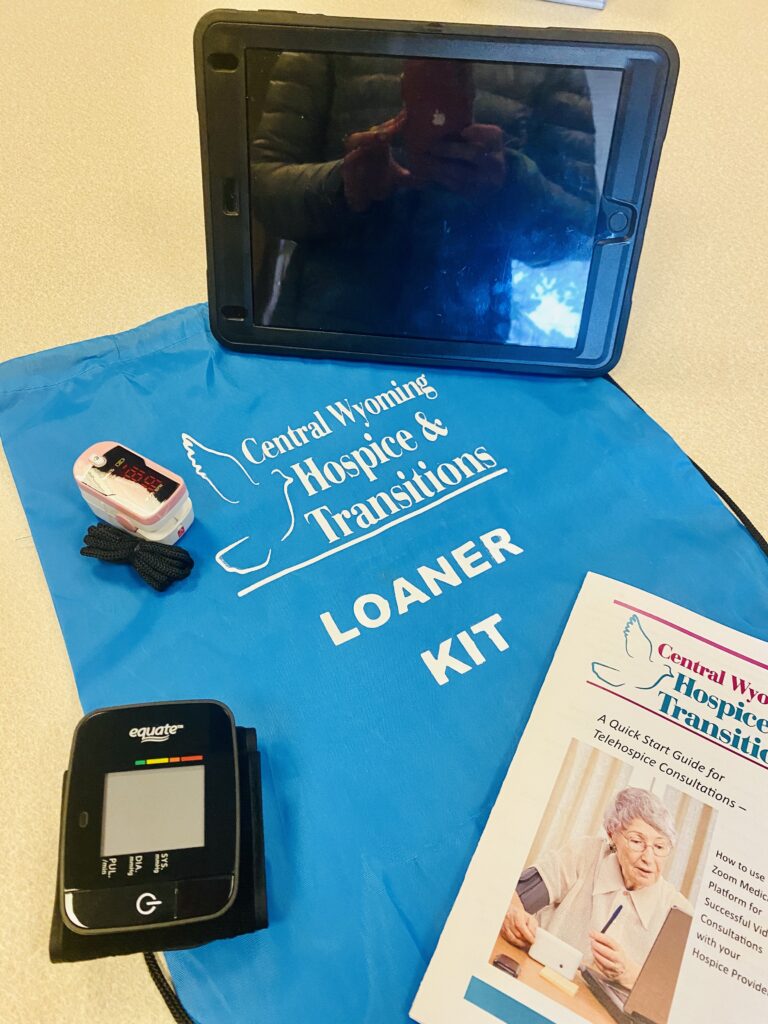 ---
The Latest Statistics from the Wyoming Department of Health:
---
What to do if you are feeling sick: In the wake of the COVID-19 outbreak, the Casper-Natrona County Health Department says that people who are feeling sick or exhibiting symptoms should contact their primary physician.
If you do not have a primary care provider, and live in Natrona County, please contact the COVID-19 hotline, operated by the Casper-Natrona County Department of Health. The line is open Monday – Friday 8:00 am – 5:00 pm 577-9892. Hotline services are intended for Natrona County residents and may not be able to provide specific information to persons calling from out of county.
Officials ask that you please do not self-report to the Emergency Room. Persons experiencing problems breathing should call 9-11.
For general inquiries and non-symptom related questions about COVID-19, please contact the Casper-Natrona County Health Department via email: covid@cnchd.org
---
Practice Social Distancing by putting distance between yourself and other people. This is especially important for people who are at higher risk of getting very sick.
Wash your hands often with soap and water for at least 20 seconds especially after you have been in a public place, or after blowing your nose, coughing, or sneezing. If soap and water are not readily available, use a hand sanitizer that contains at least 60% alcohol.
Avoid close contact with people who are sick
Stay home if you're sick
Cover coughs and sneezes. Cover your mouth and nose with a tissue when you cough or sneeze or use the inside of your elbow.
Clean AND disinfect frequently touched surfaces daily. This includes tables, doorknobs, light switches, countertops, handles, desks, phones, keyboards, toilets, faucets, and sinks.
A list of area closures attributed to COVID-19 are available here.