The YMCA of Natrona County is participating in this year's Giving Tuesday which takes place on Tuesday, December 1st, 2020. Giving Tuesday is a global generosity movement that encourages people and organizations to spark change in the communities they live in by giving back and donating.
The YMCA of Natrona County has impacted Casper for over 60 years by offering a clean, safe, and supportive space along with their mission to never turn anyone away regardless of ability to pay. Their latest construction project will have additional pools and spaces to welcome people of all ages and abilities. They are only able to do this because of the generosity of donors and support in the Casper community.
The YMCA has positively impacted the Casper and surrounding areas since their first building opened back in 1962. This original structure consisted of a swimming pool, dressing and shower rooms, offices, and exercise rooms.
In 2017, the YMCA built a new building called the NERD YMCA of Natrona County which is located at 1611 Casper Mountain Road. This state-of-the-art facility boasts a large fieldhouse, wellness center, childcare center, locker rooms, and a group fitness studio. The creation of this structure was only Phase One of their "Building Tomorrow Today" campaign. 
The YMCA is now looking to expand upon that success through Phase Two of the campaign. Phase Two is planned to include a six-lane lap pool, family pool, hot tub, universal locker room, pool viewing area, member lounge, community studio, and youth adventure zone.
One of the goals of this expansion is to provide more diverse swimming options in Casper that encourage participation of all levels. The new family pool will be warmer to appeal to kids learning how to swim or seniors who prefer warmer water.
"We plan to provide free swimming lessons to every 2nd grader in Natrona County," Development Director Glenda Thomas said. "Kids are 100% curious. It's important to teach kids how to swim."
The new pools aren't the only exciting thing about this project. The YMCA has noticed a need among older kids in the community. They plan to offer more opportunities for middle school and high school students with this expansion.
"One of the things the Y is missing right now is having space for teens and tweens," Thomas shared. "A lot of kids walk to the YMCA after school." The member lounge, community studio, and youth adventure zone will be capable of hosting different events including birthday parties, yoga classes, art classes, and tutoring help.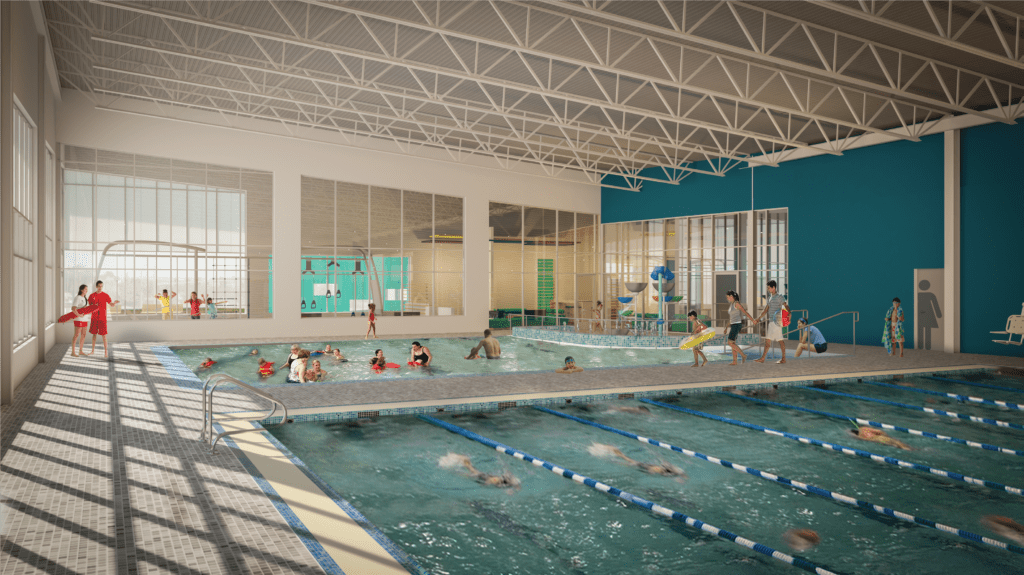 The groundbreaking ceremony for Phase Two took place in August and construction is now well under way. Over $7 million has been generated towards the $10.8 million project costs, which leaves approximately $3 million yet to be raised.
The YMCA is well known for their mission to never turn anyone away based on their ability or inability to pay. In 2020 alone, they provided over $220,000 in financial assistance to families, youth, seniors, veterans, and disabled members in the Casper area. Low income families and individuals can obtain membership at the YMCA because of donations from caring members of the Natrona County community.
Since the pandemic began, the YMCA of Natrona County has also continuously worked to meet the evolving needs of the community.
"We immediately opened childcare to essential workers back in March. We reached out to seniors asking if they needed groceries or medications. We also partnered with Albertsons to provide gift cards for food and medications," Thomas said.
Phase Two of the "Building Tomorrow Today" campaign is scheduled to take 16 months which sets the grand opening date tentatively to December 2021. The YMCA of Natrona County is over 70% of the way to their goal of $10.8 million for this project. It is important that the YMCA continues to have financial support so they can keep making positive impacts in the community they serve.
There are naming opportunities for donors to consider for some of the rooms and pool amenities. The YMCA will be doing a donor wall as well to recognize all donors over $1,000.
Donations go straight to the YMCA in Casper. If you are interested in donating, you can do so by mailing a check, stopping at the YMCA in person, or by visiting the online portal here.
To learn more about the "Building Tomorrow Today" campaign visit our website at https://casperymca.org/phase-ii-capital-project/
Mail checks to YMCA at 1611 Casper Mountain Road, Casper, WY 82601.