Wyoming owned and operated since 1988, GW Mechanical's history has always been centered around this great state. Because of their passion for Wyoming, they have been collaborating with 307 First in their "Metal Art Project", which consists of creating and placing western-themed metal silhouettes across the Cowboy State.
"Our history is in Wyoming," said Dean Cline, President of GW Mechanical. "We don't know anything else, and we have to promote what we know."
GW Mechanical adopted Highway 20/26 between Casper and Shoshoni with the plan of placing nine silhouettes along that route. This stretch of highway is very desolate, and that became one of the primary reasons why GW Mechanical chose it.
"We find it boring. We travel that road a lot and we thought that one would be the easiest one to get landowners to agree to," Cline shared.
Overall, the goal of the entire project is to have 307 of these silhouettes placed across Wyoming. Many of these metal art pieces have been placed over the last year, including a few in downtown Casper as well as some along several highways.
"Our theme on this is what I like to call 'western' or as some say, 'the Pony Express'," said Cline.
Current metal pieces that have been created include cowboys, Native Americans, horses, elk, and cattle. This project relies heavily on Wyoming's history, which means that it is important to place silhouettes in spots that are in relation to where they would have been years ago. In fact, GW Mechanical hopes to put an old work train silhouette, complete with a caboose, along their adopted highway.
"We want to do a train. There are old tracks that go out along that stretch of highway. If you really pay attention, you can see where those old tracks are," said Cline.
Both Cline and Kara Garbutt, Operations Manager at GW Mechanical, collaborate on creating the ideas behind these silhouettes. Garbutt spends a lot of time on Google finding ideas and focusing on what will best fit with this project.
"When you look at the size comparison of the elk next to the people, you can see that these silhouettes are not small," said Garbutt. "It's a big undertaking but the bottom line is keeping Wyoming money in Wyoming."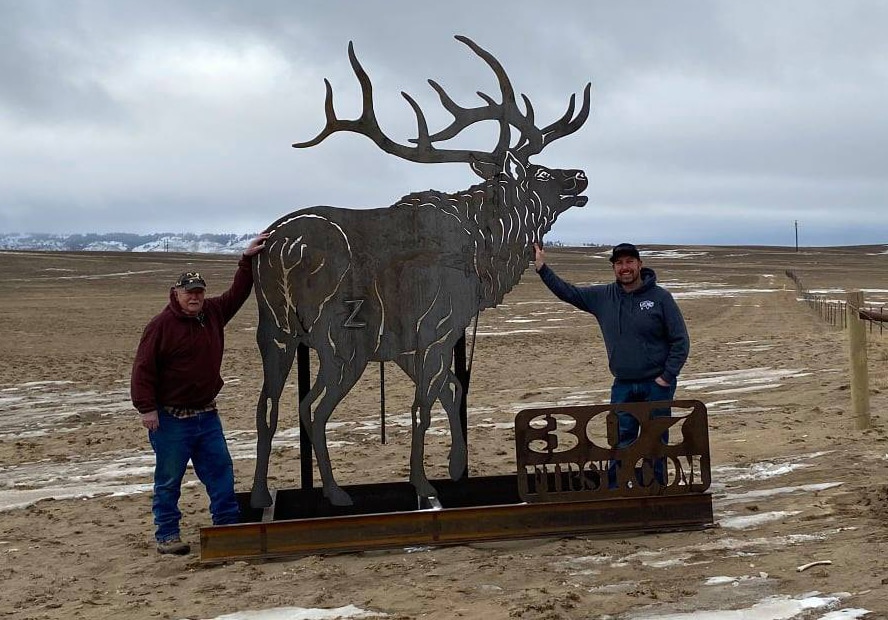 This metal art project truly is a collaboration effort, not only between 307 First and GW Mechanical, but also among other Wyoming contractors, sponsors, volunteers, and landowners. One of the biggest goals of this effort is to encourage other businesses to get involved.
"If we stick together as Wyomingites, then we're stronger. We are stronger together than we are alone. If we can keep our monies local, it helps everybody," Garbutt shared.
This project will eventually have opportunities for some silhouettes to be dedicated to prominent business leaders in Wyoming. They are hoping that, in the future, donations from businesses and individuals can be used to help dedicate specific silhouettes.
"We have ideas of what we want to do. We first want to get these silhouettes out there before we start dedicating them," said Cline.
One thing is for sure, the primary goal of this initiative is to keep Wyoming money local by promoting and celebrating the history of the Cowboy State. Collaboration is key factor in making sure this goal is reached. Any businesses or individuals interested in joining this effort are highly encouraged to get involved and join the cause.
"We work here. We play here. We live here," said Garbutt.
"We want to promote that as much as we can," Cline chimed in. "We want to live here for a reason."
If you or your business is interested in becoming involved in this project, you can learn more by reaching out to 307 First at 307first.com.
Learn more about GW Mechanical at gwmechanical.com.
---
PAID FOR BY GW MECHANICAL
This article is a promoted post. The views, thoughts, and opinions expressed in the text belong solely to the organization that paid for the article, and do not necessarily reflect the views, thoughts or opinions of Oil City News, its employees or its publisher. Please fill out this form if you would like to speak to our sales department about advertising opportunities on Oil City News.