CASPER, Wyo. – Zoey Aldahash didn't have a home when she came to Casper.
She didn't even have a country.
"They destroyed everything," said Zoey. "ISIS destroyed everything, so there's nothing now."
Zoey grew up in Babylon, Iraq, the ancient city about 50 miles away from Baghdad once known for its architectural and cultural treasures. But the biblical version of Babylon is far removed from its modern-day reality.
"We lost our uncle there in a car explosion," recalls Zoey. "So I lived in a war, I saw dead bodies in the street…it's just bad memories."
Zoey and her husband, Basheer, fled Iraq to India, where they tried to make a life but were eventually asked to leave. In 2016 the highly educated pair came to Casper, where Basheer found work as a petroleum engineer and Zoey in an architectural firm.
Zoey wanted to forget what she saw in Iraq, but the flavors remained a memory.
In her down time she taught herself how to make baklava. One would assume Zoey made it while growing up, but in practice the time-consuming creation of baklava was left to professional bakers.
"You can find it everywhere, just like donuts," said Zoey.
"I remember the taste and how it looks, so I started trying myself until I got the real baklava that I thought was perfect," she said, " and people love it."
Most Americans are likely familiar with Greek-style baklava, according to Zoey. In Iraq they used cleaner flavors.
"My baklava is so simple, no spices and no honey. I make everything, I make the sugar syrup and with pistachios. It gives it a special taste."
"Simple" isn't a word to describe the process, which can takes hours to create the 60 or so filo layers that are thinner than tracing paper. She's created other non-traditional combinations as well, such as chocolate.
With successful farmers markets, social media and word of mouth, Zoey was confident enough to quit her architecture job and go into baking full time with the creation of Sweet Zoey.
"Sometimes people tell me, 'hey, you are everywhere,'" said Zoey. "I am everywhere."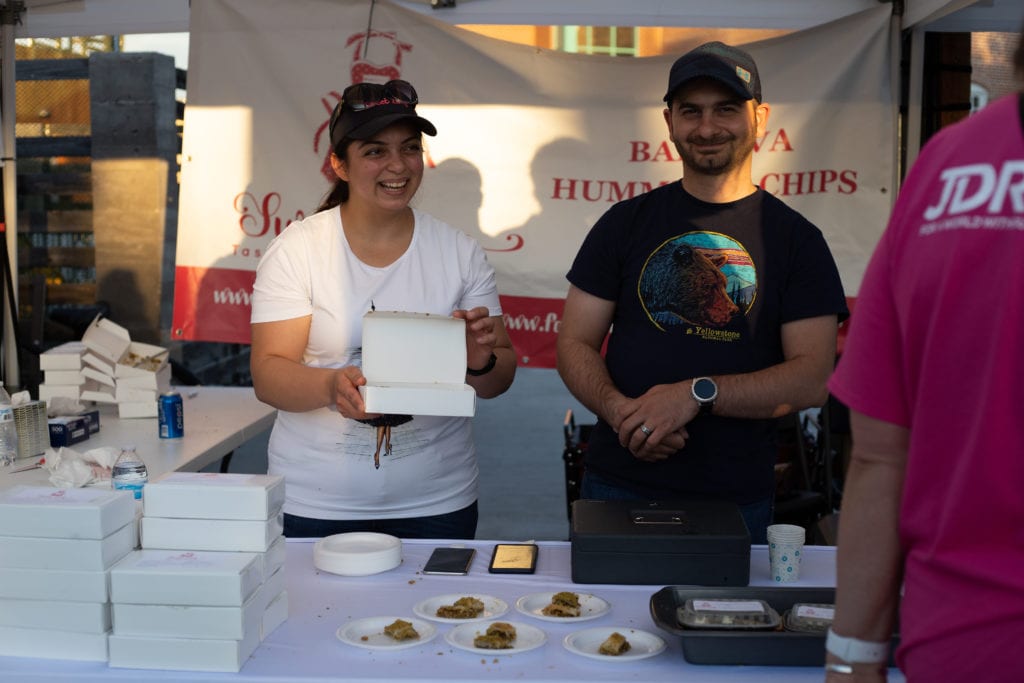 With the opening of Sweet Zoey Mediterranean Cafe in the Sunrise Shopping Center, she is now taking the next step in her American experience.
The cafe will sell baklava, of course, along with other foods inspired by Middle Eastern traditions, including stuffed bread, baba ganoush, hummus, sandwiches and salads. Coffee and tea are also served.
She plans to eventually install a full commercial kitchen, which would allow her to expand her menu with falafels and gyros.
Zoey and her two employees did a soft opening this week. Her grand opening and debut of the full menu is on Saturday.
Zoey and Basheer are able to live and work in Casper because they've requested asylum. "I can't go back there. It means death," she said.
In her short time here, Zoey feels like she's become part of the community. "I have friends here, people who love and support me."
There's also an English golden retriever named Rio.
"We are not allowed to have dogs back in my country," Zoey explains. "So I got my dog, my first dog I ever touched. Now he's everything."
---
Sweet Zoey Mediterranean Cafe at 4360 S. Poplar Street will celebrate its grand opening on Saturday, August 31, from 11 a.m. to 3 p.m.
Operating hours are Monday through Friday from 7 a.m. to 2 p.m., and Saturday from 11 a.m. to 3 p.m.
Special orders and menu items can be seen at Sweet Zoey's Facebook page and website.