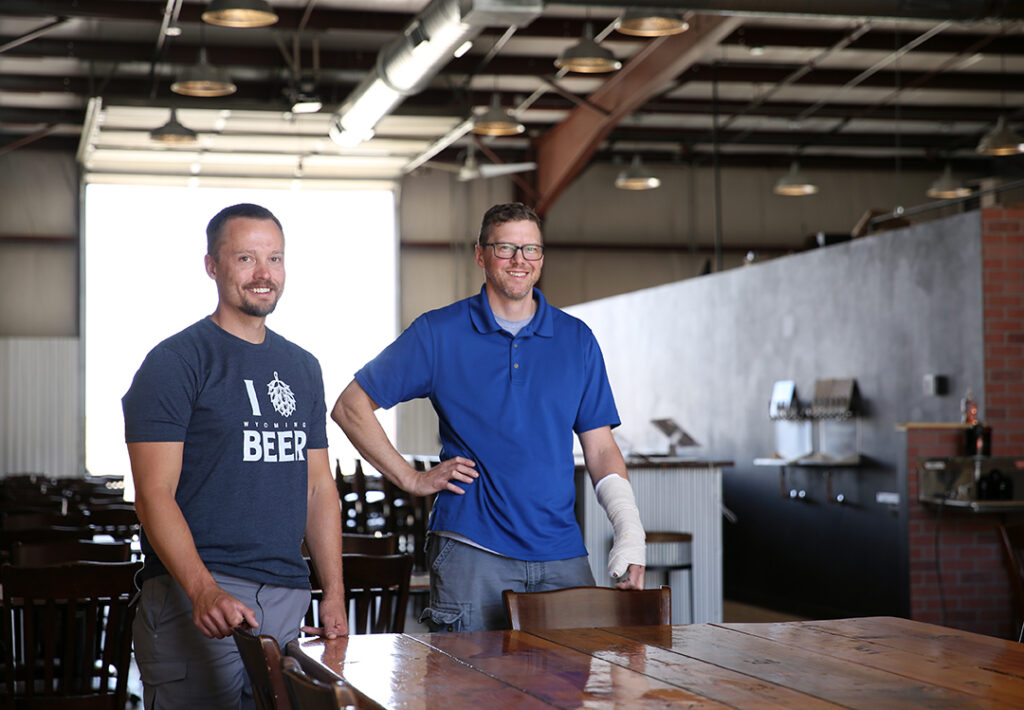 CASPER, Wyo. – The workers of Sperry Drilling all got together in a new Casper brewery recently.
It's not the first time they'd gather to talk about work while sharing a few beers together, but this time everything was different.
First, the new brewery is the brainchild of two longtime Sperry employees, Dan Graham and Chris Hoburka.
Article continues below...
Second, there are no longer any Sperry jobs. Parent company Halliburton closed the office in May.
The old crew sat at the big conference table salvaged from the office's break room and now placed proudly near the back of the taproom.
Sitting there, the former Sperry workers drank the brewery's only beer given a proper name.
Severance Pale Ale.
"We never brewed a pale ale before," said Dan. They decided to craft a "baseline" pale ale after the layoffs, offering a slightly cheaper but drinkable brew in honor of their former workmates.
Oil City Beer Company was supposed to be Dan and Chris' side hustle. Now it's their primary business.
The two met more than 15-years ago at Sperry. Dan started home brewing in college and would invite friends to his house for beers and fun. That encouraged Chris to start home brewing himself, learning the craft and bouncing new ideas off of Dan.
"It was really just a fun hobby, and it progressed," said Chris. "We eventually decided to make it commercial and go bigger."
Last July the business partners secured a lease on a 3,500-square-foot space on Casper's east side and slowly began transforming it into a spacious brewery and taproom, embracing the industrial feel but adding warmth and accessibility.
Garage doors flank each side of the building, allowing light and air to pour through the space. "This side of town is attractive because there's a lot going on over here," said Dan.
While planning their new business, Dan and Chris hit the road a number of times to visit small breweries in Colorado and San Diego, taking advantage of the familial nature of many craft breweries.
"The brewers will drop what they're doing and give you a tour and talk to you about the process," said Dan. "The research has been really fun, and it's sort of a network of friends out there who brew beer."
Locally the business partners say they've been warmly welcomed into Casper's brewing community, which in just the past few years has grown from zero to five.
The brewers say their personal favorite styles of beer have been evolving for years. In Dan's case, it's the European traditions that most intrigue him.
"I like Belgian beers or a good British oatmeal stout," said Dan. "But what America brings to the brewery scene is hops. My favorite recipe is an American red ale."
The brewers intend to create new varieties while keeping a few regulars on tap. To start they'll have a gold and pale ale, a Belgian witbier, a hazy IPA and an American red ale. Other than Severance, the beers are unnamed at this time.
Families are welcome, and they are brewing their own variety of root beers and cream ale sodas. There's room for food trucks in front, and outside food is also welcome, they say.
They'll do growler fills, and hope to eventually purchases a small canning line to sell their beer around the region.
While sitting at the old Sperry Drilling table, Dan and Chris say their new brewery is meant to pay homage to Casper's energy roots. After all, they've been a part of it for years.
"Casper is a blue-collar town," said Dan. "It's the support structure for the oil industry, and oilfield services is part of this town."
---
Oil City Beer Company is located at 4155 Legion Lane. More information is available on their Facebook page. Hours are Monday through Thursday from 4 p.m. to 9 p.m., Friday and Saturday from 11 a.m. to 11 p.m., and Sunday from noon to 8 p.m.
---
An earlier version of this story misspelled Dan Graham's name. We regret the error.