CASPER, Wyo. — If you walk downtown on West Yellowstone Highway you will come by an interesting shop. You will notice that it has the "brightest storefront in town" because there are so many neon lights. Upon further investigation, you'll discover that the shop is named GloW, and if you walk in you'll find Connie Morgan hard at work in the process of making these neon signs.
The thing that draws most people in is the mystery of the store. However, you will not be disappointed to see the art and business signs on display. Since neon is not very common, it is to many considered a dying art, but GloW is making sure it doesn't become too dim in Casper. This is why the strategic location is able to fuel the minds of young artist and capture the interests of prospective entrepreneurs.
When Morgan first encountered neon as a junior in high school, she said, "I'd never thought of neon as art." I'm sure that's a common sentiment, but as she shows, after you experience it neon can be life changing. Morgan continues by saying, "I saw it hanging from the ceiling and I stopped dead in my tracks and thought, 'I would really like to do that.'" Ever since then, she has been working to make her dream come true.
She has been working with neon for the last 24 years. Unable to find someone who would let her be an apprentice in her hometown of Bozeman, Montana, she signed up for a 14-week trade school in California. There she learned the basics of neon, and she has been learning and perfecting her practice ever since. From there she worked in Detroit, Michigan before she moved to Casper. She has been here for the last 10 years and has been making a living working with neon ever since.
Morgan worked for many years at Bar-D signs before opening her own business, GloW, on the eve of the pandemic in March 2020. However, the pandemic did not not slow her down. Morgan is the only known neon artist in Wyoming, so she gets her own business and the business from Bar-D and Nix Signs. They send people her way because she is the only one able to do her work. In fact, she explains that that was one of the only reasons she felt good about opening her own business: she knew that she was not taking business away nor competing with the other vendors in town.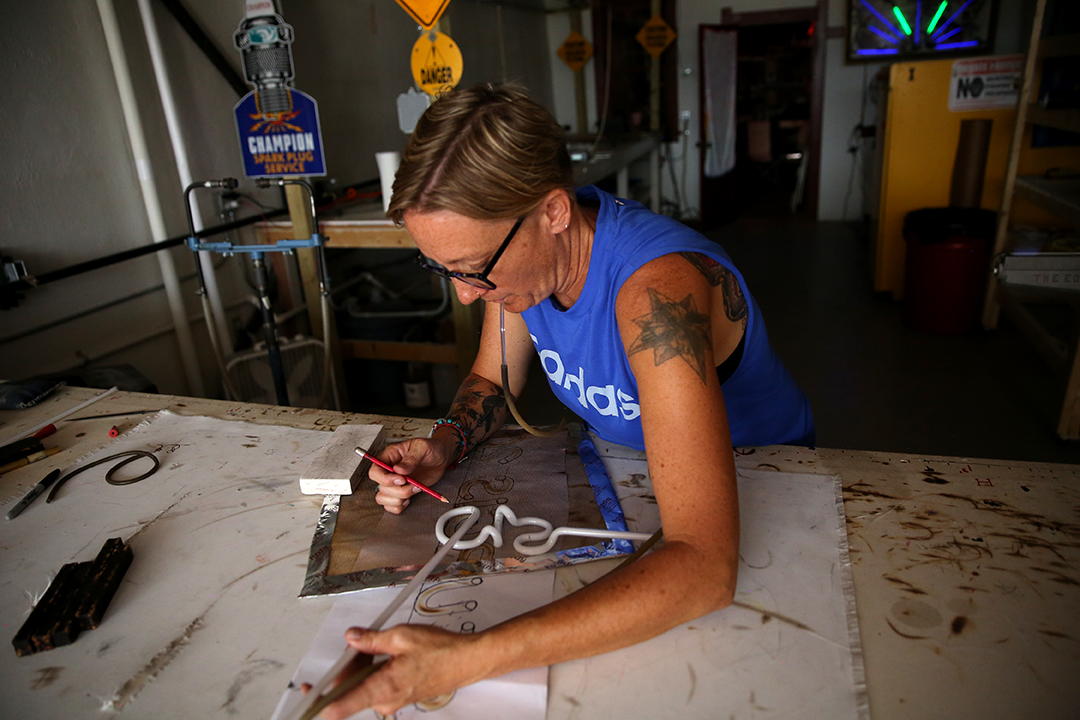 This sense of community is one of the things that she says has kept her going. It allows a camaraderie between herself and multiple different business around town. According to Morgan, "The biggest thing I do is help other businesses advertise, and I would like to think that I brighten up Casper."
"COVID has shown people how important small business are. Because they are falling down left and right … it has really been detrimental to small towns because it is really what small towns are, your mom-and-pop stores, and I think people are starting to see the benefit of them. They are the backbone of the community." According to Morgan, this is what makes owning a small business in Casper rewarding. "You have a strong sense of community, people you can trust … Casper is an awesome, supportive community."
However, her work is not just local. Neon is sought after from far and wide. Morgan can ship her work anywhere in the United States. However, Morgan says that "if you live in a cool place, I might just drive it to you." She loves this job because of the experiences she can have, not only with the glass and tubing work but also with the artists and customers.
The sense of community has also grown outside of the local area with the help of social media. With her Facebook page, she has found a whole community of people who still produce state-of-the-art neon. This community consists of people from all over the states and even in Europe. This has been a great learning experience for her, and now if she has a question there is a community to get her answers from.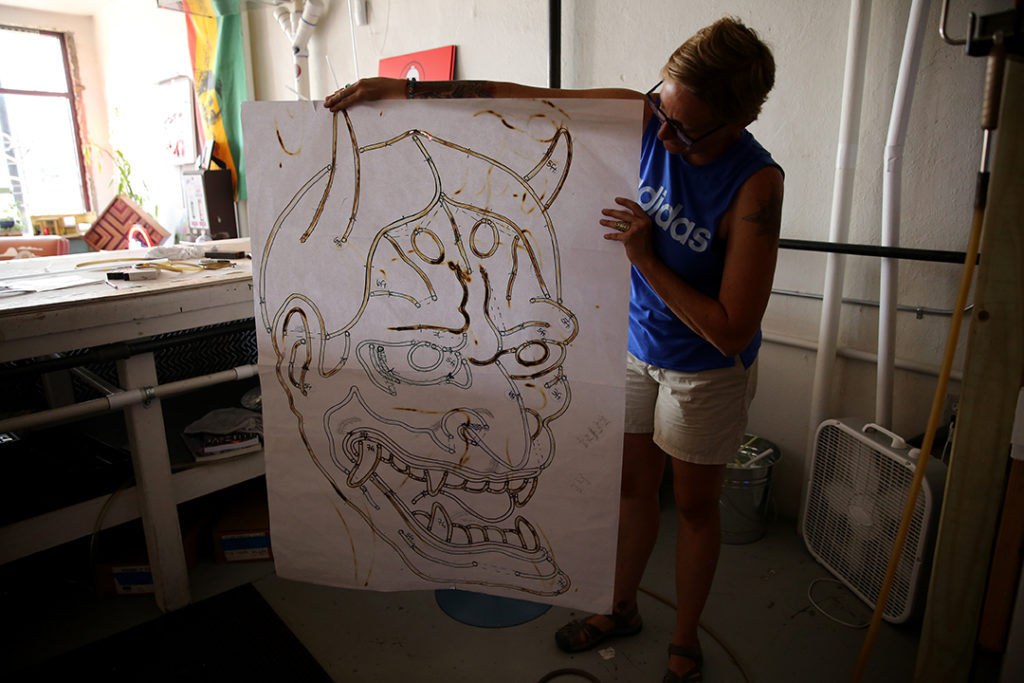 Morgan says, "Everybody in this industry seems to want to mentor anybody who wants to keep it going." She herself is excited to teach people the history and art of neon. She also loves collaborating with other artists, having worked with Jim Kopp, Brie Martin, and Tom Wade, all of whom are local. She says that each experience has been completely different, but they are each able to create something beautiful.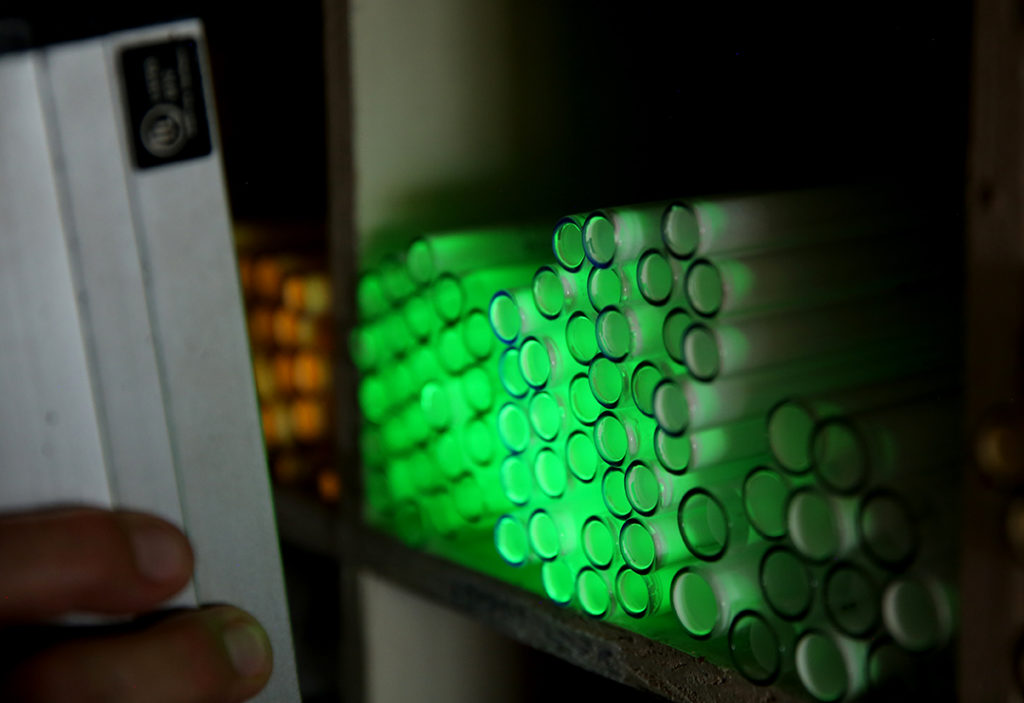 The thing that makes neon so special is that it is not a simple plastic sign nor LED; instead, it is a work of art, taking time and effort to create. When neon lights were first made in 1910, they were referred to as "liquid fire." Morgan says that the term is very misleading and she would have named it "contained light," but is it nevertheless unique. Everything from bending the glass to the process of bombarding to filling the tubes with gas requires the skill of a true artist. She does everything by hand and is a master of her trade. As she shows, neon can bring the community together and light up the local businesses.
Editor's Note: A previous version of this article misspelled Jim Kopp's surname. Oil City regrets this error and it has been corrected.