Note: Please check Inciweb, Mullen Fire Facebook, and Albany County Sheriff's Office Facebook for reliable evacuation and operations updates. Evacuation information is included at the bottom of this article
CASPER, Wyo— The Mullen Fire burning southwest of Laramie in the Medicine Bow-Routt national forest has grown to 69,138 acres, U.S. Forest Service spokesman John Peterson told Oil City news Saturday, Sept. 26 at 4:00 pm. That's roughly double the size estimated by previous aerial estimates Friday night, and it has continued growing since then, according to an update.
Rocky Mountain Blue Team Incident Command said at virtual community meeting at 5:00 pm Saturday that 70 mph wind gusts fueled the fire's dramatic run to the east Friday night and Saturday. Operations Section Chief Chris Zoller said the fire had crossed 8 miles of landscape in that time.
No injuries to firefighters have been reported, said Incident Commander Jaren Hohn.
The 2012 Squirrel Creek Fire burn scar arrested the fire's progress somewhat, splitting the fire head. Zoller said the fire had burned up 311 Road and Fox Creek, and that a spot fire crossed the road to burn on Sheep Mountain. He said the fire there was not very active, and if winds allowed, aircraft would be used retard its growth Sunday.
The southern portion of the latest front reached Highway 230, just west of the switchbacks near Woods Landing, Zoller said.
The are of Centennial northeast of the upper section of the fire, Zoller said, was "looking pretty good" for at least Saturday and Sunday. The section of the fire that initially spread toward, and reached, the Rob Roy Reservoir, has been far less active due to heavy suppression activities since last week.
It is the section that had crept south into the Platte River Wilderness earlier this week that has since exploded east and accounted for at least half of the fire's current acreage.
Zoller said no information was available regarding the loss of structures in the area. "We don't don't have the manpower to go in and do that kind of evaluation yet," Zoller said, adding that public and firefighter safety was Incident Command's top priority.
Crews and resources are "extremely thin," Zoller said, due to the large number of fires burning in the west. Natrona County Fire District's Fire Captain Darek Pepple, and firefighters Derek Higgins and Chris Weaver are with Division Tango working structure protection.
"All bets are off with this fire," Zoller said. "People ask all the time: is Laramie safe? Yes, I believe Laramie is safe. But will this fire travel out into the prairie and sagebrush? Definitely. You put 70 mph winds behind any kind of fire, it's going to eat anything it can and continue to move across that landscape."
Zoller said that aircraft, winds allowing, would be much better able to mitigate growth across the prairie landscape than they were in the timbered areas of the forest.
"We need to be aware we're going to be with this fire for a while," said Russ Bacon, Medicine Bow-Routt Thunder Basin National Forest Supervisor. He said the nearby 2016 Beaver Creek Fire and 2018 Ryan Fire had burned well into October, and that weather and fuel conditions meant that the Mullen Fire would likely follow a similar time frame.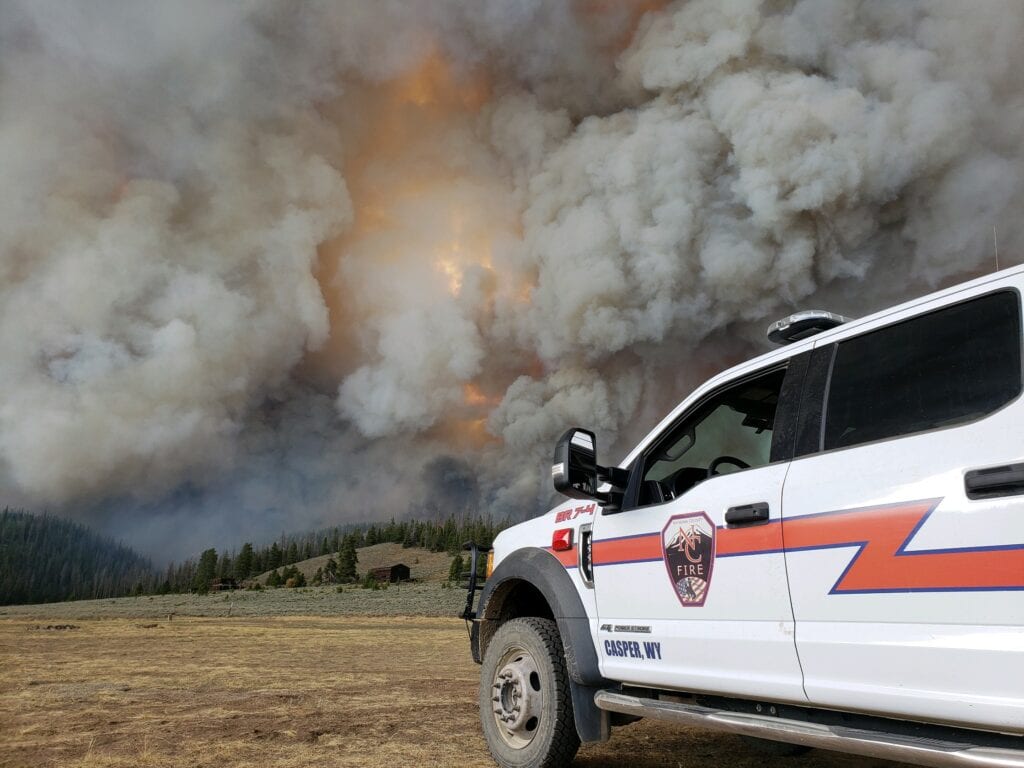 Chip Redmond, Incident Meteorologist, said some moisture and even snow showers were expected Saturday night, but that humidity levels in the were expected to drop again into the teens starting Monday.
Sunday is expected to bring a slight reprieve from the wind, with gusts up 35 mph, as opposed to the 70 mph gusts crews faced Saturday, grounding air operations.
"We are begging people not to fly drones" in the area, said Incident Commander Jared Hohn, whether to monitor properties or attain footage. "We have to shut down air operations down. It will put our airman at risk and our crewmen at risk, and the last thing we can afford is another aircraft to go down this summer."
The U.S. Forest Service expanded its closure area in the forest on Friday. The closure includes all motorized traffic and human presence in the entire southern Snowy Range in Albany and Carbon Counties, Wyo. It applies to all National Forest System land, recreation sites, trails, and roads within the closure boundaries.
The latest evacuation orders are available on the Albany County Sheriff's Office Facebook page and by signing up for Albany County Emergency Managements reverse-911 alert system.
Roads now under closure due to the fire are as follows
East of HWY 11 along Sheep Mountain, from Fox Creek Road, North to Hecht Creek
Wyoming Highway 230 from the CO state line to Woods Landing (CO 127) and from the CO state line to Riverside/Encampment (CO 125)
All areas along the Wyoming Highway 10 corridor to the Colorado border
Wyoming 11 between Wyoming 130 and Albany
Wyoming 230 between Woods Landing and Colorado state line
Mandatory evacuations include:
East of HWY 11 along Sheep Mountain, from Fox Creek Road, North to Hecht Creek
Wold
Beehive
Graham
Mountain Home and adjacent areas
Areas near Sheep Mountain to Lake Hattie Reservoir and North of HWY-230
All areas along the Wyoming Highway 10 corridor to the Colorado border
The Woods Landing Corridor
Fox Creek Road including areas west of Hwy 11 south of the Middle Fork Canyon
Fox Park
Foxborough
Albany
Middle Fork Canyon