CASPER, Wyo. — People opposed to or in favor of marijuana legal reform may make dramatic claims about what can happen when marijuana is legalized, but a 2021 report from the Cato Institute suggests that strong claims from both marijuana reform advocates and critics "are substantially overstated and in some cases entirely without real‐​world support."
The National Libertarian Party is supporting some Wyoming organizations in an effort to put two marijuana reform initiatives before Wyoming voters on the 2022 General Election Ballot. Casper City Council member Shawn Johnson, who has been working in support of those efforts, said Tuesday that two ballot initiatives aiming to legalize medical marijuana for personal use and to decriminalize cannabis for personal use in Wyoming are ready to move into a signature gathering phase.
Johnson said that organizers have received word that Secretary of State Ed Buchanan has conditionally certified the two ballot initiatives. In order to get the questions on the ballot, the initiatives will need to collect 41,776 signatures. That number is "equal to 15% of those who voted in the preceding general election" in the state, according to the Wyoming Secretary of State's Office.
In response to Oil City's coverage of Johnson's comments on Tuesday, some people commenting on the story via Facebook expressed concern that marijuana reform could lead to dramatic increases in violent crime. The Cato report suggests such concerns are likely overblown.
The Cato report compares data on crime and other factors for the following states which have fully legalized recreational marijuana use:
Colorado (legalized in 2012)
Washington (2012)
Oregon (2014)
Alaska (2014)
California (2016)
Nevada (2016)
Maine (2016)
Massachusetts (2016)
Vermont (2018)
Michigan (2019)
Illinois (2020)
The Cato report looked at Uniform Crime Reporting data from the Federal Bureau of Investigation for each state from 2000-2018. Most of the above states have seen violent crime rates follow similar trends both prior to and after legalization of marijuana.
"[V]iolent crime in Maine and Nevada decreased by 90 and 178 crimes per 100,000 compared with the national trend post‐​legalization," the Cato Institute notes. "The violent crime rate in Alaska and Massachusetts increased post‐​legalization by 152 and 57 more than the national trend."
"Overall, violent crime has neither soared nor plummeted in the wake of marijuana legalization."
The Cato report shows the violent crime data for the 11 states compared with national trends as follows: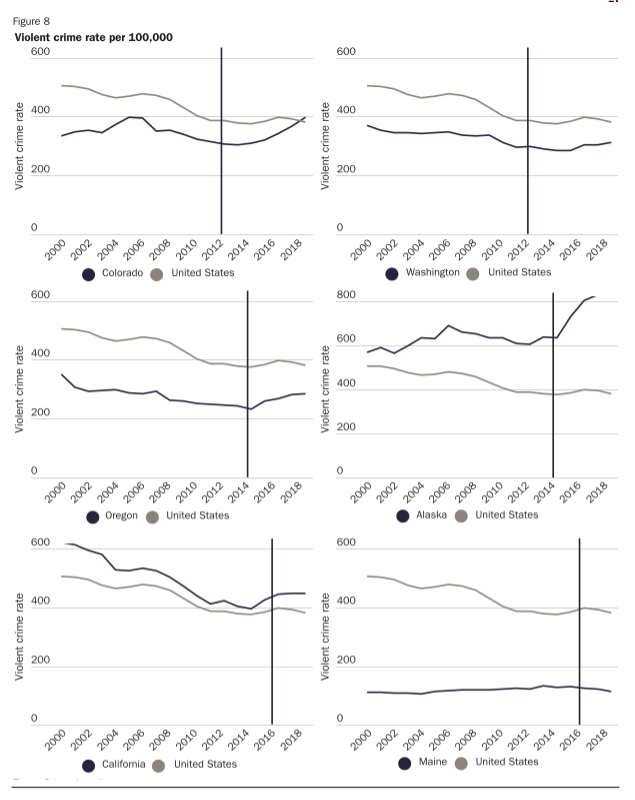 The Cato report also looked at possible consequences on road safety stemming from marijuana legalization.
"On this score, debates about marijuana legalization offer two contrasting hypotheses," the Cato Institute said. "One holds that legalization increases traffic accidents by increasing drug use and, consequently, incidences of driving under the influence. This hypothesis presumes that marijuana impairs driving ability."
"A contrasting view is that legalization may improve traffic safety if enough would‐​be drunken drivers substitute marijuana for alcohol, which some studies say impairs driving ability even more. Academic studies examining this issue have suggested a possible substitution effect."
"A 2015 report by the Governors Highway Safety Association cited one study revealing that marijuana‐​positive fatalities rose by 4 percent after legalization in Colorado. However, another study from the same report discovered no change in total traffic fatalities in California after its decriminalization of the drug in 2011. Using synthetic control states, Benjamin Hansen, Keaton Miller, and Caroline Weber estimate no effect on traffic fatalities among legalizing states."
The report also looked at driving fatality trends in each of the 11 states from 1994-2018.
"In most states, this trend remained relatively flat post‐​legalization; Oregon's fatality rate began increasing prior to legalization and has continued to increase," the Cato Institute said. "The National Highway Traffic Safety Administration also tracks traffic fatalities linked to marijuana and alcohol use. We focus on total traffic fatalities because there is likely some substitution between driving under the influence of alcohol and under the influence of marijuana."
"The relevant measure for public safety is the net effect; the concern is not whether marijuana‐​related fatalities increase but rather whether any increase is offset by fewer fatalities under the influence of alcohol. In addition, post‐​legalization police may check for marijuana use more vigorously than before, rendering the substance‐​specific data noncomparable over time."
Data from 1994-2018 for each of the 11 states, measuring fatalities per 100 million vehicle miles traveled, is shown in the following graphs included in the Cato report:
Another aspect of the marijuana reform debate which supporters and opponents tend to see very differently relates to effects on mental health and suicide rates.
"Previous studies have suggested a link between medicalization of marijuana and a lower suicide rate, particularly among demographics most likely to use marijuana (males age 20–39)," the Cato Institute report states. "Others claim marijuana can be an effective treatment for bipolar disorder, depression, and other mood disorders—not to mention a safer alternative to alcohol."
"Moreover, the pain‐​relieving element of medical marijuana may help patients avoid more harmful prescription painkillers and tranquilizers. Conversely, certain studies suggest excessive marijuana use may increase the risk of depression, schizophrenia, unhealthy drug abuse, and anxiety. Some research also warns about long‐​lasting cognitive damage if marijuana is consumed regularly, especially at a young age."
The Cato report points to a 2017 National Academy of Sciences study into marijuana and mental health.
"It concluded that marijuana use is associated with the development of psychotic disorders, although this relationship 'may be multidirectional and complex,'" the Cato Institute said. "The relationship between marijuana use and other mental health outcomes, it concluded, is mixed and frequently confounded by alcohol use. It is also important to note that association is not causation and that mental health conditions might drive some people to use marijuana rather than marijuana use causing mental health conditions."
The Cato report looks at suicide rates in each of the 11 states from 1999-2018, comparing rates in these states where marijuana is legalized to national trends.
"It is difficult to see any association between marijuana legalization and changes in suicide trends," the Cato Institute said. "Previous research has suggested a link between medical marijuana use and lower suicide rates; that effect also is not obvious here, perhaps because many states had already legalized medical marijuana before fully legalizing it."
"The link between medical marijuana and lower suicide rates may stem partly from the fact that medical marijuana can substitute for other, more dangerous painkillers and opiates. Research by Anne Case and Angus Deaton found that suicides and drug poisonings led to a marked increase in mortality rates of middle‐​aged white non‐​Hispanic men and women in the United States between 1999 and 2013. Other studies have linked opioid and painkiller overdoses to a recent surge in self‐​inflicted drug‐​related deaths and suicides. Thus, medical marijuana, as a less risky pain reliever, may help lessen the rate of drug deaths and suicides."
Suicide rates in the 11 states examined in the Cato report are shown in the following graphs: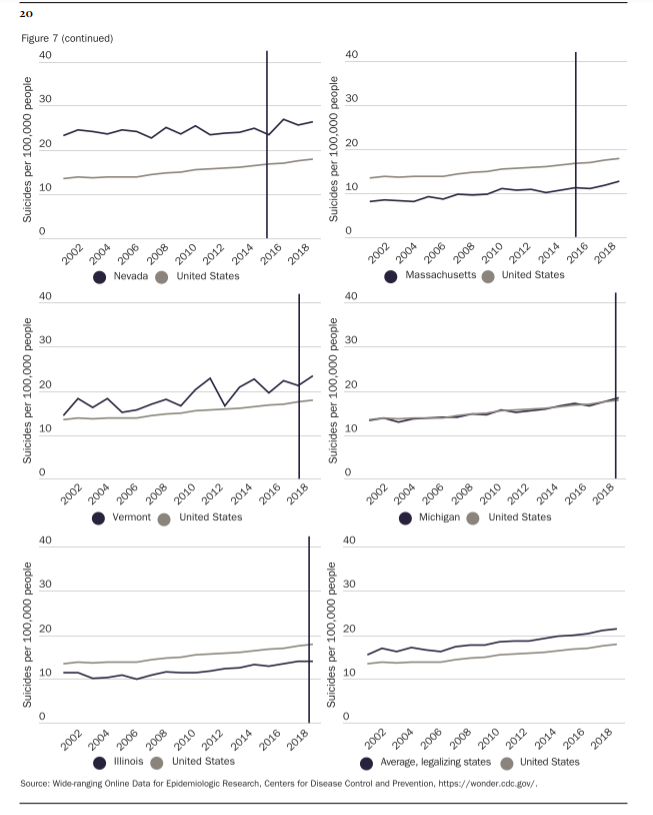 Marijuana use among people 12 and up had been trending up in Alaska, Massachusetts, Oregon, Maine, California, Colorado and Washington prior to legalization, according to National Survey on Drug Use and Health data from the Substance Abuse and Mental Health Services Administration cited in the Cato report.
"Use in states where marijuana is legal tends to be higher than use in the United States overall, but this difference mainly pre‐​dates legalization," the Cato Institute said. "Among the 11 states that have legalized it, marijuana use rates in 2011 — prior to any legalization — averaged 15 percent compared with the national rate of 11.6 percent. Only Illinois's was lower, at 11.4 percent."
Trends in marijuana use among people 12 and older for eight states is shown in the following graph in the Cato report:
"Vermont, Michigan, and Illinois demonstrate a similar increase pre‐​legalization, but data for the years following legalization are not yet available," Cato said. "Legalizing states display higher and increasing rates of use prevalence, but these patterns existed prior to legalization."
With concern that marijuana legalization could lead to increased use among youth, the Cato report also explored this topic, sharing data from the Centers for Disease Control and Prevention's Youth Risk Behavior Surveillance System. That survey shows self-reported youth marijuana use among middle and high school students.
"Surveys are conducted in odd‐​numbered years," the Cato Institute notes. "Washington and Oregon do not participate in this survey. Nationally, the trend is toward fewer youth reporting marijuana use. Youth participation rates are reportedly higher in legalizing states than in the United States as a whole."
"Of the six states with post‐​legalization data, in four—Maine, Massachusetts, Alaska, and Colorado—adolescent use reportedly decreases in the years immediately prior to legalization and then returns roughly to prior use rates. The available data show no obvious effect of legalization on youth marijuana use."
The Cato Institute report shows youth marijuana use data in the following graphs:
The Cato report also explores whether marijuana legalization impacts cocaine and alcohol use.
"Opponents of legalization claim that legalizing marijuana facilitates consumption of other drugs such as cocaine," the Cato Institute stated.
However, SAMHSA data on cocaine use from 2003-2018 suggest "no clear relationship between marijuana legalization and cocaine use," according to the Cato Institute.
"Although Oregon saw an upward trend in cocaine use after legalization, Massachusetts saw a downward trend," the report notes. "In other states, including Washington and Maine, cocaine use rates are consistent with nationwide trends."
Those past year cocaine use trends are shown in the following graphs in the Cato report: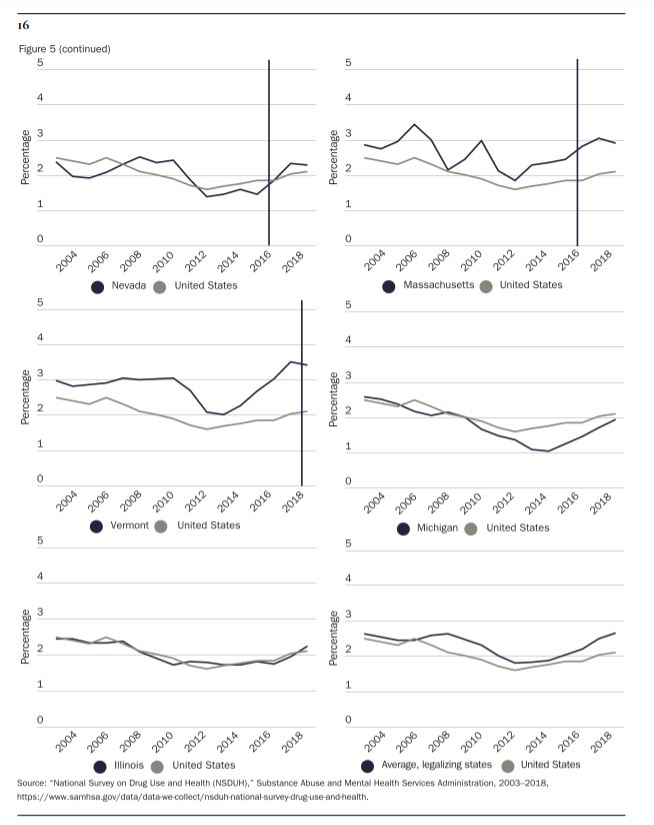 In regard to alcohol consumption, Cato notes that supporters of marijuana legalization tend to claim that legalization would lead to people consuming less alcohol. However, past month alcohol use data from SAMSHA for the 11 states from 2003-2018 again shows "no clear relationship between marijuana legalization and alcohol use," according to the Cato Institute.
"Alcohol use increased more than the national trend in Washington (1 percentage point more), Massachusetts (2.3 percentage points), California (1.9 percentage points), and Oregon (1.2 percentage points) but decreased in Colorado (–0.75 percentage points), Maine (–1.4 percentage points), Alaska (–1.1 percentage points), and Nevada (–1.8 percentage points)," the Cato Institute said.
Those trends can be seen in the following graphs included in the report:
While the 2021 Cato Institute report found that most strong claims from both supporters and opponents of marijuana reform are overblown, there is one type of strong claim which does appear to have some basis in fact is in regard to tax revenues.
California collects over $50 million in monthly tax revenue from taxes on recreational marijuana, according to the Cato Institute. Colorado is collecting about $20 million per month.
"In 2015, the state generated a total of $135 million in recreational marijuana revenue," the Cato Institute said of Colorado. "These figures exceed some pre‐​legalization forecasts, although revenue growth was sluggish during the first few months of sales."
"A similar story unfolded in Washington, where recreational marijuana generated approximately $70 million in tax revenue in the first year of sales—double the original revenue forecast. Oregon, which began taxing recreational marijuana only in January 2016, has reported revenues of $10 million per month, far above the initial estimate of $2 million to $3 million for the entire calendar year."
The report shows tax revenue collected in Colorado, Washington, Oregon and California in the months following legalization in the following graph:
Cato notes that tax revenues might diminish in these states as more states move toward legalization.
"For example, Benjamin Hansen, Keaton Miller, and Caroline Weber estimate that Washington's dispensaries along the Oregon border experienced a significant decline in sales once Oregon's dispensaries opened," the report states.
The Cato Institute notes that data remains limited and that their organization plans to continue analyzing effects stemming from legalization.
"The data so far, however, provide little support for the strong claims about legalization made by either opponents or supporters; the notable exception is tax revenue, which has exceeded some expectations," the Cato Institute said. "The absence of significant adverse consequences is especially striking given the sometimes‐​dire predictions made by legalization opponents."